Like GearBrain on Facebook
Updated November 8, 2018: Last month GearBrain posted about Verizon Telematics (a division of Verizon Communications) and its expansion of the Hum product line to include two more OBD2 devices: Hum+ and HumX. GearBrain tested the original Hum OBD2 device last year, and we really liked the device. Our main concern? Hum didn't have a 4G hotspot—which we thought essential in turning your car into a connected vehicle. That's why we were happy to see Verizon bring 4G to the Hum product line with their new HumX. Verizon sent us a HumX so we could test its 4G hotspot capabilities as well as a few new features.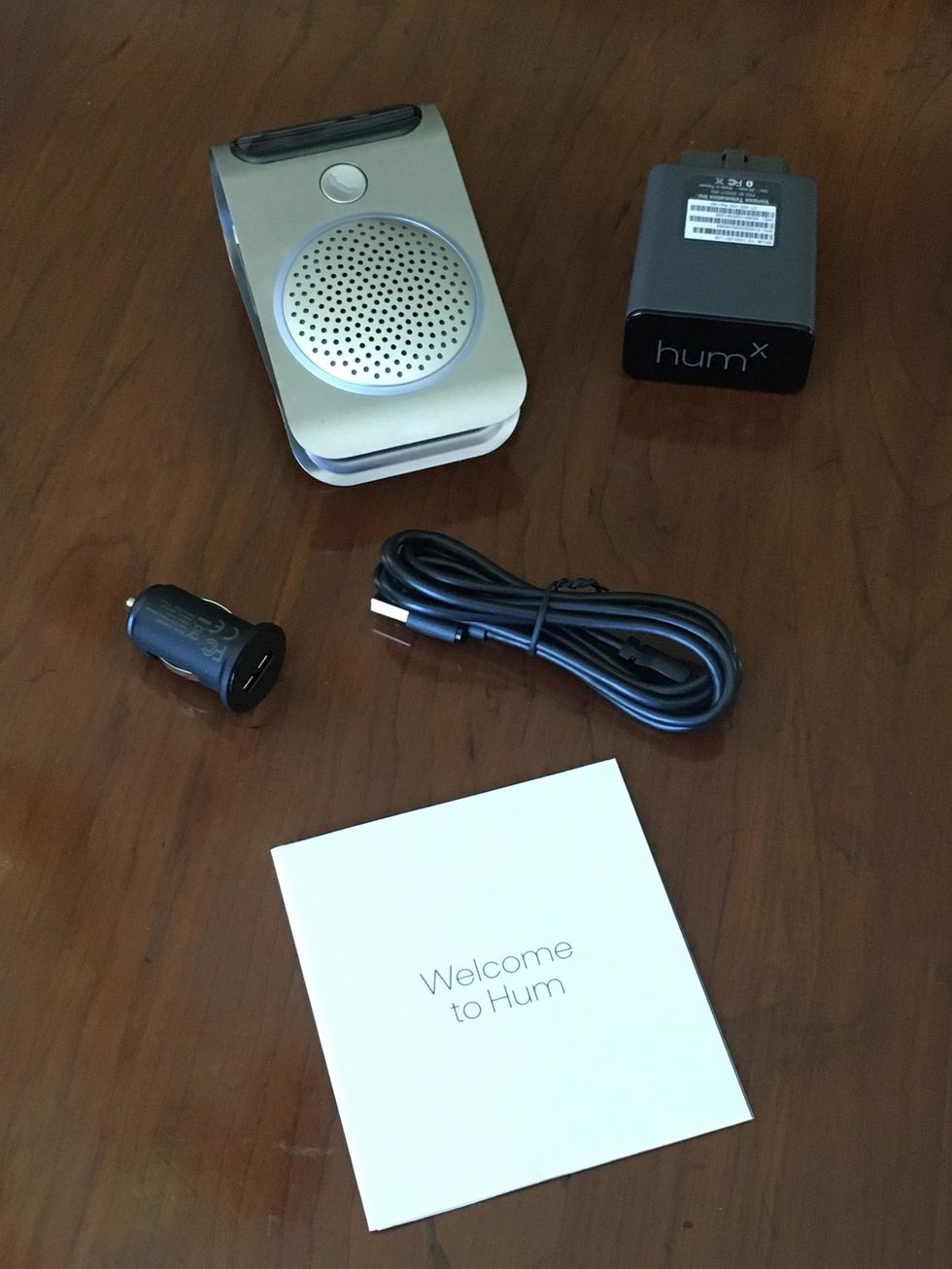 Contents inside Verizon Wireless HumX box.
What's in the box?

When you open the packaging for the new HumX device , you'll find these items inside the box:
HumX Speaker
Hum ODB Reader
12 Volt Adaptor and speaker charger cord
Quick Start Guide
To start, the HumX Speaker is a Bluetooth compatible speaker which connects you to all of Hum Services as well as a trained agent in case of emergency. It offers Bluetooth hands-free calling which you can turn on or off. We found the speaker unit to be rather large, definitely standing out when placed on your car's visor. However, we thought the setup for hands-free calling was easy. All you have to do is turn on your vehicle, then select the "on" Hands Free Calling switch on your HumX Speaker. Next, press the Call Button on the HumX Speaker until the blue LED lights illuminate. Make sure Bluetooth is enabled on your smartphone or your HumX speaker will not connect. Select Hum on your smartphone and if asked for a password, enter 0000. Once you are successfully connected , the blue LED lights on your HumX Speaker will blink three times and then send out three beeps.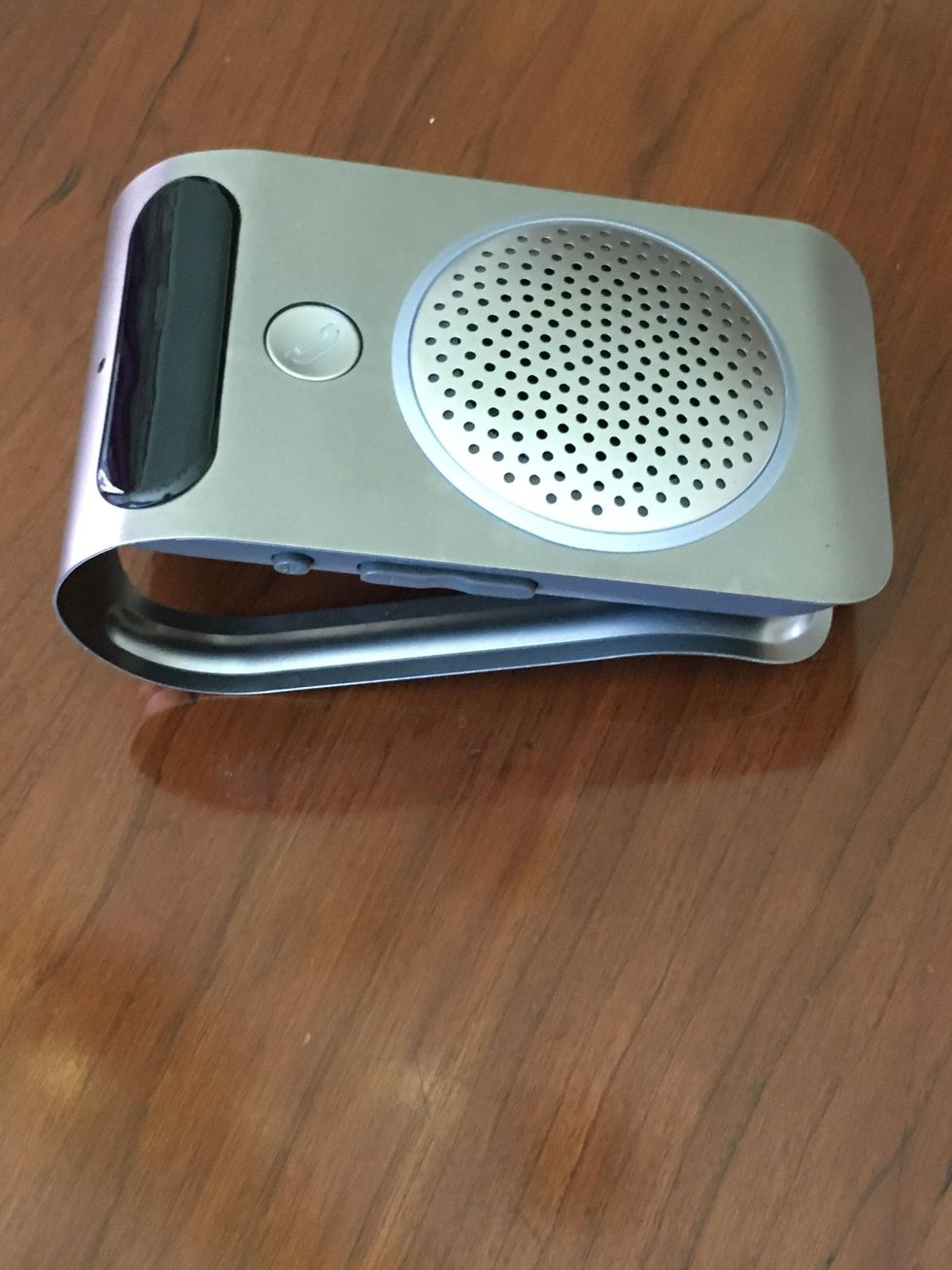 Many perspective buyers of HumX might wonder why they need a Bluetooth speaker when they already have Bluetooth in my car. Good point and we thought the same thing. A majority of new cars already have Bluetooth technology built into their car. However, there are still a lot of cars on the road today that don't have Bluetooth—but do have an OBD port for the HumX. If you fall in this group, then having an OBD2 device with Bluetooth speaker is a nice addition. If already have Bluetooth in your car, no worries. Just think of HumX as being similar as GM's OnStar system, a way to connect to Verizon's services.
One nice feature of the HumX Bluetooth Speaker is the customer service icon. You can tap, then push the Call Button to speak to a Hum Specialist or ask for roadside assistance. You can even speak to a certified mechanic who is part of Verizon's Mechanics Hotline. We tested this feature and it worked perfectly. We hit the Icon on the HumX Bluetooth Speaker and within seconds we were connected to a Verizon Customer Service Representative. You will have to ask the Verizon Customer Service representative to connect you to the Mechanic Hotline. There is no other way to get to this service. But , this one-of-a-kind service can be extremely helpful for a car owner who wants to understand why an engine light is lit. We had an issue with one of our cars, and the mechanic walked us through why our "battery light" was on. The mechanics can also offer you options, along with costs, associated with fixing your vehicle. We had not seen this type of service offered in any other OBD2 device until recently. (Check out our review of Autobrain Review: OBD2 Device built by Techies, EMTs & First Responders, a new OBD2 reader that also offers a mechanic hotline but not 4G Wi-Fi service.) Think of it as an extra peace of mind for car owners and drivers.

The HumX Bluetooth Speaker also has a mute button, as well as volume control buttons (+/-) which controls the speaker volume and call ringer. We tested the speaker sound and found it's not as full sounding as most Bluetooth speakers. If you're thinking of using this speaker to stream music, you'll probably be disappointed. The sound is tinny and doesn't have a lot of bass. But you can clearly hear the person on the other end of a phone, all as well as any emergency assistance operator or authorized mechanic.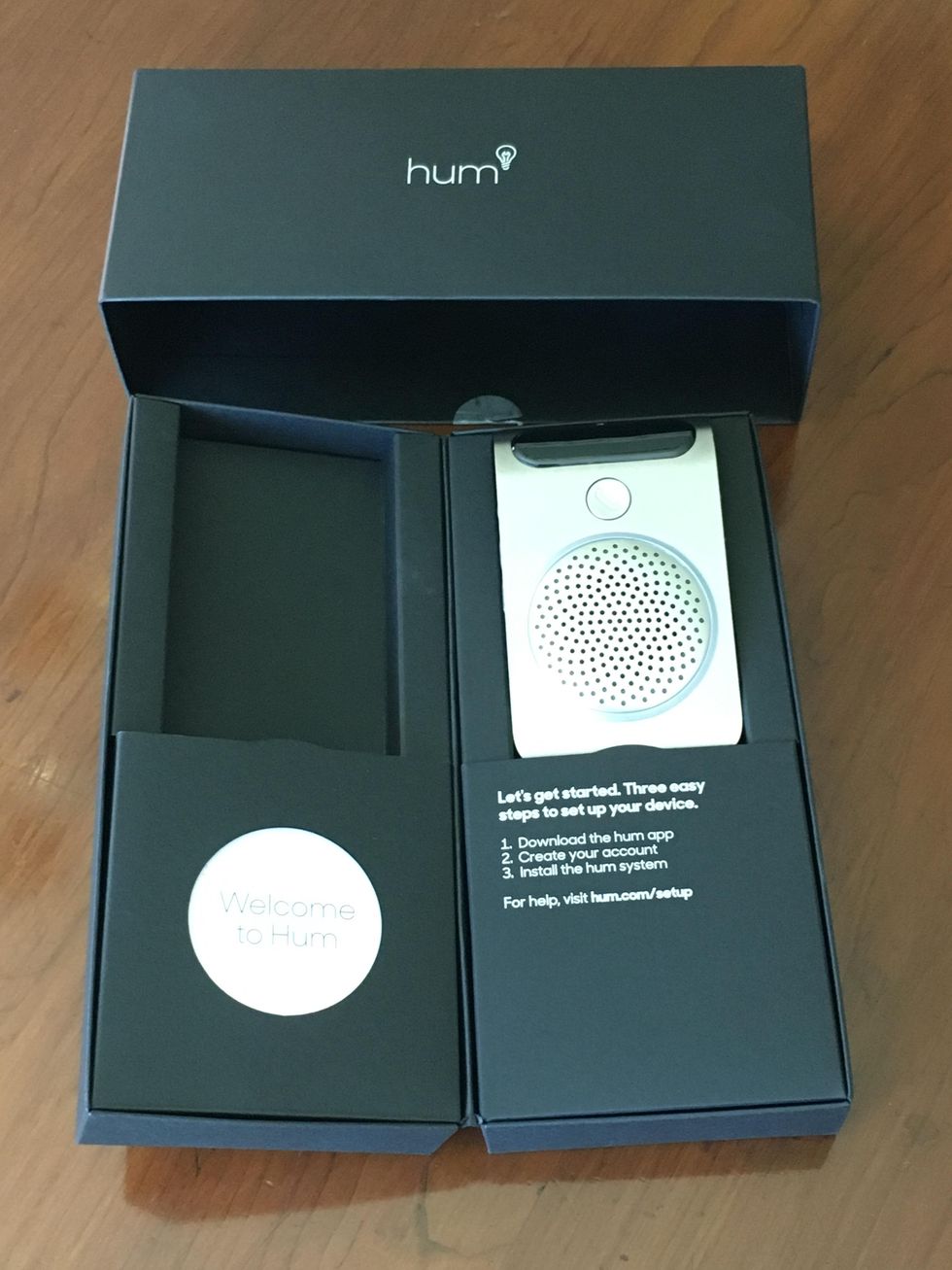 Finally, on your HumX Bluetooth Speaker is an Emergency Assistance Icon. We think this feature is handy, and we were glad to see its inclusion. You tap the icon, then push the Call Button if you need emergency assistance, and Hum can tell through the Hum app if you were in an accident or collision. The app can also let you know if your car gets stolen, and through its Stolen Vehicle Assistance, local authorities get a notification of your vehicle's location if it's stolen. We tested this service, and were connected within seconds to the emergency services operator.

How Hum app works?
To control your HumX or Hum+, you use Verizon's free Hum app. Depending on the type of smartphone you have, you can download the Hum app from either iTunes App Store for iOS devices or Google Play for Android devices. The Hum app connects to your vehicle diagnostics to tell you what's going on with your vehicle from what an engine light might mean to when it's time to bring your car in for servicing. There's a maintenance reminder which knows the last time the car had its oil changed, or what updates are needed.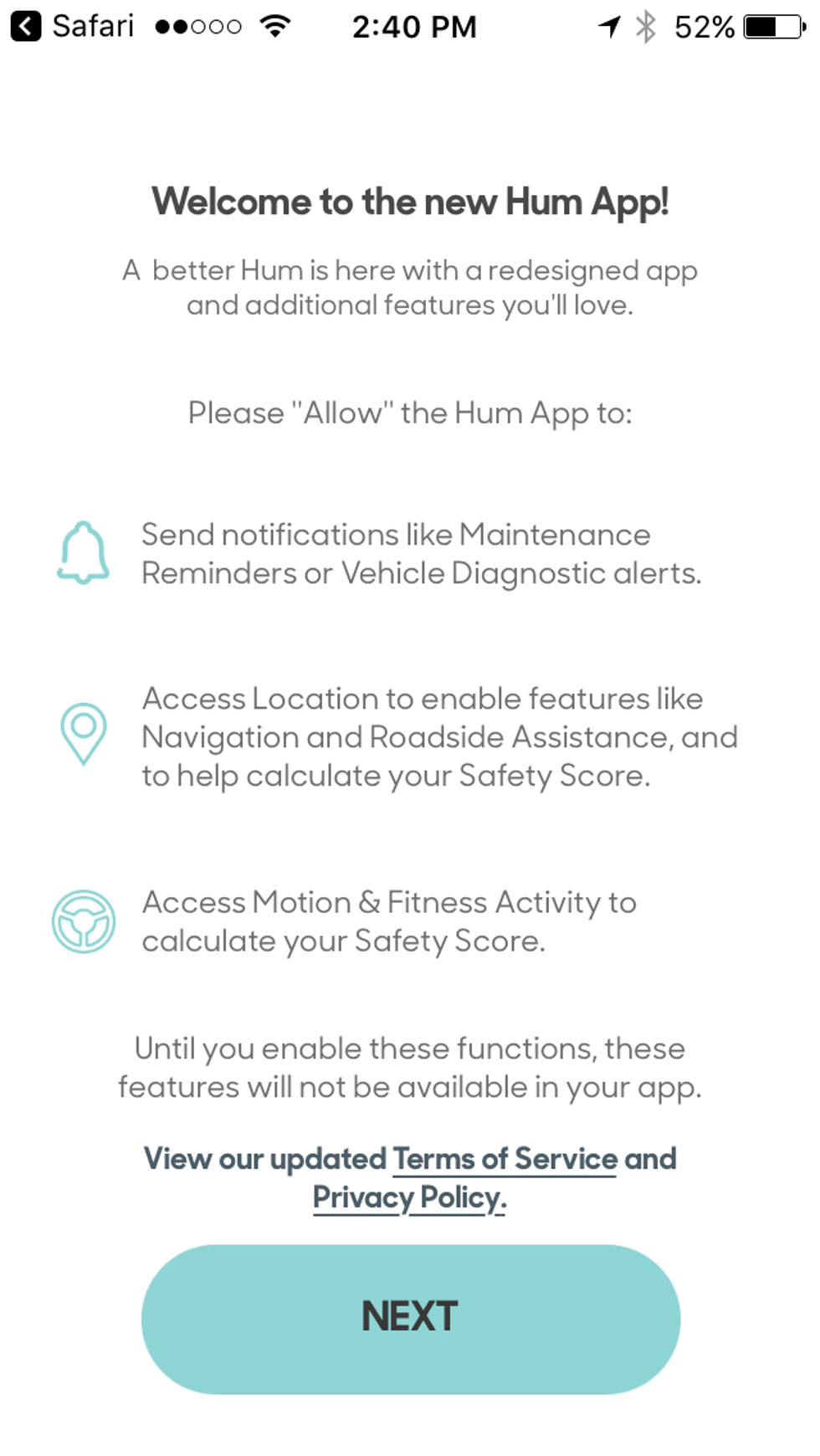 Hum App
If you have multiple drivers in the family and want to keep an eye on their driving, the Hum app can also send alerts when your car enters or exits boundaries, or geo-fences, or exceeds a certain speed limit you set. This is a nice feature, especially if you have teenage drivers.

If you have multiple cars and want to switch the HumX from car to car, you can but you will need to contact Verizon Customer Service prior to each installation. Verizon needs to register your vehicle with your account each time you change. There is no charge for switching and it can't be done through the app. We tried it and it didn't work. Turns out our new car had a battery icon lit on the dashboard. When we did a Auto Health report and the results said everything was OK. We called Verizon Customer Service via the HumX Bluetooth Speaker and they explained to us we need to update the vehicle information with them every time we switch the HumX from one car to the next in order for the device to work properly.
The Hum App also keeps track of your car's location, whether it's parked, or on the road, depending on which Hum device you have. For example, if you have the Hum or Hum+, and your car is on the road, you'll see updates on where the car is and where it's heading. The screen looks similar to what you see in Uber or Lyft's app and want to know where your driver is while you're waiting. If you use the free Hum app, Verizon will update the screen intermittently. If you have Hum+, and pay for a monthly plan, the screen updates more frequently (but not as frequently if you have HumX)—you will even see your car icon moving along the road.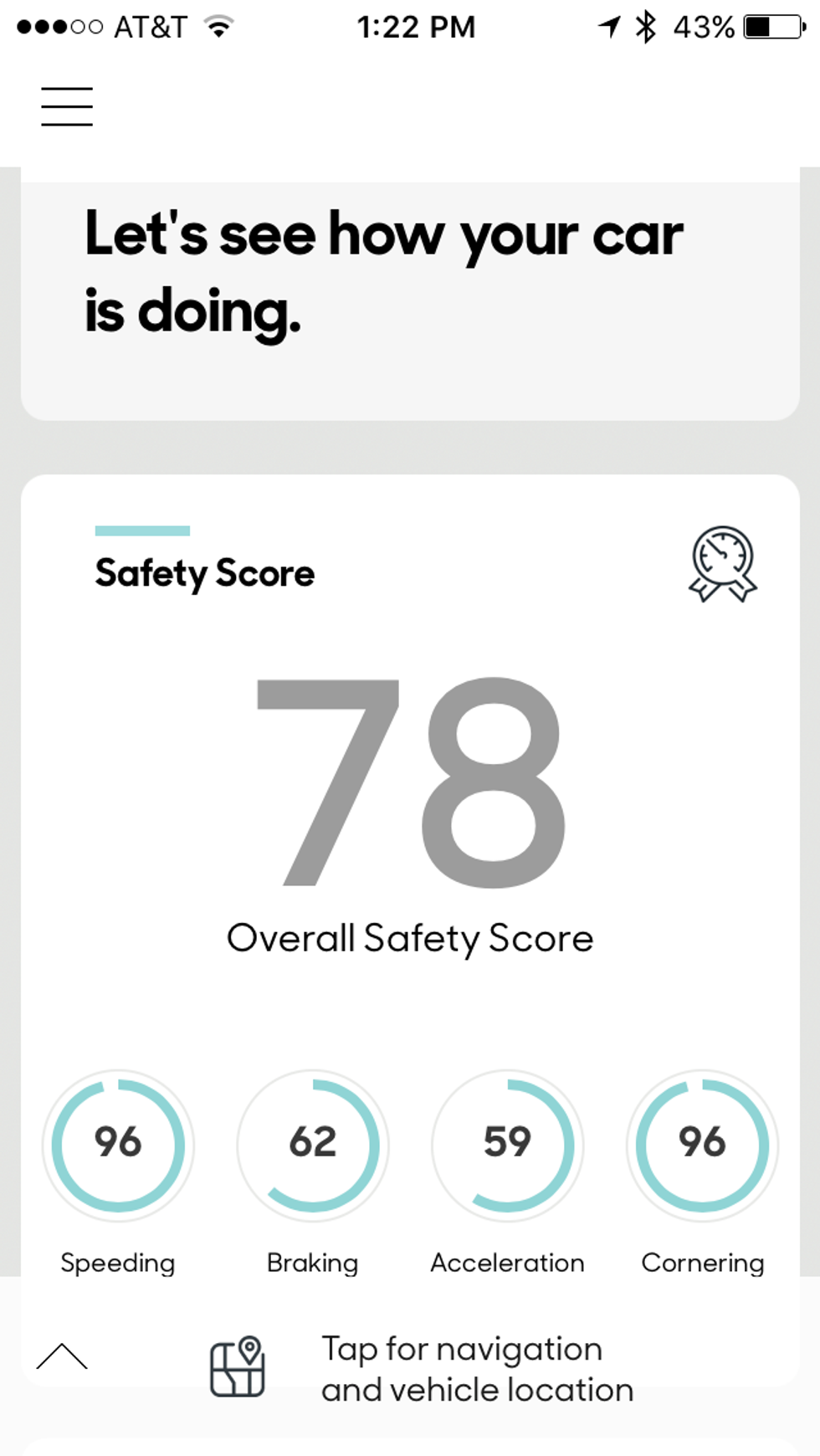 The Hum app also keeps your driving history, collecting data on gas usage, speed, distance and more. You can also get a safety score to help improve your driving, and see how fast you accelerate, or how well you corner and brake. Verizon also promises local discounts and deals on air travel, hotels, rental cars and more with the Hum app.

Verizon HumX Safety Score is a particularly nice feature in the app, especially if you have young drivers. Measuring information about your driving behavior from speeding and braking to acceleration and cornering, as well as other drivers, the app delivers a safety score ranging from 0-100 with 100 being the best. You can use this to help young drivers get better at driving—and hopefully keep them safe. You can also see how well your score measures up against the national average through the app. I liked seeing the braking score since my kids tend to be hard on brakes, and used the information to show them how hard they are on the brakes, and why they need to get better.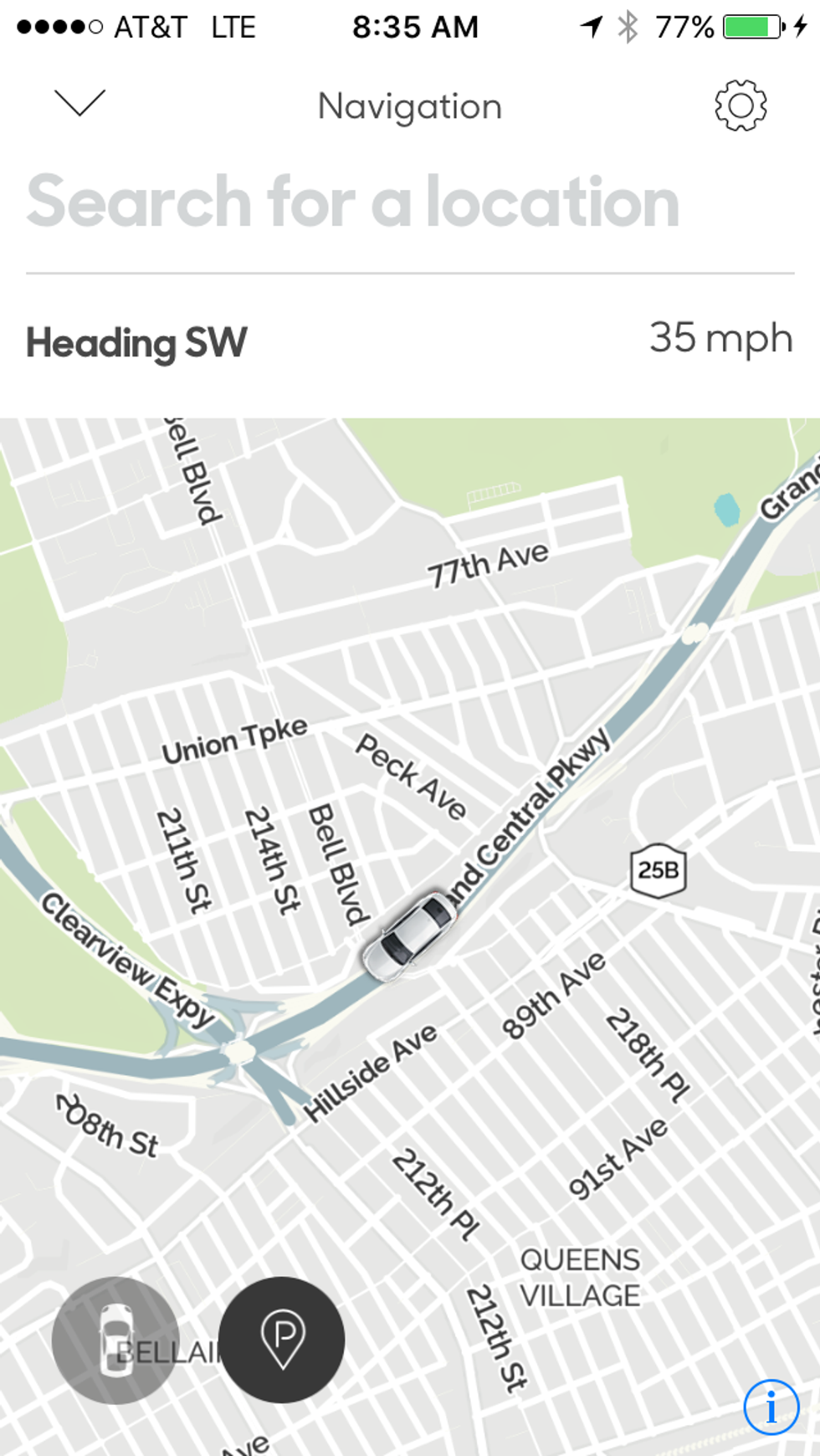 However, the best feature GearBrain thinks the Verizon HumX offers is its 4G hotspot capabilities. By purchasing the HumX, you will get a Wi-Fi 4G LTE hotspot capability. If you're planning to travel this summer with the family, or even work from your car, you'll probably find the 4G LTE hotspot a welcome addition—and a feature which alone is worth its monthly fee. If you're already a Verizon Wireless customer, this feature is even better, because you can add HumX to your data plan to pay for the 1 GB or more of data you get monthly with HumX. However, if you are not Verizon Wireless customer, you can still purchase HumX but will have to open up a Verizon Wireless account to pay for your monthly 1GB of Wi-Fi service. But, keep in mind when your data consumption approaches the 1GB, Verizon will send you an email alert and you will be charged $10 for each GB that month over the 1GB. This could get very expensive if you have a lot of devices using the Wi-Fi in your car and you don't keep an eye on the data usage.
The HumX Wi-Fi hotspot, also lets you connect up to 10 devices (from smartphones to laptops) to the internet through the Hum app. Just turn on the car, enable Wi-Fi on your device, and connect to Hum Network (SSID). You will need to enter your Hum (SSID) name and password which can be found on the backside of your Hum Speaker. We tested the Wi-Fir service in our Ford Edge and I was pleasantly surprised on how well the connection was for our iPad and laptop. While driving around, we were able to easily connect the devices to the Hum Wi-Fi and we were able to watch a movie on the iPad and check email on our laptop at the same time with no interruptions or delays. We even had Wi-Fi service when we parked out car. This got me thinking about companies who have employees who work out of their car. HumX would be a nice way for the company to provide 4G Wi-Fi service to their employees but also keep tabs of their driving and the vehicle's diagnostics.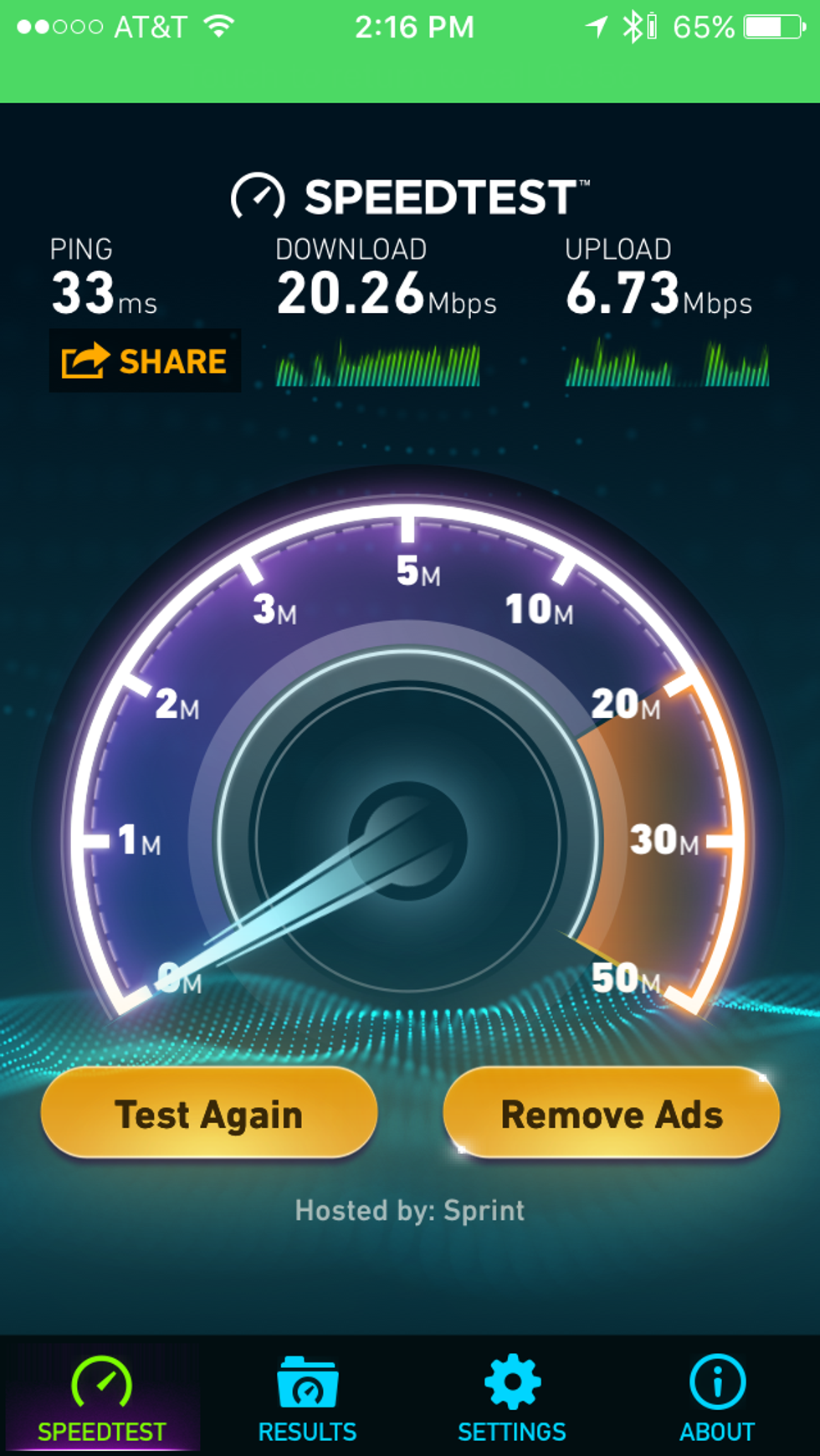 4G LTE Wi-Fi Speed Test for HumX OBD2 Device while driving in car.
Easy Installation

We found installing HumX to be very easy. First, we unboxed Hum X and its contents. Then we download Hum App from the iTunes App Store (we used an Apple iPhone 6S smartphone) and created an account. When creating your account, you will need our Hum System ID which you can find on the side of your Verizon Hum box. While creating your account, charge your Hum speaker using the speaker charge cord. This should take about 20 minutes. Once the app is downloaded, and your account is created, you can install Hum OBD Reader in the OBD port of your car. Make sure your vehicle is off prior to installation.
Next, it was time to locate the OBD port location in our car. As with most cars, the port was located under the driver's side dashboard. Keep in mind OBD ports are in vehicles made from 1996 to today. If you have a vehicle manufactured prior to 1996, you will not have an OBD port and won't be able to use Hum or any OBD2 device. If you need help in locating your OBD port, you can visit www.hum.com/port. Next, we inserted the HumX OBD@ reader into the OBD port and were ready to start testing our HumX.
Here is a quick slideshow on how to install your Verizon Wireless HumX OBD2 device:
Verizon Wireless HumX
First thing you need to do is unbox your new Verizon Wireless HumX.
Download the Hum app.
Next step is to download the Hum app. Hum app is available in either the iTunes App Store (iOS devices) or Google Play (Android devices).
Create an account.
Once you download the app, you need to open up an account if not a Verizon Wireless customer. If you are already a Verizon customer, then just sign in to your account to connect your HumX.
Locate OBD Port in Your Vehicle.
Once you download the app and open up an account, you need to locate the OBD port on your vehicle. For most vehicles, the OBD port can be found underneath your steering column.
Insert HumX in to OBD port.
Once you locate the OBD port, insert your HumX OBD2 device and turn on your car.

How Much Does It Cost?

The Hum app is free but Hum+ and HumX both come with monthly plans as well as an equipment cost. The Hum+ costs $29.99 for the unit, plus a one-time activation fee of $20. There is a two-year subscription required that costs $10 a month (plus taxes and fees). HumX costs $99 for the unit and a one-time activation fee of $20. HumX also requires a two-year subscription fee to cover the cost of the 4G Wi-Fi service. The monthly cost for the HumX plan is $15 plus taxes and fees.
Do you need to be a Verizon Wireless Subscriber to use this product? No, you don't need to be a Verizon Wireless customer to use any of the Hum products. Verizon Wireless customers may find they have a small gain because they can use their data plan to offset the monthly cost for 4G Wi-Fi service with HumX. But, you can open a new Verizon Wireless account for your HumX or Hum+.

If you want to take a look at these devices before buying one, review Hum+ and HumX are available at any Verizon Wireless retail outlet as well as through Verizon Wireless website. There is some talk about Verizon making Hum products available through major retailers. But for now, play it safe and either go to Verizon Wireless retail outlet or on their website.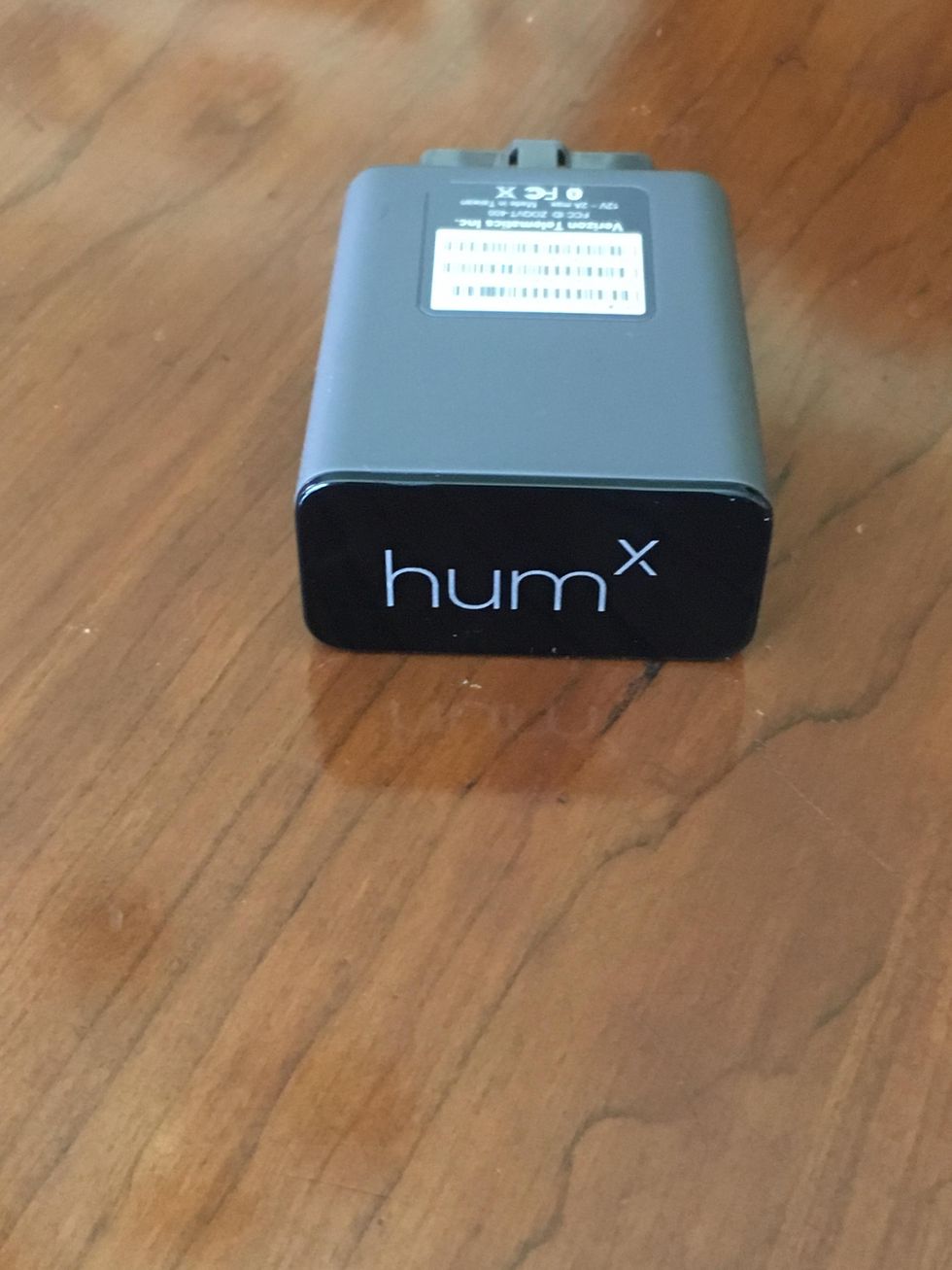 Summary

Many OBD2 devices are designed to help car owners get a better understanding of their vehicle's diagnostics. Some OBD2 devices also offer GPS location services and safety scores or more detailed information on what's wrong with your car's engine, brakes and other vehicle diagnostics. There are also a few that have monthly subscription fees to help store information on your car, offer Bluetooth connections or provide added security. However, no other OBD2 device offers a robust lineup of services such as Mechanic Hotline, Bluetooth Speaker and 4G Wi-Fi like HumX. A year ago when Hum came out, GearBrain was a big fan. All we asked for was a 4G Hotspot capability and Verizon delivered along with wide-ranging services which can turn an average car into a true connected car.
Whether you are a Verizon Wireless customer or not, HumX is one of the best OBD2 devices with the most complete offering of services that not only help car owners understand how their vehicle is operating, but provides peace of mind for parents who want to see how their young drivers are progressing as well as a nice connected environment for those long family trips they take in their family car every year. HumX can also be a nice device for companies to offer employees who work out of their car. It can help turn their car into a real mobile office but it will also help the company monitor the whereabouts of their employees and their driving of the company car.
Lastly, HumX also helps you speak to a trusted mechanic to help figure out what's wrong with your car and how to fix it. No other OBD device or scanner offers you this type of comprehensive services. You must decide if all of this is worth $100 plus $10 per month.
Pros: 4G LTE Wi-Fi, Mechanic Hotline, Verizon customers can use data plan to defray monthly cost, easy setup, wide range of road side services, in-depth look at vehicle diagnostics.
Cons: Activation fee, hard to determine battery power for Bluetooth speaker, speaker sound.
Like GearBrain on Facebook