Like GearBrain on Facebook
The 2018 iPad Pro is a supremely powerful tablet with a beautiful display and sharp design, as we said in our review. It has Face ID, good speaker, a decent camera, and a new USB-C port.
The new iPad Pro ticks a lot of boxes, and on first impressions its iOS operating system is a joy to use — and familiar to anyone who has ever used an iPhone.
Read More:

But Apple wants us to see the iPad Pro as the future of personal computing — not just a tablet to watch movies on flights, read magazines, and jot down the occasional note or email.
Once you add on the Apple Pencil and Smart Keyboard Folio, the iPad Pro has a laptop-like price; bump the storage up to its maximum 1TB, and you suddenly have a $2,200 device in your hands. That's comfortably into MacBook Pro territory, for a device which uses almost the same software as an iPhone.
Does it work? Can the iPad Pro be turned into a laptop alternative with the addition of a stylus and a keyboard? Let's find out.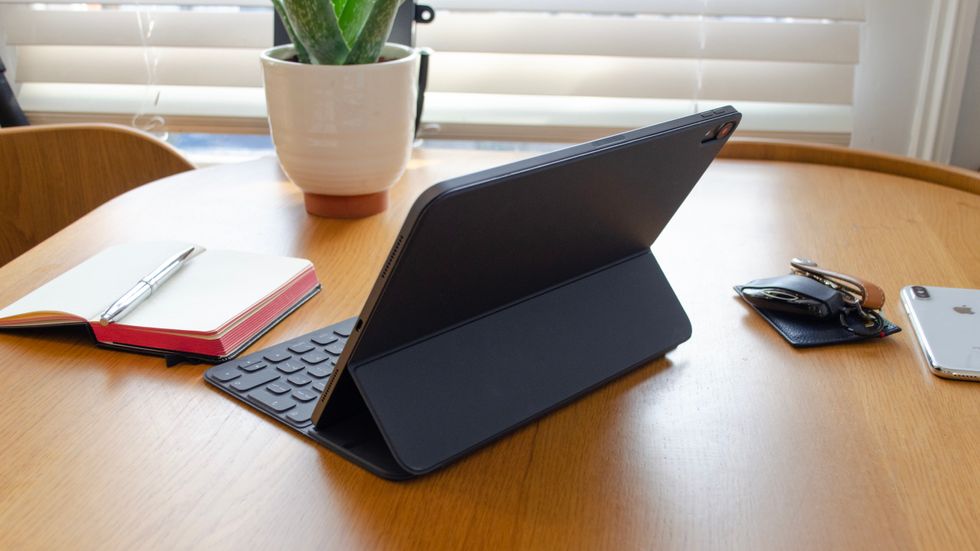 GearBrain
We need to talk about cost
First up, I need to address the cost of these two accessories, and how they relate to the price of the iPad Pro. Because I bought the cheapest Pro, the 64GB model with Wi-Fi and not 4G, I spent £769 (I live in the UK; in the US it's priced at $799). This means the addition of the Apple Pencil (£119; $129) and the Smart Keyboard Folio (£179; $179), adds 38.7 percent to the price of the iPad.
If, however, I had splashed out on the 1TB iPad Pro with the larger 12.9-inch display, costing £1,519, then the accessories would have added a more acceptable 17.3 percent.
Buyers of the more expensive models of iPad Pro will likely soak up the cost without a second thought, but if you already felt the first rung on the ladder was a sizable investment, then forking out an additional near-40 percent for accessories which seem almost mandatory is a bitter pill to swallow.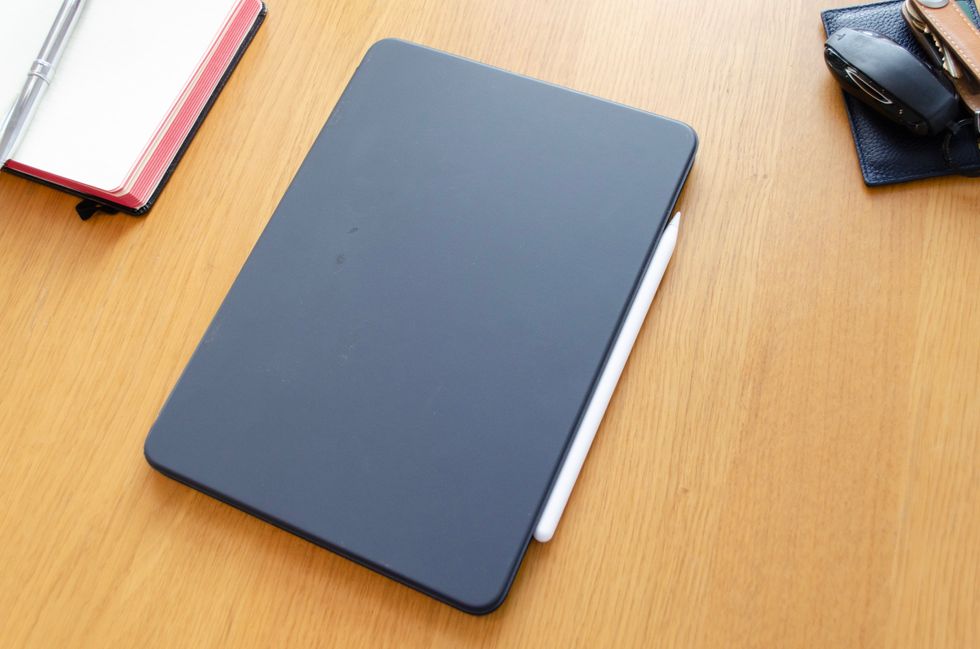 GearBrain
Apple Pencil 2

What's immediately clear with the second-generation Apple Pencil is how the company has learned valuable lessons from the mistakes it made with the original. Look at how the new model snaps magnetically to the iPad, then immediately charges while briefly showing its battery level on the iPad's display, and you wonder how on Earth the first Pencil ever went on sale.
How did a company with Jony Ive and his team on its payroll think removing the old Pencil's immediately-losable cap and plugging it into the Lightning port like a talon was a good idea? Pairing and charging the new model is a much, much better experience; it's as seamless as using AirPods.
The new Pencil's slightly shorter size and matte finish is also an improvement, and so too is the flat edge, which runs along the stylus' entire length to both give you something to hold, and to stop it rolling off your desk.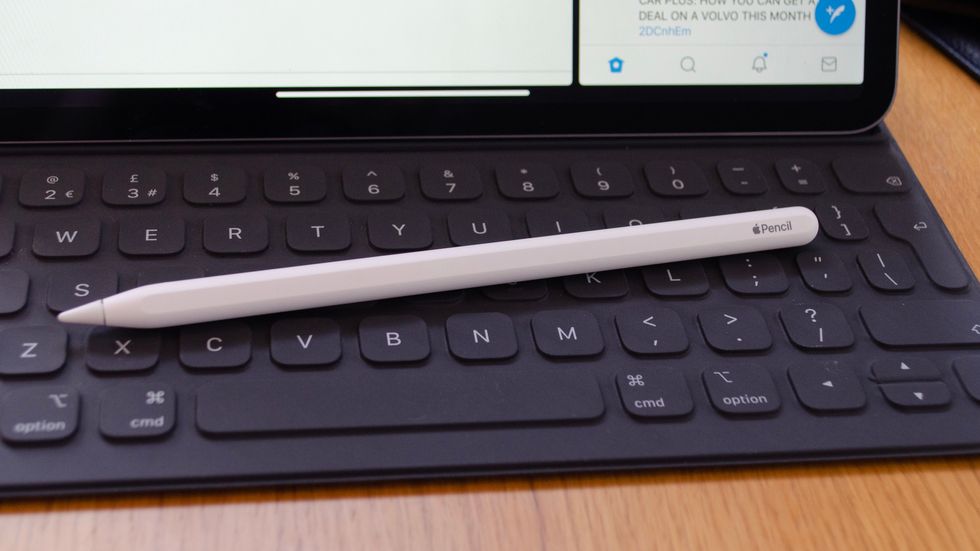 GearBrain
The nib looks and feels the same as before — it is in fact interchangeable with the old Pencil — and performance also feels the same. This isn't necessarily a bad thing. But it makes you wonder why the old Pencil doesn't work with the new iPad. I suspect it could work, but the change from Lightning to USB-C of course means there would be no way to charge it on the new iPad.

Also new for the second-generation Pencil is a double-tap gesture, where tapping twice on the stylus with your index finger can control it in certain ways. For example, this tap switches between pen and eraser in Apple's Notes app. The Pencil is not actually touch sensitive, but it recognizes the feeling of being tapped twice anywhere along its lower half.
I mostly use the Pencil for signing invoices and filling out forms sent to me as PDFs, but there is a certain enjoyment from pointing, tapping and navigate your way around iOS with a stylus. In the same way I enjoy using the S Pen stylus of a Samsung Galaxy Note, the Apple Pencil is satisfying to use, even when you aren't drawing and writing. I enjoyed using the Pencil for editing the photos in this feature in Lightroom on the iPad, its nib offering more precise control than my finger.

In fact, I produced and uploaded this entire article using the iPad, only to fall at the final hurdle - Safari wouldn't let me highlight text then insert a hyperlink.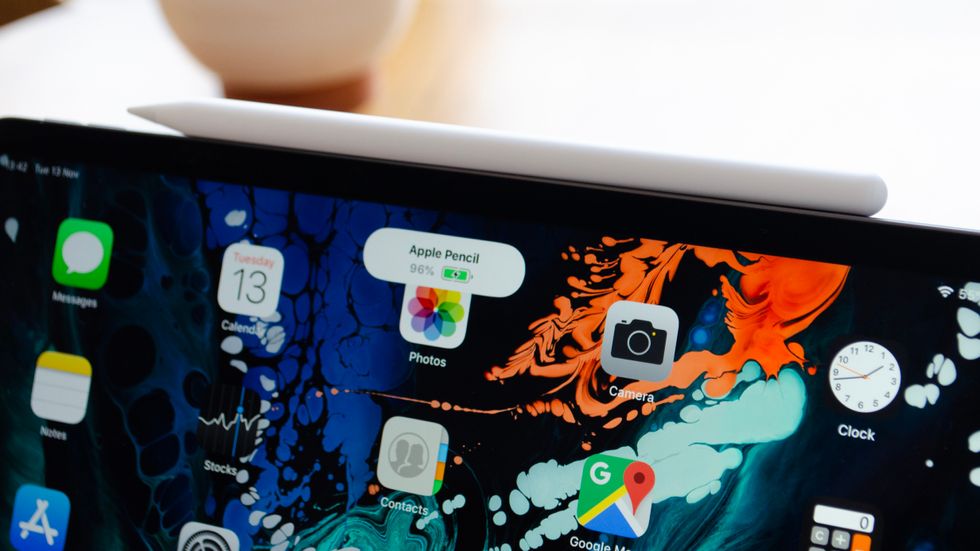 GearBrain
A complaint I have with the Pencil is how its magnetic connection with the iPad isn't all that strong. It stays in place while carrying the tablet, but would easily be knocked off when fed into a backpack. That said, at least the Pencil now has somewhere to live, as with the old iPad Pro it did not.

For me, and despite the praise I have given it, the Apple Pencil probably isn't worth its asking price. I know I could sign invoices in a different way, and that editing in Lightroom on my MacBook Pro is a more comfortable and productive experience. And yet, Apple's infamous 'Reality Distortion Field' has lightened my wallet to the tune of £119, mostly because it just felt 'right' to buy the iPad Pro's stylus sidekick.
Smart Keyboard Folio
Next comes the Smart Keyboard Folio, which is similar to its predecessor but both adds and removes features. Firstly, it now covers the back of the iPad as well as the front when closed.
This is an obvious improvement and means the back of your shiny new tablet won't get scratched as easily as before. It also makes the device comfortable to carry and gives it a discreet look, as there is no Apple logo anywhere on the folio - a sign of remarkable restraint from a company that loves to put its logo on everything it sells.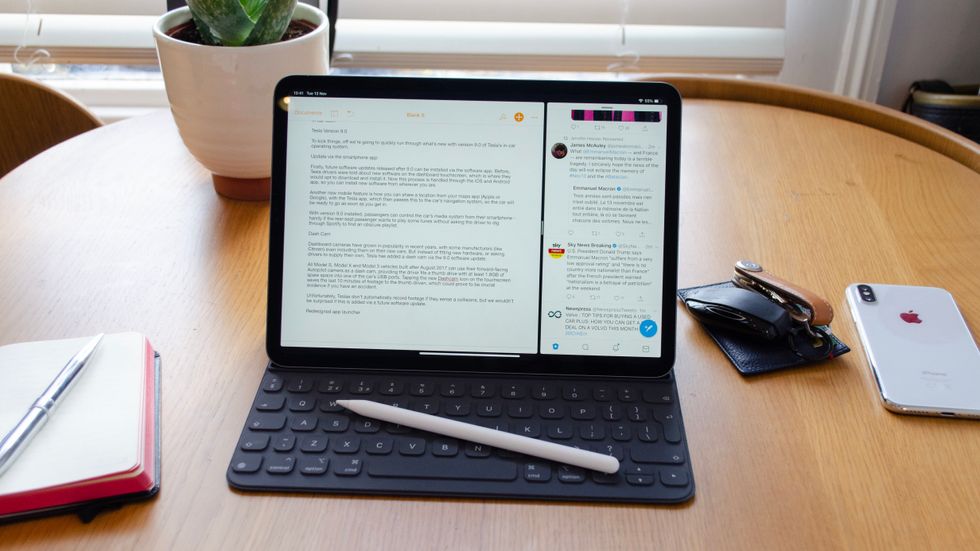 GearBrain
But what Apple gives with one hand, it takes away with the other. In this case, the Smart Keyboard can no longer be opened in a way which props the iPad up in landscape mode, while keeping the keyboard folded up behind.

Newly added, is the ability to sit the iPad at one of two angles. This is a welcome improvement, but lags some way behind the kickstand Microsoft uses on its Surface range, which can be adjusted to almost any angle you like. The keys of the new cover are slightly larger than before, but have the same texture, the same shallow movement, and the same layout.
They still move enough to know you have pressed them (and emit a quiet tapping noise) but will feel squidgy to anyone who has just switched from any of Apple's Mac keyboards. The iPad's is just a little too soft for my liking.
Is the iPad Pro a computer now?

Propping the iPad Pro up in landscape and interacting with it via an attached keyboard sure starts to feel like a laptop - or, at the very least, a form of computer.
A couple of decades of muscle memory can't be overwritten, however, and I still feel a twitch every so often as my thumb stretches instinctively for a trackpad that isn't there. Similarly, reaching out and touch the screen to highlight text or move the cursor when typing is a far more conscious effort than reaching for a mouse.
But it works. Keyboard shortcuts for editing text, opening new browser tabs, and hiding applications (returning to the home screen), coping, selecting and pasting work as you'd expect.
iOS on the iPad differs from the iPhone's version, in that two apps can be opened and used side-by-side. For example, you can have a web page in Safari open alongside a test document in Pages, or Twitter. The size of each can be adjusted, and this layout remains in place until you close it - so opening Mail then returning to the website will see you return to both Safari and Pages, just how you left them.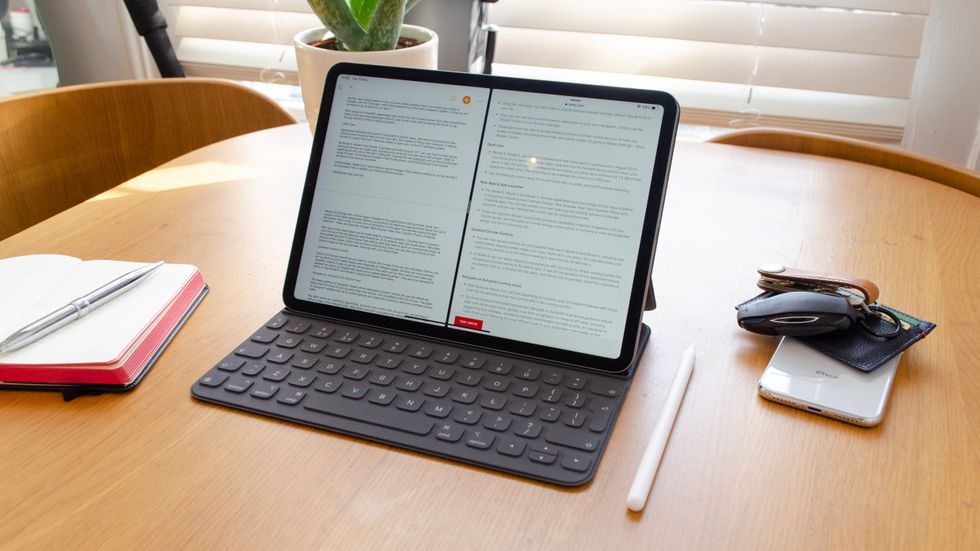 GearBrain
I can happily work like this for extended periods of time, and believe that an iPad Pro with the Smart Keyboard Folio will become my cafe computer. For when I just need to get my head down and write, this setup provides fewer distractions than a laptop, simply because there is less on the screen, and engaging with distractions like Twitter and YouTube requires more effort than on a regular computer.

Typing away at the iPad Pro sure looks like you are using a computer - albeit one without a mouse and trackpad - but it isn't quite a computer replacement just yet. The lack of a proper file management system, as I discussed in my iPad Pro review, is a key area where iOS feels unable to compete with Mac OS and Windows.
The differences between MacBook Pro and iPad Pro - at least in my line of work - are fairly small, and after some practice I feel I could go whole days without using the laptop. But I think those days would be less productive, at least until I had learn precisely how to optimize my use of the iPad and iOS to get the most out of it. When the MacBook is sat just across my desk, or in the bag by my feet at the cafe, this feels like an inefficient use of my time.
Apple is closer than ever to offering two types of laptop - the MacBook and the iPad - and I have no doubt that it will get there sooner rather than later. But for now, iOS is limiting, touch inputs aren't as precise as using a mouse or trackpad, and Apple's iPad keyboard feels like a competent stand-in when called upon, rather than a full-time replacement.
Like GearBrain on Facebook