Like GearBrain on Facebook
With many people now approaching their ninth month of working exclusively at home, you might well be looking for a way to shake up the routine and bring some change to your home office.
We don't mean investing in a garden office, but instead looking to the humble iPad as your means of escape. Of course, if you're a city worker requiring six displays on your desk, this isn't for you. But for many whose tools of the trade mostly include a keyboard, mouse and display, the iPad can make for a pleasant, distraction-free change.
Read More:
With iPadOS 14, which rolled out a few weeks ago, Apple introduced more robust keyboard, mouse and trackpad support for all of its iPads, where many external devices were previously only supported via the accessibility menu.

This then led to Apple launching its own Magic Keyboard, complete with a levitating, magnetic iPad mount, a tactile keyboard with proper moving keys and for the first time, a trackpad.
Logitech then followed up with the more affordable Brydge Pro+, and now every member of the iPad family can be used with a keyboard and mouse, as well as the Apple Pencil and other such styluses.
Here is a closer look at the products we recommend for turning your iPad into a workstation. And, in our experience at least, working on an iPad can be great for productivity, thanks to full-screen apps removing the temptations of checking Twitter and email every five minutes. You could even ditch all social and entertainment apps, letting you focus entirely on your work.
Apple Magic Keyboard – From $299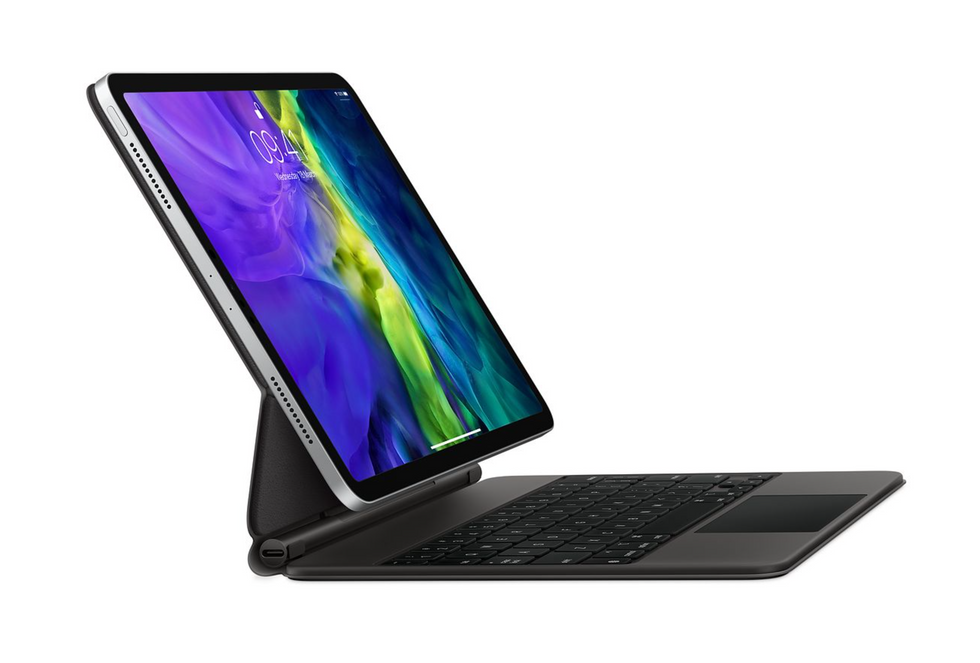 The Magic Keyboard by AppleApple
The most attractive option but also the most expensive, the Apple Magic Keyboard covers the front and back of your iPad when you aren't using it, then folds open and lifts your tablet so it appears to levitate above the keyboard and trackpad.

The keys on the Magic Keyboard have just enough movement (and therefore comfort) to be a temporary substitute to your regular computer keyboard, while the trackpad is large enough to swipe, scroll and click your way through the working day. Screen angle is adjustable and your iPad is held securely in place with magnets.
It used to be that only iPad Pro owners got access to the accessories needed to turn it into a laptop replacement, but that is no longer true. The Magic Keyboard is compatible with the new iPad Air (4th generation), as well as the 1st and 2nd generation iPad Pro 11-inch, and the 3rd and 4th generation iPad Pro 12.9-inch.
As an aside, keyboards connected to an iPad, whether through a case like this or over Bluetooth, often enable computer-style shortcuts. For example, Cmd-C is copy, Cmd-V is paste and Cmd-Z is undo when using most word processor apps for the iPad.
Apple Smart Keyboard Folio – From $179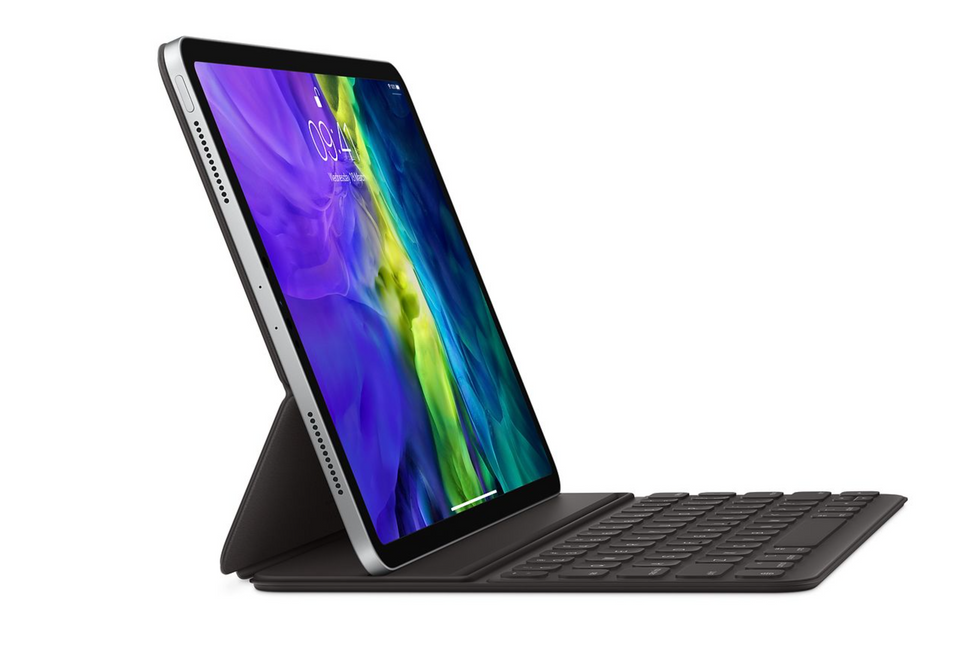 The Smart Keyboard Folio by AppleApple
Next up, and more affordable but lacking a trackpad, is the Smart Keyboard Folio. This is compatible with the same five models of iPad as the Magic Keyboard, protects the front and back when closed, and attaches with magnets.

But there is no trackpad, as the keyboard is one piece of material instead of individual keys. This then offers slightly less vertical movement, and there are just two screen angles to pick from with the Smart Keyboard Folio. All that said, we have used this product for a couple of years now and find the two screen angles are suited to almost all use cases, whether you are sitting at a desk or table, working on the train or plane, or watching Netflix in bed.
The Folio is also lighter than the Magic Keyboard and thinner too, so your iPad still feels like an ultra-portable tablet and less like a slimmed-down laptop.
Apple Smart Keyboard – $159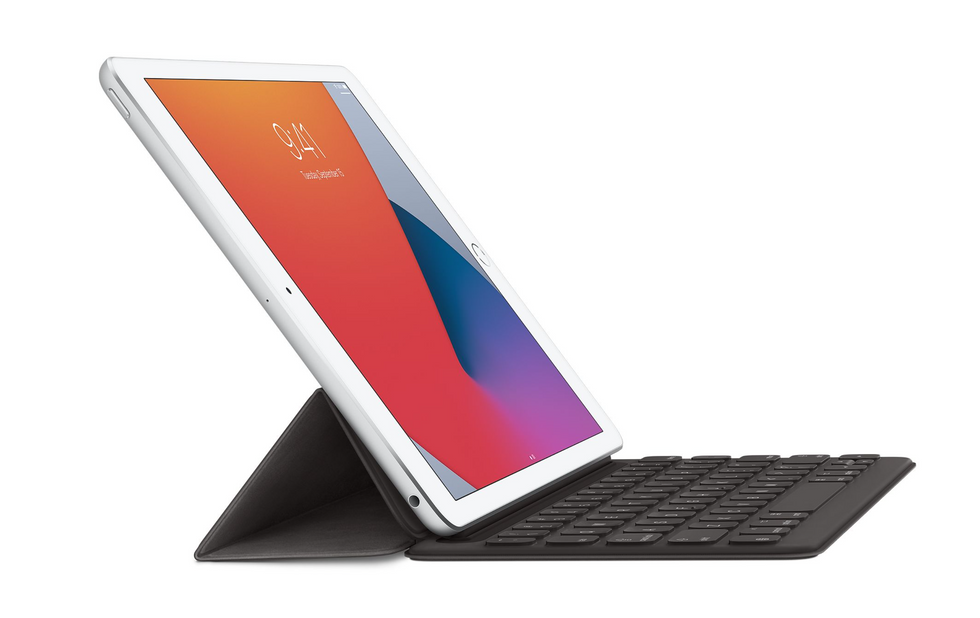 The Smart Keyboard by AppleApple
Apple's most affordable iPad keyboard case, the Smart Keyboard is compatible with the 10.5-inch iPad Pro, as well as the 3rd generation iPad Air and both the 7th and 8th generation iPad.

This only covers the front of your iPad when closed and has just one screen angle, but features the same keyboard as the Smart Keyboard Folio, which is comfortable enough for casual typing work. If you write for a living you might not want to tap thousands of words a day into this keyboard, but it still makes for a great secondary computer for when you want to work on the kitchen counter for a couple of hours.
Logitech Brydge Pro+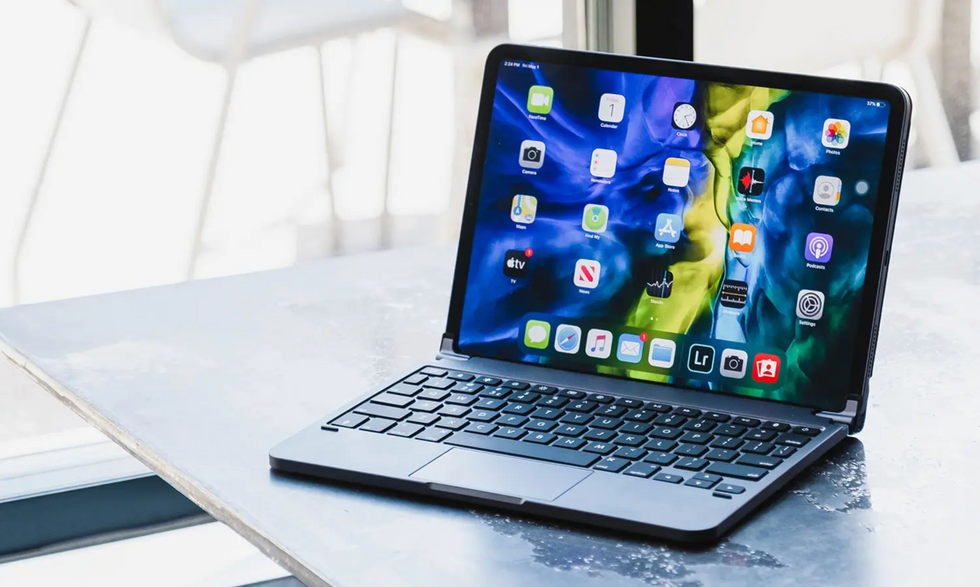 The Brydge Pro+ by LogitechLogitech
A far more affordable option for those wanting an iPad keyboard dock with integrated trackpad, the Brydge Pro+ by Logitech recently had a price cut and now starts at $130, or less than half that of Apple's Magic Keyboard.

It may lack Apple's fancy levitating design, but for getting work done you can't fault this Logitech offering. It has a full keyboard with function keys for volume, brightness, media playback and more, a track pad, is made from aluminum, and boasts a three-month battery life.
Unlike any of Apple's keyboards, this one has backlit keys to make working in low-light environments easier. Offered in space gray to match your iPad, it is compatible with the 1st and 2nd generation iPad Pro 11-inch, and the 3rd and 4th generation of iPad Pro 12.9-inch.
Logitech Combo Touch – $149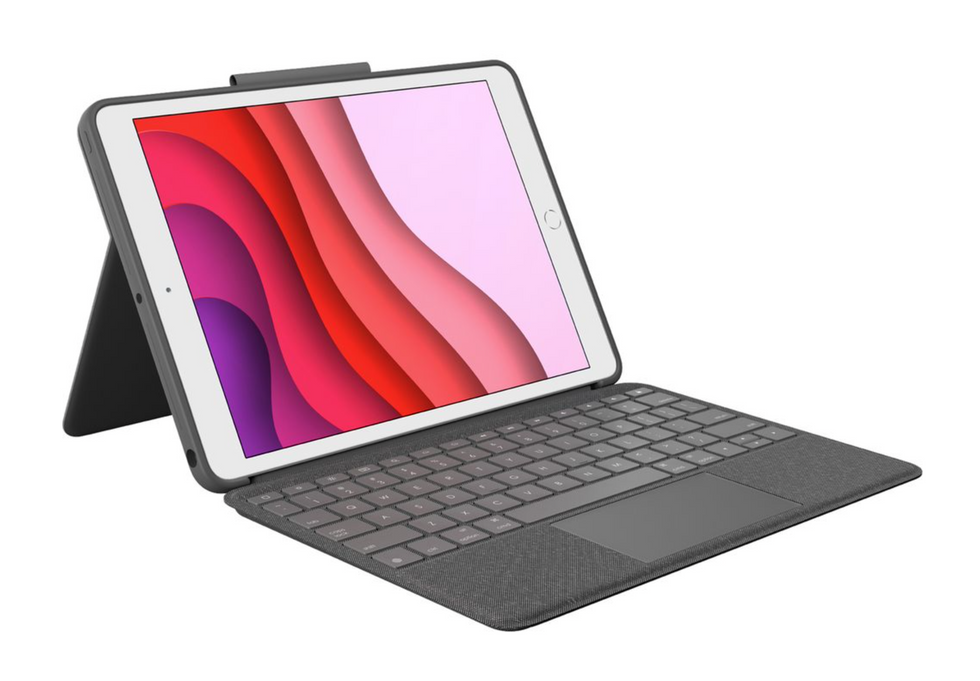 The Combo Touch by LogitechLogitech
Another well-priced option from Logitech is the Combo Touch, which is designed for the iPad Pro (10.5-inch 1st gen), iPad Air (3rd gen) and iPad (7th and 8th gen). This accessory features a fabric finish, full keyboard with individually backlit keys, a trackpad, a holder for your Apple Pencil or other stylus, and a kickstand for propping up your iPad at various angles.

The keyboard can be removed when you don't need it, like when you are watching video or drawing on the iPad with a stylus, and it has a soft fabric finish. When folded closed, the case covers the front, back and sides of your iPad.
Any Bluetooth keyboard, mouse or trackpad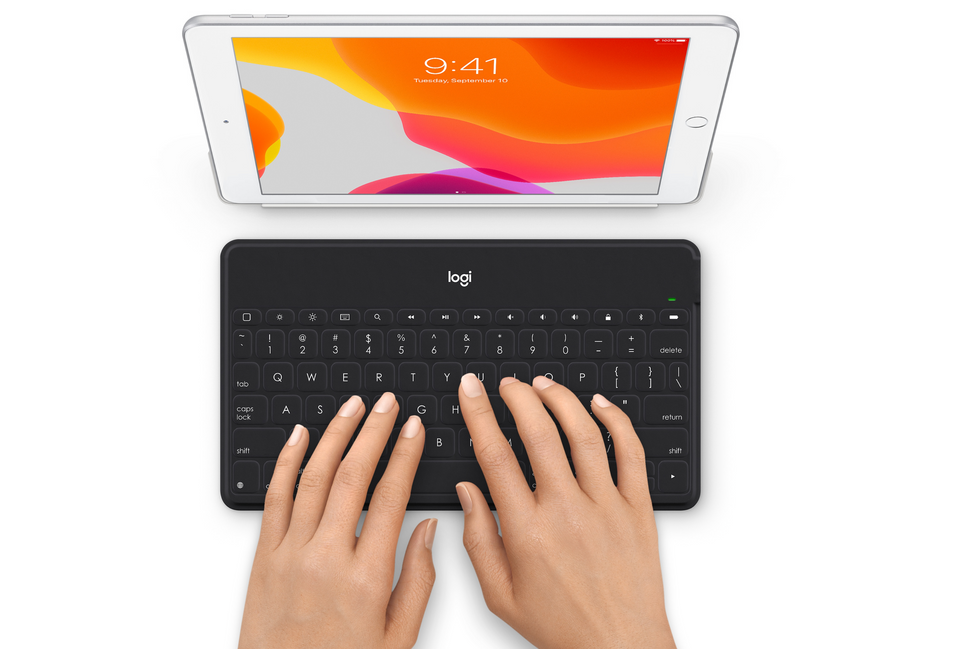 Almost any Bluetooth keyboard, mouse and trackpad can be used with iPads Logitech
With iPadOS 14, any regular Bluetooth keyboard, mouse and trackpad can be connected to an iPad. This means you can prop your iPad up using a simple folding case and use it with any full-size keyboard you like, instead of being restricted to the smaller keys of the keyboard cases highlighted above.

We also find this helps with ergonomics, as the iPad can be placed on a pile of books or a monitor shelf, raising it to the same level as your eyes, while the wireless keyboard and mouse remain on your desk, table or worktop.
This flexibility really helps turn the iPad into the perfect casual work machine, quickly turning any surface into a temporary office. So when you're sick of sitting in the same office chair and staring at the same display every day, the iPad makes it easy to switch things up.
Stylus

The 2nd generation Apple PencilApple
Apple's own stylus, called the Apple Pencil, comes in two flavors. The first costs $99 and is a few years old now but is compatible with all models of iPad Pro, plus the 3rd-generation Air, 6th, 7th and 8th generation iPad, and even the 5th generation iPad Mini.

The $129 second-generation Apple Pencil is more expensive and charges when connected to the side of the iPad with magnets (instead of plugging awkwardly into the Lightning port, as the original Pencil does). This model is compatible with the 1st and 2nd generation iPad Pro 11-inch, the 3rd and 4th generation iPad Pro 12.9-inch, and the 4th generation iPad Air.
Both offer a great user experience and can be used to draw, write, color in, and make for a surprisingly satisfying way to navigate around the iPad operating system.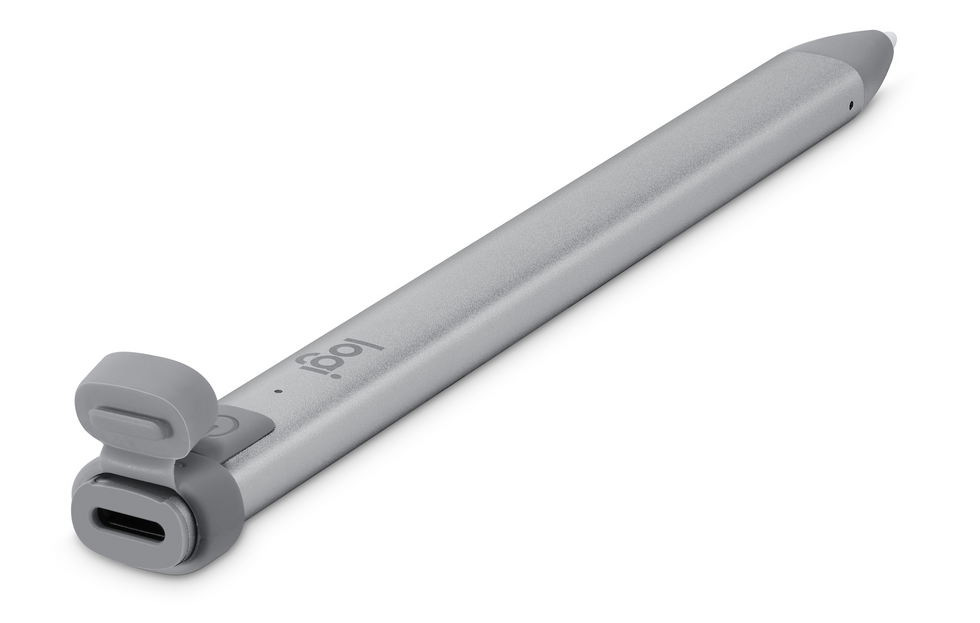 The Crayon stylus by LogitechLogitech
As ever, Logitech also offers a cheaper solution. This time it is the $70 Crayon, which connects wirelessly, is rechargeable, and works with any model of iPad. It is available in gray with gray or orange highlights.

Alternatively, you can pick up a simpler rubber-tipped stylus designed to work with any tablet. These don't connect over Bluetooth like the Pencil does, but are fine for simple tasks that don't involve great accuracy. They are also much cheaper, and are sometimes fitted to the end of a regular pen for added convenience.
A hub to add extra ports – From around $30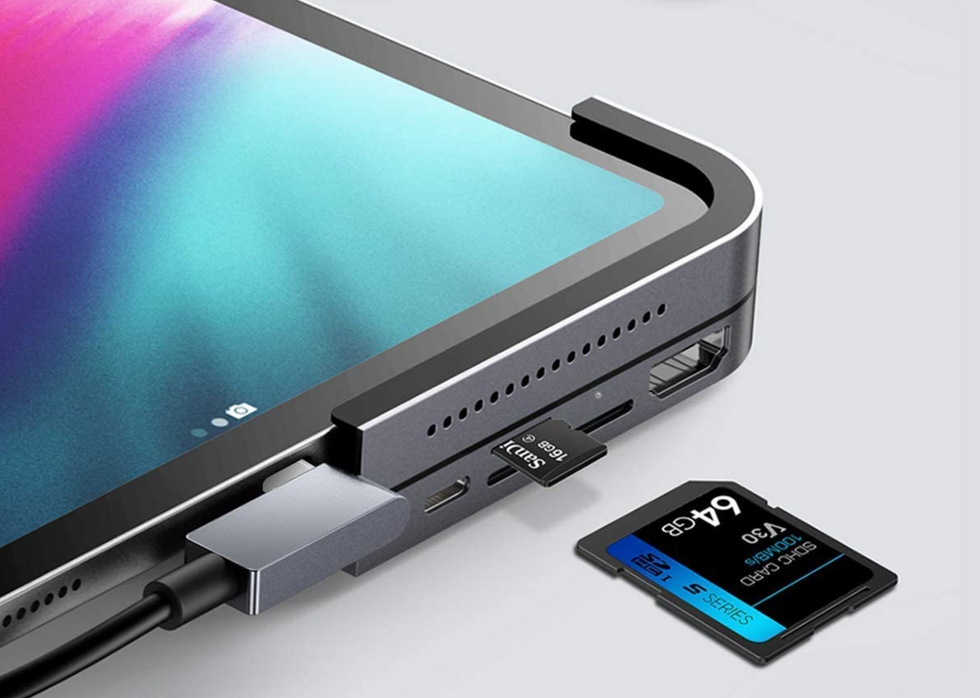 USB-C hubs for the iPad come in all shapes and sizesBaseus
Finally, you might want to invest in a hub to add more connectivity options to your iPad. Apple's tablet only has a single USB-C or Lightning port, depending on the model you have, so connections out of the box are severely limited, especially if you need to be plugged into a power outlet while you work.

Unfortunately, those with a Lightning port (like the entry-level iPad) can only connect to a handful of accessories, like an SD card reader for transferring photos taken by a camera.
But with the USB-C port of the iPad Pro and latest iPad Air, there are many more options available. Hubs include connections for USB-C storage, as well as SD and microSD cards, 3.5mm audio jacks, HDMI, and regular USB-A accessories too. All of these plug into the hub, which attaches to the iPad's single USB-C port.
You could also use any USB-C hub you already use with a MacBook.
USB C Docking Station, Baseus 5-in-1 USB C Hub Adapter with 4K USB C to HDMI, 60W USB-C PD Charging Port, 3 USB 3.0 Ports for MacBook/Pro/Air 2018, Chromebook, XPS, Galaxy S10/S9, and More
Like GearBrain on Facebook