Like GearBrain on Facebook
The 2018 iPad Pro represents the biggest design change to Apple's tablet in its eight-year history. Following the iPhone X and XS before it, the iPad Pro has jettisoned its home button, stretched its display to the corners, and adopted Apple's facial recognition system, Face ID.
There is also a new look to the aluminum chassis, which is squared-off compared to its more curvaceous predecessor, a relocated keyboard connector, and a USB-C port instead of Apple's proprietary Lightning connection. The headphone jack has disappeared (and there's no adapter in the box), performance has been increased, and a new magnetic charging pad on the side fills the battery of the new Apple Pencil stylus, sold separately.
Read More:
Apple iPad Pro (11-inch, Wi-Fi, 64GB) - Space Gray (Latest Model)
For this review, I will be using my own 2018 iPad Pro, which has an 11-inch display (a 12.9-inch model is also available), Wi-Fi (4G is also available), and a modest 64GB of internal storage (options go all the way up to 1TB).

This then, is the entry-level iPad Pro. At $799, it still costs $150 more than the 10.5-inch iPad Pro from 2017, which remains on sale, and is over twice the price of the $329 regular iPad.
I will also be reviewing this iPad Pro without the $129 Apple Stylus and $179 Smart Keyboard Folio. These will be addressed in a feature article, but for now I want to put Apple's question of 'what is a computer?' to one side, and focus instead on my own question - 'what is an iPad Pro?'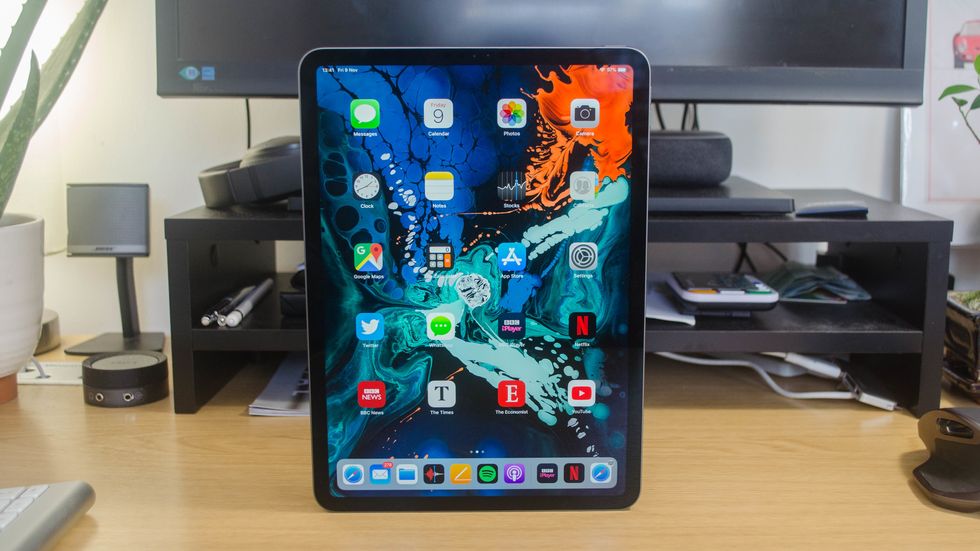 GearBrain
Apple iPad Pro 11-inch review: Design and Hardware

In ditching the curved edges of the previous iPad Pro - along with the white/gold and white/rose gold color options - Apple is taking a more brutalist approach with the new model. It is a slim but sturdy slab of aluminum, available in silver and space gray but only with a black screen bezel.
The sides meet the front and back at squared right angles, digging into your hands a little more than before. Add this to the narrow bezels at either side of the display, and you at first feel like there isn't much to hold onto when grasping the iPad Pro for the first time.
It feels more secure than balancing a plus-size phone on your palm and reaching for a top corner with an outstretched thumb, but only by a little. The iPad Pro takes a little getting used to, and this comes from someone who used a 9.7-inch iPad Pro daily for the past two years. I'm sure I'll get used to it, but first impressions are of a tablet which requires more care and attention than before.
The rest of the chassis will be familiar to anyone who has used any generation of iPad. The volume buttons are on the right edge, just around the corner from the power and screen lock button.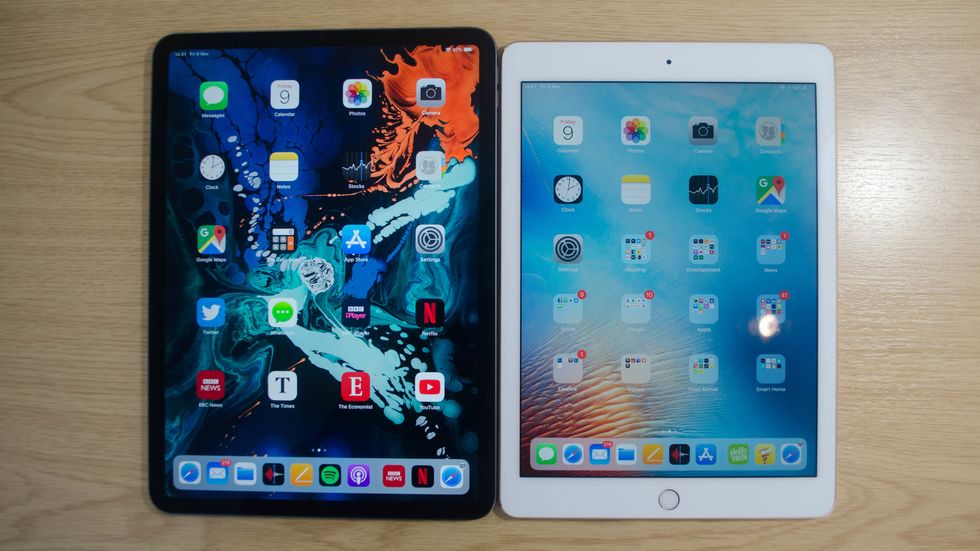 2018 iPad Pro 11 on the left, 2016 iPad Pro 9.7 on the rightGearBrain
Around the back, there is an oversize camera which protrudes from the top corner, with a flash just below it. It has a 12-megapixel sensor and an f/1.8 aperture with HDR, but you are almost always better off taking photos with the phone in your pocket; photography with an iPad still feels as weird and heavy-handed as ever.

The Pro has four speakers and four tweeters to provide surprisingly good audio for such a slim device. Even with a couple of speakers covered by your hands as you hold it, the sound is loud and clear; crank the volume up high and it remains decent, but the chassis starts to vibrate.
The new USB-C port means the iPad Pro can connect to a wide range of devices and peripherals, including monitors, microphones, and cameras for transferring photos and video. However, the glaring omission here is external storage; the iPad Pro's USB-C port cannot interact with a thumb drive, or any kind of hard drive whatsoever.
This is disappointing and highlights the shortfalls of Apple putting the same operating system, iOS, on its smartphones and tablets. It's perfect for the iPhone, but hits too many roadblocks when you try to use the iPad Pro as a computer - more on this later...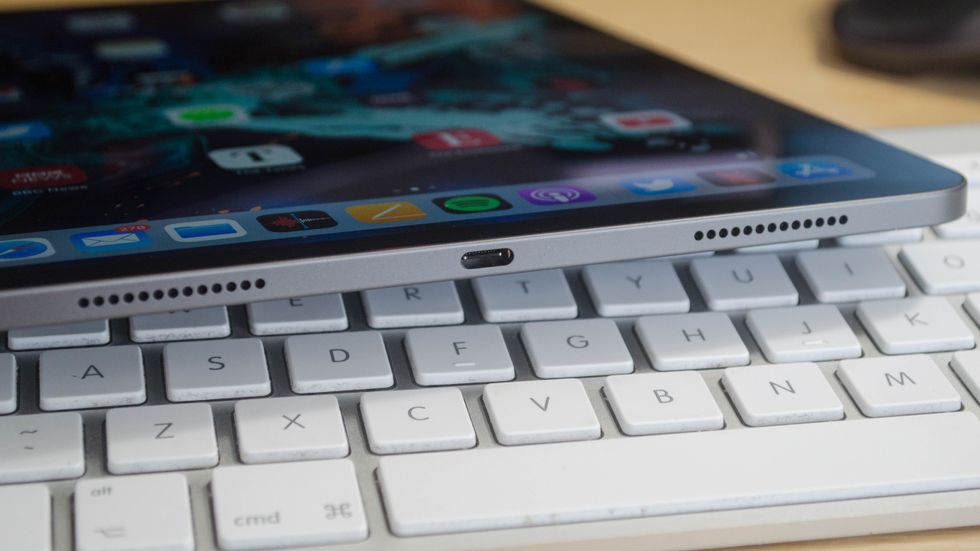 GearBrain
Apple iPad Pro 11-inch review: Display

As ever, the display of the latest iPad is its standout feature. Stretched from 10.5 inches to 11, the new screen has a resolution of 2388 x 1668 and a pixel density of 264 per inch. More importantly, it has the same 'ProMotion' 120 hertz refresh rate as last year's model, which makes it incredible smooth and responsive.
Having skipped a generation and gone from the 60 hertz 9.7-inch Pro to this new model, I was immediately impressed by the speed and smoothness of the display. Even just flicking between home screens or jumping into the multitasking window felt like a huge improvement.
It really is a gorgeous screen, and features Apple's True Tone system which adjusts the display based on ambient lighting conditions. Of course, anyone editing photos will want to turn this off, but that's just a matter of quickly jumping into the Settings app and flicking a switch.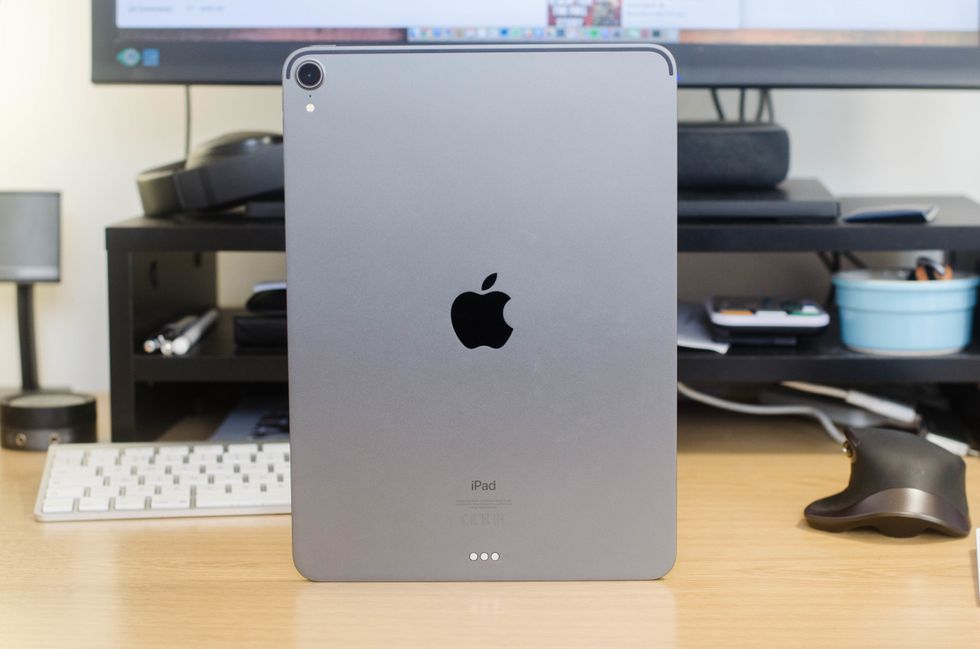 GearBrain
New for this generation of iPad Pro is how the corners of the screen are rounded, as on the iPhone X, XS and XR. Apple calls this a Liquid Retina display and employs a technique called 'pixel masking' to create the rounded look. But a look is all this really is; the rounded corners don't serve a purpose, other than to look nice.

What's less visually pleasing is the huge black bars framing many apps on the new iPad Pro. Apple's own apps fill the entire display, as you'd hope, but most offered by third parties are yet to be updated to cater for the new 11-inch size. As a result, black bars appear on all four sides.
Apple iPad Pro (11-inch, Wi-Fi, 64GB) - Space Gray (Latest Model)
In video apps, like Netflix, the bars are so large than you may as well watch the content on a smaller iPad, as the actual picture will be about the same size. See the image below for an example.

App developers will hopefully fix this soon, but it's a little disappointing to spend so much money on the latest, greatest iPad (with a larger screen, no less), only to have videos which are mere fractions of an inch larger than on a smaller two-year-old model.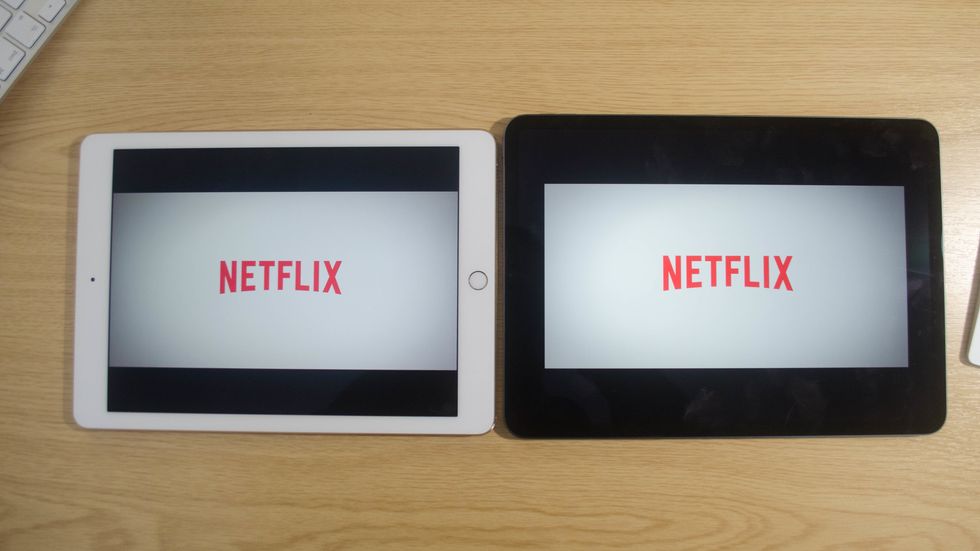 The new iPad Pro (right) has large black bars in some apps, but hopefully this will change soonGearBrain
Apple iPad Pro 11-inch review: Software and Performance

I'll just cut to the chase on this one: The 2018 iPad Pro is unbelievably fast. It is a rocketship of a device which feels like it's barely breaking a sweat no matter what tasks you throw at it. Intensive 3D games like PUBG and Fifa open quickly, 4K video can be edited in iMovie, and early next year Adobe will release Photoshop for the iPad - actual Photoshop, capable of editing the exact same files as your computer.
Apple claims the new iPad Pro is faster than 92% of portable PCs currently on sale, and benchmarking appears to back this up, with its new A12X Bionic processor scoring more highly than even some of Apple's own MacBooks.
But such gobsmacking performance is held back by the iPad's iOS software. Despite offering some changes for the iPad, such as more advanced multitasking, iOS is still fundamentally an operating system designed for the iPhone. There is no desktop, no file management system (beyond Apple's own Dropbox-like Files app), and Safari is still a mobile browser with all the limitations that entails.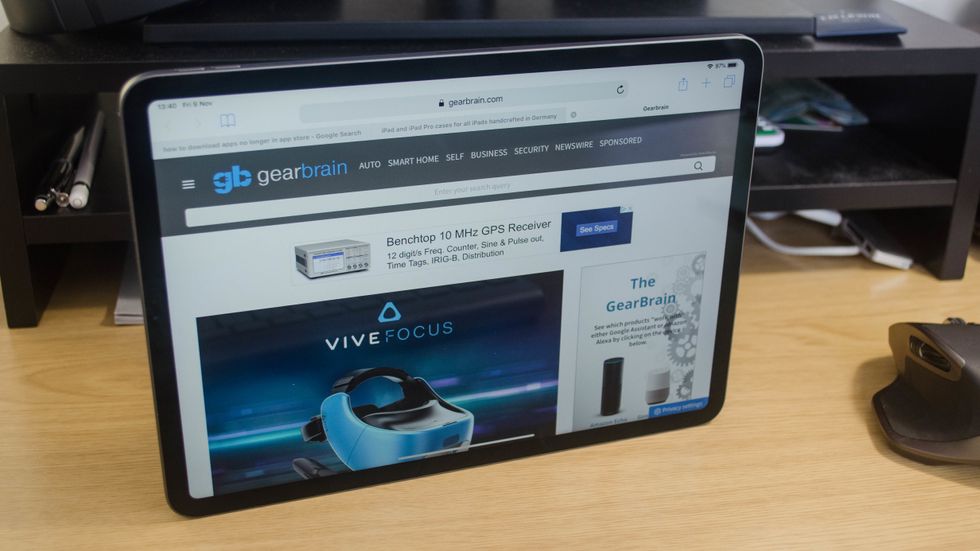 GearBrain
Apple desperately wants consumers to see the iPad Pro as a computer, and the pricing suggests you should pick between a high-end iPad Pro and the new MacBook Air. But if you do that, your $1,000 iPad won't even let you import photos (or anything at all) from a USB thumb drive.

Although iOS is capable of showing two or three open applications at once, I actually quite like working with just one at a time. It helps me to concentrate, focusing in on one task at a time, be it email, photo editing, or writing. Then, if I'm watching catch-up TV and an ad break comes on, I can swipe in from the right to open Twitter in a sidebar, and flick through my timeline while the adverts play.
In some aspects, iOS on the iPad is very close to being the perfect, lightweight mobile operating system. In that, it is almost perfect for the cafe workers - those who need little more than the web, word processing, email, social media, and maybe one or two specialist apps like Lightroom or iMovie. But if you stray outside of iOS' comfort zone, looking to flex the iPad's muscles, you're going to hit a roadblock. You can only really get the most out of an iPad Pro if you know exactly where these roadblocks are, and how best to work around them. Without that knowledge, you'll end up back at your computer, where you can submit copy into your client's Content Management System that Safari can't deal with, or edit a PDF because you can't quite remember which iOS app does that best.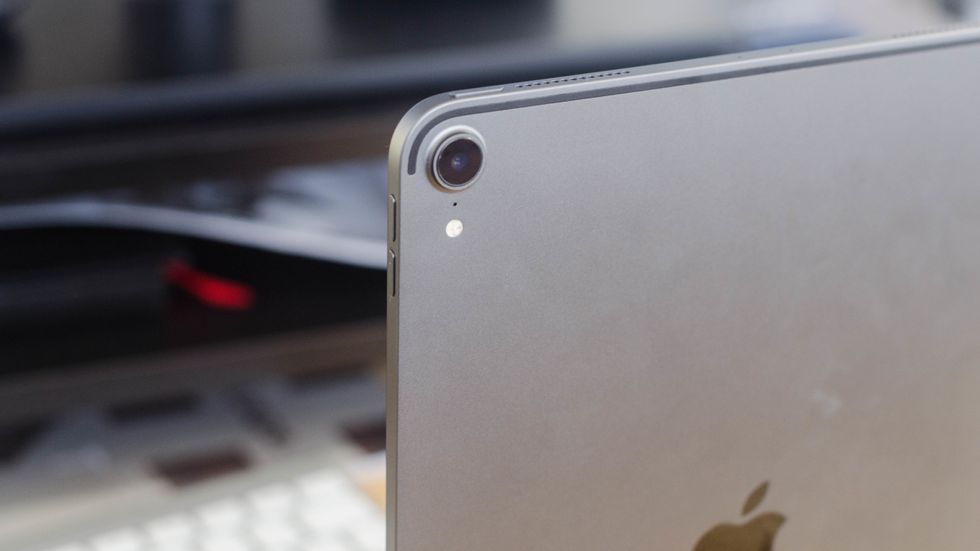 GearBrain
Even simple things like the home screen feel needlessly restricted on the iPad. Why, for instance, can I have seven rows of apps (including the dock) on my iPhone X, but only six (also including the dock) on my iPad?

In better news, Face ID works very quickly and in both portrait and landscape - something it cannot do on the iPhone - and without the display notch you really wouldn't know it's there at all. It really is a form of seamless biometric security.
Apple claims both models of 2018 iPad Pro can last for 10 hours when surfing the web, watching video, or listening to music over a Wi-Fi connection. This falls to nine hours when using Wi-Fi and 4G on the cellular model.
In my testing I found this to be accurate, with the battery falling by approximately 10 percent for each hour of Netflix watched. I also found the iPad doesn't heat up much when asking to do something more taxing, like install then play a graphically-demanding game.
Finally, a neat new feature for the iPad Pro is how its USB-C port can be used to charge your iPhone - as long as you have the right cable, of course.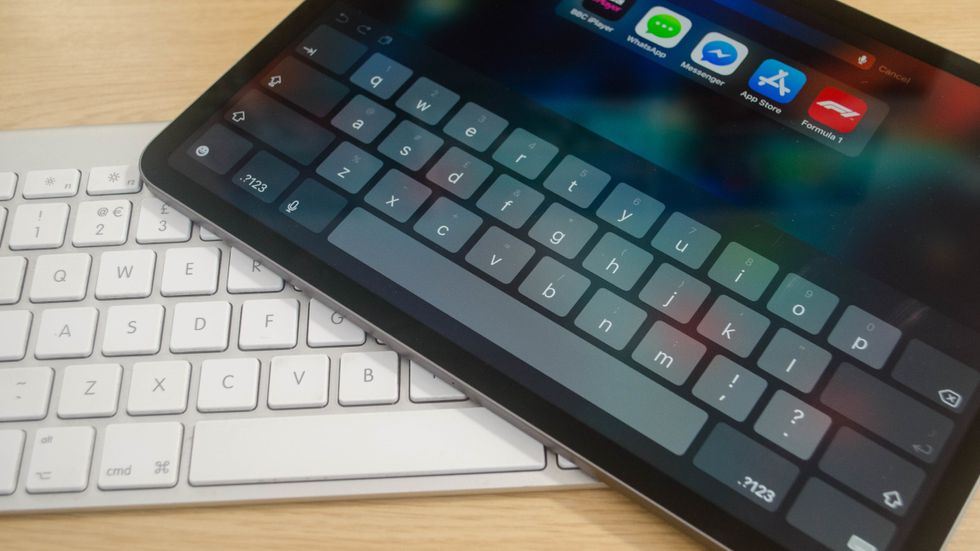 GearBrain
Apple iPad Pro 11-inch review: Value

The 2018 iPad Pro starts at $799, but if you want the larger screen, maximum storage, Wi-Fi and Cellular, plus the new Apple Pencil and keyboard dock, you'll be looking at just over $2,200. That, clearly, is a huge amount of money to spend on a tablet running software shared with a mobile phone.
You could buy any of Apple's 13-inch MacBook Pros in their standard configuration for that price, and end up with an actual computer.
For me, I may 'only' have spent $799 (or £769 as I'm in the UK), but to unlock the iPad's full potential, to turn it into the computer Apple wants me to think it is, I'll have to spend an additional $308 (or £298) on the Apple Pencil and Smart Keyboard Folio. That's 38 percent of the cost of the iPad, just on two accessories.

I'll do it, of course, because I want the iPad Pro to be my on-the-go computer, letting me write and edit photos for an entire day in a cafe or shared workspace without worrying about battery life, and without the distractions of a fully fledged laptop. But it sure isn't cheap.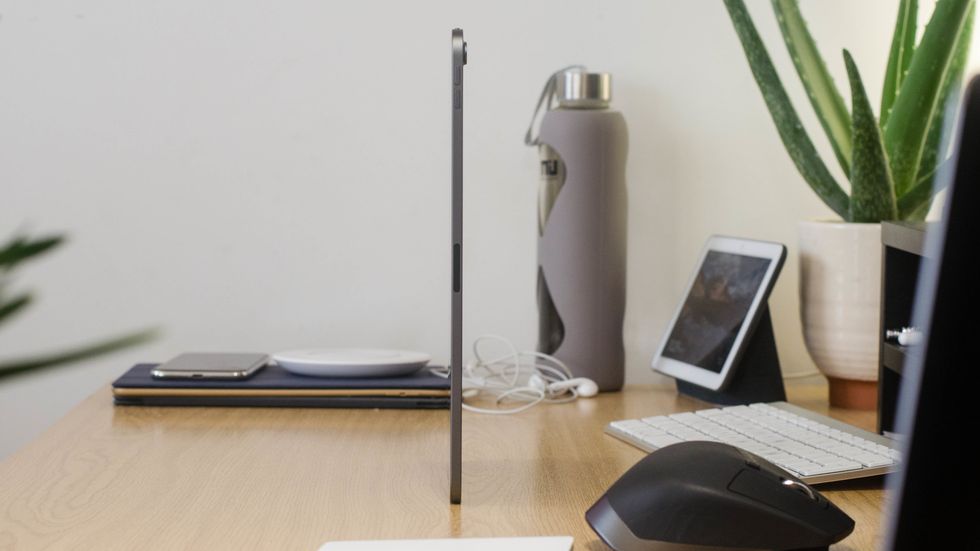 The new iPad Pro is just 5mm thickGearBrain
Verdict

The iPad Pro and its ludicrously powerful processor is crying out for Apple to make iPadOS, an operating system which lands somewhere between iOS and macOS, and which can really put the tablet through its paces.
Without that, the iPad feels restricted by iOS and the roadblocks which make sense on an iPhone but quickly become frustrating on a tablet trying its best to be a computer.
This doesn't make the iPad Pro a bad tablet, of course. It has been the market leader since it launched in 2010 and has very little in the way of competition. The latest instalment is a beautiful device to lust after and adore, to hold, enjoy and marvel at. I use iPads a lot on flights and can't wait to take the newest model away with me; it'll also serve very well as the cafe-based typing machine I mentioned earlier, and I enjoy swiping through magazines and newspapers in their tablet form, instead of on a phone or laptop (or paper).
But is the iPad Pro a computer? It can certainly replace your computer in a lot of ways, and with a keyboard I feel it will get awfully close (more on that later this month). But I'm not sure if it could be bought instead of a computer. I just hope Apple can give the iPad Pro the software it needs with iOS 13 next year. Because for now, the iPad Pro is still a tablet - a fast, beautiful tablet, but a tablet all the same. And not a computer.
Pros:
Beautiful design and display
Tremendously powerful
Can recharge your iPhone
Cons:
Expensive
iOS has too many limitations
Needs a keyboard to get the most out of it
USB-C cannot be used for external storage
Apple iPad Pro (11-inch, Wi-Fi, 64GB) - Space Gray (Latest Model)
Like GearBrain on Facebook