Like GearBrain on Facebook
Last Updated: October 17, 2016
Pros: makes a nice cold drink, offers diet sodas, iced teas and sports drink, tastes good
Cons: big and bulky for counter, loud when cooling, too slow in making one drink, price
You might be wondering why GearBrain is doing a review on a unconnected drink maker when the site's purpose is to help consumers understand how new connected devices work—and which ones connect with each other. Well, we did too at first. Yet once we received a Keurig Kold, the drinks were so refreshing, we wanted to share our findings with the warmer months now taking hold.
Set-up is substantial
Our loaner Keurig Kold came in a big heavy box with two 8 oz. clear glasses. After unboxing, we noticed the Keurig was much larger than their standard coffee maker so we had to find enough counter space. If you have a small kitchen area with limited counter space at home, this could be an issue for you. Luckily for us, we found a nice place close to the sink, helpful because one of the first steps in setting up your Keurig Kold is to fill up its water reservoir.
With that done, we needed to turn on the device: chilling the machine takes two hours process and it's very loud. How loud? You'll want to put your Keurig Kold in a closed space, or far from co-workers. If you are at home, I would advise starting the cooling process after people wake up in the morning. At the office, I had a number of complaints from co-workers—one almost turned the device off. Luckily I was able to prevent him from hitting the off button. I didn't want to wait another two hours.
Once Keurig Kold is completely cool, you can move to the next step: prime and rinse. Here, I inserted the Prime and Care Pod, found in the main box, and then set a glass on the drip tray. When we closed the handle, I noticed the KOLD button started to blink purple. This is normal. I hit the start cycle and the machine took about a minute to dispense a clear liquid, with the KOLD button turning blue to indicate the cleansing process was complete. I removed the Prime & Care pod, ready to make our first drink. Note: The Prime & Care Pod can be used in future cleansing processes, so store it in a safe place for reuse.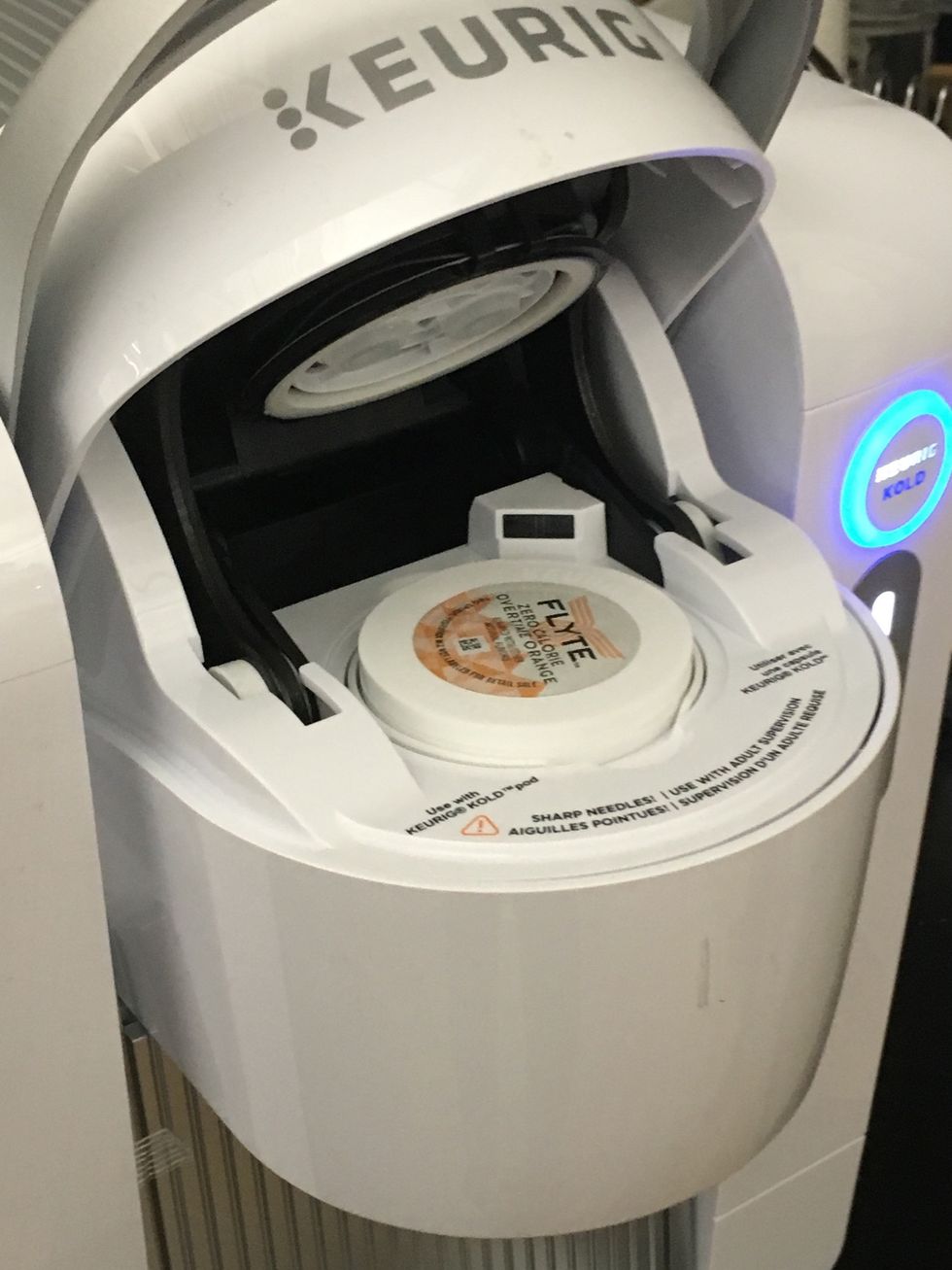 Now, I am finally ready for that cold drink I have been craving from the start. Keurig supplied me with a variety of pods to test: diet iced tea, a sport drink and diet soda. Although I was a little skeptical about trying the diet soda, I love root beer so I selected Flynn's Diet Root Beer as my first pod.
Making the drink could not have been simpler. The pods for Keurig Kold are large and come in a four-pack. I took one, removed the freshness seal from the bottom, inserted the pod into the drink maker and closed the lid. The KOLD button starting to blink blue, meaning I could start the drink. I pushed the button and soda flowed into the glass. Like a Keurig Coffee Maker, you then remove the pod—but here the pods are cold, not hot. I went in for my first sip and was pleasantly surprised not just by the temperature but by its taste: It was cold and tasted just like root beer.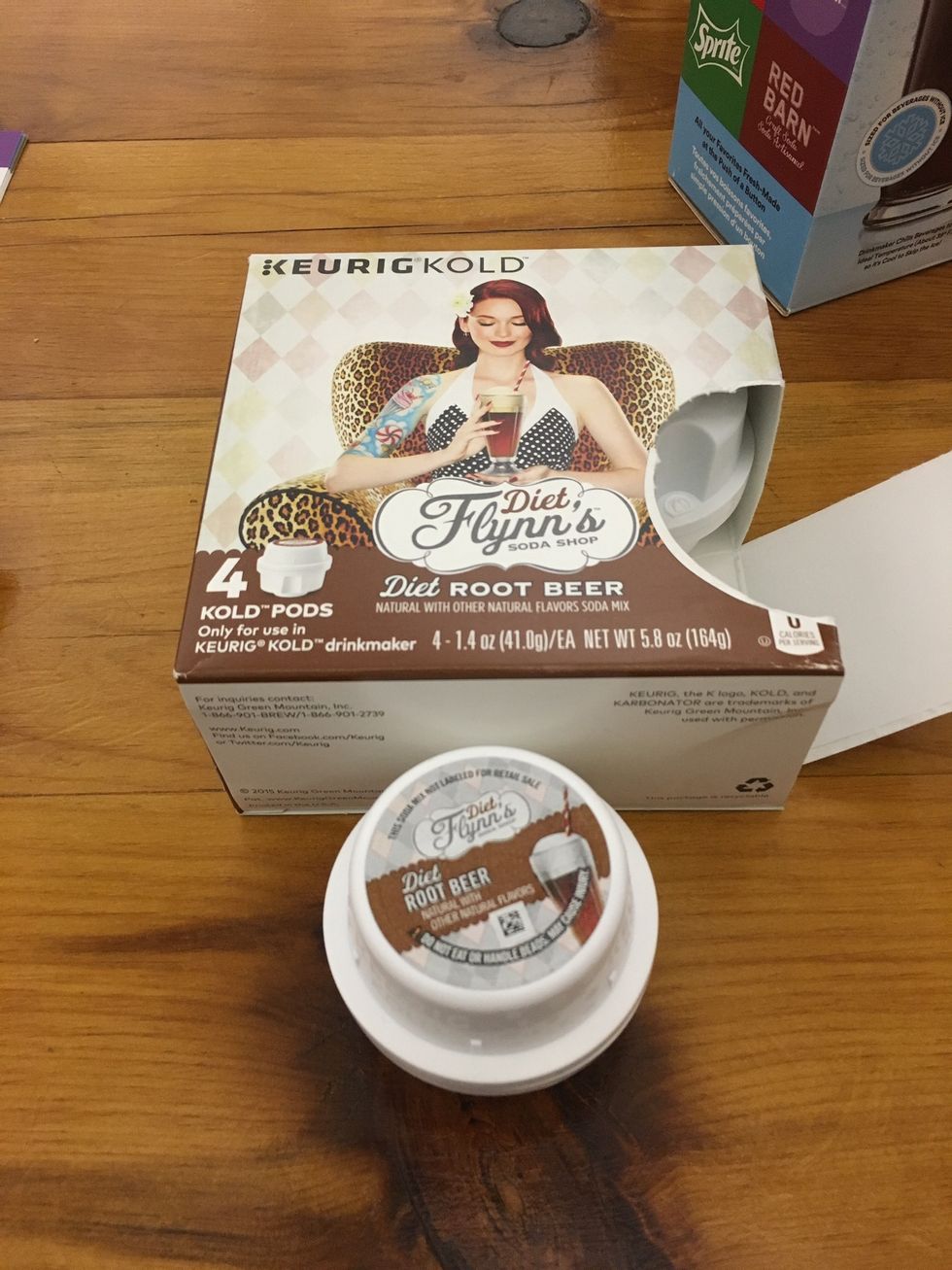 Curious, my co-workers wanted in on the cold drinks. Although unsure about the flavor, I decided to move to a sports drink. But again, I was taken aback by how good it tasted. The only issue with making a dozen drinks is refilling the water reservoir—and starting that loud chilling process again. The water reservoir can only make six 8oz. drinks. So we decided to try Keurig Kold's party mode—adding ice and water to the reservoir to make more drinks in a row. The process went faster but the drinks were not as cold.
Overall, Keurig Kold is a nice unconnected device that surprised our taste buds. The price point feels high (suggested retail price - $369)—but if you shop around, I am sure you can find it at a reasonable price. (Amazon has it for $298.56. See below.) The pods are also not cheap. Most of the four packs are priced at $4.99, such as the one for Coca-Cola. But Keurig offers bundles (a variety of sodas, cocktail mixes and sparkling waters) which range in price from $20.99 to $24.99 per bundle. Check out Keurig's website for more information on the types available.
So, the next time you are in the market for a drink maker that makes good cold soda, sports drinks, iced teas or mixers for margaritas, consider Keurig Kold. You might be pleasantly surprised.
Like GearBrain on Facebook