Like GearBrain on Facebook
As almost all automakers forge ahead with plans for battery-powered electric vehicles, a handful are considering hydrogen fuel cells as an alternative to heavy batteries.
These automakers have included Toyota and Hyundai for several years now, and are about to be joined by Jaguar Land Rover. The UK firm announced plans today, June 15, to begin testing a fuel cell vehicle towards the end of 2021.
Read More:
A part of JLR's goal to achieve zero tailpipe emissions from all of its new vehicles by 2036, an objective called Project Zeus, the fuel cell technology will first be tested using a Land Rover Defender prototype. It is hoped that the hydrogen-powered electric SUV will begin testing in the UK before the end of 2021.
Where most electric cars use a heavy battery to power their motors, hydrogen cars carry a fuel cell that acts as an onboard generator, producing electricity to feed directly into the motor, or via a much smaller battery than that of a conventional EV. Electricity is created onboard the vehicle using hydrogen and oxygen, with the only emission being water.
The benefits are of a much lighter drivetrain, a potential for longer range, and much quicker refueling times, since hydrogen can be pumped into the car like gas (albeit at incredibly high pressure). Fuel cell vehicles also suffer far less from a loss of range in cold weather compared to battery-powered EVs.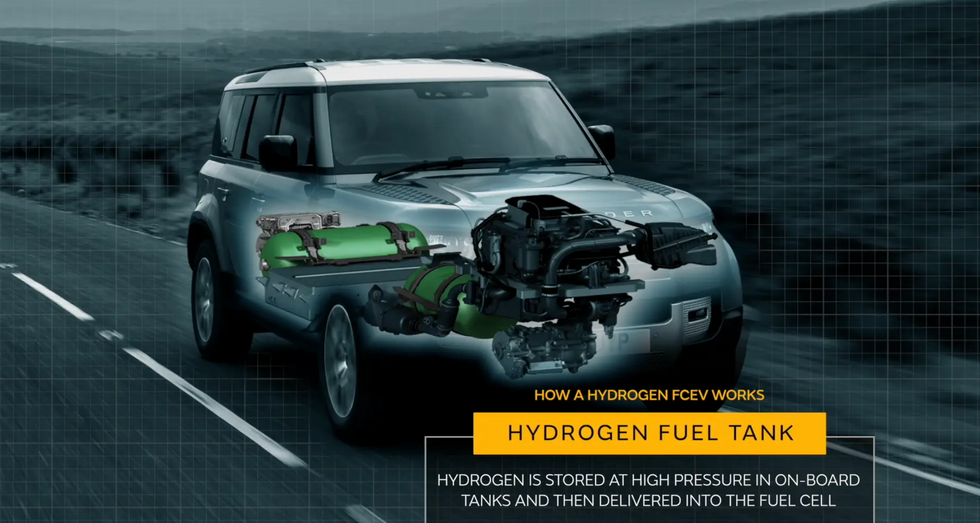 Fuel cell vehicles create electricity from hydrogen and oxygenJaguar Land Rover
It has also long been said that hydrogen is a better solution for larger, long-range vehicles like trucks than battery power. Land Rover currently sells a commercial version of its Defender, so perhaps the goal here is to offer a fuel cell version of that for industry customers. However, they are generally more expensive than their battery-powered relatives, and the hydrogen fueling infrastructure is tiny compared to that for gas and electricity.

That said, the industry is expected to grow quickly through the coming decade, with forecasts predicting 10 million fuel cell vehicles on the roads by 2030, powered by 10,000 refueling stations worldwide.
Ralph Clague, head of hydrogen and fuel cell technology at Jaguar Land Rover, said: "We know hydrogen has a role to play in the future powertrain mix across the whole transport industry, and alongside battery electric vehicles, it offers another zero tailpipe emission solution...The world done alongside our partners in Project Zeus will help us on our journey to become a net zero carbon business by 2039m as we prepare for the next generation of zero tailpipe emissions vehicle."
From Your Site Articles
Related Articles Around the Web
Like GearBrain on Facebook