Like GearBrain on Facebook
Despite continued interest from the world's largest carmaker Toyota, hydrogen fuel-cell vehicles are barely a blip on the radar compared to the ever-increasing plug-in electric vehicle market.
But one startup hopes it can change this by taking the same approach to hydrogen that Tesla took to electricity.
Read More:
Called Nikola, the electric semi-truck startup this week revealed the Badger, a pickup truck which will be made in two versions — one battery powered, and one running off hydrogen.
The battery-powered Badger could be seen as a close rival to the upcoming Tesla Cybertruck and Rivian R1T, thanks to its 300-mile range and staggering 0-60mph sprint time of a claimed 2.9 seconds.
But far more interesting is how Nikola plans to offer a hydrogen fuel-cell version of the Badger, with a range of 600 miles.
ChargePoint Home Flex Electric Vehicle (EV) Charger upto 50 Amp, 240V, Level 2 WiFi Enabled EVSE, UL Listed, Energy Star, NEMA 6-50 Plug or Hardwired, Indoor/Outdoor, 23-Foot Cable
While this sounds like the perfect solution to the range anxiety that still puts off some potential electric car buyers, there are very few hydrogen fuel-cell stations in the U.S. — or anywhere. In fact, as of August 2019 there were just 40 such stations in all of California, with precious few across the rest of the country.
To fix this, Nikola plans to become the Tesla of hydrogen and build a US network of 700 hydrogen fueling stations. The company says it has finalized the locations of its first stations, and these will be announced later in the quarter.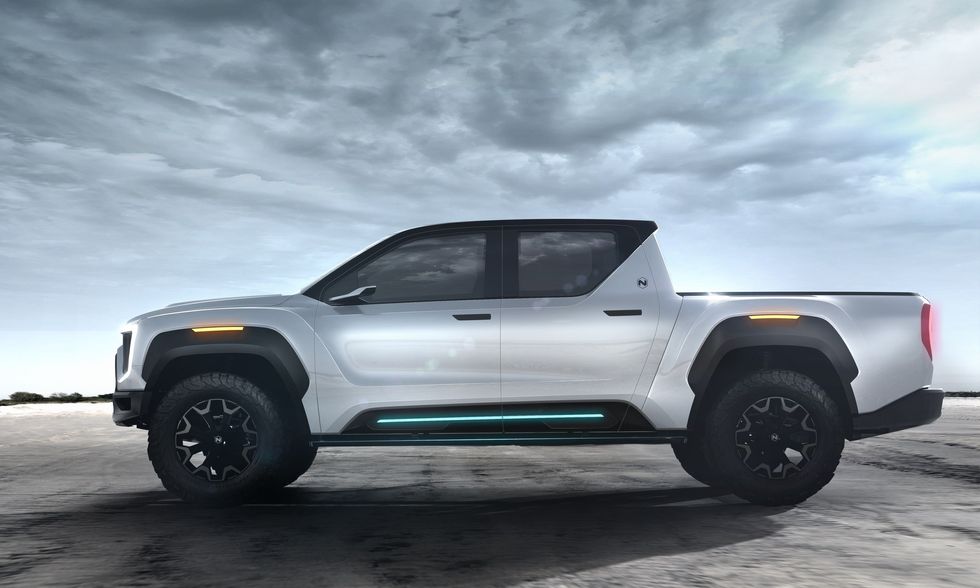 The Badger could pose a threat to the Tesla Cybertruck Nikola Motor Comapny
As well as more range, another benefit of using hydrogen as fuel is how vehicles can be refueled in roughly the same time as with gasoline or diesel, compared to the roughly 30-60 minutes for an electric car plugged into a high-speed charger. And, while hydrogen cars have a tailpipe, the only emission is water.

In simple terms, hydrogen vehicles use the fuel to create electricity on-board, instead of storing it in heavy battery packs. This is then used to drive motors just like a regular electric car. Auto giant Toyota has produced hydrogen cars for several years now, but sales remain low and there are very few fueling stations — echoing the same chicken-and-egg problem initially faced by battery-powered electric cars.
Tesla partly solves this problem over the last decade with its own Supercharger network, which years after it opened is still heralded as the best way to power an electric vehicle, exceeding the speed, scale and ease-of-use of other charging networks.
As for Nikola's truck itself, the Badger will be manufactured by an OEM partner, a name that is expected to be announced soon, and will be available to pre-order with a deposit sometime later in 2020. There's no word yet about when deliveries will begin, or how much the Badger will cost.
Roav Viva by Anker, Alexa-Enabled 2-Port USB Car Charger in-Car Navigation, Compatible with Android and iOS Smart Devices
From Your Site Articles
Related Articles Around the Web
Like GearBrain on Facebook