Like GearBrain on Facebook
Such is the popularity of electric cars you might be forgiven for thinking battery power will be the only option once internal combustion has been outlawed.
But Toyota is keen to show drivers there is another way, and has just revealed an all-new hydrogen-powered car to prove it.
Read More:
The second-generation Mirai is an all-new car that resembles nothing of its Prius-like predecessor, and includes a third hydrogen tank which Toyota says increases range to 403 miles – a 30 percent improvement on the old Mirai. Built on the same platform as the Lexus LS, the new Mirai is intended to be more luxurious than the original, but Toyota says the price will be reduced by around 20 percent.
Although Toyota hasn't given it a price just yet, that reduction would suggest a price from just under $50,000. For that, buyers get an attractive four-door sedan with a luxury, high-tech interior featuring a 12.3-inch touchscreen display with Android Auto, a head-up display, and seats that are both heated and cooled.
Toyota has worked to improve the efficiency of the fuel cell, reducing its size while also increasing its power reserves, up from 114kW to 128kW. The smaller cell has created space for a third hydrogen tank, which is sat in the middle of the car where the transmission tunnel would normally be. This is joined by a pair of smaller tanks beneath the rear seats and under the trunk.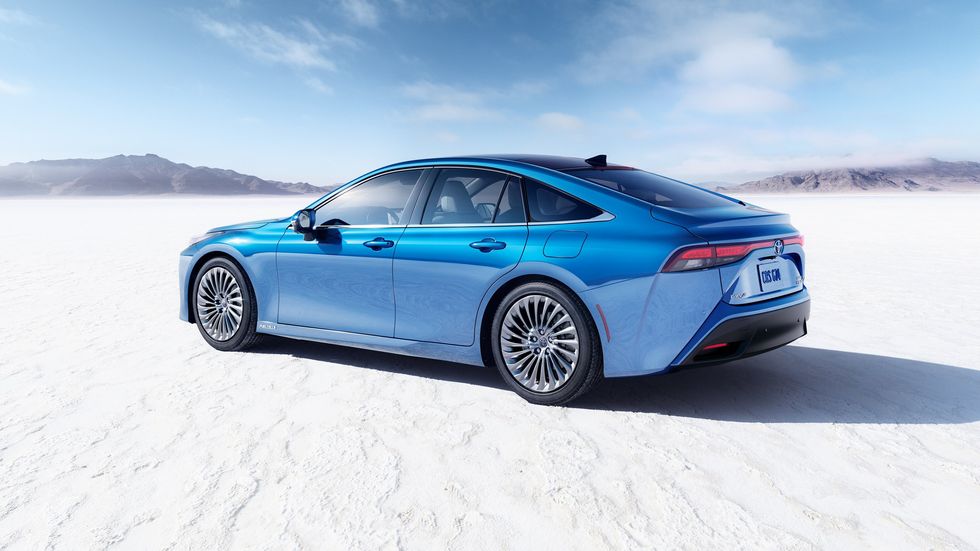 The new Mirai is likely to be priced from around $50,000Toyota
As well as cutting the price and upping the range, Toyota also hopes to increase sales ten-fold compared to the original Mirai, which sold just 11,000 units worldwide between 2014 and 2020. Toyota says it has created a new production line for the Mirai and its fuel cell, dramatically speeding up the build time compared to the original Mirai, which was assembled by hand as and when orders were placed.

Also key to that success will be in the public's adoption of hydrogen power, and the widespread availability of refuelling stations. For now though, the infrastructure to make hydrogen cars as successful as battery-powered vehicles simply isn't there, with filling stations counted in the dozens instead of the thousands.
As of March 2020, there were just 45 hydrogen stations in the US, with 43 of those in California. It's a similar story in Europe, with fewer than 100 stations in Germany and around a dozen in the UK. Japan, home of Toyota and fellow hydrogen car maker Honda, has over 120 hydrogen stations, but even that is a tiny number compared to gas stations and EV chargers.
There is also the issue of how hydrogen is made, as it doesn't always come from a clean and renewable energy source. So, while these cars lack a large battery pack containing mined lithium and cobalt, the cleanliness of their energy source can vary. And because hydrogen needs transporting, there are distribution efforts not required by electricity.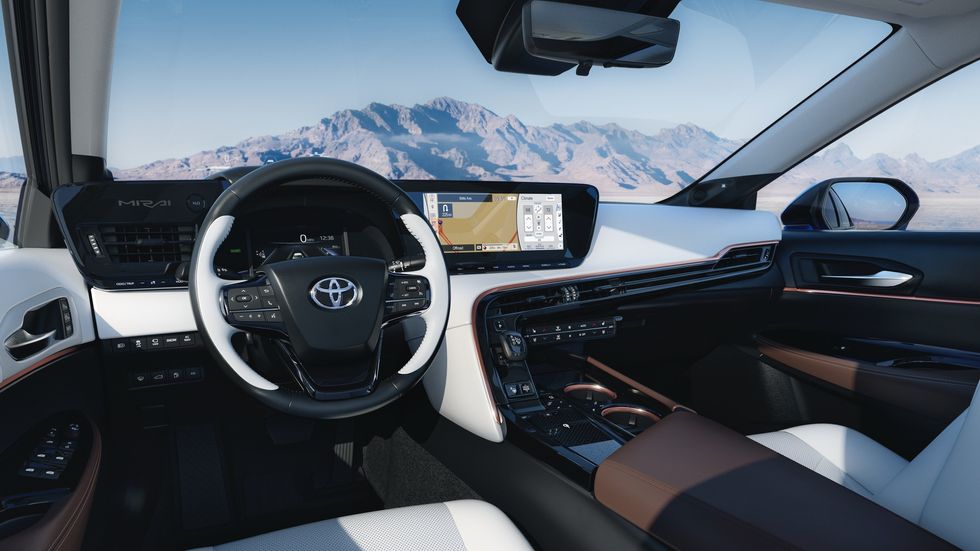 An upmarket interior features a 12.3-inch touchscreen and Android AutoToyota
As we explained in more depth here, hydrogen vehicles are seen as the long-term goal by some car manufacturers, like Toyota, who see today's hybrids and battery-powered vehicles as a stepping stone towards the mass adoption of hydrogen.
These cars drive in a very similar way to other electric vehicles. But instead of relying on a large battery that takes a long time to charge, they create electricity to drive their motors using an on-board hydrogen fuel cell.
This cell can be refuelled in around the same time it takes to put gas or diesel in a car, making them more time-efficient than EVs and their hour-long charging requirements. While hydrogen cars have a tailpipe, all that is emitted is clean water.
Further adding to the car's cleanliness credentials, Toyota claims the new Mirai cleans the air as it drives along, removing 100 percent of particulates, sulphur dioxide and nitrous oxide from the air it drives through.
Megear Level 1 EV Charger (110V, 16A, 25ft), Portable EVSE Home Electric Vehicle Charging Station (NEMA 5-15 Plug)
From Your Site Articles
Related Articles Around the Web
Like GearBrain on Facebook