Like GearBrain on Facebook
Pros: Easy to use app, solid temperature and humidity readings and can customize night-light color

Cons: Registration process a little lengthy, programming glitch on reading the number of alarms
We can't escape smart alerts in our daily lives: beeps, chimes, bells ring out in our home, the car and even while we sleep. Most we answer: a call from a friend, a text from the boss. Others we try to ignore. But some may save our lives. This is the idea behind Leeo—a smart alert that pairs with your smoke and CO2 alarms to warn about dangers at home.
Armed with a review copy, I put Leeo to work in my Manhattan apartment. A veteran of a home fire many (many) years ago, I am the person in my family who tests our smoke alarms fairly regularly, and changes the batteries when we spring forward and fall back. Would this smart device make me feel more comfortable? Or would I find Leeo yet another chirping tool to maintain and ignore?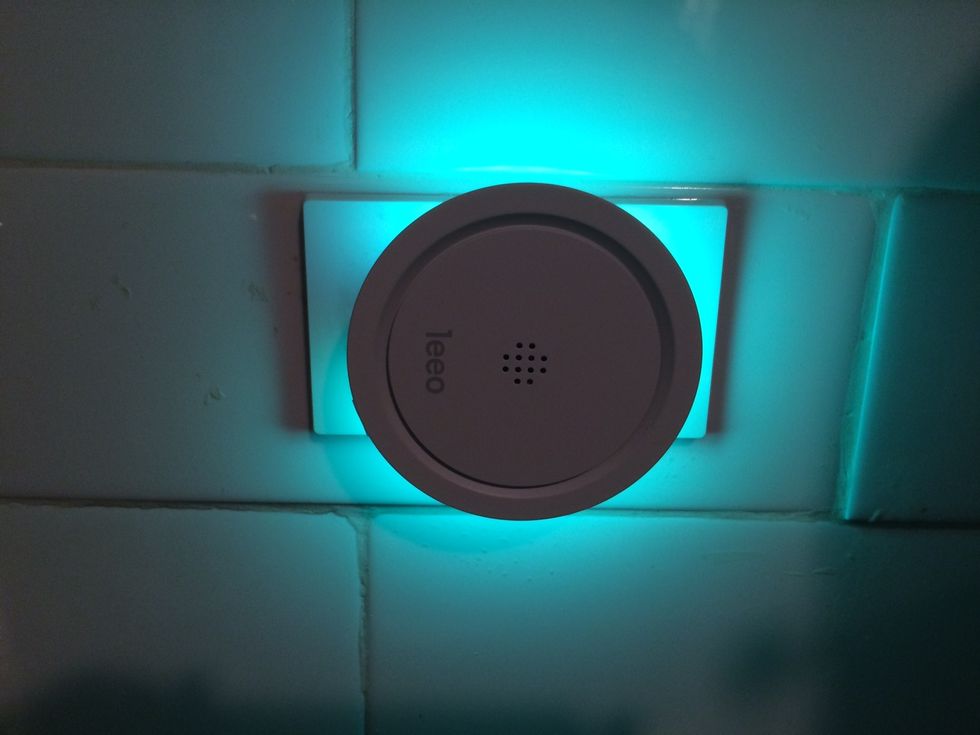 Would Leeo bring me peace of mind, or be another device to maintain?Photo by Lauren Barack
Armed to go
Opening the box, I plugged Leeo into an outlet in my kitchen. We live in an open-plan space, with the kitchen directly across from our front door, and more crucially, close to our CO2 alarm, and one of our smoke alarms. I had a fairly lengthy (to me) registration set-up to create an account, finally granted Leeo access to my Wi-Fi, and was ready to go.
Leeo immediately paired with my CO2 Alarm and confirmed that the device had linked. The smoke alarm? That took some work. Leeo's system is designed around listening, actually hearing alarms go off to trigger its notifications, which are sent via a phone call or a pushed notification. (Also from inside the app as well.) You can also set emergency contacts who will be called up to two times in an effort to reach someone. (Leeo is persistent)
Our two smoke alarms are planted far apart: one near the front door, and one near the back bedrooms. The one by the door picked up quickly by Leeo when I tested that alarm. Three loud beeps, and check. Leeo noted that it heard that alarm, and flashed red on the actual device. I wondered how well the second one would be picked up Leeo. The back bedrooms are separated from our kitchen by just a few yards—but in between is a solid, thick plaster wall. Leeo heard that just fine, registering that I had a second smoke alarm as well. I couldn't see if the device flashed red because I was in another room.
Next up? CO2.That test worked extremely well too. The Leeo turned red and flashed. One small concern? When I went to test the CO2 monitor again, it decided that was a second device. Not a big issue, but a glitch in the programming as far as I was concerned.
Dog days
I used Leeo often—or checked into the app is more accurate. During my testing period over a few months, I never once had a fire, nor a carbon dioxide leak. But I did have ample opportunities to check on my apartment from home. Leeo dutifully told me it was working, without any active alarms. In other words? Everything was good. One reason this gave me a true peace of mind is because of my family's 80-pound Labrador Retriever.
While much of my family leaves home everyday (school and work), our dog is left alone to his own devices for three to four hours during the day. Luckily he's left the wall-eating phase of puppyhood behind. (We sacrificed part of our drywall in our kitchen to his teething phase). But we do worry about his comfort. (Go ahead, get your jokes out now.) And we have a legitimate reason.
We live in a high-rise apartment in New York's downtown. Basically that translates into a heat horror. We are consistently too hot in the winter, requiring we live with our windows wide open. Summers mean we close the windows too: either we need the air conditioning, or the din from my neighbors' air conditioners is so loud the noise pollution cancels any joy of fresh air.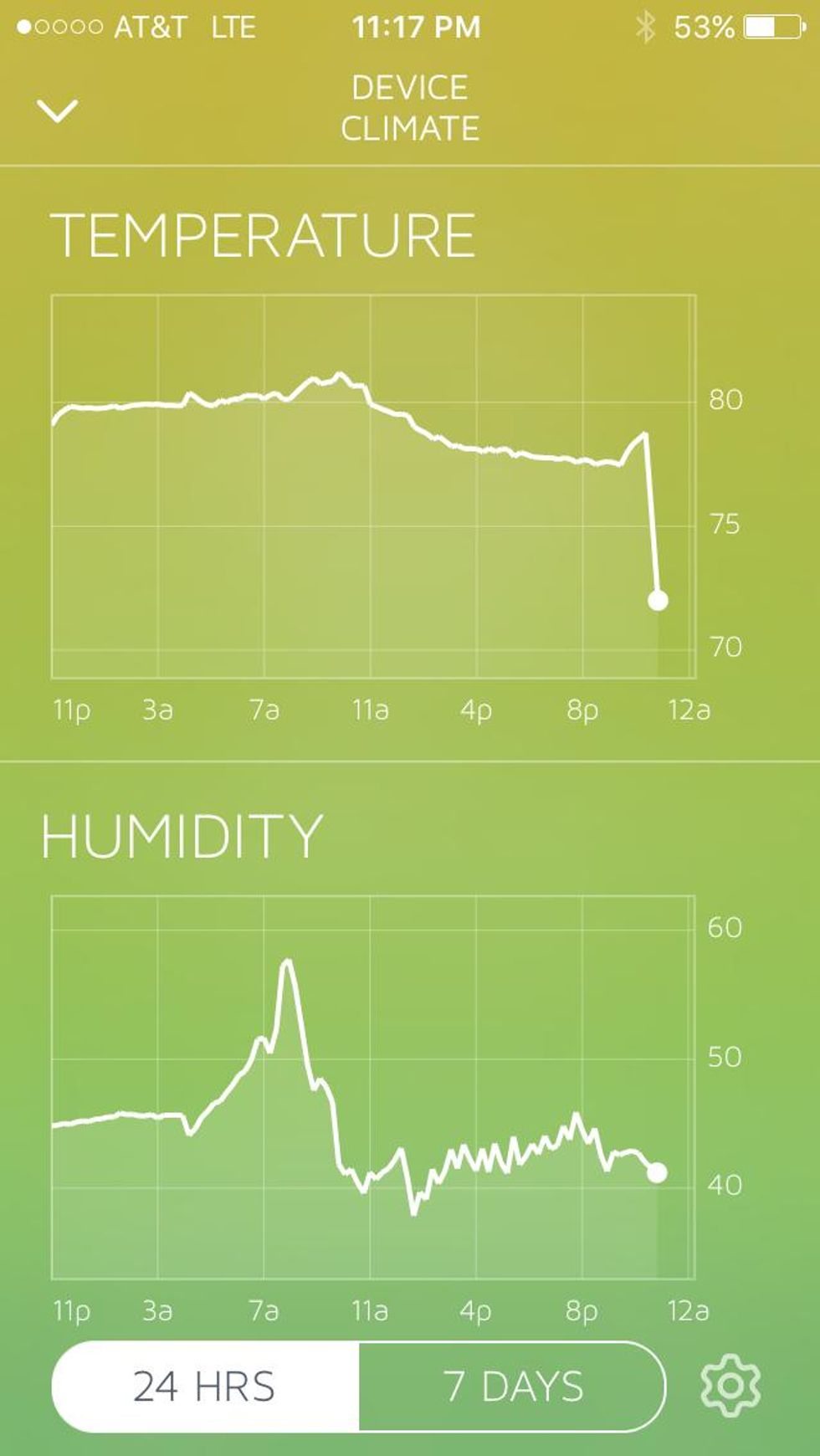 Check your temperature and humidity at any hour, remotely.Photo by Lauren Barack
Leeo's second ability is its ability to read the temperature and humidity around the device. The reasons for the readings are, of course, to also determine a sudden jolt up or down indicating a potential fire. I used them primarily to tell my management company that they were jacking the heat to high (now able to provide them with proof) and also to assure myself that our dog was not in an overheated concrete box. These readings were solid, and really welcome. I checked Leeo often just to see these details, and found the weekly and daily data fascinating—the way the temperatures went up and down during the day and night, and how high, on average, our apartment gets. That alone was worth the device.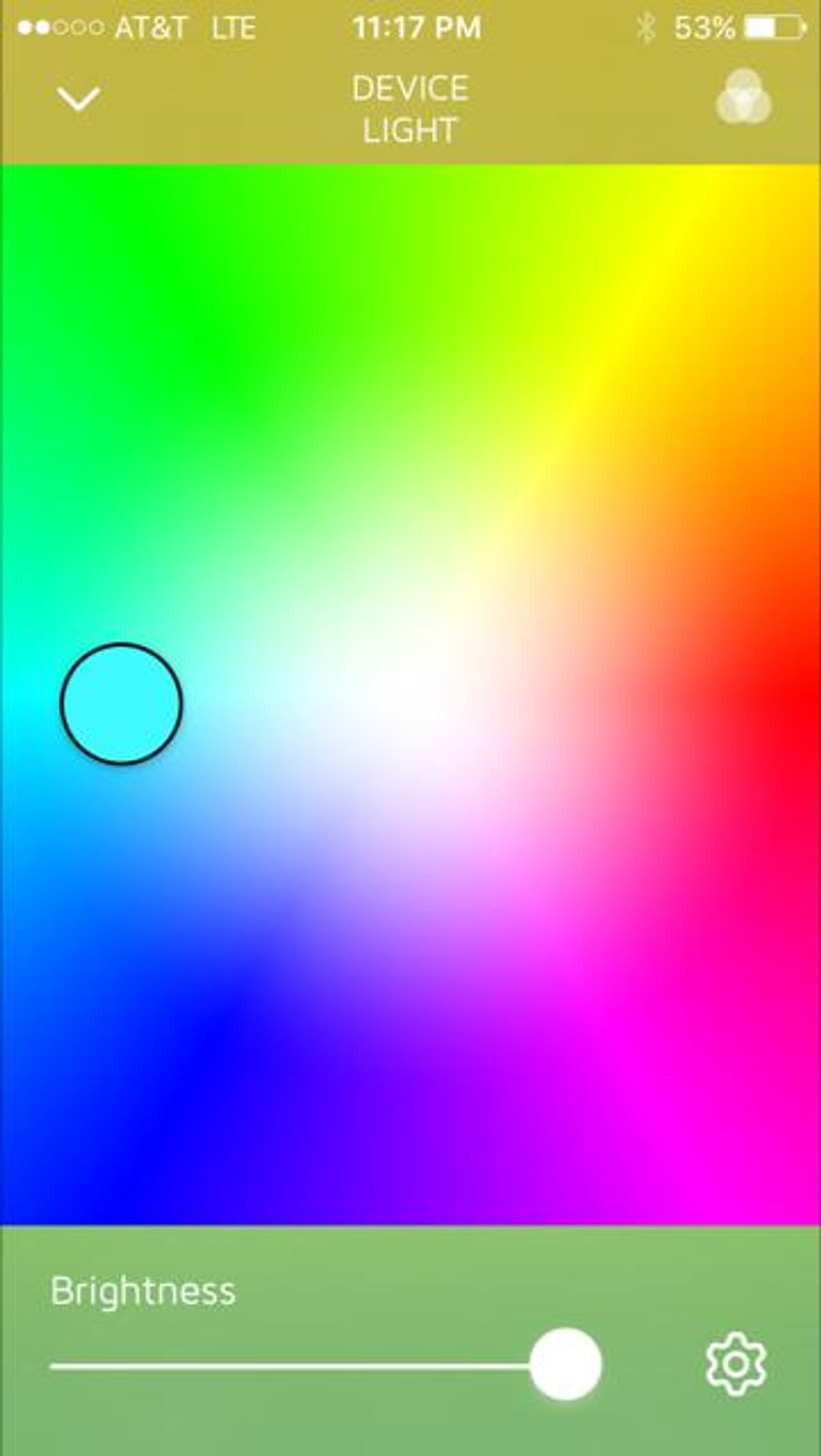 Any hue you can imagine, Leeo can glow.Photo by Lauren Barack
Let there be light
Leeo has yet a third feature—one the company actually pushes out in marketing which is its nightlight. That element? Also appreciated. The ambient glow in our kitchen made it possible not to stub toes for middle of the night trips for water. But what I liked even more? That we could change the color, and not just from a selection of standard options. Leeo has a color wheel, allowing you to basically mix a hue, and push out how bright you want the light to shine.
My walls are a blueish-green and I tuned Leeo's color scheme to one that practically mirrored my kitchen. With so many devices pulsating yellow and red in my tech-heavy home, this blue light was one I found surprisingly calming—and I actually look forward to turning the lights off at night in the kitchen and seeing that sapphire glow.

While I chose not to try and link Leeo to other items in my home, the company says that's possible through IFTTT. You can also connect Leeo to smart leak detectors, which are growing more common place. These, however, can currently only be monitored on iOS devices, although the company is working on an Android version. The main features can be monitored though on Android smartphones running 4.3+ and iPhone 4S running 8+, as long as they have Bluetooth 4.0 and an in-home Wi-Fi system.
At $49.99, Leeo feels like a perfect smart home product for those looking to try out their first IoT device. Easy to install, low-tech, with in-home monitoring for some crucial, but simple details, Leeo is a solid choice for those looking to tip some ease of mind into their daily routine.
If you need help installing Leeo, you can visit HomeAdvisor.com to find a local trusted professional.
Like GearBrain on Facebook