Wireless earbuds seem to be all the rage this year and most likely will be a popular tech gift this holiday season. GearBrain has tested many of these new earbuds with unique features including AI and ANC (Active Noise Cancellation). Today, Lenovo has new earbuds which come with many of these features as well as a battery that can last up to seven hours on a single charge. They are called Lenovo Smart Wireless Earbuds and come with great sound and no strings attached.

With convenient Lenovo Smart Wireless Earbuds, pair with your Android or Windows device in one click thanks to Lenovo Smart Pair technology, simply flip open the earbuds compact charging case to enable Bluetooth instantly. Keep in mind Lenovo Fast Pair for earbuds requires devices running Windows 10 and up or Android (versions 6 or higher). Lenovo's new earbuds are designed for all-day use. Once fully charged, your earbuds should last up to 28 hours if you carry your wireless charging case with you for quick top-offs. On their own, Lenovo Smart Wireless Earbuds can last for up to seven hours of continuous listening time to anything from tunes to audiobooks if the Active Noise Cancellation (ANC) is switched off. If you listen with ANC on, your earbuds will yield 5.5 hours of battery life.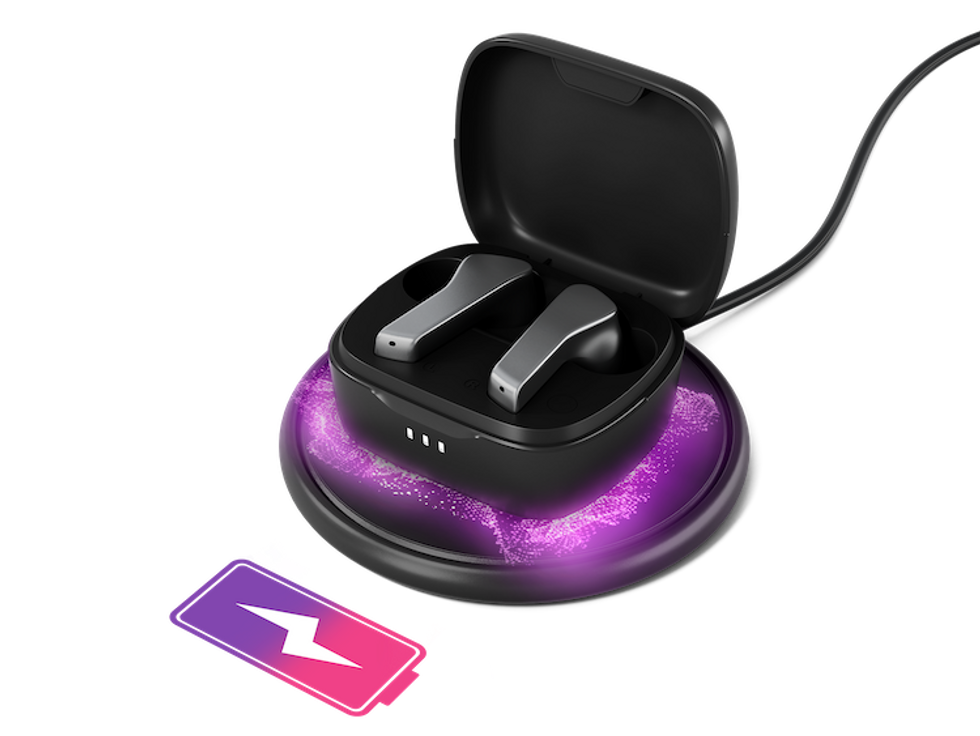 Lenovo Smart Wireless Earbuds can be charged wirelessly in their case.Lenovo
Lenovo Smart Wireless Earbuds come in White and Black hues, but color options may vary per market. Also, each earbud weighs in at 4.2 grams. Regarding the battery life, it is important to note all battery life claims are approximate and based on Lenovo's testing under optimal laboratory and network conditions. Actual battery performance will vary and depend on numerous factors including product configuration and usage, software, operating conditions, wireless functionality, power management settings, screen brightness and other factors. The maximum capacity of the battery will naturally decrease with time and usage.
How to connect your Lenovo earbuds?
For ease of use, the earbuds can continuously connect to up to two devices of your choice at all times through Lenovo Enhanced Multipoint technology that works to automatically connect your smart audio accessory with any combination of PC or phone simultaneously and prioritizes audio output based on its current scenario. You'll enjoy great sound and punched-up bass from high-quality 11mm dynamic drivers while still preserving inner ear comfort via its slender ergonomic design and multi ear tip-sizes for less pressure.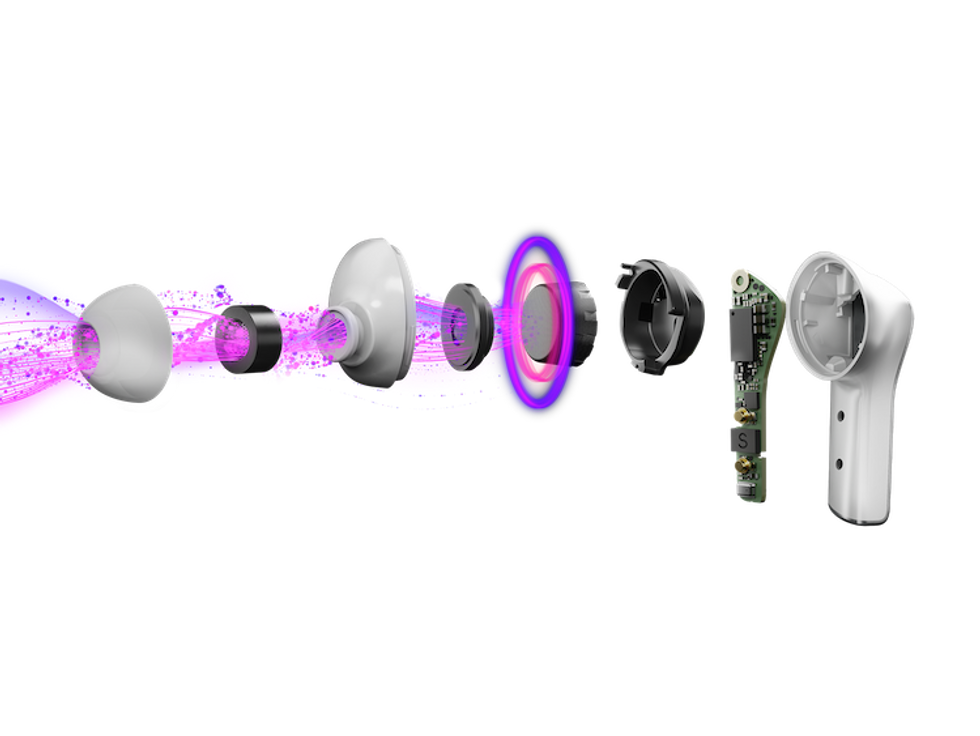 Lenovo Smart Wireless Earbuds come with high quality audio drivers.Lenovo
Who should buy Lenovo Smart Wireless Earbuds?
Ideal for subway commuters or people taking calls on the go, intuitive touch controls located discretely on the earbuds allow the wearer to regulate media and comms functions easily and quickly with a simple tap – play music, pause a podcast, or make a phone call without breaking your stride; controls are fully customized via the companion app. Just say "Hey Google" to get help from Google Assistant any time, hands-free with just your voice.
While in the gym or working out at home, fitness buffs will appreciate earbuds durability and resistance to sweat, and more importantly, the Lenovo Smart Wireless Earbuds is rated IPX4 for water exposure meaning the device is splashproof in all directions for those times when it rains while you're out jogging. Capable of reducing up to 38 decibels of ambient noise, stay immersed and be heard with smart adaptive noise cancelling that dynamically adjusts to help tamper down noisy distractions in the background from construction sites, downtown streets, to busy households, ensuring your voice is crystal-clear on the other end thanks to six inclusive smart microphones.
With smarter technology from Lenovo, get ready to see more, do more and hear everything, whether at home, in school, the office, or back on the road.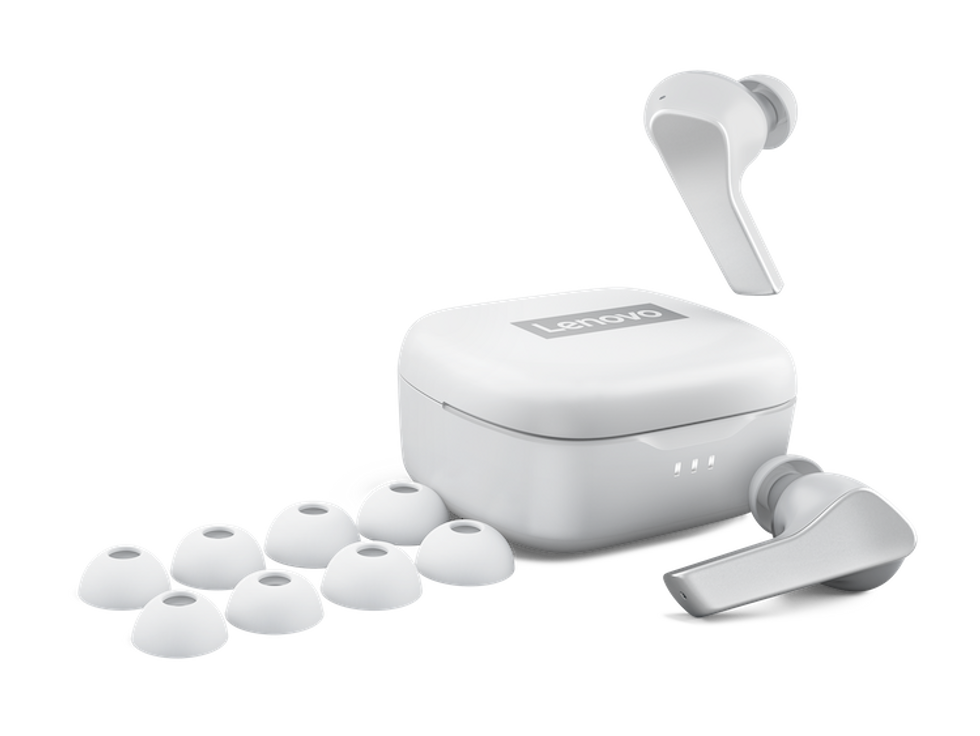 Inside look of Lenovo Smart Wireless EarbudsLenovo
How much do Lenovo Smart Wireless Earbuds cost?
The Lenovo Smart Wireless Earbuds will start at $99.99 and are expected to be available at select retailers starting Q3 2021. Keep in mind prices may not include tax and do not include shipping or options and are subject to change without notice; additional terms and conditions apply. Reseller prices may vary. On-shelf dates and color options may vary by geography and products may only be available in selected markets. All offers subject to availability. Lenovo reserves the right to alter product offerings, features and specifications at any time without notice.
GearBrain will be testing the new Lenovo Smart Wireless Earbuds soon. We look forward to seeing how these new earbuds perform, especially the Lenovo Enhanced Multipoint technology which can help connect your earbuds to your smart audio accessory with any combination of PC or smartphone concurrently. And of course, the great sound generated from the earbud's dynamic drivers and its long-lasting battery life.