Like GearBrain on Facebook
The world is already a quieter place at the moment, but sometimes you want to isolate further, especially if you're stuck inside with family and roommates (and their questionable music tastes) for the coming weeks.
That's where headphones with active noise cancelling technology, or ANC, come into their own. Using microphones on the outside, these listen to your environment then play the opposite sound into your ears. The result is artificial silence, and the perfect acoustic backdrop for listening to your own music (or podcasts, games and audiobooks) in peace.
ANC technology used to be limited to large and often expensive headphones that sat on or over your ears. But the technology has shrunk in recent years, to the extent that even pocket-sized earphones boast ANC that can block out the worst of your roommate's music.
Sony WH-1000XM3 - $350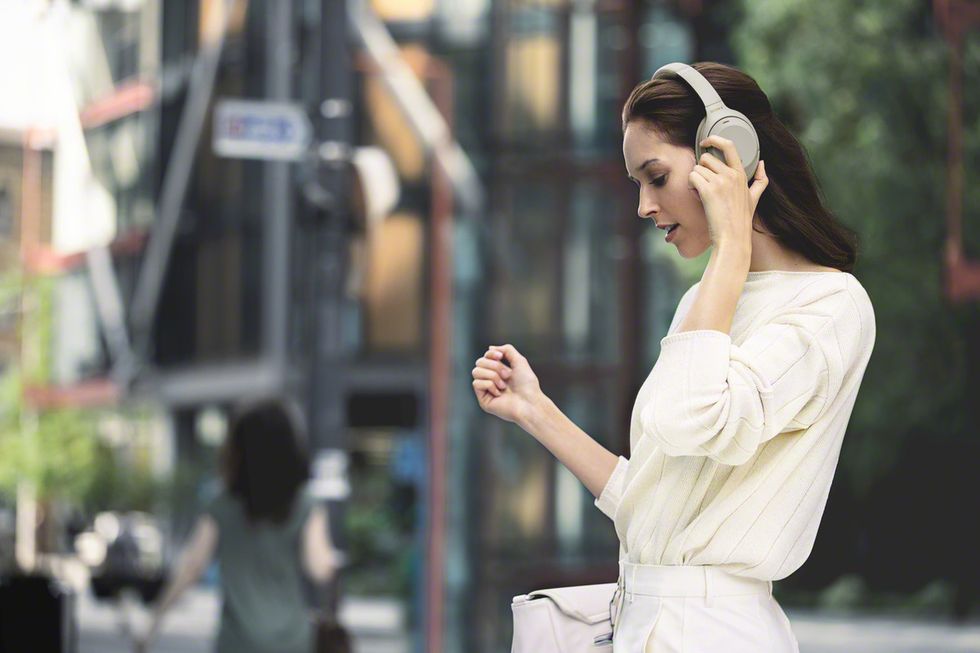 The Sony WH-1000XM3 have a class-leading 30 hours of battery lifeSony
Widely regarded as the best noise-cancelling headphones available today, the not-so-snappily-named WH-1000XM3 boasts market-leading ANC, up to 30 hours of battery life, a USB-C port for charging, and Bluetooth for a wireless connection to your phone and other devices.

These headphones have an over-ear design, which means the cushioned ear pads are large enough to rest against your temple and jaw. That way, they don't apply uncomfortable pressure to your ears, and should stop you from getting too warm if exercising with them. A USB-C port allows for rapid charging, and being plugged in for just 10 minutes promises an extra five hours of listening time.
Bose Noise Cancelling Headphones 700 - $399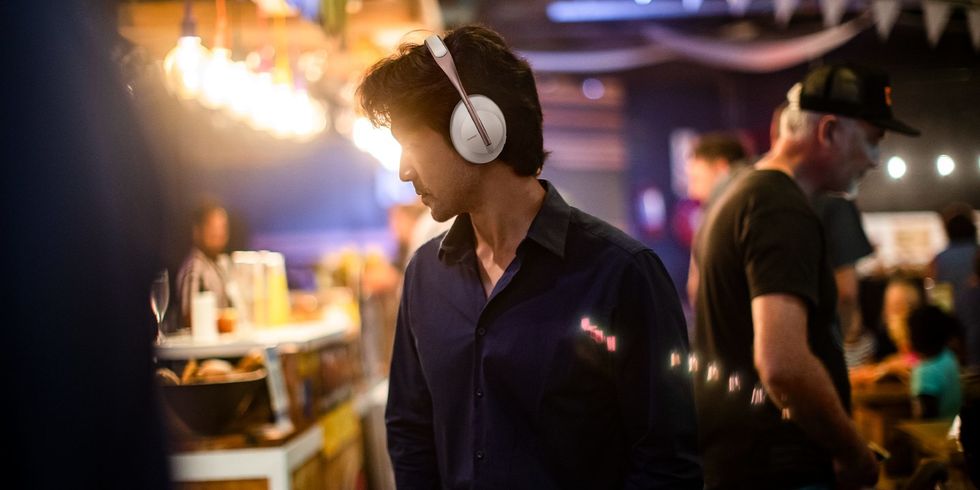 The new 700 replaces Bose's iconic QC35Bose
In a pre-lockdown world, stepping into any plane, train or subway car would mean seeing a pair of Bose earphones on almost every head. That model, called the QC35 and still one of the very best headphone options, was replaced in 2019 by the Noise Cancelling Headphones 700.

Although somewhat on the large and cumbersome size (so perhaps not ideal for squeezing into your messenger bag), the new Bose 700 looks great and promises sound quality to match. The headphones also have an upgraded version of the ANC that was already considered one of the very best, 20 hours of battery life, 11 degrees of sound isolation to pick from, and USB-C charging.
Bose Noise Cancelling Wireless Bluetooth Headphones 700, with Alexa Voice Control, Black
Skullcandy Crusher ANC - $320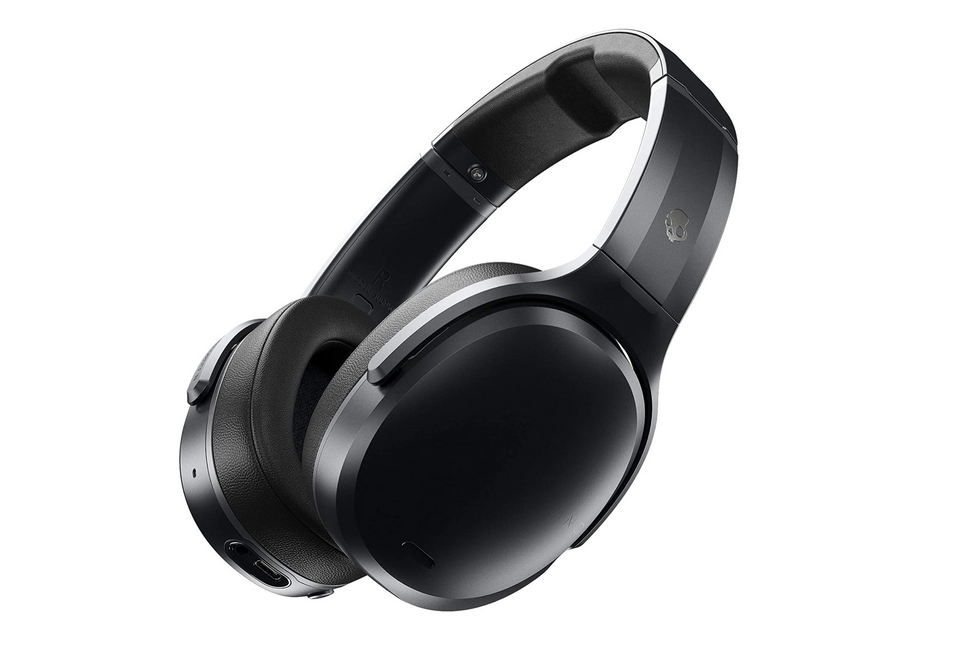 Crusher ANC feature a user profile systemSkullcandy
If bass is what you want, the Crusher ANC by Skullcandy should be high on your list. But as well as offering a powerful kick (and active noise cancelling, of course), they can be tailored via a smartphone app to adjust their sound based on your preferences.

Multiple profiles can be created (for different members of your family), and we found the setup process to be quick and simple. They aren't cheap, at a little over $300, and their large size won't be for everyone, but we like how Skullcandy is trying something different with the sound profile system, and we're sure for some audiophiles that'll make them a must-have.
Apple AirPods Pro - $249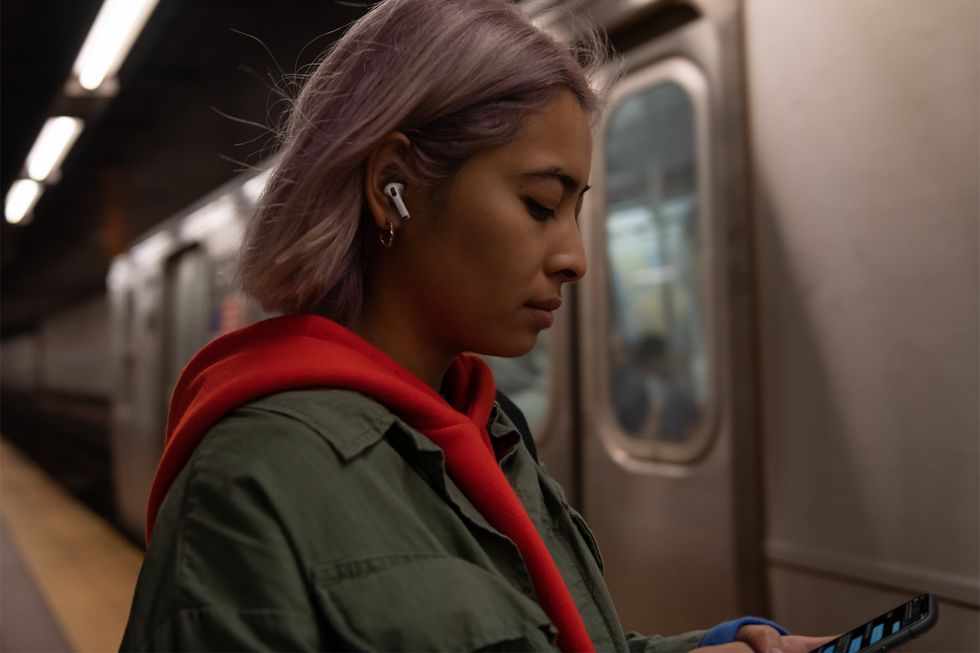 Compact AirPods Pro offer excellent noice cancellingApple
We quickly learnt with the AirPods Pro is that when it comes to noise-cancelling headphones, bigger isn't always better. Amazing, after trying Apple's $250 earphones on an 11-hour flight, we found their noise-cancellation technology to work better than on our trusty Bose QC35.

Apple can't match larger headphones for battery life, but a couple of quick charges via the AirPods Pro charge case should be enough for most flights. They can manage 4.5 hours on their own, but using the case for top-ups extends this to 24 hours. They are also very comfortable, come with three rubber tip options, and stay securely in our ears, even while running.
They aren't cheap for earphones — and the experience isn't quite as seamless for Android users — but if portability, comfort and strong ANC are what you want, the AirPods Pro deliver.
Sennheiser Momentum Wireless - $400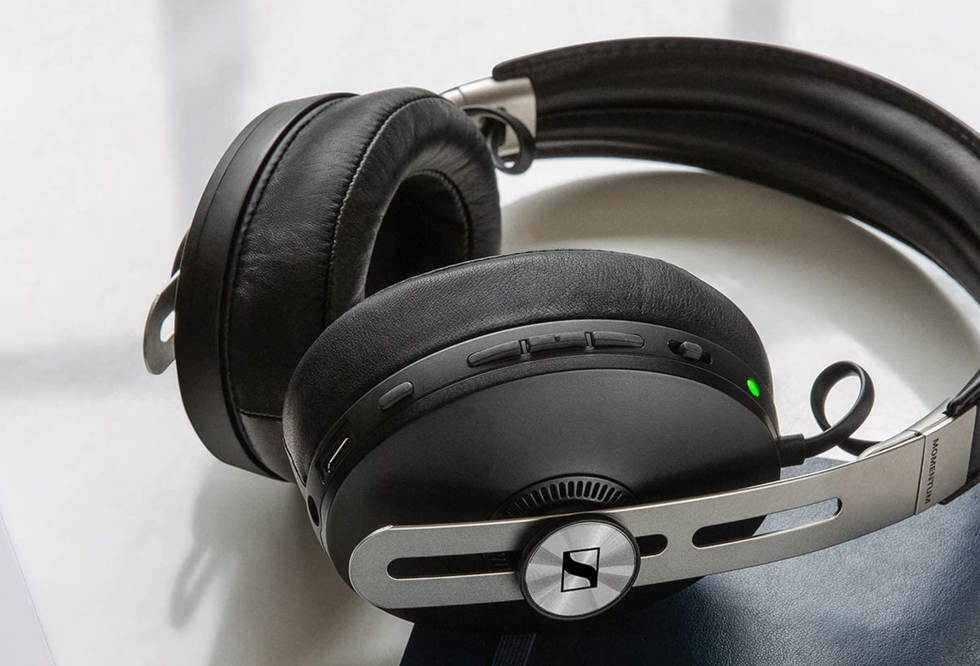 Third-generation Momentum Wireless headphonesSennheiser
Sennheiser has always been a strong option for headphones, and at the top end of the market the Momentum Wireless are no different. They have active noise cancellation, USB-C charging, and a premium design.

However, while applauded for their acoustic abilities, their battery life of just 17 hours is some way behind the competition. When Sony's equivalent offers 30 hours and even AirPods can manage 24 with a few quick top-ups from the case, 17 hours from Sennheiser might be inconvenient for some users.
Sony WF-1000XM3 - $230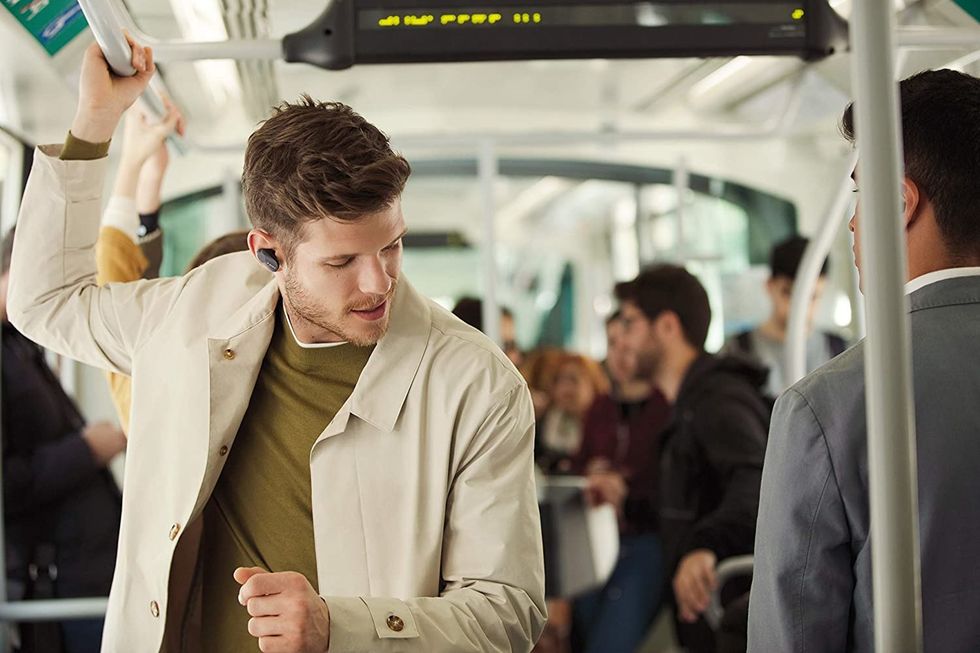 The WF-1000XM3 have six hours of battery lifeSony
Another option from Sony, but this time in compact earphone form. Like the AirPods Pro, these manage to offer true active noise cancelling capabilities without a bulky over-ear design. Battery life is a claimed six hours per charge (so 90 minutes more than Apple can manage), and an AirPods Pro-equalling 24 hours with the charging case.

If your budget doesn't stretch to the AirPods Pro (or you simply don't find them comfortable) then the Sony WF-1000XM3 is a strong option for combining ANC with portability, battery life, and a compact in-ear design.
Nuraphones - $399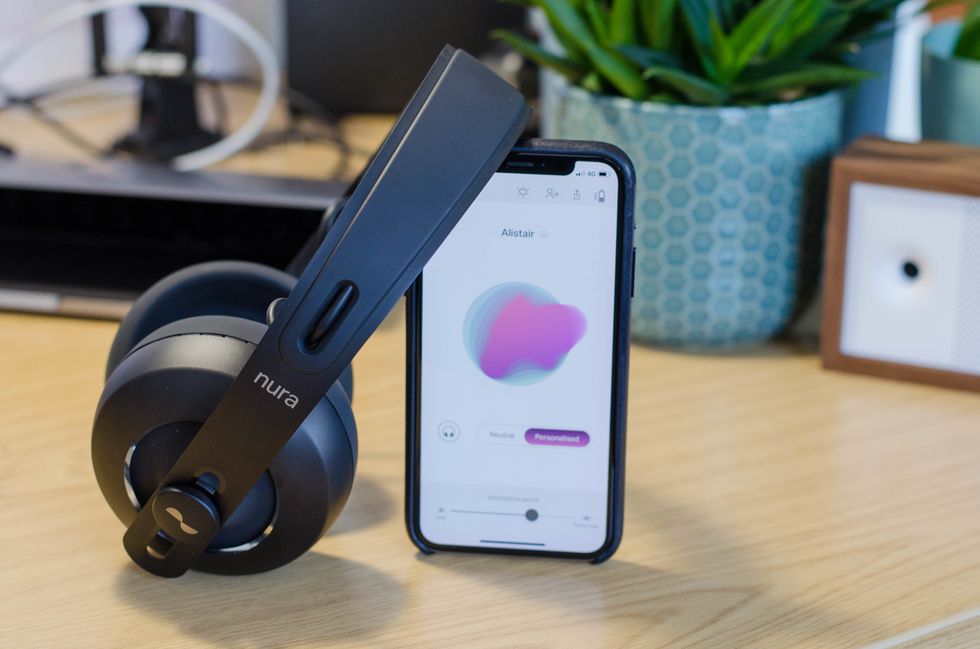 Nuraphone headphones tune themselves to your unique hearing GearBrain
Now for something different. The unique Nuraphone headphones use tiny microphones that rest inside your ears to understand exactly how you listen to music, which can differ significantly from one person to the next.

Once the ANC-equipped Nuraphones have listened to how you listen, they create an audio profile best-suited to your personal hearing ability. We were skeptical of the system's abilities at first, but found it to work very well, while 20 hours of battery life is welcome, and setup is easy. They can become uncomfortable after extended use, and the touch-sensitive controls are easy to trigger by accident.
PuroQuiet - $200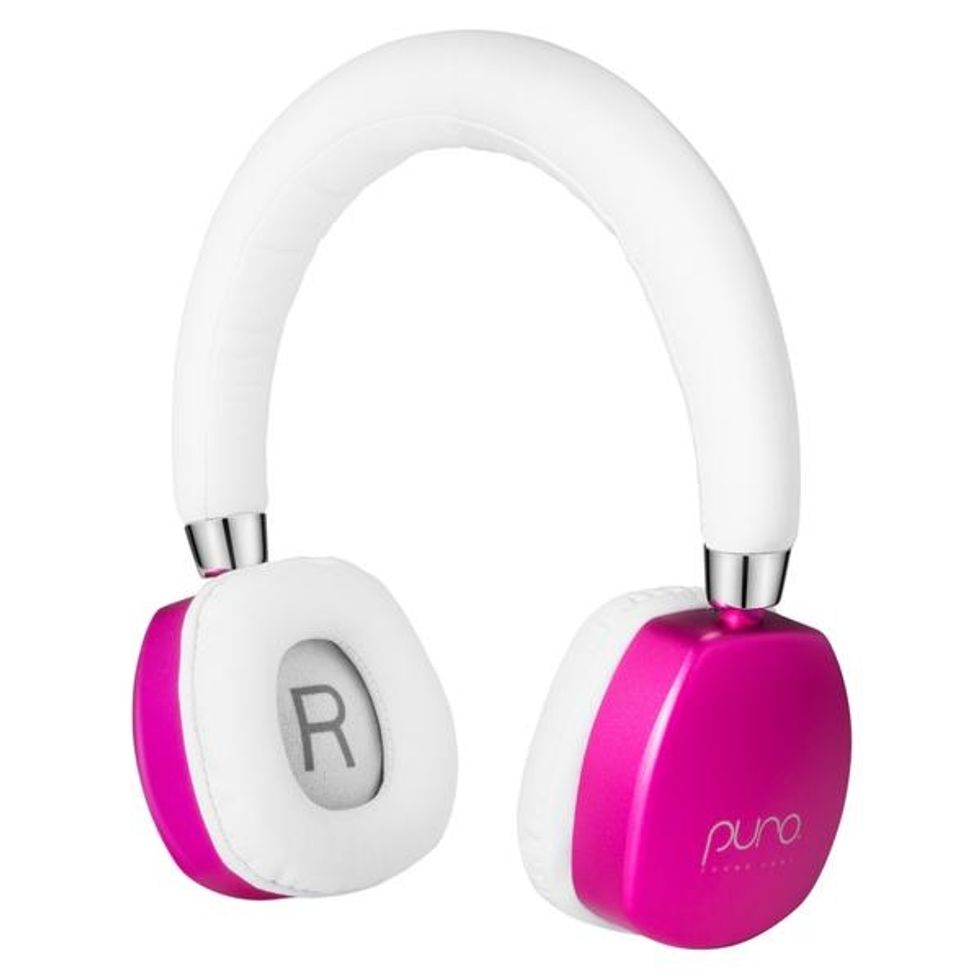 These headphones have ANC but are designed for childrenPuroQuiet
Sometimes children want a bit of peace and quiet of their own, and that's where the PuroQuiet headphones come in. These are wireless and have ANC, but are much smaller and lighter than options from the likes of Bose and Sennheiser, making them comfortable and convenient for children.

Available in three colors - blue, pink and charcoal gray — the headphones have 16 hours of battery life, or 22 if ANC is switched off. They are also limited to a maximum output of 85 dB, some way below the circa 110 dB regular headphones are capable of, in a bid to prevent damaging children's ears.
Puro Sound Labs JuniorJams On-Ear Headphones Wireless Foldable Kids Earphones with Bluetooth, Volume Limiting, Lightweight and Noise Isolation for Smartphones/PC/Tablet - JuniorJams Blue
Like GearBrain on Facebook