Few sectors of consumer technology have grown more quickly in the last couple of years than that of truly wireless earphones.
At first ridiculed for looking weird, the sector is now packed for of high-quality options from Apple, Bose, Sony and more.
Read More:
All of these options are truly wireless, meaning they sit in your ears but are not connected to each other. Most can be worn while exercising, while a few are better-suited to the gym than others, thanks to a more secure fit and sweat resistance.
Most also let you talk to your voice assistant of choice, and all come with carry cases which charge the earphones when placed inside. Some of these cases offer wireless charging, some don't, and in the case of Apple's AirPods, you can pay a premium to add wireless charging.
As well as sound quality and features, the most important aspects to look for in a pair of wireless earphones are comfort and a good fit. You will want to buy a pair which stay securely in your ears, but which remain comfortable for several hours of use. Next up we suggest you look at battery life, both for the earphones themselves and for how many hours of extra charge the case provides.
Other important features include active noise cancelling, and if the earphones offer any fitness-tracking options, like an integrated heart rate monitor.
Apple AirPods Pro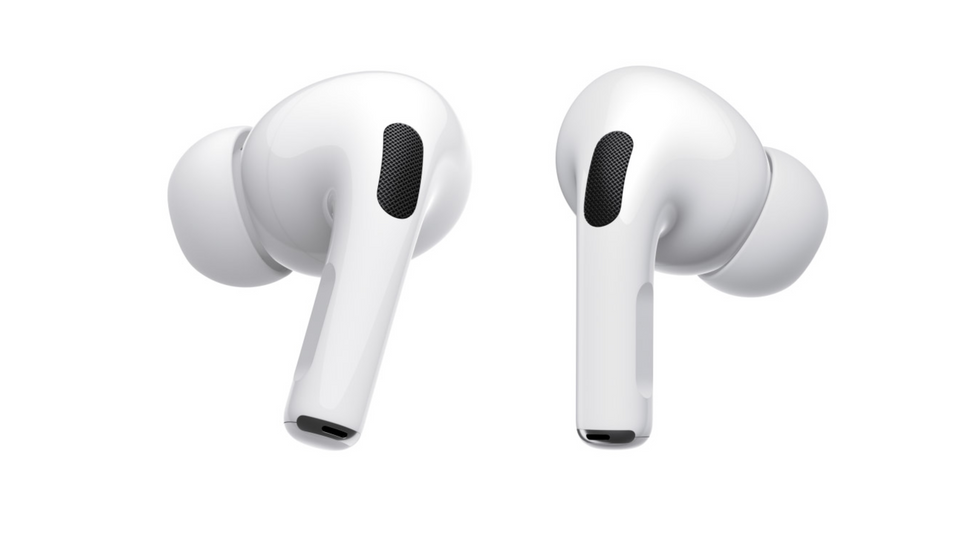 AirPods ProApple
The newest product in this list, the AirPods Pro, are sold alongside Apple's regular AirPods, with the main difference between the two is the Pro version offers active noise cancelling. They also have silicon tips for a tighter fit, which makes for better sound and fewer distractions from your surroundings.

The noise cancelling works surprisingly well and the smart Transparency Mode can be switched on to hear your environment more clearly, for when you need to speak to someone. They aren't cheap, and while they work with Android handsets, iPhone users will get the most out of them. Apple claims the battery life will last 4.5 hours with noise cancelling switched on, plus a further 24 hours when using the charge case.
AirPods work with Android phones (and most Bluetooth devices), but some features, like Transparency Mode, are missing, so non-iPhone users might want to look elsewhere.
Sony WF-1000XM3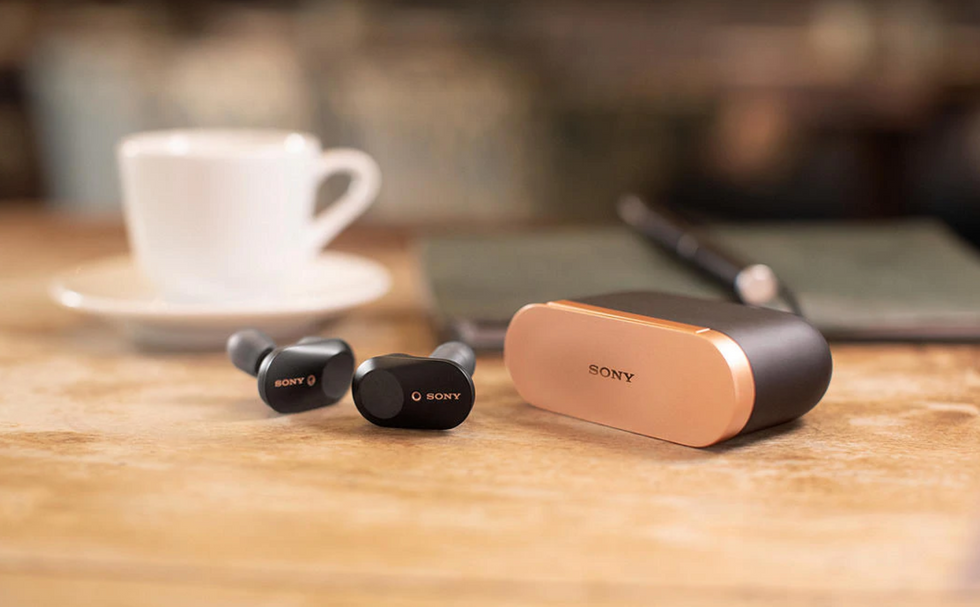 Sony WF-1000XM3 wireless earphonesSony
Available in black and white, these earphones by Sony are widely regarded as having some of the best active noise cancelling of any earphones. They come with three sizes of silicone ear tips to help you find the perfect fit, and their charging case has a USB-C connection.

There are touch controls on the side of ear earphone for adjust music and calling up the Google Assistant, and the noise cancelling automatically adjusts based on your environment. Battery life is said to last six hours with noise cancelling switched on (or eight when switched off), plus an extra 24 from the charge case.
Sony WF-1000XM3 Industry Leading Noise Canceling Truly Wireless Earbuds, Silver
Beats Powerbeats Pro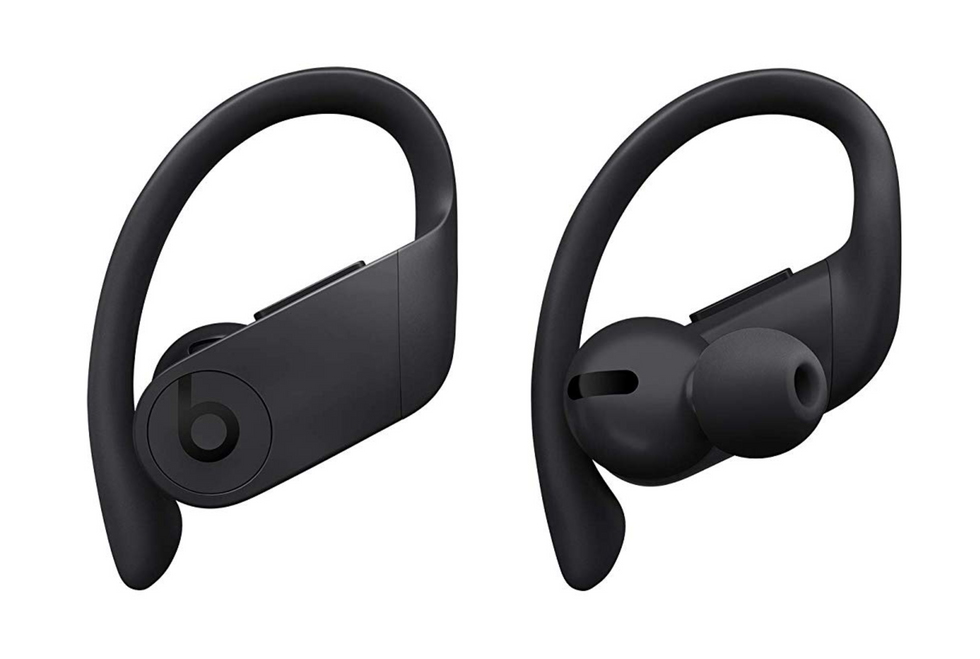 Powerbeats ProBeats
The Powerbeats Pro by Apple-owned Beats feature a design which goes into your ear but also wraps around it for an extra secure fit. These earphones are designed for use in the gym or while running, and their larger size means a bigger battery than most and a run time of nine hours, plus an extra 24 from the charging case.

They are available in four different colors — black, ivory, moss and navy — and they are sweat and water resistant, so can be worn in the gym or while it's raining. There are play/pause buttons, but also volume control, which is something most wireless earphones don't include. These earphones do not offer active noise cancelling, where anti-noise is played to create silence instead, they offer passive noise cancelling by blocking out sounds with a secure fit.
Powerbeats Pro - Totally Wireless Earphones - Black
Amazon Echo Buds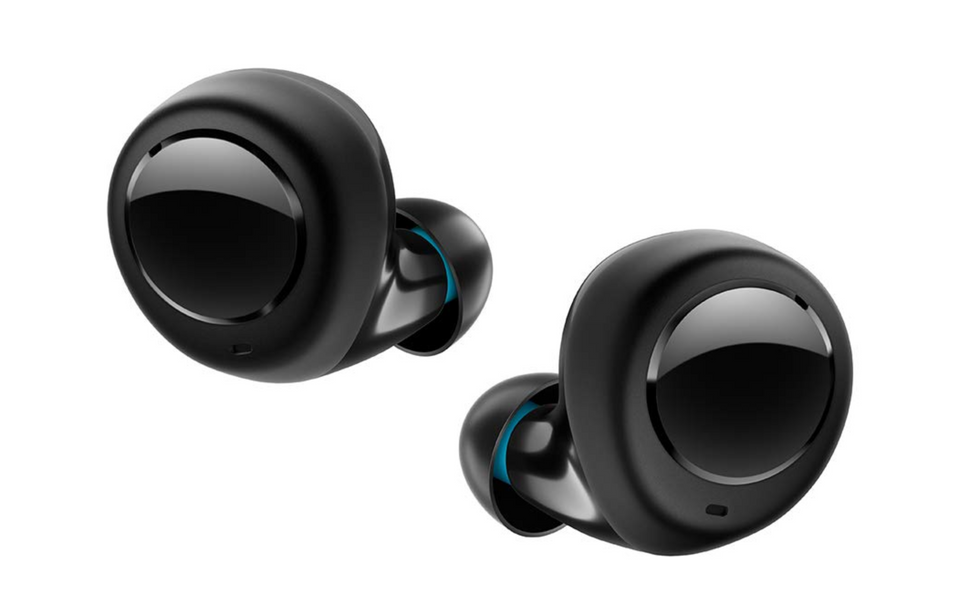 The Echo Buds earphones by AmazonAmazon
Amazon's first earphones came along during its mammoth hardware launch event this summer, alongside new Echo smart speakers and a lot more besides. The Echo Buds are around half the price of much of their competition, but offer a compact and subtle form factor, with five hours of battery life, plus a further 20 hours using the charge case.

The headphones provide access to Alexa, of course, but can be set to fire up Siri or Google Assistant instead, and they feature active noise cancellation technology by Bose — widely regarded as one of the very best noise-cancelling headphones manufacturers. Three sizes of tip of included to ensure you find one that fits you best.
1More Stylish True Wireless In-Ear Headphones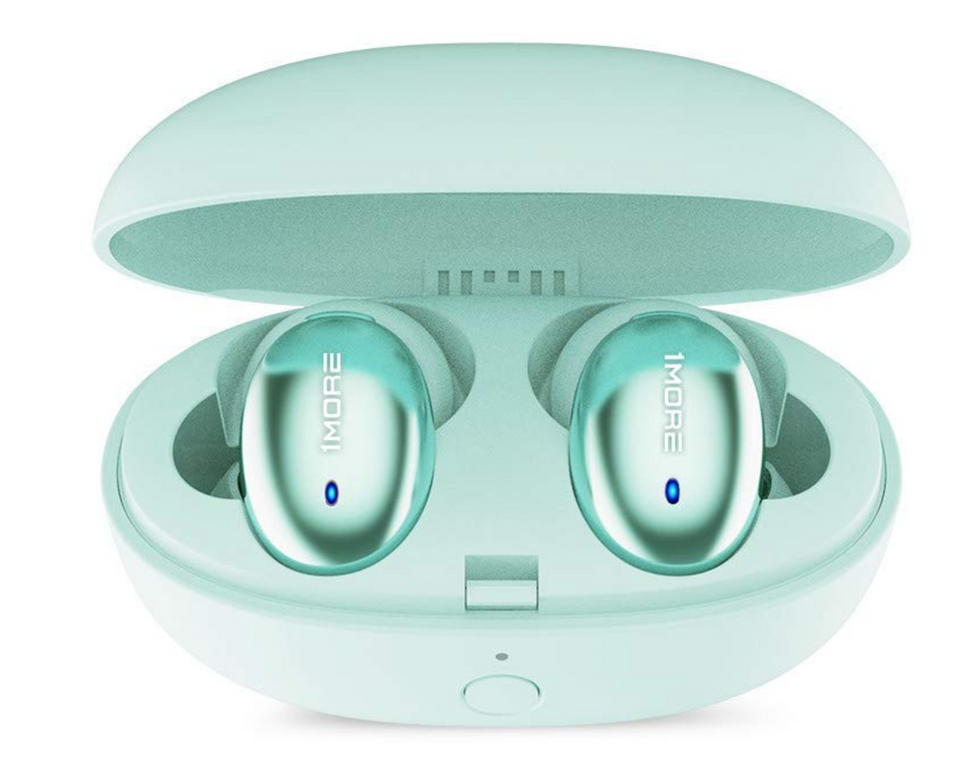 These wireless earphones cost just under $1001More
Available in black, green, pink and gold, these wireless earphones by 1More are designed to stand out from the crowd. They are also more affordable than most, with a price around half that of their rivals. The earphones are said to last 6.5 hours on one charge, plus an extra 24 hours from the charge case.

They work with iPhones and Android handsets — as do all of the earphones featured in this article — and they give one-tap access to either Siri or the Google Assistant. There's no active noise cancelling, but once you get a good seal with the rubber ear tips, the loudest of sounds around you should be filtered out effectively.
Sennheiser Momentum True Wireless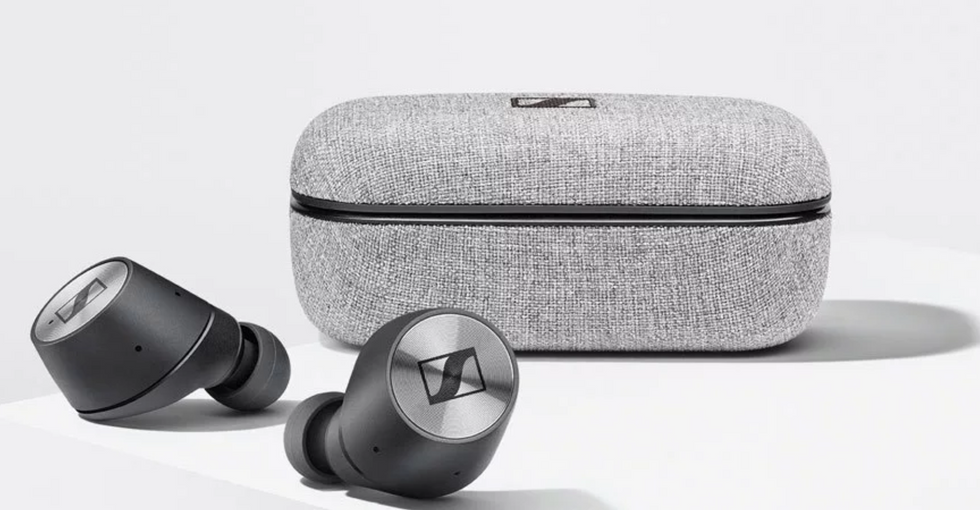 The Momentum True Wireless by SennheiserSennheiser
Sennheiser's Momentum True Wireless earphones are at the pricier end of the market, and instead of packing active noise cancelling they put a focus on excellent audio quality.

They include four sizes of ear tips and are IPX4 rated to protect them against sweat and light rain or splashes. Touch controls on the side let you play and pause music, or access your preferred voice assistant. Battery life is four hours, which is increased to 12 with the use of the charging case — still likely enough for most buyers, but around half that offered by some rivals.
Sennheiser Momentum True Wireless Bluetooth Earbuds with Fingertip Touch Control
Apple AirPods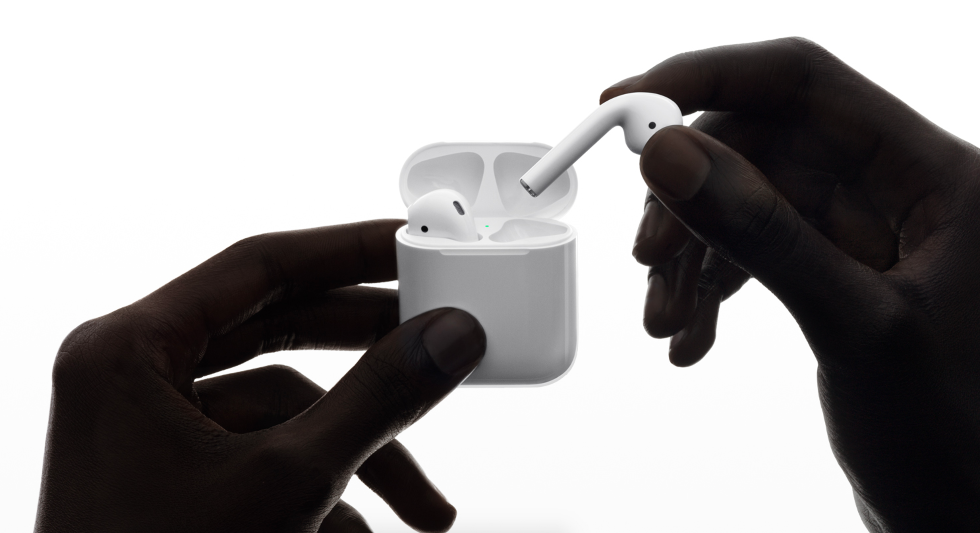 The AirPods case is offered with or without wireless charging Apple
Apple's regular wireless earphones, the standard AirPods lack the active noise cancelling of their Pro stablemates, but are cheaper — and significantly so if you stick to the Lightning cable-charged case instead of the wireless option. Sound quality is decent, but AirPods block very little sound from your surroundings.

These are undoubtedly the most popular wireless earphones on the market, but Android users might want to look elsewhere. They work fine with non-iPhones, but Android owners can get better value by shopping elsewhere.
Samsung Galaxy Buds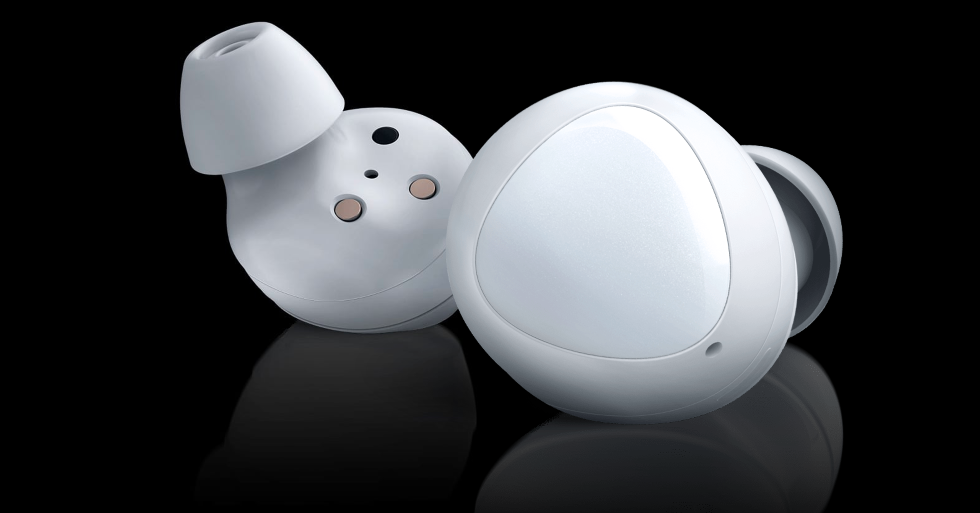 Galaxy Buds Samsung
Samsung's first wireless earphones, the Galaxy Buds are a direct rival to Apple's AirPods, and do a pretty good job. Available in black, white and yellow, the Buds include a compact charge case which can be topped up by QI wireless charger or USB-C - something Apple could learn from. Battery life is six hours, plus a further seven using the case to recharge.

The Galaxy Buds initially suffered from intermittent Bluetooth connection issues, but these have now been ironed out. Add in the silicon tips for blocking out noise, and they are a pretty good package, especially for Samsung phone owners (although they work with other Androids and iPhones, too).
Jaybird Vista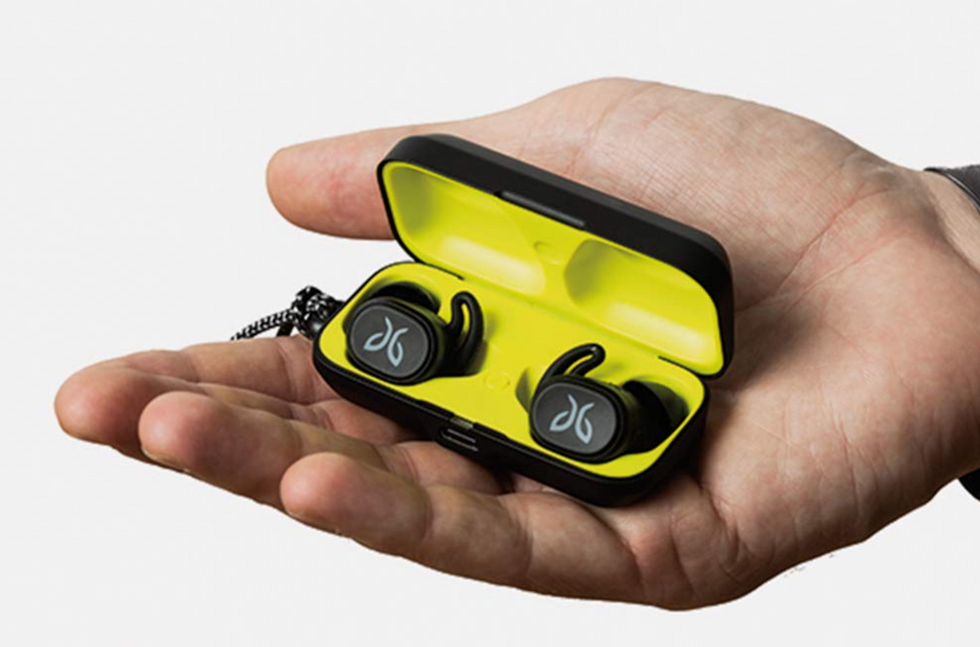 Vista wireless earphones by JaybirdJaybird
Offered in black, white and green, the Jaybird Vista earphones offer more advanced IPX7 waterproofing and provide six hours of use per charge, plus ten more hours via the charging case.

There's no active noise cancelling here, with the Vistas instead relying on a tight fit in your ear to create passive noise cancelling.
Designed primary for exercise, the Jaybird's have a secure fit and offer three different sizes of ear tips. As well as these tips, the Vista earphones also have rubber wing which tuck into your ear to hold them firmly in place. The case is charged via an included USB-C cable.
Jaybird Vista True Wireless Bluetooth Sport Waterproof Earbuds - Black
Jabra Elite Active 65t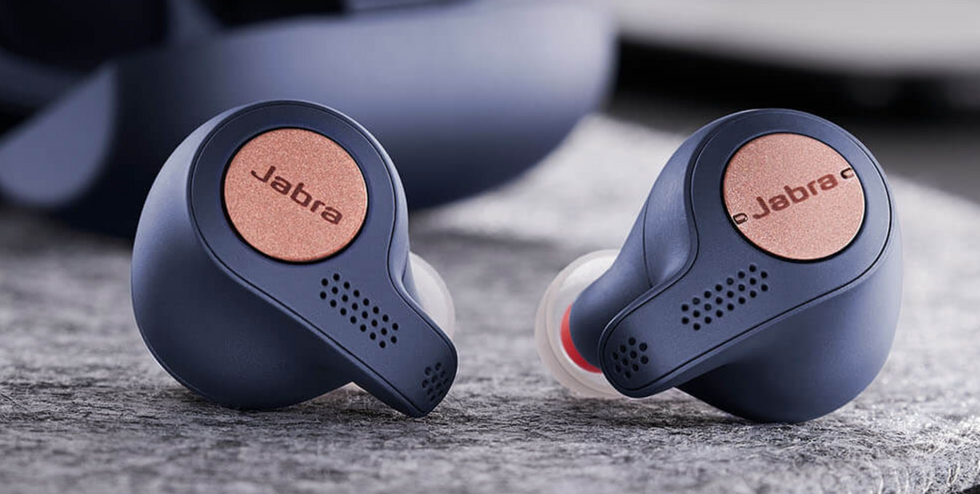 Elite Active 65t wireless earphones by JabraJabra
A well-priced, fitness-focused earphone, the Elite Active 65t by Jabra is available in four colors with bronze or silver detailing, making their design stand out from the crowd.

Three sizes of ear tip are included in the box, and there is passive instead of active noise cancelling. Battery life is a claimed five hours, plus 15 more hours via the charging case, and there's one-touch access to your voice assistant of choice, whether it is Alexa, Siri or Google Assistant.
Like most wireless earphones, the Jabras have a sensor which automatically pauses your music when you remove one earphone from your ear, then starts the music again when you put it back in.
Jabra Elite Active 65t Earbuds - True Wireless Earbuds with Charging Case, Copper Blue - Bluetooth Earbuds with a Secure Fit and Superior Sound, Long Battery Life and More