Like GearBrain on Facebook
LG has said it will show off a new beer brewing machine at the CES technology show in Las Vegas in January.
But unlike the home beer brewing kits you might be more familiar with - usually involving a large bucket and more than a pinch of optimism - the LG HomeBrew works more like a capsule-based coffee machine.
Read More:
According to LG, the machine makes home beer brewing easy thanks to "single-use capsules, optimized fermentation algorithm and convenient self-cleaning feature". The capsules contain malt, yeast, hop oil and flavoring, and once inserted you just need to press a button to begin the brewing process.
A companion app for iOS and Android lets you keep an eye on the whole process, from fermentation to carbonation and aging, to ensure you know exactly when your beer will be ready to drink.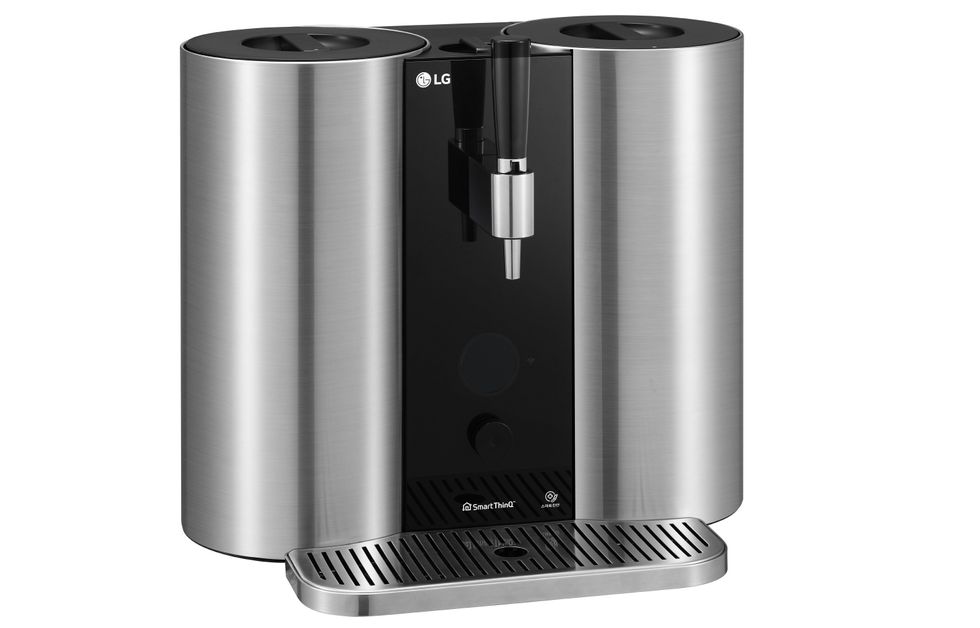 The system brews five liters at a time, taking approximately two weeks LG
LG claims the system makes beer brewing simpler, but it also enhances the quality of the beer. "An optimized fermentation algorithm intelligently controls the fermenting process with precise temperature and pressure control for guaranteed brewing success," LG says. Once brewed and poured, the HomeBrew then uses hot water to clean and sanitize itself, ready for the next capsule.
There will be five different beers available at launch, including American IPA, golden American Pale Ale, full-bodied English Stout, zesty Belgian-style Witbier, and dry Czech Pilsner. Up to five liters of beer is produced using one capsule, and the process takes approximately two weeks, depending on the type of beer you are brewing.
Song Dae-hyun, president of LG Electronics Home Appliances & Air Solution Company, said: "Homebrewing has grown at an explosive pace but there are still many beer lovers who haven't taken the jump because the barrier to entry, and these are the customers we think will be attracted to LG HomeBrew."
LG is yet to announce the price or release date for the HomeBrew, but says it will be at the CES technology show, which takes place in Las Vegas from January 8-11.
Hands on with LG W7 Watch www.youtube.com
Related Articles Around the Web
Like GearBrain on Facebook