Like GearBrain on Facebook
Most people's idea of a smart home will be adding a smart speaker or smart home hub that can control basic devices like lights, plugs and perhaps a door lock and security camera.
But what if you want to make your entire home smarter? We're talking about replacing every regular bulb with a smart alternative, swapping out the locks for smart ones, fitting motorized window blinds, and even making the garden more intelligent.
Read More:
The short answer is that such an ambitious project is not cheap. Even if you live in a small apartment, the cost of lighting alone can run close to $1,000 if you replace every bulb and introduce some mood-setting strip lighting along the way.
What does the average US home look like?

We have chosen a three-bed, two-bath property. According to data released by the Survey of Construction in 2019, this is the most common new-build layout across the U.S.
Note: This article was first written in 2018 and used data from 2017 when the average house had four bedrooms and two bathrooms. In its current form, the article was last updated in early 2021 and uses the most recent census data, which comes from 2019 and states a three-bed, two-bath property as the most popular new-build across the U.S.
For this article, we are going to address a regular three-bedroom, two-bathroom family home with a separate living room, kitchen and dining room, plus a modest garden and driveway. There is no dedicated home theater or gymnasium to rack up the costs, and we won't be installing a hundred-thousand-dollar sound system for the sake of it.

But if something can be made smart, then it will be. So let's get started.
Smart home hub or smart speaker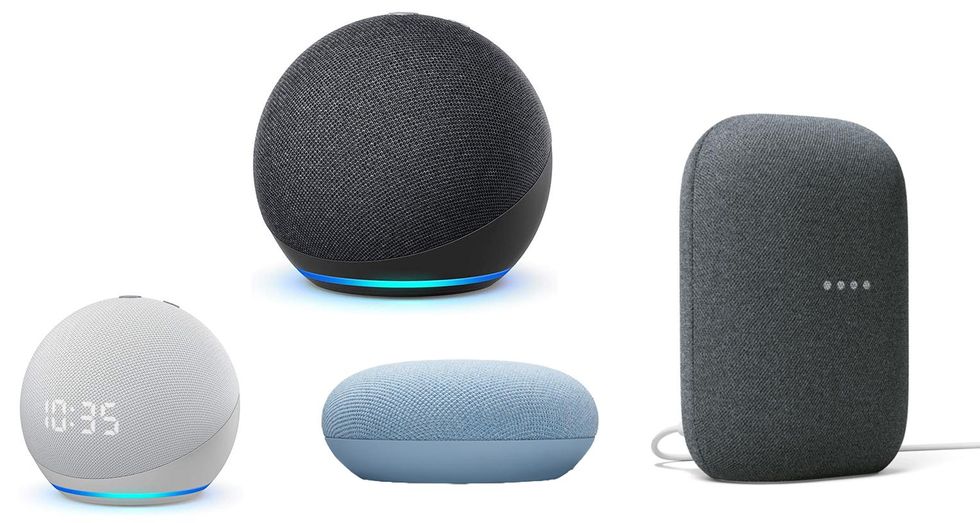 Amazon Echo and Google Nest smart speakersAmazon/Google
It is surprisingly cheap to get started on your smart home. All you need is a hub, like the $70 Samsung SmartThings Hub. This can be used as a central controller for all of your smart home devices, like lights, locks, cameras and alarm systems. It connects to devices using Wi-Fi and Bluetooth, plus the smart home standards of Zigbee and Z-Wave.

Alternatively, you can opt for a similarly-priced smart speaker, like the Amazon Echo or Nest Audio by Google. But because these also include a smart assistant (like Alexa), you will want to install several across the home, so that the assistant can hear you no matter where you are.
Given that, we will budget for one in each bedroom, plus one in the lounge, kitchen and dining room. These could be the $50 Echo Dot or Nest Mini, the $100 Echo, or something more high-end, like the $299 Apple HomePod.

For this example we'll build an Alexa system with a fourth-generation Echo speaker in the lounge, dining room and master bedroom, plus a smaller Echo Dot (4th Gen) in each of the two remaining bedrooms, and an Echo Show 8 smart display in the kitchen. These add up to $480 and means we have Alexa in all six rooms (minus the bathrooms, naturally).
How to pick the right smart home hub for you
Lighting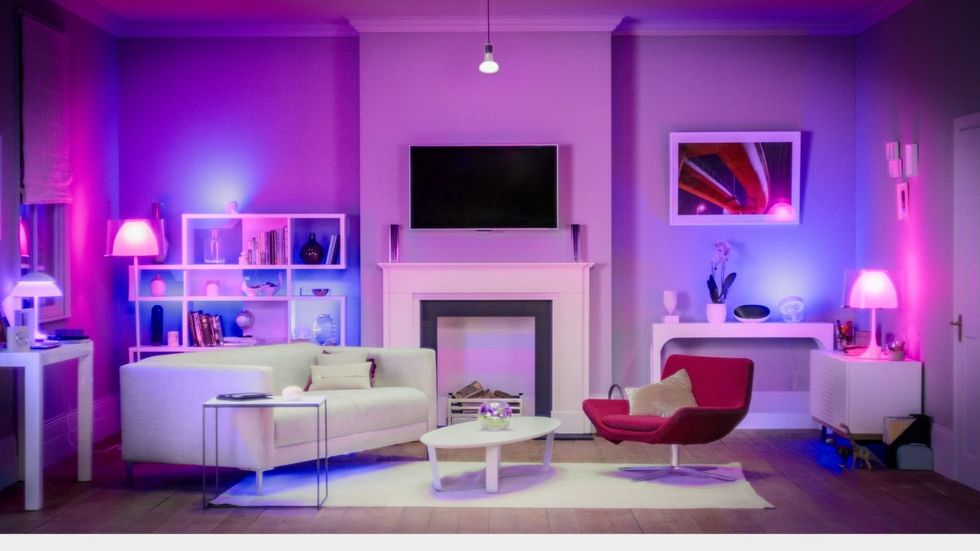 The average U.S. home uses dozens of light bulbsPhilips
Smart lighting starts at just $20 for a single Mini White bulb from LIFX, which connects to your Wi-Fi and can be controlled with your smartphone or a voice AI like Alexa or the Google Assistant.
But if you want to make the light any color, you will need to spend around $40 to $60 per bulb, depending on which light system you opt for. Options here include Philips Hue, LIFX, Wiz, Sengled, C by GE (now called Cync), TP-Link Kada, and Ikea Tradfri.
According to research conducted in Florida in 2011, the average U.S. household has 47 light bulbs, or around six per room based on the eight-room property we're using as an example. Multiplying this by an average cost of approximately $40 per bulb makes the total cost about $1,880.
Throw in some dimmer switches, motion sensors and $90 LED light strips — which look great under kitchen counters, or behind the television — and an extra $500 on mood lighting and accessories doesn't seem too unreasonable. Now add in some smart lighting for the garden and driveway, and $3,000 comes into view alarmingly quickly. Add an entertainment lighting system like the Philips Hue Play Gradient light strip for behind the TV (plus the necessary Hue Play Sync Box) and that's another $500.

That said, smart bulbs are all LED so will use far less electricity than the incandescent bulbs you might still be using, so your energy bills will fall. LED bulbs also last far longer, so their high initial cost should spread itself out over the coming years.
Six of the best smart light systems to transform your home
Door locks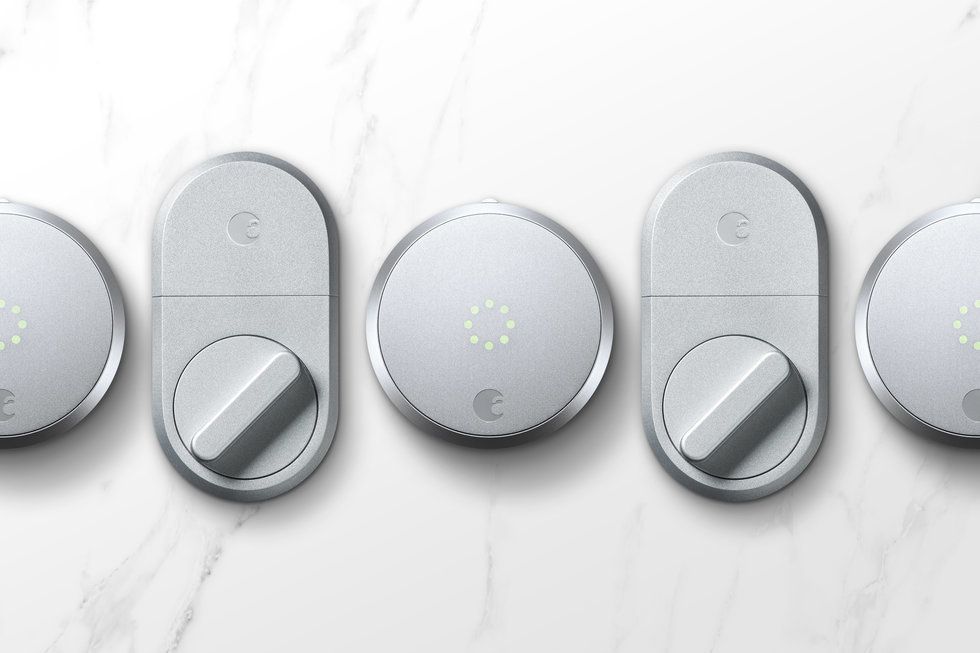 Smart locks really streamline the way you move in and out of your home August
Realistically, you only need to purchase two smart door locks to complete your property — one for the front door, and one for the back. Of course, if you want to add some smarts to other doors, then your costs will increase.
One of our favorite smart door locks is the August Smart Lock Pro, which costs $280 and comes with a sensor for letting you know when the door is ajar and not just unlocked. Once installed, a smart lock can be programmed to unlock automatically when you approach it (by recognizing your smartphone), and they can be controlled remotely for letting in the cleaner or an engineer.
Purchasing two of these costs $558 and brings our total to approximately $4,700.
Best smart door locks for your home
Video doorbell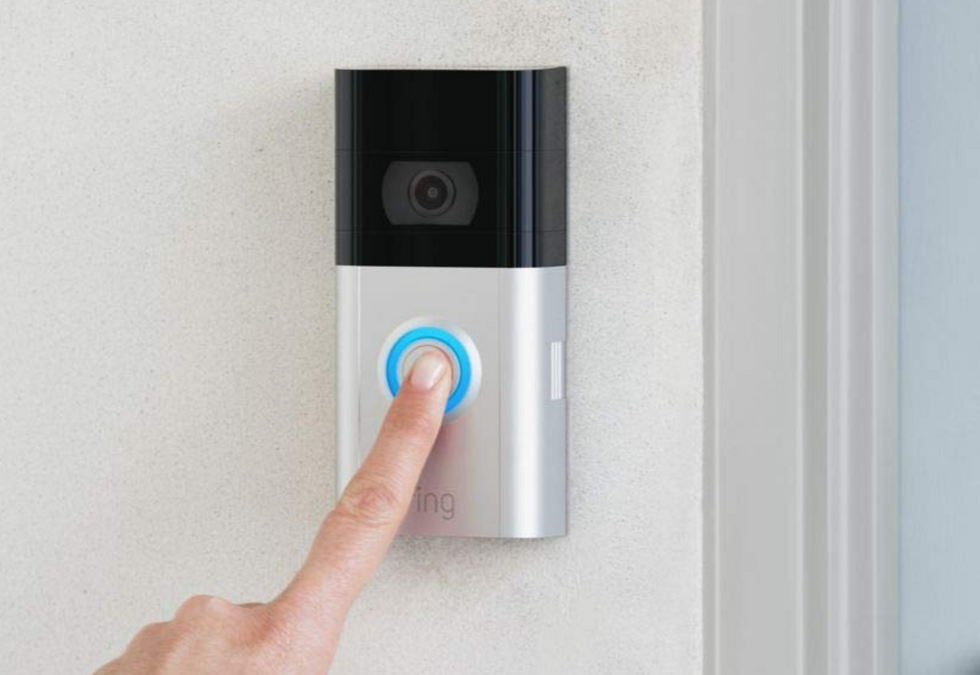 The latest, third-generation Ring Video Doorbell is $200Ring
A great companion for your smart lock is a video doorbell. These look like a regular bell or buzzer, but include a camera, speaker and microphone so you can see and talk to whoever is there — and because they connect to your Wi-Fi and ping your smartphone, you can chat to the visitor whether you are at home or in another country.

Amazon-owned Ring offers a wide range of video doorbells priced from $100 to $250. Ring also sells floodlights with motion sensors to help build out your smart home alarm system. We have chosen a $700 pack that includes the $200 Ring Video Doorbell 3 and a pair of Ring floodlight cameras. If that is beyond your budget, a Ring doorbell for $100 and a pair of $20 Wyze security cameras can also do a similar job for considerably less.
6 smart video doorbells to see who is there
Smart plugs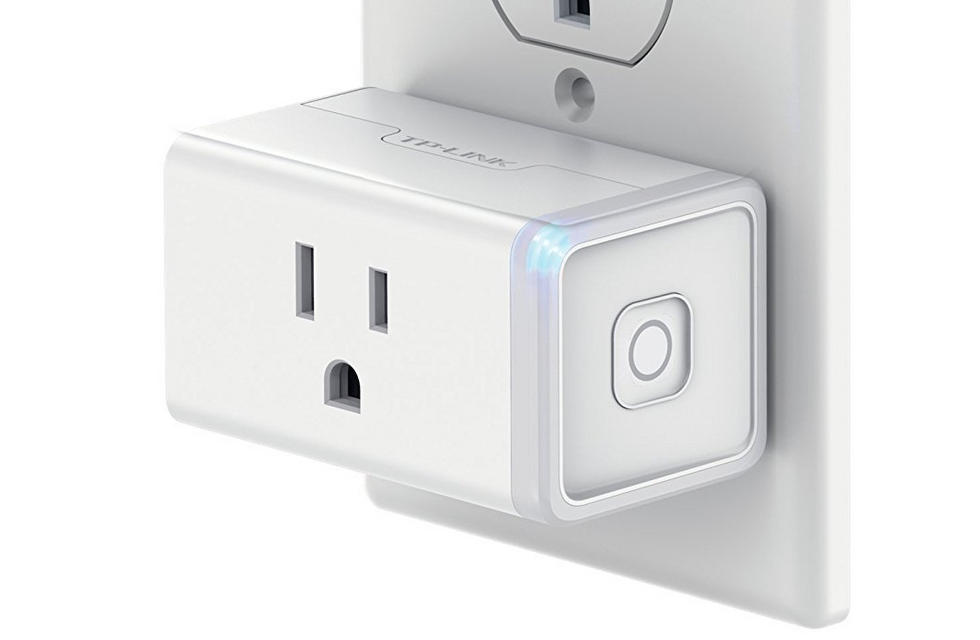 Smart plugs are going to be some of the most affordable connected devices you'll buyTP-Link
Smart plugs are a simple and affordable way to make dumb devices smart. Plug a regular heater into one, set up an applet through IFTTT (If This, Then That or use the plug's own app, and have the heater automatically switch on when the temperature falls below a certain level. The same theory works for fans, air conditioning units, dehumidifiers, and anything else that starts working the moment it is switched on at the wall outlet.
Smart plugs start at a little over $5 each when bought in pack of four. Those from bigger brands like TP-Link are more expensive, in the region of $30 for two. You can also buy smart wall sockets, which offer the same functionality but in a neater package as it's now the outlet itself that is smart rather than a plug added to it. These start at around $25 for an outlet with two sockets.
We'll budget for two pairs of in-wall smart sockets in each room, minus the bathrooms. This means 12, two-socket outlets for a total cost of $300. Some of these outlets also include a pair of USB ports for charging phones and other devices.
Smart home plugs and switches: What you need to know
Motorized window blinds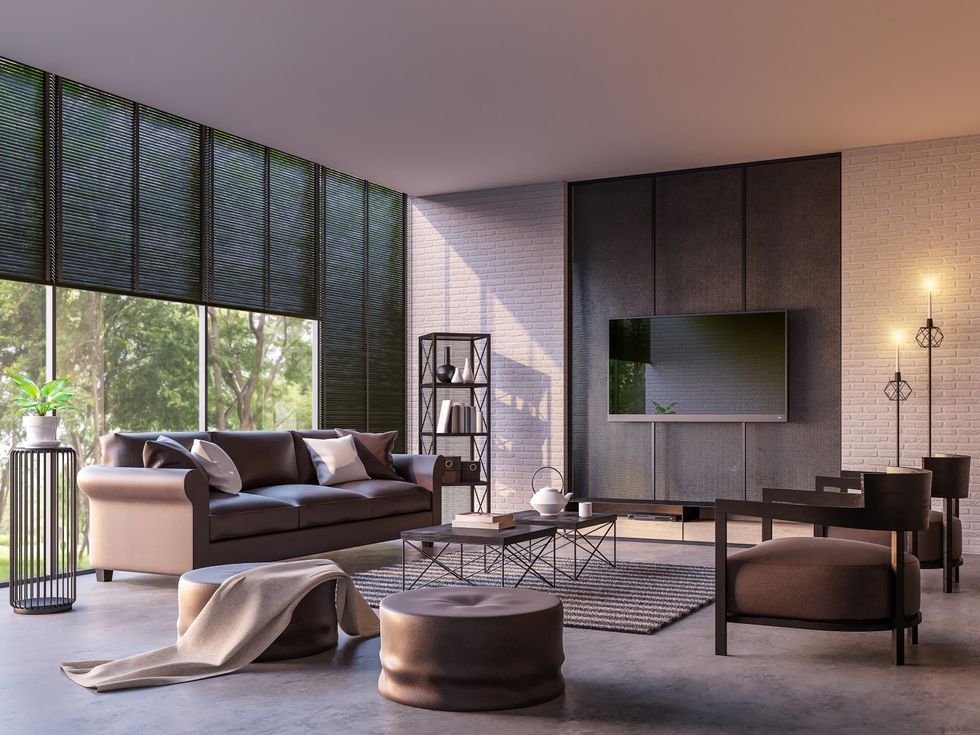 Smart blinds, while tending towards the expensive, are a solid design choiceiStock
This is where things could get expensive again. Along with smart lights, motorized blinds are among the most expensive connected devices to install in your home.
Prices can start at around $300 to $500 per window, but can go even higher depending on the size of each window and the fabric you choose to install. Smart blinds from the Lutron Serena collection are among the most connected, as they work with Amazon Alexa, Google Assistant, Apple HomeKit, Nest, SmartThings, Wink and IFTTT, all via the $80 Caseta Smart Bridge.
The blinds can be scheduled to lower and raise at certain times of day, or you can ask Alexa or Google Assistant to move them with a voice command. Going a step further, IFTTT applets can be configured to close the blinds at sunset (using data from Weather Underground), or close the blinds when you leave home, based on the location of your smartphone.

The average house, according to Lutron, contain 18 windows so you're looking at $6,000 to $7,000 to cover them all with motorized blinds.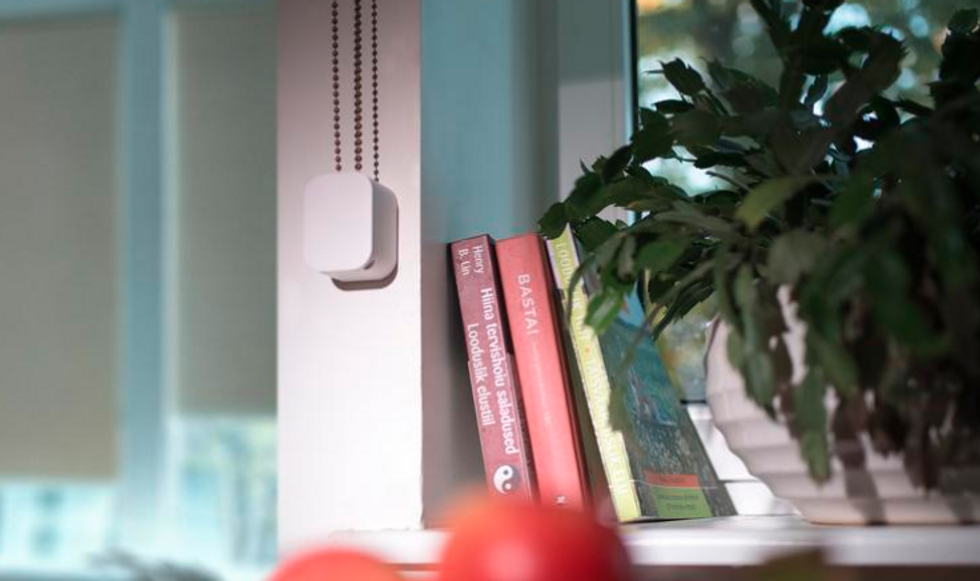 You can install more affordable options which take regular blinds and turn them in connected devicesSoma
A cheaper option to consider is retrofit motors, pictured above, that fit to the wall next to your window and pull on the chain to open and close the roller blind. These cost from around $150 each for devices like the Alexa- and HomeKit-compatible Soma.
Another option comes from Ikea, which now sells the Fyrtur and Kadrilj motorized smart window blinds priced from a far more affordable $129. Choosing Lutron or Ikea is going to make a huge difference to the total cost. Let's assume you want a fully bespoke system (since the Ikea blinds might not fit all of your windows perfectly), which will cost in the region of $6,500 and more than doubles the budget.
Spent so far: $12,200
How to install motorized blinds: 5 options to consider
Thermostat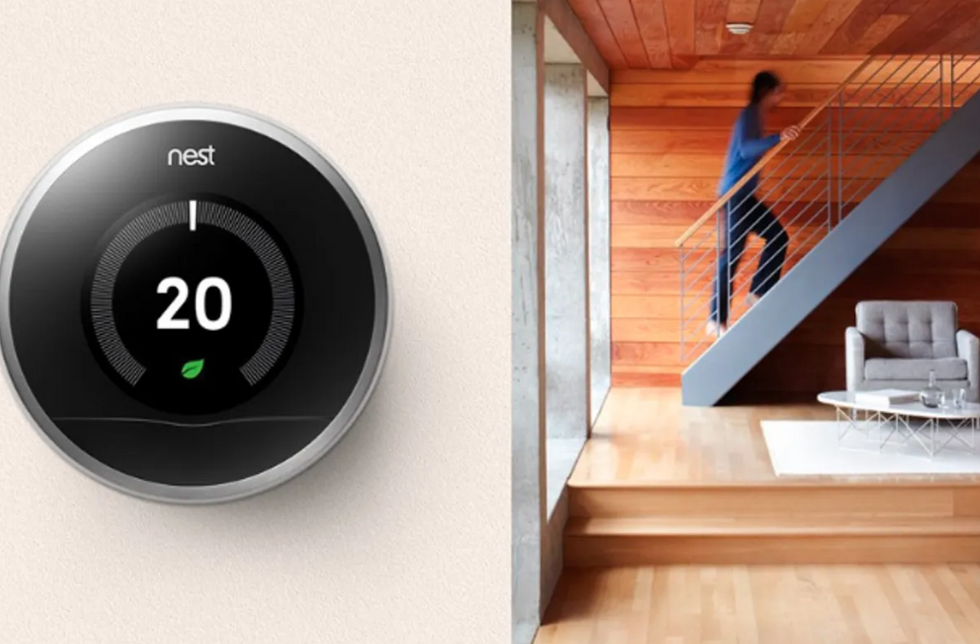 Nest Learning Thermostat costs $250Nest
A smart thermostat from the likes of Nest or Ecobee is designed to save you money by heating and cooling your home as efficiently as possible. It does this by learning your temperature habits and knowing which rooms are a priority to heat or cool.

Compared to lights and blinds, this is a more affordable device — and one that should save you money on your energy bills. The Nest Learning Thermostat costs $250, while the simpler Next Thermostat costs $130, the Ecobee SmartThermostat is $249, and smart options from Honeywell cost around $170.
Larger properties with zoned heating and cooling systems will require a smart thermostat for each zone. For this article and our fictitious three-bedroom home, we'll install two — one for upstairs and one for downstairs — at a cost of $500, plus installation by a professional.
Automate the heating and lower your energy bills with these 6 smart thermostats
Robotic vacuum cleaner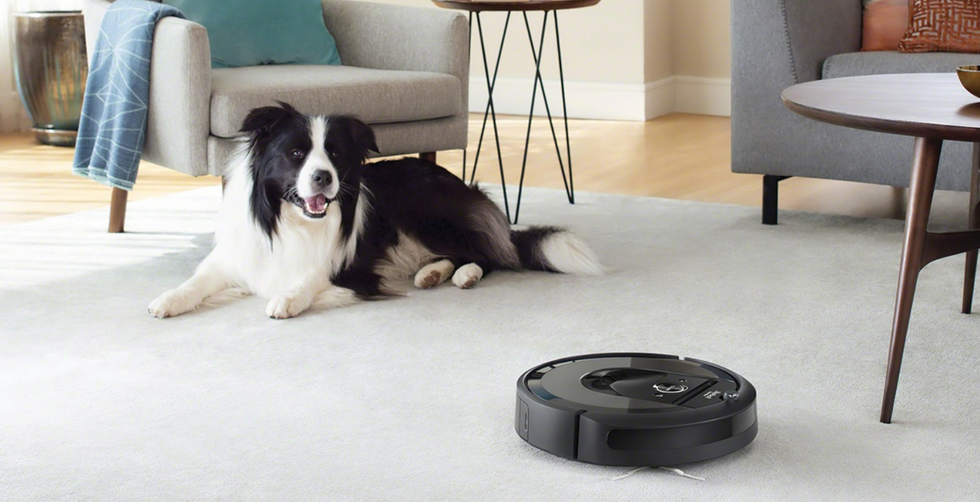 Roomba robotic vacuum cleaneriRobot
Is your home even that smart if it doesn't have an army of cleaning robots? If the answer is no, then you'll want to invest in a robotic vacuum cleaner or two.

iRobot and its Roomba range is the market leader, with prices ranging from around $250 to $800. Options from some companies start from under $100, while other brands to consider at the $200 to $500 range include Eufy, Shark and Ecovacs.
For our imaginary home we'll buy two (because, like Daleks, they can't manage the stairs) and set aside $600 for the pair.
The best robotic vacuum cleaners at any budget
Security cameras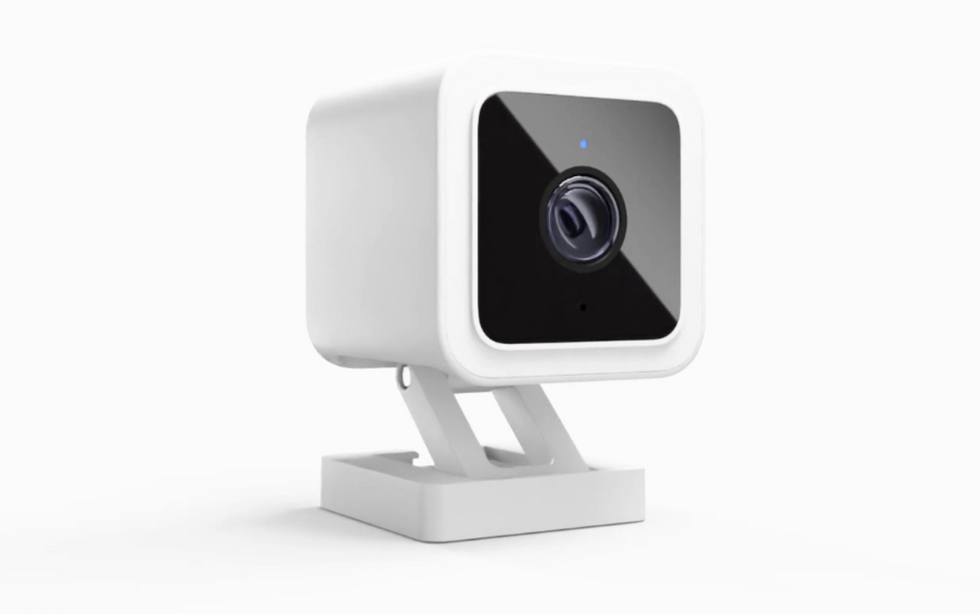 The latest, third-generation security camera from Wyze Wyze
This is an area where the price can vary quite significantly. Do you just want a single indoor camera pointing at the front door? Or do you want a house-wide surveillance system with night vision, infrared lighting, flood lighting and facial recognition?

The former starts at just $20 for the Alexa-controlled Wyze Cam V3, while pricer options (with more features) include several options from Google's Nest smart home division starting at a little under $200. Netgear-owned Arlo is also a strong option when it comes to smart security cameras.
Many security cameras require a subscription service to view the footage they record for more than a day or so afterwards. Nest, for example, charges between $10 and $30 a month, depending on how long you want to have access to recordings.

Realistically, we can see a three-bedroom home having two cameras outside and one inside pointing at the front door. For this setup you'll want to budget around $300-$600 depending on which models of camera you opt for – or $60 if you go down the Wyze route, as the V3 is water resistant and can be used outdoors, but requires a wired USB connection.
The best smart home security cameras for renters
Alarm system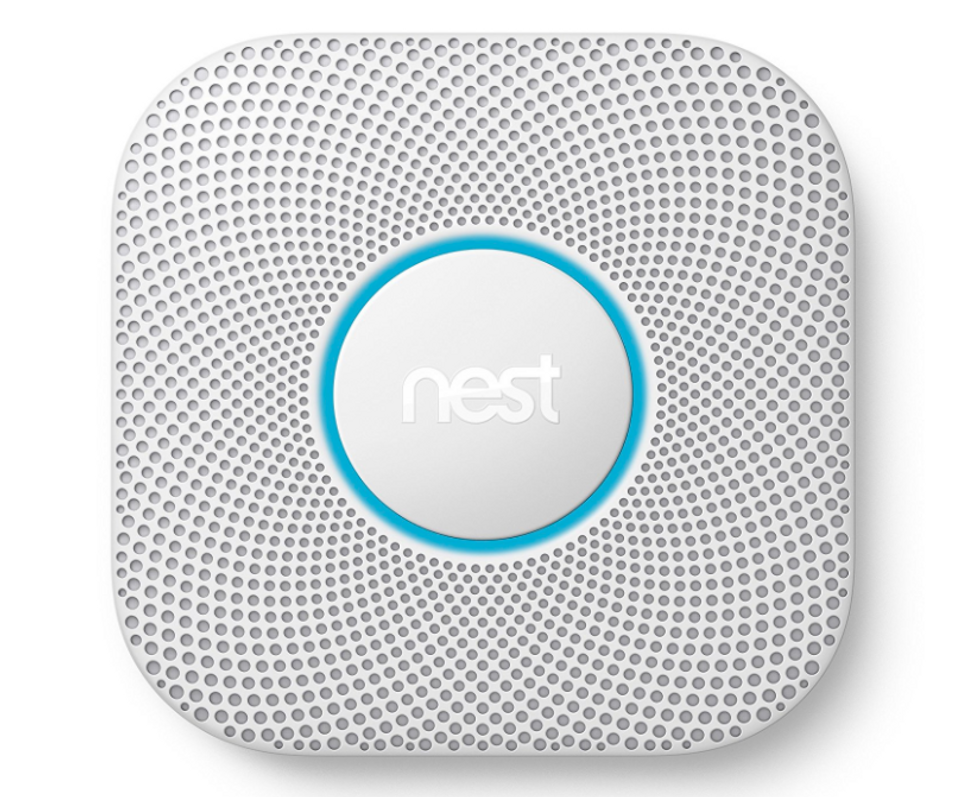 A smart home smoke or carbon monoxide sensor keeps tabs on the air quality inside your spaceNest
Beyond cameras, a smart home security system should also include sensors to alert you to open windows and doors, motion sensors, and smoke detectors that buzz your smartphone.
Here, you should decide if you want to install a DIY system of off-the-shelf cameras and sensors, or hire a professional to install an alarm system with 24/7 monitoring.
Alarm specialists ADT offers the latter, and so too does Vivint. Their monitored systems are professionally installed and the costs vary depending on the size of your property and the kind of system (and monitoring) you want.
For a solution that falls between DIY and professional, Abode offers a starter kit for $299 which includes a couple of door and window sensors, an indoor motion sensor with camera, a remote key fob for arming and disarming the system as you come and go, and a smartphone app for iOS and Android. Extra sensors start at $29 and 24/7 monitoring costs $15 a week or $8 for a three-day weekend, making it perfect for occasional use.
Protect your home with these 8 smart security systems
Garden tech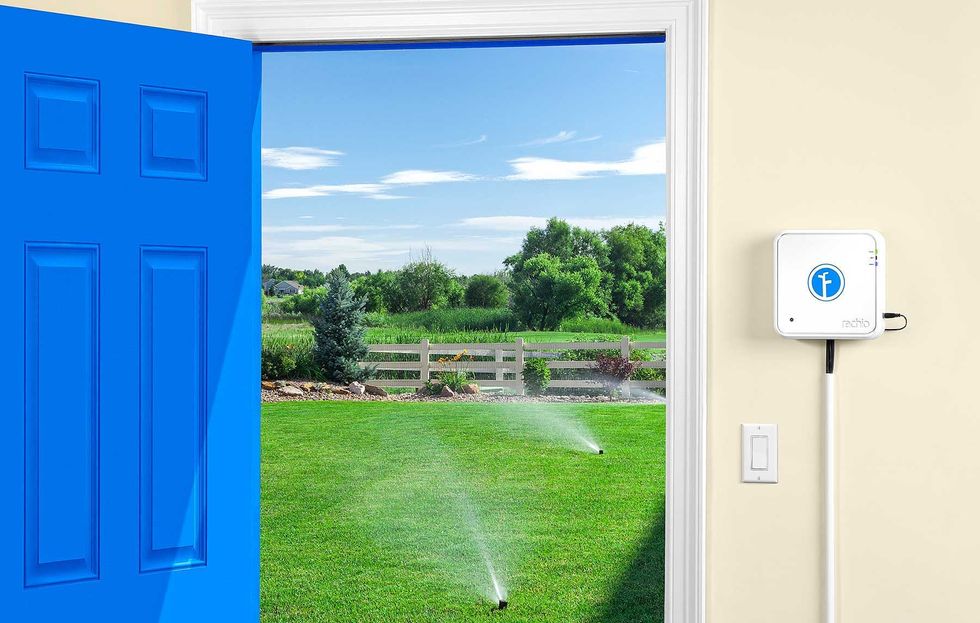 Smart garden equipment is a great investment for lowering water billsRachio
If you garden is large enough to justify it, then a smart irrigation system can help save you time and money. Options here include the $230 Rachio 3, $200 Spruce, and the Orbit B-hyve, which starts from $79.
Most smart irrigation systems share the same key features. They connect to your existing watering system and track hyperlocal weather forecasts to deliver exactly the right amount of water each day, skipping days when there is sufficient rainfall.
The systems also ask you to tell them about the type of plants you have, as well as the soil, shade and gradient of the garden, which all adjusts how much water is used, and when. As with LED lighting and a smart thermostat, an irrigation system like this should save you money in the long term by only using water when necessary.

You could also consider a robotic lawn mower, which is basically a Roomba for the grass. The brands to consider are Worx and Husqvarna, and prices are in the region of $1,000
The best smart garden devices and outdoor gadgets
Total spend: circa $15,000
This brings our grand total to approximately $15,000. For this, we have kitted out a three-bedroom home with smart lights in every room, several smart speakers and plugs, an intelligent thermostat, motorized blinds on every window, an alarm system with security cameras and floodlights, a smart doorbell and door locks, a pair of robotic vacuum cleaners, a smart irrigation system and a robotic lawn mower.
Of course, we could throw in a $6,000 smart fridge and a $2,000 Peloton smart exercise bike too, plus other items like a smart bathroom scale, media streaming sticks on every television, and even more impressive lighting systems – not to mention a huge TV and house-wide Sonos system. But we hope this has given you a flavor for what costs are involved in making an entire house smarter.
MyQ Smart Garage Door Opener Chamberlain MYQ-G0301 & Chamberlain Group myQ Smart Garage Hub Add-on Door Sensor MYQ-G0302 (Works with MYQ-G0301 and 821LMB Only)
Check out The GearBrain, our smart home compatibility checker to see the other compatible products that work with Google Assistant and Amazon Alexa enabled devices.
Introduction of The GearBrain, The First Compatibility Find Engine for Smart Devices www.youtube.com
Like GearBrain on Facebook