Like GearBrain on Facebook
Back in 2015, the Near Future Laboratory, Mobile Life Center and Boris Design Studio produced their impression of an IKEA catalogue from 2030. They designed the brief as a believable view of what our future homes could become, given the then-growing popularity of the Internet of Things (IoT) and the smart home industry.
Three years later, the catalogue is part of an exhibition on home technology and predictions at the London Design Museum. Called Home Futures, the exhibition looks at how we imagined our living spaces would look from designs of the past.
Read More:

Black and white videos, produced in the 1950s, allude to robots that vacuum floors, automation as the key to household chores, and virtual reality headsets that will transport us to new worlds. It's a thoroughly interesting exhibition, demonstrating how smart home dreams of the 50s and 60s are now available from Amazon with next-day delivery.

The mock-up catalogue — available as a free PDF here — was produced for research purposes only, intended as a piece of "design fiction," not an official roadmap for IKEA's smart home dreams.
Nonetheless, it provides an interesting look at what 2015 thought the smart home of 2030 would look like, and how, just three years later, some of the catalogue already feels like reality.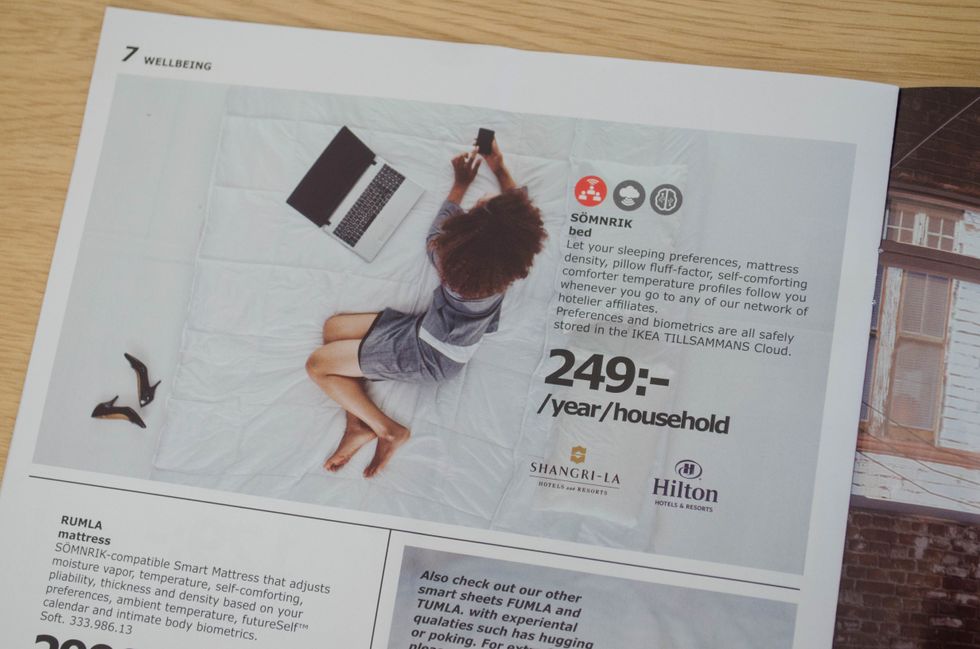 Smart bedding automatically adjusts to help you sleep better - and your preferences can be transferred to hotel beds via a subscriptionGearBrain
The very first page addresses the balance between consumer technology and personal well-being, something tech firms now focus on more than ever in 2018.

But instead of systems like Apple's Screen Time and Google's Digital Wellbeing, the catalogue suggests a sofa which can change the color and pattern of its fabric, using a Philips Hue-style lighting system which monitors your mood and temperature.
Next up, the catalogue predicts a future where a "semi-organic moss-like carpet" can be placed on top of existing flooring like a rug. It's suggested that such a material would help to improve air quality — another hot topic in today's consumer technology industry, which already offers air quality monitors and filters for the smart home.

Meanwhile, the catalogue shows how future homes could have information like the current time and outside temperature displayed digitally on the windows — something which feels entirely possible today, and reminds us of the smart bathroom mirrors already on sale.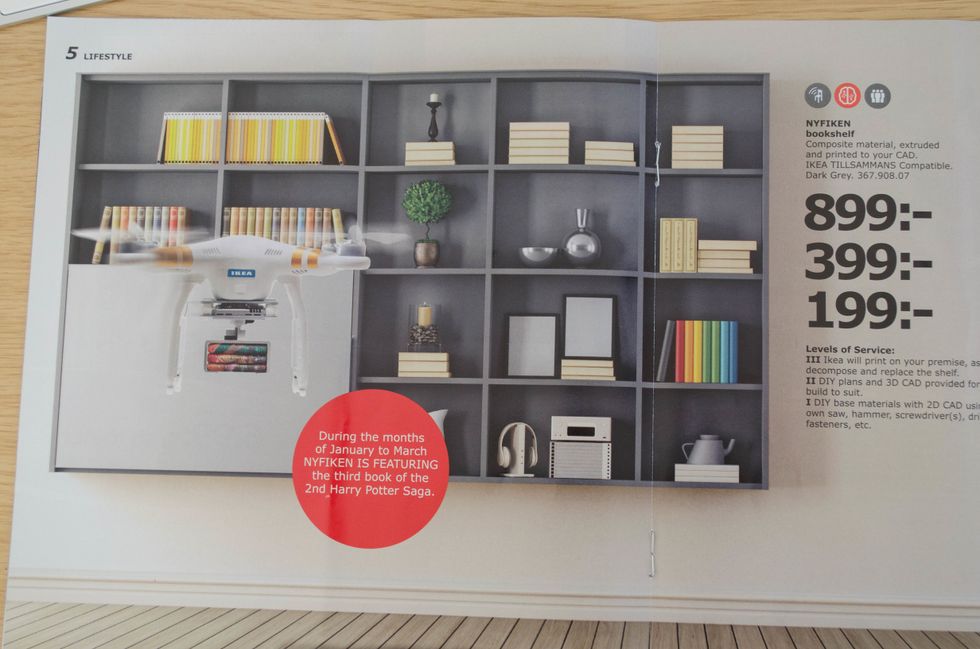 Drone-delivered books restock your 3D-printed bookshelf GearBrain
Flicking to the lifestyle section, and today's popularity of subscription services is combined with a traditional bookshelf. The catalogue suggests news journals, books, and other materials could be delivered regularly to keep the bookshelf up-to-date. Books are delivered by drone, of course, and the contents of each delivery is personalized based on your "daily activities." Both of these aspects are closely aligned what Amazon does today, predicting your shopping habits and developing a drone delivery service, called Amazon Prime Air.

With a nod to 3D printing, the catalogue suggests how the bookshelf itself can even be printed and assembled at home.
Sleep technology is popular today, with devices like the Withings Sleep Tracker, Apple Watch and Fitbit all able to log your sleep cycles. The catalogue proposes a smart mattress which adjusts its temperature, thickness and density based on the ambient temperature and "intimate body biometrics."
Today, smart mattresses are available from companies like Eight, Sleep Number, and Winkbeds, making this catalogue concept feel particularly close to reality. It's not just the technology which seems believable, but the expectations for what smart home consumers will want in the future, and that the so-called 'quantified self' movement will remain high on the agenda.

Recognizing how homes are getting smaller, the catalogue offers a service where a detachable module can be added to your home, expanding the size of the kitchen when you want to host a party — or even adding an entire temporary kitchen where there wasn't one before. Billed by the hour, the kitchen module can be ordered pre-loaded with food for a cuisine of your choice.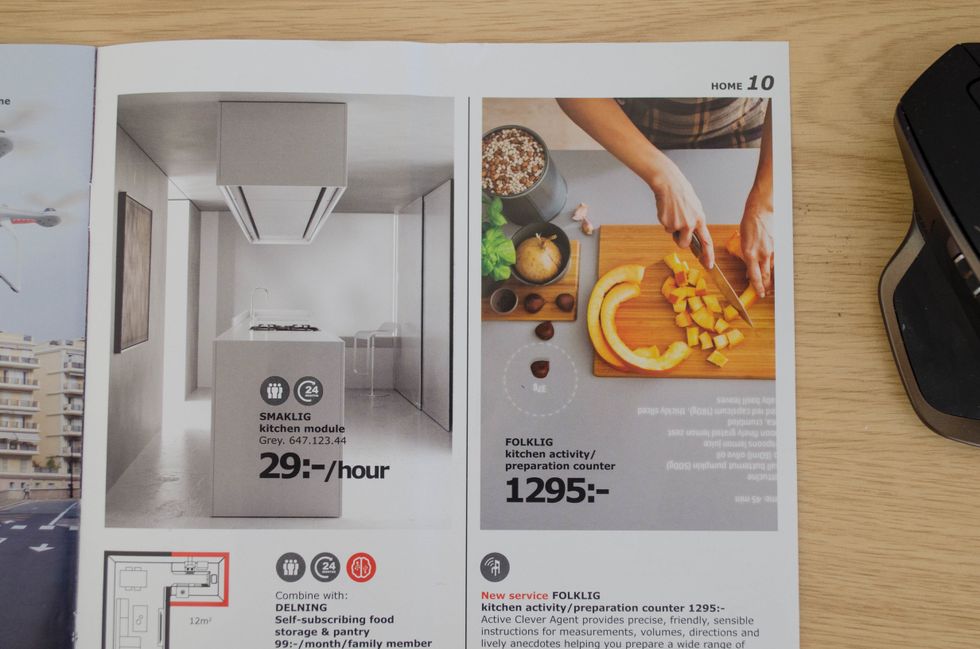 A modular kitchen paid for by subscription is offered next to a smart and interactive kitchen worktopGearBrain
The idea of a module home is not actually farfetched, dating back to at least the early 1970s, and the 'micro environment' proposed by Italian architect Ettore Sottsass. Back in 1971, Sottsass sought to counter the growing postwar demand for fashionable and unique furniture with a set of bland, functional and interchangeable boxes. Each contained an item for the home, like an oven, a washing machine, or a toilet; the kitchen presented in the mock-up IKEA catalogue is a far more attractive option than Sottsass', but shares the same minimalist modularity as his concept.

Returning to the present day, and the catalogue shows a kitchen worktop which displays cooking instructions and information about items placed on it, like the weight of a piece of food. This is very close to smart kitchen concepts shown off this year by companies like Bosch and Grundig, where a user interface is projected onto the surface.
The catalogue also describes the kitchen being run by an "Active Clever Agent [which] provides precise, friendly, sensible instruction for measurements, volumes, directions and lively anecdotes helping you prepare a wide range of recipes from around the world."

To us, this sounds a lot like Amazon Alexa or the Google Assistant, and their ability to read out cooking instructions on demand. Given devices like the Google Home Hub — and near-future concepts like those displayed at the CES and IFA tech shows — this page of the catalogue feels the closest to today's world.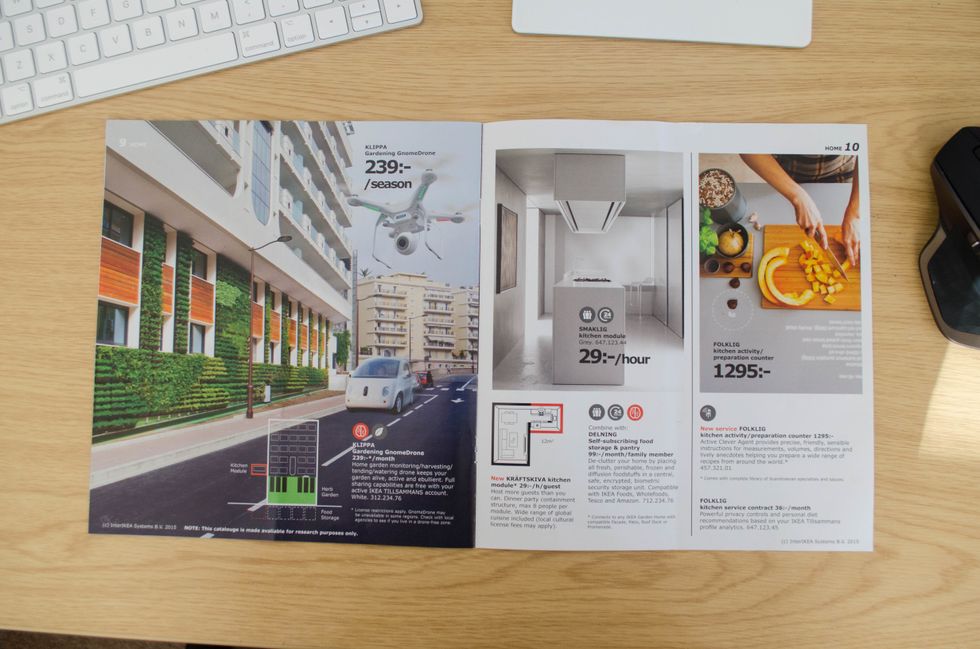 Gardens of the future are watered by autonomous drones paid for with a seasonal subscription serviceGearBrain
Stepping into the garden, and the catalogue mentions an autonomous drone that can monitor and water your plants and lawn. Today, drones are used to monitor crops, while at the consumer level we have automated irrigation systems from companies like Rachio. Predicting how future drone legislation could make this service tricky, the catalogue notes how the service "may be unavailable in some regions. Check with local agencies to see if you live in a drone-free zone."

Predicting the future of technology is famously tough to get right. While this catalogue was only produced three years ago, the acceleration of smart home tech has made a prediction intended for 2030 feel more suited to 2020. Devices like Google Glass and Microsoft HoloLens make cameo appearances, along with a small wearable camera reminiscent of the Google Clips from 2017.
The emphasis on using technology to help with health and well-being is interesting and closely resembles current trends. Selling products through a subscription service — a common theme throughout the catalogue — is already seen today with digital goods like Netflix and Spotify, but is expanding to hardware too, thanks to Uber and Lyft offering an alternative to car ownership.

On the idea of subscriptions, Julian Bleecker, a design engineer who worked on the catalogue, said in 2015: "In our near future, an IKEA kitchen is 'self-subscribing', a peculiar, eyebrow-raising neologism meant to suggest a new weird context...in which our near future selves are comfortable with smart technologies that somehow know what's best for us."
This may have sounded like an episode of Black Mirror at the time, but today the idea of Alexa suggesting we buy things — or offer to order medicine when we're sick — feels more like logical progression than something to be wary of. As for what the smart home of 2030 will actually look like, we suspect it would shock us today, but feel entirely normal in a decade's time.
Smart Video Doorbell Buying Guide - GearBrain www.youtube.com
Like GearBrain on Facebook