Owners of the latest LG televisions will receive a software update, rolling out this week, bringing support for Apple HomeKit and AirPlay 2.
Although this is good news for those with compatible TVs, anyone who bought a top-of-the-range LG television from the 2018 product lineup will miss out on the upgrade. The software update is being made available for LG's 2019 OLED and NanoCell TVs, as well as all UHD TVs with the company's ThinQ AI system.
Read More:
With HomeKit compatibility, users already invested in Apple's smart home system can add their LG televisions to the Home app on their iPhone and Mac. This gives them the ability to control the TV's basic functions like power, volume and input source using an Apple device, or by asking Siri.

With the addition of AirPlay 2, owners of compatible LG televisions can stream content from their Apple devices — including iPhones, iPads and Macs — to the TV. This includes Ultra HD content and programs featuring the Dolby Vision video standard.
Content can be streamed from the Apple TV app, or from other video services, much like how the Casting system works on devices and apps supporting Google Chromecast. With AirPlay 2, it is also possible to send photos to the TV, and play content from the Apple Podcasts and Apple Music apps, or other streaming services.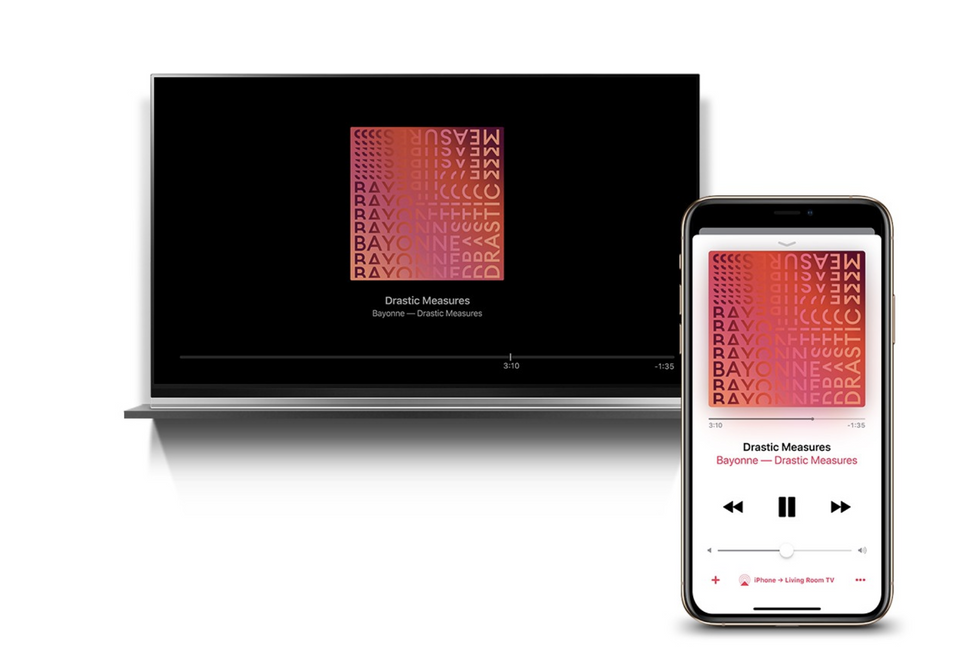 With AirPlay, music can be streamed from an iPhone to the TVLG
If users have other AirPlay2-compatible devices like connected speakers, music can be played through these and the TV at the same time.

Samsung has included AirPlay 2 with its televisions — including those from 2018 — for a while now, but doesn't offer HomeKit. This is because Samsung has its own smart home platform, SmartThings, which is a direct rival to Apple HomeKit, so owners of those TVs shouldn't expect that functionality any time soon.
But because LG doesn't have such a system — ThinQ is more of an AI assistant instead of a smart home platform — it can get onboard with HomeKit. All that's missing from LG's offering is an Apple TV app for its televisions; we hope this will arrive later in the year, along with the launch of the Apple TV+ subscription service.
LG says
the software update will start rolling out to 2019 OLED, NanoCell and
ThinQ televisions
in more than 140 countries from today, July 25, with the update "continuing over the weeks to follow" - so if it isn't showing up for you just yet, try again in a few days and it should turn up.