Like GearBrain on Facebook
LG is having a bumper year at CES this week, as the technology company revealed a wide range of smart home gadgets and appliances under its new ThinQ sub-brand.
ThinQ is a form of artificial intelligence which is shared across a number of new LG products, from televisions and speakers, to fridges, ovens, washing machines and more. As well as making use of LG's own AI technology, ThinQ leans on both Amazon Alexa and Google Assistant. The former has been demonstrated with recipes provided by smart fridges, while the latter is used to control LG's ThinQ televisions.
Read More: CES 2018 - The biggest news from the world's largest tech show, live from Las Vegas
Ahead of the company's press conference on January 8, LG had already taken the covers off a 65-inch Ultra HD television which can be rolled up into its stand when not in use, or when it needs to be transported.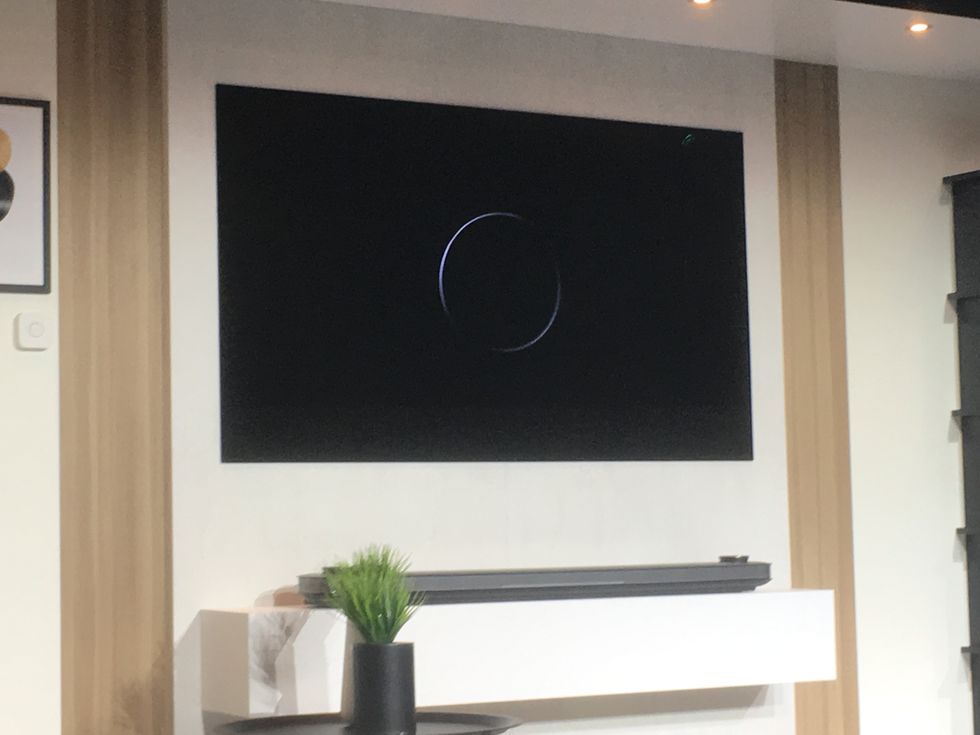 LG's TV range now includes ThinQ smartsGearBrain
Then came a range of OLED and regular Ultra HD televisions, a set of high-quality home speakers and a 4K projector which LG claims is more compact - and will be cheaper - than any of its rivals. It also happens to look a little like a trash can. LG also showed off a monstrous 8K screen boasting four times the resolution of Ultra HD and an 88-inch screen size - but no price or release date just yet.
Time to ThinQ
Stepping away from the entertainment room and into the kitchen, LG has also embedded its new ThinQ system into a smart fridge, called the InstaView. Featuring a large, semi-transparent touch screen on one of its doors, the fridge can reveal its contents with a double-tap of the display - no need to open the door and let the cold air escape. The display can also be used to look up recipes, update grocery lists and play music, and can even be used to control smart appliances produced by other manufacturers.
Users can also view the contents of their LG fridge via a smartphone app and a 2.0-megapixel, wide angle camera, so you can check how much milk is left while at the grocery store.
The fridge can communicate with other LG ThinQ products, like the company's new oven and dishwasher. Say the fridge knows it contains ingredients for a lasagne; it will heat up the oven accordingly while Amazon Alexa, integrated into the fridge for the first time, will walk you through the recipe with voice instructions. Alexa can also be used to play music while you cook, keep to-do and shipping lists, and order groceries with your voice.
Artificial intelligence helps the fridge 'understand your needs' - in other words, it will create more ice at dinner time, once it has learnt that's what you like.
Next up is LG's Top Load Washer and Dryer with SmartThinQ. That mouthful basically means LG has a new washing machine that has a small second compartment. Set to run different cycles, you can put most of your clothes in the main compartment, then throw your gym clothes or delicates in the smaller second compartment. The washer/dryer connects to an iOS and Android smartphone app, letting you control it from afar - and via Google Assistant it can be controlled by voice commands, too.
Washing habits and even variables like local weather and air quality are automatically taken into account to wash your clothes in the most efficient way possible. The washing machine also knows, for example, when you go to the gym and will set itself for cleaning your exercise gear when you get back. Going a step further, LG sees a future where clothes contain NFC tags to tell the washing machine and other appliances how best to treat them.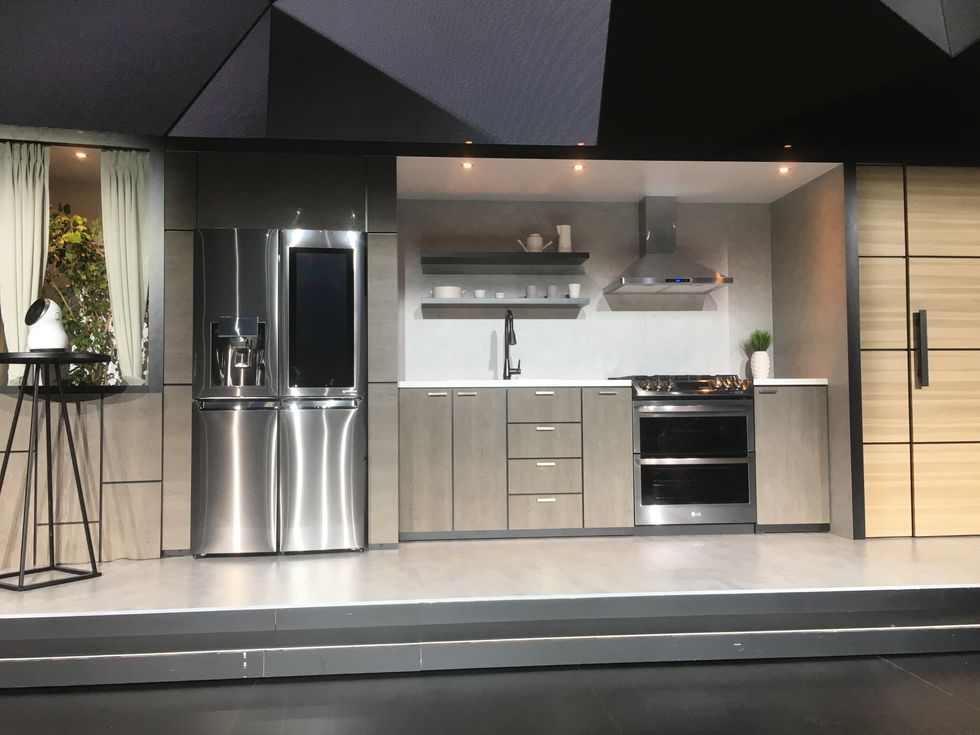 LG's smart kitchen appliances use ThinQ to help make grocery shopping and cooking easierGearBrain
LG's SteamClean Dishwasher also gets the ThinQ treatment, which in this case simply means it can be controlled via the same smartphone app as other LG Thinq devices. LG says its ThinQ AI can spot problems with the appliances and help diagnose the issue and get it fixed via a local repair center - we reckon this could make an interesting post-purchase revenue stream.
This all sounds great in theory, but a demonstration given by LG at CES fell short on a couple of occasions. The company's CLOi robot (pronounced Chloe) failed to act on instructions twice during the live presentation to journalists and analysts.
Robots everywhere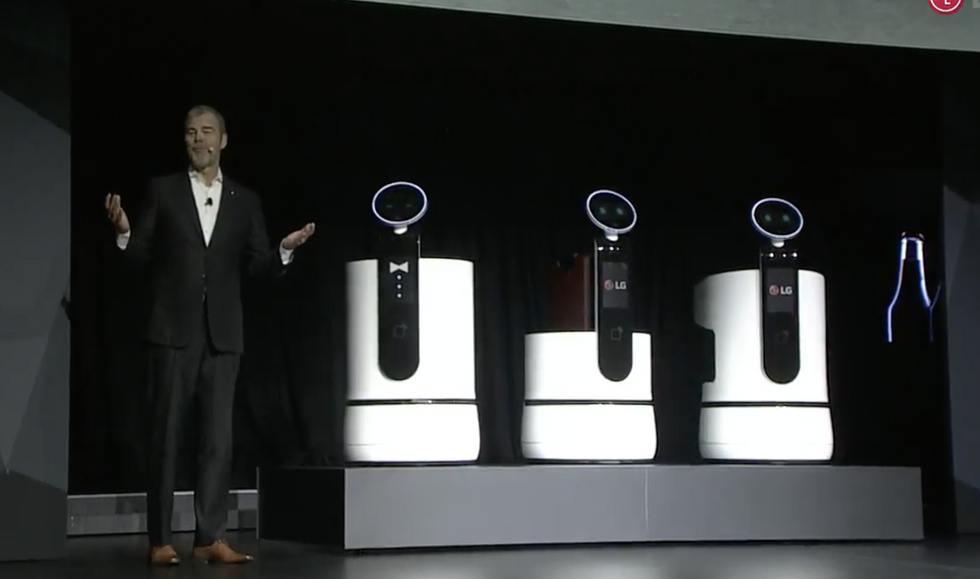 Three news robots are intended to help in airports, hotels and supermarketsLG
Finally, continuing from its launch of two airport assistant robots in 2017, LG revealed three new robots at this year's CES. One, which sports a fetching digital bowtie, is intended to serve room service in a hotel, or drinks in an airport lounge. Another, called the porter robot, is designed to carry luggage from the hotel checkin desk to your room, and the third is intended to provide an automated payments service at supermarkets.
Like GearBrain on Facebook