Like GearBrain on Facebook
Lilium has revealed a new five-seat prototype for its electric air taxi, which is planned to be commercially available via a smartphone app by 2025.
Based in Munich, Germany, the four-year-old company had previously tested using a two-seat prototype, but now the five-seater gives a more accurate look at what the future of electric on-demand air travel will actually look like.
Read More:
Lilium says the aircraft, which is powered by 36 electric jet engines, each with just a single moving part, has a range of up to 300 km (186 miles) and can cover that distance is as little as 60 minutes. It is hoped the aircraft will be used to replace cross-city taxi journeys, with Lilium claiming it will eventually cost about the same, as a taxi, but complete journeys four times as quickly.
Although still a prototype for now, the aircraft is full-scale, full-weight and the closest indication yet of what the finished Lilium air taxi will look like. The company hopes to install a number of takeoff and landing pads across cities and neighboring regions. Customer then locate their nearest pad using a smartphone app, which is also used to arrange their flight - similar to how cars by Uber and Lyft are booked today.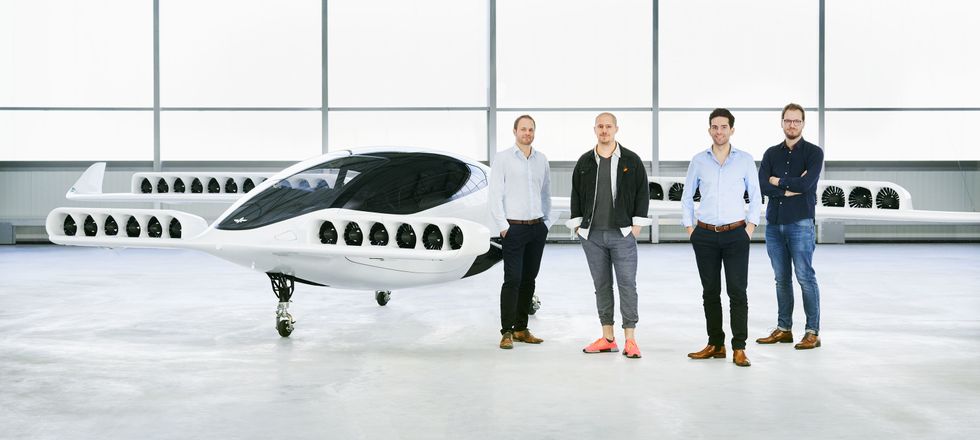 The company is aiming for a launch in 2025Lilium
"Passengers will enjoy journeys that are comparable in price with a taxi, yet four times faster." Lilium said, adding it "expects to be fully-operational in various cities around the world by 2025, although trial services will start earlier than this in several locations."
Lilium has not yet given clearer details of where it plans to install its pads, or if it is yet talking to cities about potential locations.

Being electric, the Lilium Jet is much simpler in its construction than a traditional airplane or helicopter. The simple design has no tail, rudder, propellers or gearbox, and each electric motor has just one moving part. This simple and compact packaging means the aircraft's designers have been able to install large panoramic windows and vertically-opening gull-wing doors.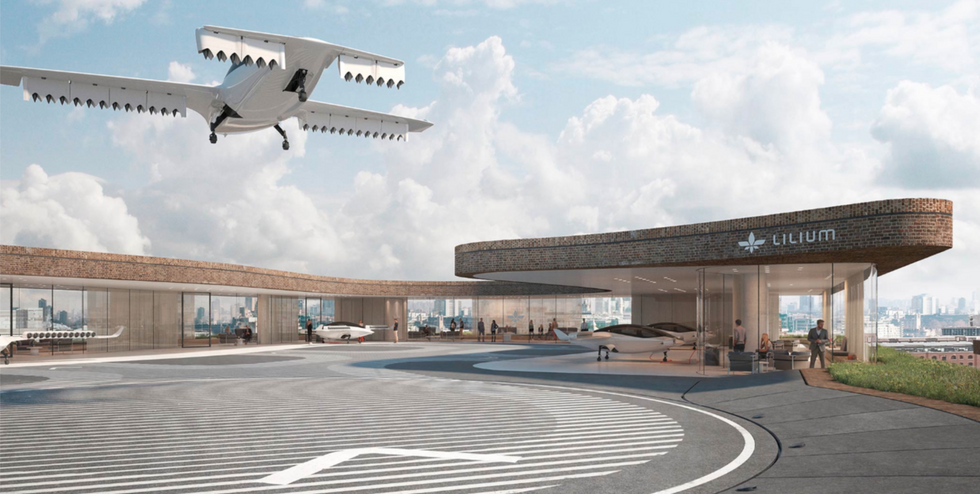 The jets will be hailed from city-center takeoff and landing padsLilium
Efficiency is also key here, with Lilium claiming the aircraft uses just 10 percent of its 2,000 horsepower total power output during cruising. The company says: "This efficiency, which is comparable to the energy usage of an electric car over the same distance, means the aircraft would not just be capable of connecting suburbs to city centers, and airports to main train stations, but would also deliver affordable high-speed connections across entire regions."

Although revealing the jet's new design on May 16, the aircraft actually took its first test flight on May 4. For now, the VTOL (vertical takeoff and landing) aircraft is controlled remotely from the ground, but it is hoped that they will eventually be autonomous. Lilium is seeking certification for the same safety standards as those used by large commercial aircraft.
From Your Site Articles
Related Articles Around the Web
Like GearBrain on Facebook