Like GearBrain on Facebook
Lilium, a three-year-old startup with the ambition of creating an autonomous flying taxi, has made a trio of high-profile hires, in the form of executives from Audi and Airbus.
Mirko Reuter joins as Lilium's head of autonomous flight having worked at Audi for 14 years. Reuter was the German car maker's head of automated driving for 21 months before his departure, and is likely to bring key insights into autonomy to the aircraft startup.
Read More:
Also joining the Munich, Germany-based startup is Jakob Waschenbach, formerly the head of equipment installation at aircraft manufacturer Airbus, and Rochus Moenter, former vice president of finance and ease at Airbus.
The two Airbus execs will be taking up the roles of head of aircraft assembly and general counsel & head of legal respectively.

Earlier this year, Lilium hired Frank Stephenson, a high-profile car designer who spent a 30-year career penning vehicles for Ferrari, McLaren and BMW
It is interesting to see Lilium hire from Audi and Airbus in particular, as they are both also working on an autonomous flying taxi. The pair showed off a concept vehicle called the Pop.Up Next at the Geneva Motor Show in March this year.
Admittedly described as a plan for the "distant future", the idea is that a lightweight, two-seat pod can be fitted to a chassis with four wheels and autonomous driving technology for regular commuting, or to a quadcopter drone for flying above the city traffic.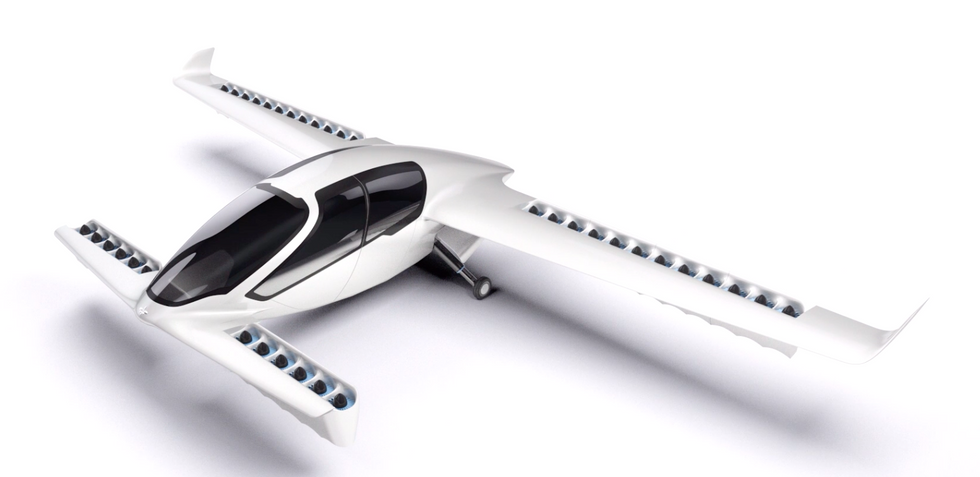 The electric vehicle has a claimed range of 186 milesLilium
There are no details yet on speed, altitude or range, but the very fact companies like Audi and Airbus are making such prototypes says a lot about their position on vehicles like this.

Meanwhile, Lilium says its five-seat electric flying machine will have a 300 km (186 mile) range and a top speed of 300 km/h.
The company, which has so far received $101.4m of investment through two funding rounds according to Crunchbase, wants to offer an on-demand service where customers can book the vehicles via a smartphone app, like ordering an Uber.
The vehicles are VTOL (vertical take-off and landing), meaning they use rotors to lift vertically into the air, before flying forwards. This means they don't need any runway space to take-off or land.
As for cost, Lilium claims it could offer a trip from Manhattan to JFK International Airport - a distance of 26 km by road - for $36, compared to the $56-73 cost of a taxi.
The company hopes to reduce this cost to $13 in the near-term and just $6 in the long-term, should the business become a success. The trip would take five minutes instead of 55 minutes by road.
Lilium flew a half-scale prototype in 2015, a full-size prototype in 2017, and hopes to perform its first manned flight in 2019. A commercial service will be up-and-running by 2025, the startup predicts.
Unboxing in less than 10 Seconds - Owl Car Cam www.youtube.com
From Your Site Articles
Related Articles Around the Web
Like GearBrain on Facebook