An essential smart home device, a smart lock is a versatile product that all homeowners should consider. These security tools work across all wireless connections and home security systems, whether you have a DIY home security system like Abode, or a professionally installed and monitored home security system like Vivint. Smart locks are a great basic addition, helping to protect your entry way, while also keeping track of anyone coming and going into your home.
Smart locks are varied enough to work with nearly any home, coming in various sizes and configurations, with some that work on Bluetooth, some with Wi-Fi, and all with different finished to match your decor. They also create another way to unlock your door, aside from a key or a smartphone. At GearBrain, we've tested smart locks of various styles and abilities — all of them in real homes with real connectivity. But recently we were introduced to a smart lock called Lockly, that taps into a truly unique way to unlock your door: a 3D fingerprint. Here's what we found after testing Lockly and its new Lockly Secure Plus Smart Lock.

What does it do?
Lockly Secure Plus is an advanced — and rather attractive — 3D fingerprint-enabled smart lock that works on a Bluetooth BLE wireless connection with AES256 encryption. The lock works on right or left swing doors — both indoor or outdoor doors — and is compatible with most standard exterior doors, so most people can make use of its intelligent design and futuristic features. Lack an internet connection? That's not a problem, as an internet connection isn't needed as the smart lock can still create multiple access codes so family, friends or visitors can enter your home.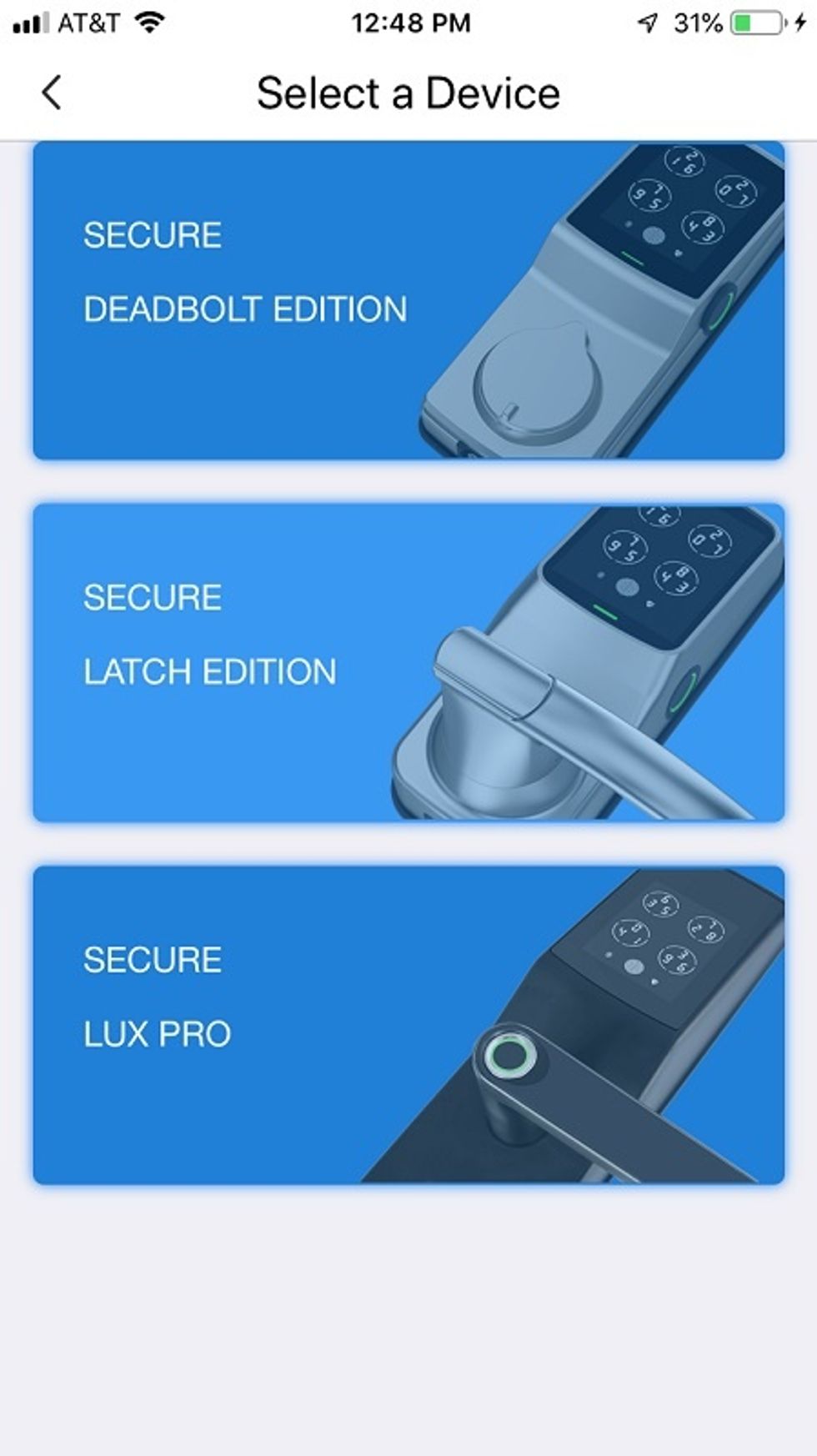 Lockly smart locks come in different versions.GearBrain
The company uses a patented 'PIN Genie' software across its touch screen to secure the access code as it is unlocking the door. As you input your secret code, dials on the touchscreen rotate to different numbers — so if someone is watching they won't be able to follow what you're entering. Additionally, Lockly uses what it calls a Secure Plus technology, a 3D fingerprint scanner which reads the image from the tip of a finger — but won't leave a trace that can be lifted. The security-safe mode also prevents someone from trying to input codes repeatedly to unlock your door, as the keypad will automatically disable after too many failed attempts. Additionally, the auto-lock feature automatically locks after a pre-determined time frame, even if you are inside your home, preventing anyone from following you inside.
Casing around the Lockly Secure Plus is super sturdy, and able to withstand harsh weather conditions, whether it's below freezing to extremely hot days. You can choose between a bolt and latch design for the lock, and also pick one of two finishes: Satin Nickel or Venetian Bronze. The lock also has a battery backup, plus you can monitor access to your smart lock remotely using the user-friendly Lockly mobile app via smartphone.
When unboxing your Lockly smart lock, you'll find the Secure Plus smart lock, bolt assembly, screws, strike plate, strike plate housing, back plate, 2x-physical keys, 4x-AA batteries, a quick start guide, an installation manual, and the user's manual.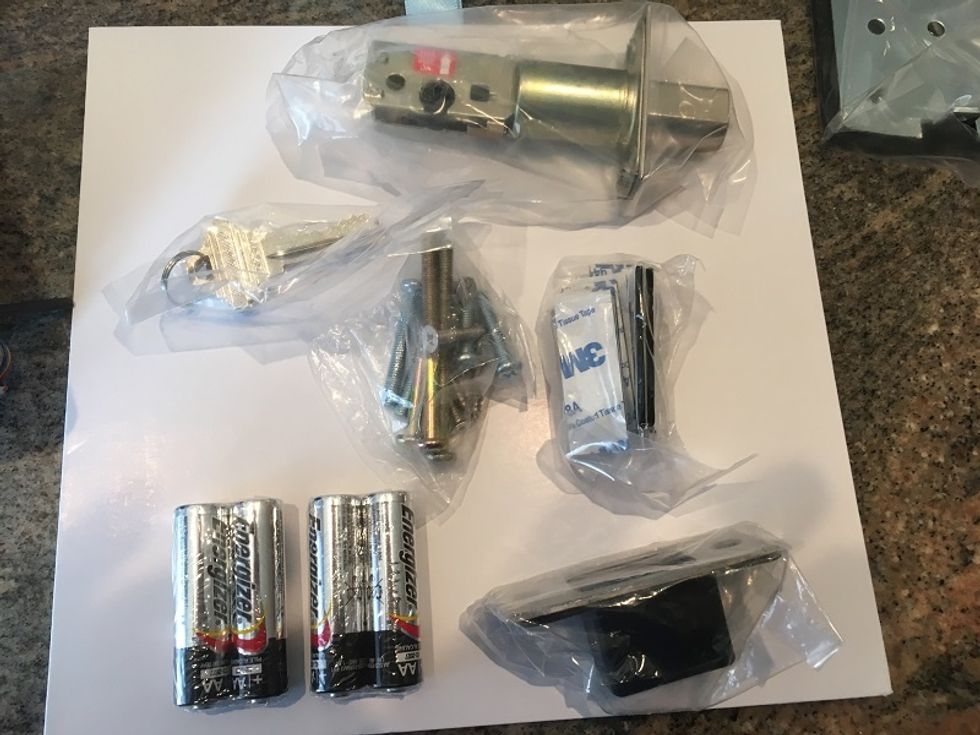 Hardware inside Lockly smart lock box.GearBrain
How do you install? Instructions supplied? Use the mobile app?

The first step to install the Lockly smart lock on your door is to download the Lockly app, and just follow the installation instructions. The 'Quick Start Guide' has limited information compared to the mobile app, so for more detail, opt for the app. Also, the app lets you read ahead so you get a sense of next steps in the installation process which we liked.
Next — before installing the lock — make sure you have a compatible door. Lockly works on a door 1¾" to 2" thick. If your door is new and doesn't have a hole, Lockly supplies a drill sheet for you to cut out the right size space. You'll also need a Phillips head screwdriver and four AA batteries to install in the lock. Finally, remove your old lock — if you're replacing an existing one — and follow the instructions in the app or guide.
We found installing the Lockly Secure Plus similar to other locks we've put together — and it took just about 15 minutes to put the entire lock into the door. If you're not quite as handy — or if you're installing the lock on a new door — it will take a bit longer, especially if you first have to cut a hole.
You set up access codes in the app, as well as any fingerprint scans, which was a bit time consuming as you have to press your finger five different times on the side scanner in order for the lock to recognize your finger. While it's not as easy as logging on to your iPhone with your fingerprint, it will function the same way. You can set up fingerprinting access for members of your family at this point, or just give them access codes.
Tips for installing

When assembling the exterior portion of the lock, you can, but don't have to, drill a hole in your door to stabilize the top part of the device. Frankly, the company doesn't actually recommend this step any longer even though the manual says to do it. Instead, Lockly is inserting updated instructions in the box, and including adhesive strips which are simpler to use. If you still feel you want to drill the hole, go ahead — It will not impede the function of the lock. Another tip is to make sure you only place three of the four batteries in the lock and then press the 'Program' button on the lock while installing the last battery. This "hack" will initiate the self-check process to assure you installed the lock properly, and you'll know it worked when the lock sounds off a single beep. Our final tip is about the passcode. Your initial passcode is an eight digit string that's glued on a card on a page inside the Quick Start Guide, and you'll need it to initiate the lock. Don't miss this code as you're flipping through the guide.
Testing results
We installed Lockly on a door in one of our test homes, and found the smart lock to be very sturdy and well-built. While there are a lot of instructions and materials that come with the lock, the mobile app is all you really need to install the device. Yes, we found the 3D fingerprinting process took a little longer than we anticipated, but once set up, the system worked like a charm. Overall, the lock performed as well as any other Bluetooth smart lock, but on the upside the device has multiple backup plans so owners can always gain access to their home whether they use their phone, a code and their fingerprint. Not many smart locks, including those that work on a Wi-Fi connection, have all of these features.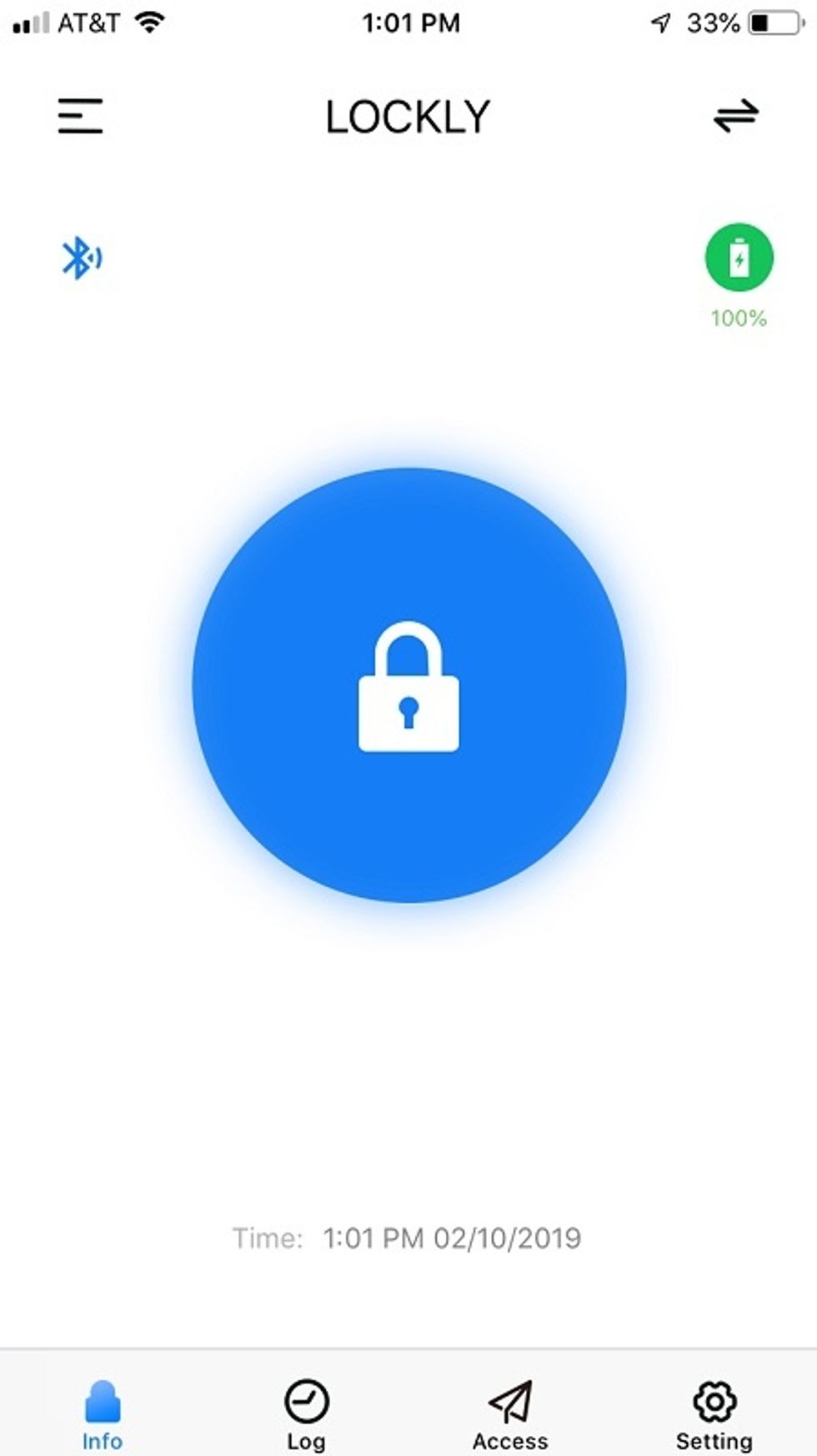 Lockly Mobile App home screenGearBrain
Cost
You can choose from a quite a few versions of Lockly smart locks. There is the Lockly Secure, with a $249.99 Deadbolt version and a $279.99 Latch version that has a Secure Plus fingerprint reader — the version we tested. You can select a lower priced version, the $199.99 Lockly Secure Deadbolt or the $229.99 Latch Version. The company also has a new lock, now in pre-order, called Lockly Secure Pro: a $299.99 Deadbolt version or a $329.99 Latch version. Both have the Secure Pro fingerprint reader, and and come in a Satin Nickel or Venetian Bronze finish. All Lockly smart locks are available on the company's website, Amazon and at the retail store, b8ta in Palo Alto, Seattle, Santa Monica, Austin, and Short Hills, NJ.
Smart Home Integrations

As a Bluetooth lock, Lockly can't link up to other smart home products the way that competitive smart locks from August Home, Yale, Schlage, or Kwikset work. Instead, the device connects over Wi-Fi. But that said, the company does have a new product — the Secure Link Wi-Fi Hub ($79.99) — which is like the August Connect, an 802.11 Wi-Fi enabled hub that connects to your lock, and then lets you access the lock remotely via the Lockly app, while also linking up to Amazon Alexa- and Google Assistant-enabled devices. GearBrain will be testing this connection — it starts shipping in April 2019 — and will report back on how it works with other compatible devices in today's smart home. Stay tuned.
Summary
Lockly is a good smart lock for second homes, rentals, and Airbnb properties. However, if you're want a smart lock that integrates with other connected devices or with your home's security system, this is not the lock for you — at least not today. The upcoming Wi-Fi hub could expand its use, though, letting you run your home security system if you're already controlling it through Amazon Alexa or Google Assistant. Lockly is a well-built, well-designed durable door lock, with a touchscreen that works seamlessly — and won't let anyone lift numbers off the screen after you enter them, which is a definite plus. Plus The 3D fingerprint technology is the only one we've seen on a smart lock, a nice security feature that's sure to be a selling point.
Pros:
3D fingerprint sensor
Well-made, sturdy lock
Random mode: Rotating numbers on touchscreen
Compatible with most standard doors
Easy installation
Cons:
Price
Lack of smart home integrations
No wireless remote access