Searching for a movie on Netflix, and punching letters into a search box with a remote or TV stick is frustrating. I always hoped for an easier option, as many of us are cutting the cord and using streaming media services. While you can use voice control on some remotes — like the one for the Apple TV — not every remote has the capability. Logitech has a solution with its new smart device, the Logitech K600 TV Keyboard, a simpler way to make smart TVs use even more sophisticated. Even better, unlike your typical TV remote, the Logitech keyboard is going to be harder to lose in the sofa cushions.

What is it?

The Logitech K600 TV Keyboard, which works through a Bluetooth wireless connection, lets you run smart web browsing tasks through your smart TV. You can search for your favorite TV shows, and also swiftly navigate through guides and other interfaces with the integrated D-Pad. There is also a convenient precision touchpad perfect for browsing the web as you use your fingers to scroll up and down or zoom in or out, similar to the touchpad most people are now used to using on a laptop. The Logitech K600 also has media keys which will allow you to play, pause, fast forward, and rewind movies or songs. You can also switch between your smartphone, tablet, and TV, making it an all-in-one go-to gadget.
Inside the Logitech K600 TV Keyboard box, you'll fin a wireless 1.7 lb. keyboard with integrated touchpad and D-Pad, a Unifying receiver (USB), user documentation, and two AAA batteries. The keyboard comes with a one-year warranty.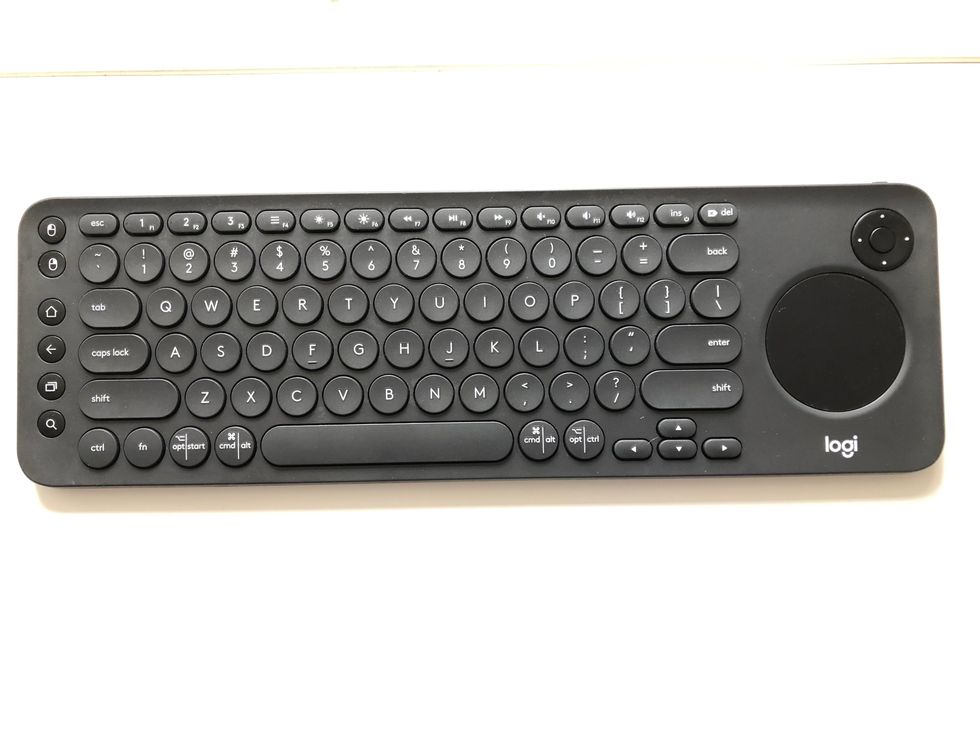 Logiterch K600 TV KeyboardGearBrain
How do you install or launch it?
Installation is a no-brainer. You'll need to be sure your TV is compatible with the smart K600 keyboard, which works with Samsung SUDH/UHD powered by Tizen smart televisions (2016 models and later.) You can check Logitech's site to see if your smart TV is compatible. Simply select the brand or TV type or enter in your smart TV's model number.
Once you determine your smart TV is indeed compatible, insert the supplied USB receiver into the back of your television set. Next, remove the battery strip on the keyboard to activate the batteries. Finally, turn on the keyboard and go to K600setup.logi.com to complete the setup. This entire process will only take a few minutes— it's really that easy.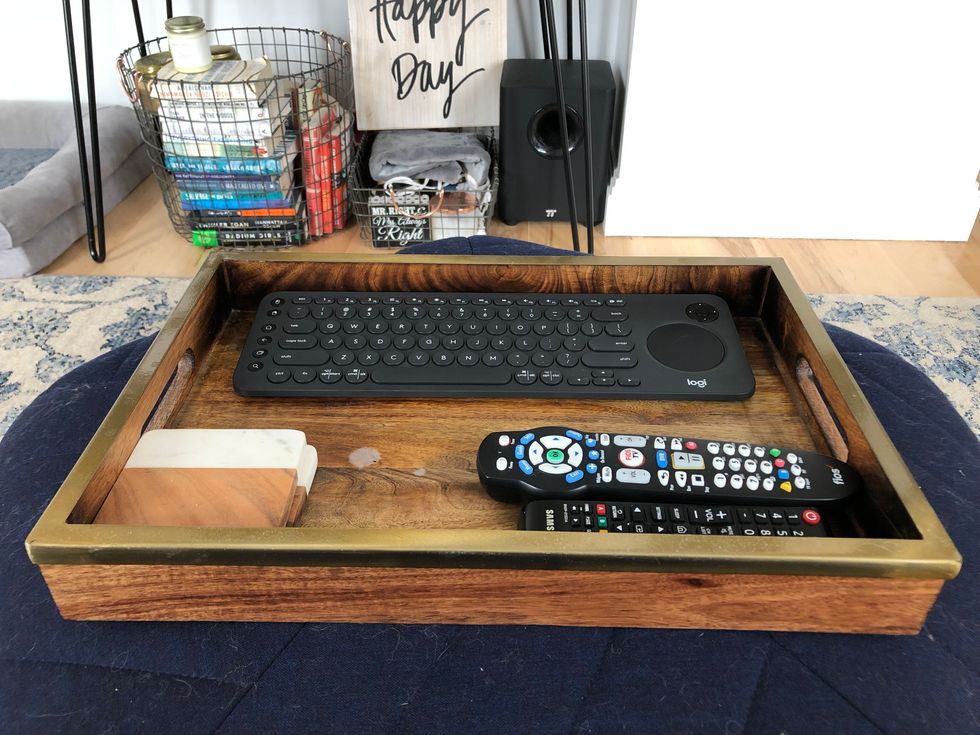 Logitech K600 TV Keyboard fits nicely on coffee tableGearBrain
Smart Home Integrations:

The keyboard is not designed for use with all of your smart home devices, as it will only connect to a computer, tablet, or a smart TV. Most likely, if your TV was made after 2016 it's falls into this category, but if you're not sure, here are some clues. If you have a Samsung smart TV, the Logitech K600 TV Keyboard will work with that brand's OLED models as well as any smart TV that has a model number starting with "K", "M", or "N." If you have an LG or Sony smart TV (OLED or UltraHD) the K600 keyboard will work as well. Also, all Phillips UHD, Super, UHD, and OLED TVs are compatible with the K600 keyboard.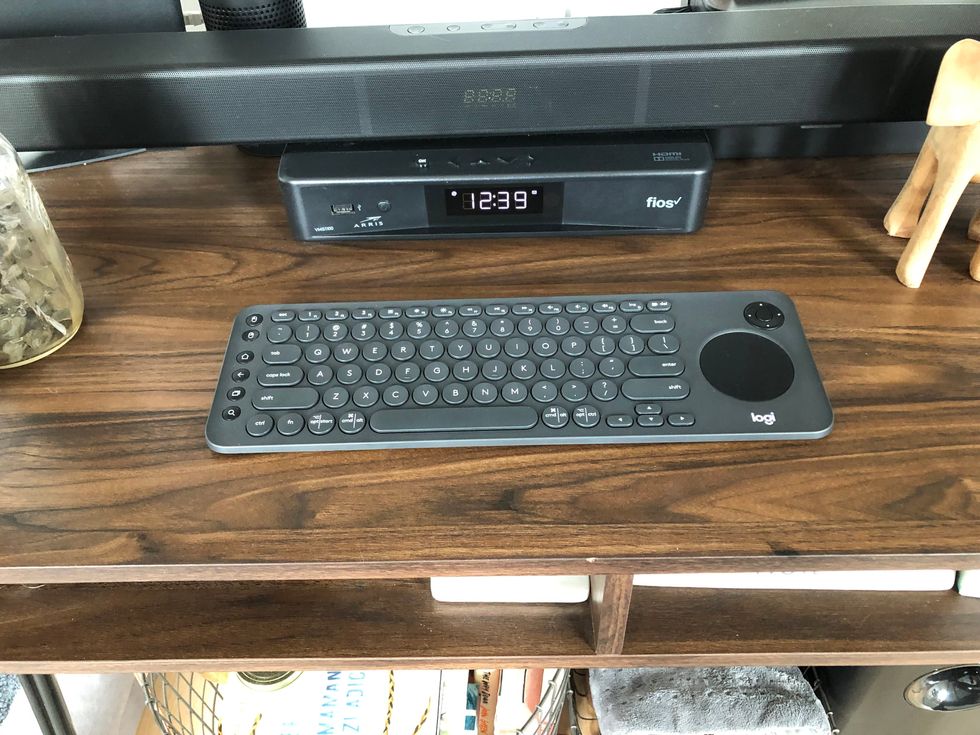 Logiterch K600 TV Keyboard next to cable boxGearBrain
How well did this work?

As we tested the Logitech K600 TV Keyboard, we found searching for shows was extremely easy — the keyboard worked very well when you type in the name of a program. If you have a favorite show on a streaming media platform, you be able to find that program and even search for new titles. Once you do find the shows, however, you can't double tap on the K600 precision touchpad as you would on a typical laptop. Instead, you hit the "enter" key on the keyboard to bring up your program. This was a little confusing at first, but it becomes second nature once you use the keyboard regularly.
We also found that the mouse pad or D-Pad didn't work all the time, which we found frustrating. Plus, a lack of backlights on the keyboard made it awkward when using it at night. Hopefully a future model will integrate this seemingly obvious add-on.
The keyboard has a decent wireless range of 49 feet (15 meters). If you step out of the range, the keyboard won't function, as expected, and we occasionally ran into some difficulties with the touchpad.
Cost
Retail price is $69.99, and the device is available on the Logitech site, as well as Amazon and Best Buy.
Summary

The Logitech K600 TV Keyboard is a good choice for consumers who want to expand how they use their smart TV, as they can use the device to search the web, and also bring up movies and TV shows. Note that many of the functions the K600 TV keyboard offers are also available with new voice controlled remotes from cable companies like Comcast's Xfinity. Their voice control integrations allow you to do the same things as K600 — except surfing the web. That feature does make the Logitech K600 a solid choice is you're using your smart TV to also get on the web too, which many of us do today.
Overall, if you are a cord cutter, or a heavy user of streaming services, and want to use your smart TV as a computer monitor, the Logitech K600 TV Keyboard is a good, if not slightly pricey, choice. Just keep in mind you do need to make sure your smart TV is compatible prior to purchase, otherwise it won't work —unless you're in the market for a new TV too.

Pros:
Easy to search
Lightweight
Easy to setup and use
Cons:
Touchpad didn't work consistently
Price
No backlights on keyboard
New voice remote controls offer similar functionality
Technical Specs
System Requirements for Bluetooth:
Windows 8, 10 and above
MacOS 10.12 and above
WebOS (LG) v3.5 or later
Tizen (Samsung) v2.4 or later
Android TV v6 or later
Android 5.0 or later
iOS 5 or later
System Requirements for Unifying:
Windows 7, 8 10 or higher
macOS 10.11 and above
Android TV v6 or later
Tizen (Samsung) v2.4 or later
WebOS (LG) v3.0 or later
Chrome OS
USB port or Bluetooth low energy technology enabled device with keyboard support
Internet connection (only for optional software download)
Dimensions: (Height x Width x Depth)
0.8" (20mm) x 14.4" (367mm) x 4.6" (117mm)
Weight:
1.7 lbs. (500g)
Additional features:
49 ft. (15 meters) wireless range
12- month battery life (two AAA included)
Connects to up to 3 devices