With televisions getting ever-larger (and trips to the stores not as easy during the 2020 pandemic), it can be tricky to work out exactly how a new big-screen TV will look in your home before it arrives.
The general rule of thumb is that TVs tend to look smaller in the store than at home, but you often get used to larger screens after a surprisingly short amount of time. And, while a trusty tape measure will show you exactly how much space the TV takes up, measurements alone can't portray exactly what the TV will really look like.
Read More:
Thankfully, augmented reality technology can help. There are several smartphone applications that use the camera and smart algorithms to show you what a television of any size will look like, anywhere in your home.
Some apps simply show a black box where the TV will be, while others can be configured to show the exact model of television you are interested in. Samsung and Sony both offer their own apps, but these aren't available in all regions just yet.
TV Size Calculator - Free for iOS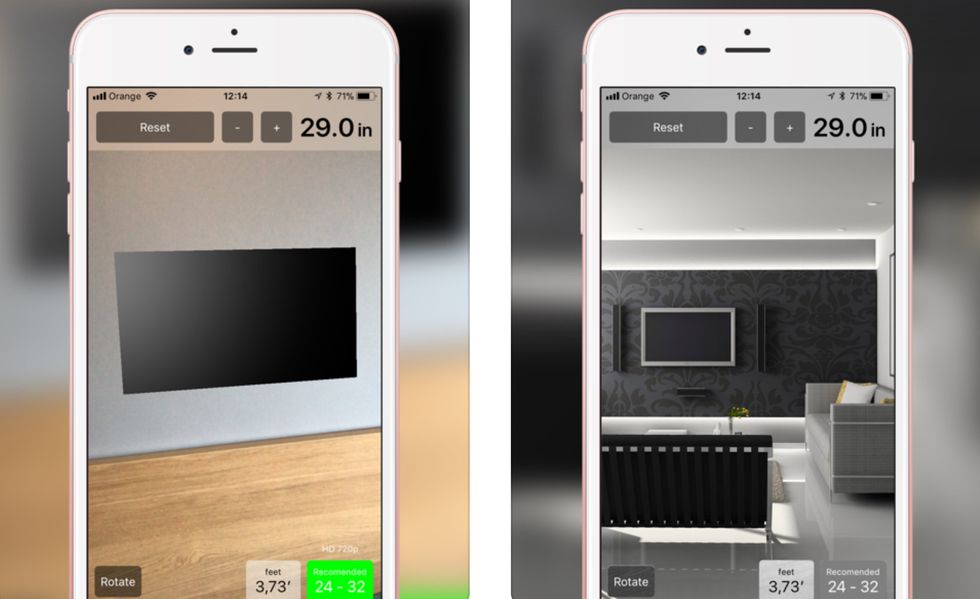 TV Size Calculator app for iPhone and iPadAdam Modzelewski
The simplest augmented reality TV size app we could find is called TV Size Calculator. Available for iPhone and iPad, the free app lets you adjust the size of the virtual TV from 24 inches up to 105 inches, with all the popular screen sizes (like 42 and 55 inches) catered for.

All you have to do is point your phone camera at where you want the TV, then adjust the size to see how that screen will look. We tested the app's accuracy by placing virtual screens over our 27-inch computer monitor and 65-inch TV. With both (in different rooms with different surroundings and lighting conditions) the app accurately created augmented screens of the same size.
It didn't work as well when pointed at a completely blank wall. The developers admit "non textured environments" like solid painted walls don't work well, but we still found it gave a useful indication of how a TV would look mounted on a blank wall.
As with all of these apps, the virtual TV stays in place no matter where you move. That way, you can walk right around the room and see how the TV will look, through your phone camera, from every angle and distance.
AR TV Store - Free for iOS and Android

The AR TV Store app for iPhoneAR TV Store Inc
If you want to see how an exact model of television will look in your home, then the AR TV Store app is a good option. The app features a wide range of televisions from most leading manufacturers, including Samsung, LG, Sony and TCL. You can also pick from various screen sizes to see how they will look.

As well as the televisions themselves (which admittedly look almost identical) the app also shows what their stands look like, and the screens are 'on', in that they have an image on them. This makes the augmented reality screen seem more realistic than a simple black rectangle.
This app also works well and lets you rotate the screen to make it sit flush against the wall or on your TV stand. TV specs are also shown in the app, and there are links to buy them from Amazon.
Envision TV AR - Free for iOS and Android (US only)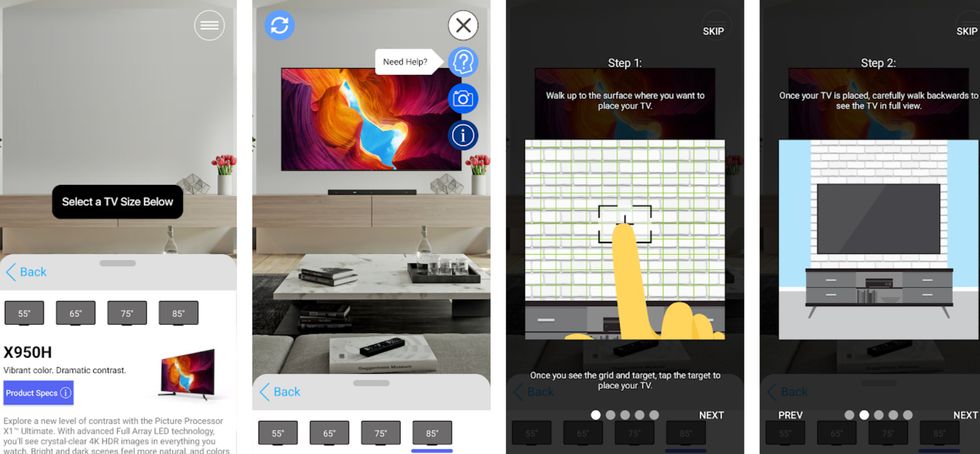 The Envision TV AR app by Sony for iPhone and AndroidSony
Made by Sony, the Envision TV AR app helps you pick a television using augmented reality. The TVs are 'on', so you can see how they look with a picture on the screen, and you can choose to wall-mount or have the virtual TV sat on its stand.

A range of Sony TV models and screen sizes are available, complete with product specifications and links to make your purchase. Even if you don't want a Sony TV, you could still use this app to get an idea of how televisions of certain sizes will look in your home.
Samsung TV True Fit - Free for iOS and Android (Canada only for now)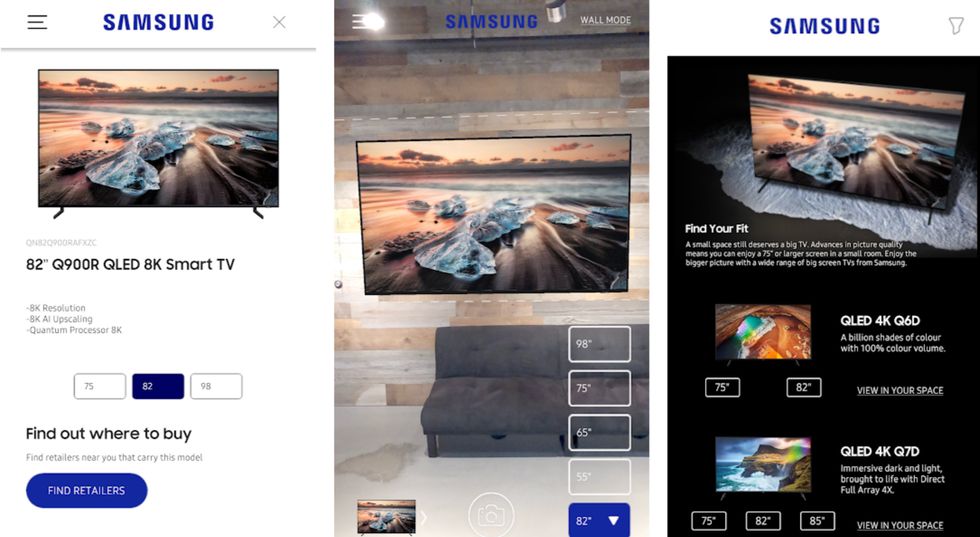 Samsung's TV True Fit app is only available in Canada for nowSamsung
Samsung also has its own augmented reality TV app, launched in November 2019 and free for iOS and Android. The app works like most others, letting you place an augmented reality TV in your home, and includes Samsung's latest 4K and 8K screens.

Unlike some other apps, this one lets you manually move the TV once it is placed on your wall, helping you put it in exactly the right spot. Once you have chosen the right TV, the app helps you locate a local Samsung retailer to make your purchase.
Unfortunately, this app is only available in Canada for now, but we hope to see Samsung roll it out to the US and further afield soon.
Point&Place - Free for iOS and Android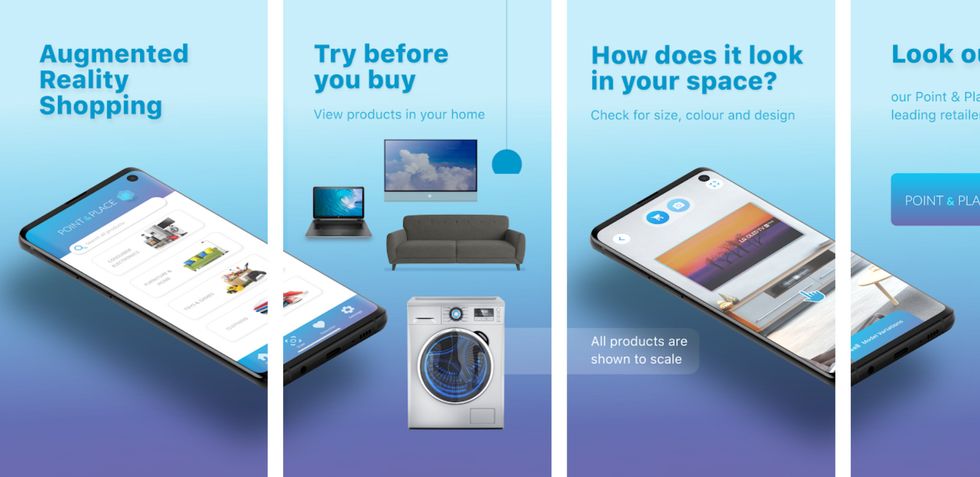 Point&Place includes TVs and many other virtual productsEyeKandy
This augmented reality app includes a good range of televisions, but also includes other consumer electronics, plus furniture, garden products, and even jewelry and watches. Everything can be dropped into your home (or onto your wrist) and inspected in detail, complete with dimensions shown at their side.

The only drawback is how the app only lets you put items onto flat horizontal surfaces, and not onto walls. This means you'll have to put a TV on the floor, then manually move it onto the wall (by swiping with two fingers).
Currys Point & Place - Free for iOS and Android (UK only)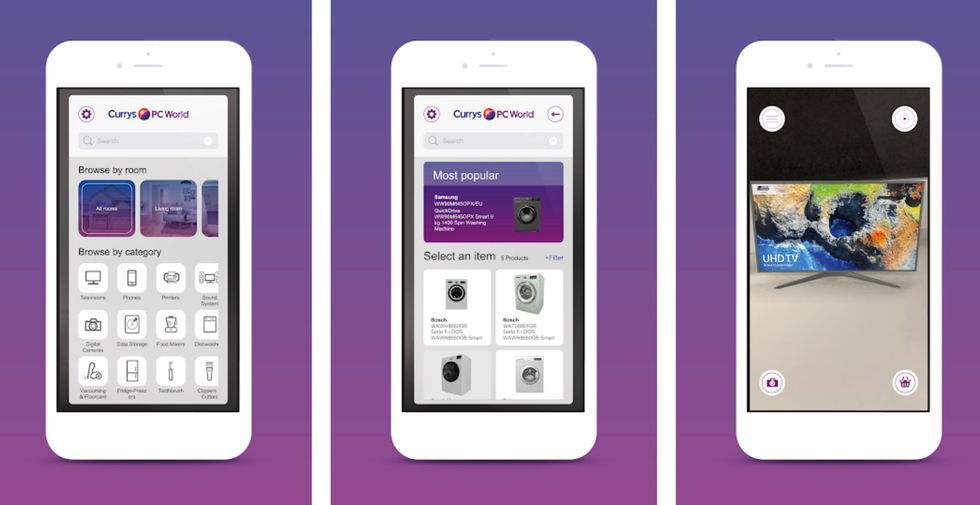 The app includes TVs, sound bars, computers, washing machines and moreEyeKandy
British electronics retailer Currys has an app, also called Point&Place, which can be used to place virtual objects anywhere in your home. As well as televisions, product categories include sound systems, dishwashers, coffee machines, washing machines dishwashers, fridges, monitors and computer accessories.

We like how much choice there is here, helping you see exactly what the products look like before purchasing.
Oculus Go Standalone Virtual Reality Headset - 64GB