Like GearBrain on Facebook
Last updated: October 12, 2016
Gone are the days of balancing a book upon one's head to achieve a straight back. Now there's a device called Lumo Lift—a wearable gizmo that promises to improve your posture in as little as 14 days. Super-small, inconspicuous, and an offer to stay posture-perfect? Armed with a review copy, I decided to find out for myself if the $79.99 device could, ahem, back up its claims.
The sleek box came packed neatly with the Lumo Lift Sensor, two tiny magnetic clasps, a bra clasp (if you wear a brassiere, no judgement), and the handy USB charger. All the bits are lightweight: The sensor comes in at about .4 ounces (it's made of plastic), with the magnetic clasps, just .03 ounces, made of solid aluminum.
I got psyched to use the Lumo Lift for the first time. The instructions were clear and quick to peruse—and the wearable was compatible with my iPhone. It works with iOS smartphones and tablets, select Android devices, and desktops running Windows 7. I had to download the free app, yet the process was speedy: just a few basic questions about my age, sex, height and weight and I was good to go. I also opted to allow the app to send me notifications: Daily affirmations along the lines of "Today is a great day for good posture."
The first time I used the Lumo Lift, I was wearing a T-shirt, so I clasped the device onto the shirt, under my collarbone as recommended. The magnetic parts clung together as expected and didn't slip. I figured I would test out the bra clasp the next time around.
I pressed on the Lumo Lift as directed, to be sure I was hooked into the app, and it was time to start tracking my posture. The app offered some trial tests so I could see what would happen if I began to slouch, and how the notifying vibration would feel. Yes, I found the buzzing a tad annoying but certainly not painful. Plus the app would let me see my progress in real time, how many hours I maintained good posture, how many slip ups I had, and how I'd trend over a period of time.
I spend much of the day in front of my desk typing. I figured I could maintain proper posture pretty much most of the time. The first day I assumed my posture was fairly good as I focused intently on maintaining a proper form. The app thought otherwise: That pesky vibration kept buzzing. I finally realized my shirt was fairly loose, so whenever I typed, my shirt to moved, producing a light buzz alerting me to my "slouching."
Now, I noticed the directions suggested to wear form fitting clothing. However, by no means was my shirt enormous. Plus, how will this work for those who don't own tight tops? But the next day, I opted for a sports bra under my clothing and attached the device there. Much more accurate results this time around.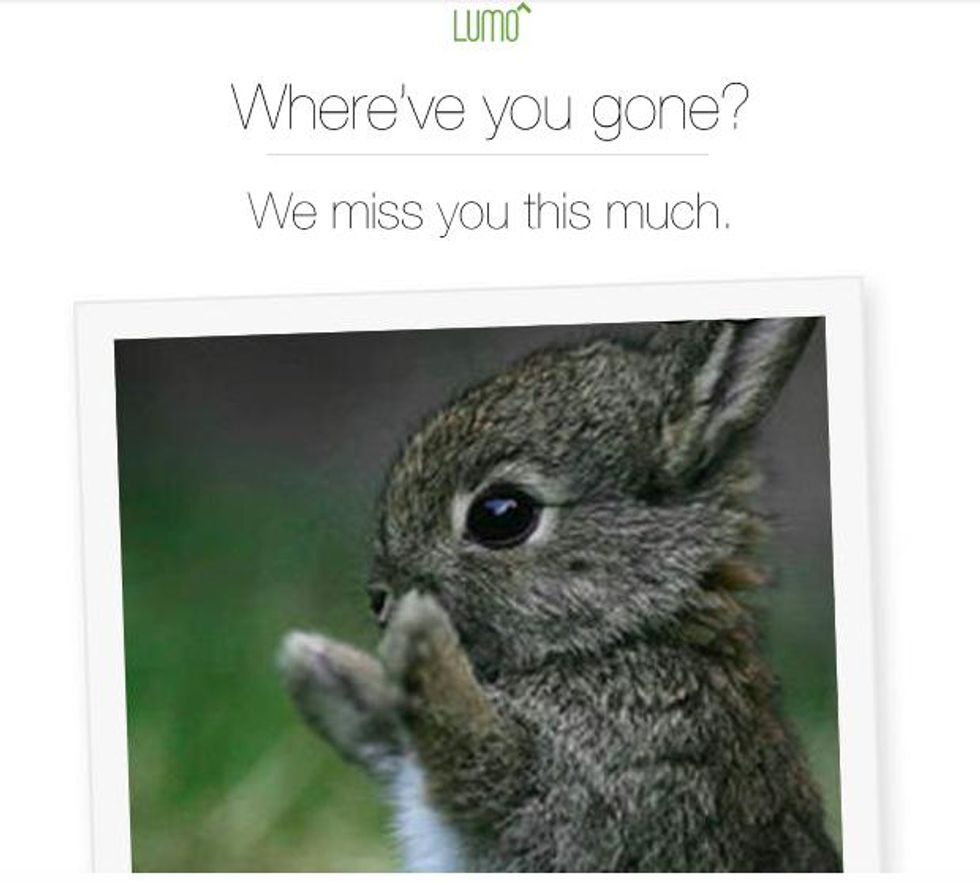 Lumo Lift sends affirmations to keep your posture positioned correctly—and notes if you don't check in after a period of time.
The next day I got an email which offered me virtual coaches to help me keep my posture on track. Based on the coach I selected, the vibration would be timed to only buzz depending on how long I was in slouch mode. I could go for the "Drill Sergeant" for a 3 second to 30 second delay (the toughest coach), the "Mom" for a 1 to 3 minute delay, or the "Grandmother" for a 4 to 10 minute delay. The Drill Sergeant seemed the only decent choice. Sheesh, 10 minutes of slouching is pretty forgiving. How would that ever lead me to great posture habits?
I spent the next few days using my Lumo Lift. Each time you fasten the tracker to your shirt, simply double tap the button on the sensor to get a light vibration to let you know you're good to go. I found the device hardly noticeable once you've had it on for a while, especially if you remain sitting or standing straight, and no buzzing occurs. I was able to charge Lumo Lift quickly too, in two to four hours. Plus one charge can last 5 days. One note: The gadget is small, so keep the device somewhere safe or else it could be misplaced. You'll also definitely want to keep the device away from small children.
Save for the loose shirt incident, Lumo Lift was on point and kept me in good form every time I used the tracker. Along with tracking posture, the device can also be used to track daily steps, distance, and calories burned if that's something you're interested in as well.
So if you're worried about becoming one of those little old ladies with a hunched over body, ailing with an aching back, Lumo Lift is a solid way to practice great posture to remain well-aligned and standing tall. Just be sure your shirt's nice and snug.
Like GearBrain on Facebook