Like GearBrain on Facebook
Attendees of the CES technology show in Las Vegas next week will be able to ride around the city in a fleet of autonomous robot taxis.
The cars, a range of modified BMW 5-Series, are being provided by ride-sharing company and arch Uber rival, Lyft. The technology for the cars was created by Aptiv, an autonomous tech company which was spun off from automotive supplier Delphi in 2017.
Self-driving demonstrations at CES are not new. But where manufacturers previously rented empty parking lots to make sure they have full control over their demo, Lyft will take the riskier route of letting its cars share the roads with other drivers and pedestrians.
Each car will have a safety driver behind the wheel, however, ready to take over in an emergency or in a situation which the car does not understand. The vehicles will also include someone to explain the technology to passengers; a brief presentation will be given before each ride to outline why the development and eventual deployment of autonomous cars is important.
Aptiv president and chief executive officer Kevin Clark says: "The partnership represents a real-life application of scalable, automated driving technology that will have a significant impact on improving safety, emissions and urban congestion challenges."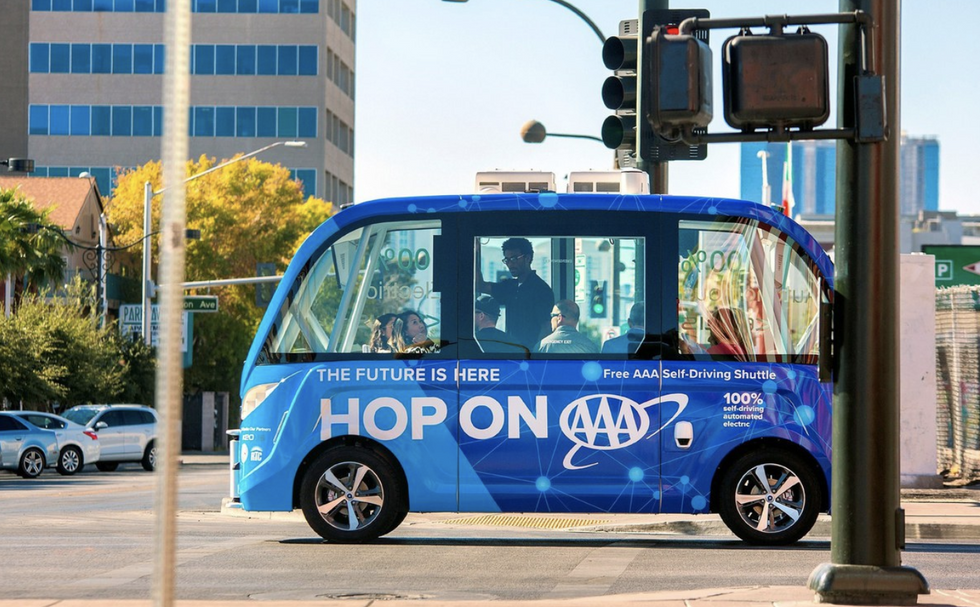 Navya operates an autonomous bus in downtown Las VegasNavya
Clark claims his company's driverless platform is "the most advanced automated system available...CES attendees [will] have a true point-to-point self-driving experience. It is an exciting demonstration of the future of mobility at work."
Instead of offering rides from anywhere to anywhere — as with Lyft's conventional human-driven service — the autonomous demonstration will only pick passengers up from the Gold Lot at the Las Vegas Convention Center (LVCC), where CES will take place between January 9 and 12. The cars can then be asked to travel to one of 20 preprogrammed destinations across the city.
The demonstration rides come after Lyft began offering an autonomous taxi service (with safety driver) to customers in Boston. This service uses the cars of another driverless tech company, NuTonomy. Separately, Lyft has partnered with Ford and Waymo, the driverless car company owned by Alphabet and spun off from Google. Lyft is also developing its own in-house self-driving tech.
Of course, Lyft isn't the first autonomous driving service to operate on the public streets of Las Vegas. Last year, self-driving bus company Navya began running a shuttle service in the city. One of its vehicles was involved in a small accident on its first day, when a truck reversed into it, but the service was running again later the same week. Due to expected increased demand, rides on the bus during CES must be booked in advance.
Like GearBrain on Facebook