Like GearBrain on Facebook
The walking, talking coffee-pouring robot is the fantasy of my home helping dreams. A device that can make coffee, make dinner, walk the dog. You name it. I don't have one nor do I expect anything like this in my near future. That doesn't mean everyone from high tech companies to toy makers aren't trying to get a robot into your home. I'm game for testing any robot, so when Ubtech offered a review of its new Lynx, we said sent it along.
Thankfully, this wasn't one of Ubtech's make-your-own robot kits. Those are great STEM toys. And we've built many of them. But the $800 Lynx is ready to work right out of the box — as much as it can.
Unboxing
Lynx came in a hefty, sleek looking box — weighing almost more than a bread maker. Inside was Lynx, a power cord and an adapter. Really, three parts unless you want to count the instruction manual.
Lynx is a well-designed robot that's 20-inches tall with remarkable range of motion able to pick up its feet, move them at an angle, shift it's body from side to side, bend it's knees, its back — it's impressive. That said, it looks like a Cyberman from "Doctor Who" which adds an immediate fear factor. And we never really were able to feel comfortable with the robot staring at us at any time.
To actually launch Lynx, you need to stand him on a table top (which honestly didn't sound that safe to me for a reportedly walking robot) and have him positioned in what looked like something my trainer made me do years ago.
Getting Lynx into that position was far from simple. The robot is extremely top heavy. It can't stand up on its own when off, and needs to be what can best be described as a deep knee bend to start. That looked uncomfortable (and was when I had to do.). And while I know its a robot — this is a humanoid looking robot. I felt sad for Lynx holding that position while I had to take the next steps.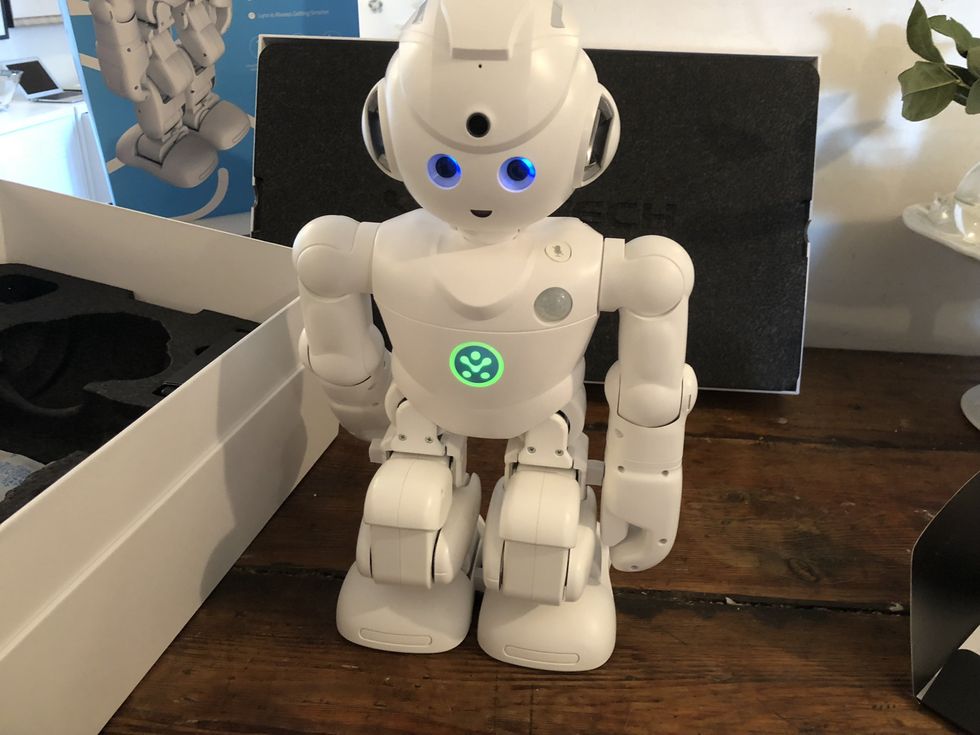 GearBrain
First I had to download the app. The instructions are misleading called this the "Lynx App." It's actually called "Lynx Robot" and it is available for iOS and Android.
Then I plugged Lynx into the power outlet and then I held my hand against Lynx's back while I pushed his center button for two seconds. The robot started lighting up, eyes, head and the center button, and I let go. He slumped backwards, requiring I put him in an odd position to get him semi-stable.
I waited about a minute for Lynx to stand ups and then I had to hold the mute button to get his head to turn Magenta. At that point I heard what sounded almost like an Alexa voice (but not quite) coming from Lynx telling me to set up Lynx in the app. I connected to Lynx and then to Wi-Fi.
Lynx's mission
Think of Lynx as a robotic security camera. The robot has a microphone and built in camera — and through both you can watch what's going on in your home as long as it's in Avatar mode. It's here where you can run Lynx through its routines — there are more than 30 — which include some acrobatics, punching, shaking hands and the like. I couldn't get one of the movements to work, the "High-five," but that wasn't too disappointing.
The "Happy Birthday" dance and song was a whole routine — and by that I can't say it was super enjoyable. You can also move Lynx, get him to turn his head, and there's even a little "Terminator" nod, where Lynx will say "I'll be back." Don't expect it to sound like Arnold.
In Surveillance mode Lynx can take images and video through the app — and if you're using this as a security camera, that's a nice add. The images are saved to a photo stream, as are videos which are deleted after seven days. You can also turn on notifications for Lynx to send you alerts when it spies activities and movements.
The whole time I had Lynx doing his things in Avatar mode I could watch myself through his eyes on the app and hear myself as well. But once I hit surveillance mode I couldn't see anything — and Lynx can't be in both at the same time. That's a negative — it would be nice to actually see a space while Lynx is surveilling.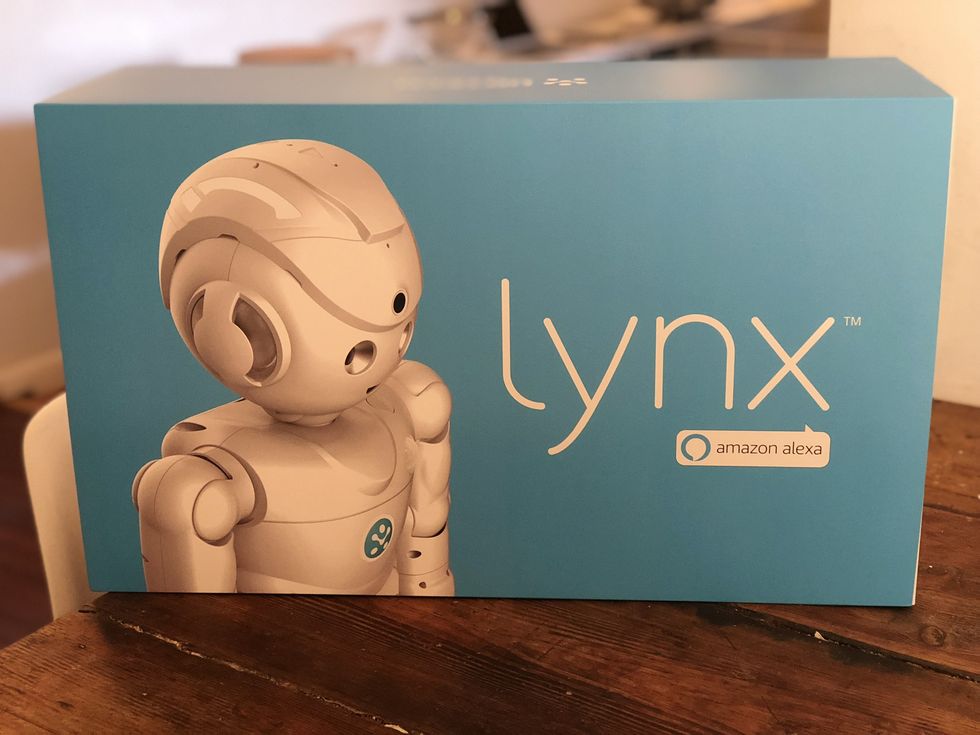 GearBrain
Alexa links
The ability to link Lynx to Alexa is a selling point for the robot. (It's all over the box.) But this connection is hardly unique these days — there are a lot of products that now work with Alexa or have Amazon's A.I. baked inside.
But through Alexa (once you download and link up your Amazon account to Lynx) you can have Alexa command Lynx and access some of Alexa's basic skills such as ordering things from your Amazon account, checking the weather and reading the news.
That's fine — but I already have a $49.99 Echo Dot. And two devices connecting to Alexa — especially one that is sets you back $800 — doesn't make financial sense.
Bottom line
Besides the fun factor, Lynx really is a home security device. One that can sing Happy Birthday, dance and hit some kickboxing moves, sure. But really it's best to think of the robot as a moving security camera.
Now, we've reviewed a lot of security camera here at GearBrain and one that can store images and video, like the Swann Smart Security Camera, might require you to layout about $150. But that — plus the $50 you'll shell out for an Echo Dot is still a far cry from the extra $600 that you're going to spend for Lynx.
Are the dancing routines and robotic movements clever? Definitely. Can we recommend you spend $800 for that even with the built-in security camera and Alexa abilities? We can't. When Lynx gets a software update teaching it how to make coffee with those pretty foam designs, and then walk it over to you with a saucer, we can talk.
Pros:
More than 30 pre-programmed routines
Functional security camera that takes photos and videos
Has Alexa inside.
Cons:
Price
Lynx's movements are limited and not all work
You can't have Lynx in surveillance mode and Avatar mode at the same time.
Like GearBrain on Facebook