Magic Leap Prototype Magic Leap's VR headset has a decidedly helmet look—except in reverse. Is it a face-covering? Clear? The patent awarded this week describes the object as a "ornamental design for a virtual reality headset," which does not clear up questions either. Magic Leap, with more than $1.4 billion (yes, B) in funding, still has yet to truly show its augmented reality capabilities beyond a video or two. But Magic Leap says users should not assume its VR headset will take the bike helmet form as it "...is not at all representative of what our product will look like," the company told PCMag.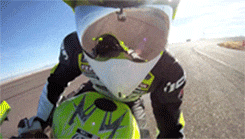 Android N Will Be Called... We still don't know. But Android has been pushing cute videos (see below) trying to gin up excitement around what will be its newest operating system, studded with virtual reality upgrades. What do we know? Like most of Android's OS, it's likely to be named for a dessert (Marshmallow, Donut, Lollipop...you get the picture) and the name will be revealed in a few weeks.
Apple Store Changes Get ready for some updates to the way you use iOS apps. To start, subscription fees are now going to available to all product categories—allowing developers to create new revenue streams. Also, something users will notice pretty quickly—advertisements. Search results will bring up apps, but also paid placements, which should be visible starting Monday. (And yes, they'll be marked.) (Via MacRumors.)
Helicopter Parenting Alert Nothing like getting the wee ones set and scheduled before they even leave pre-school. Octopus wants to help. A wearable watch the developers call "training wheels for good habits," Octopus is a candy-colored device that parents can program for their 3- to 8-year-olds via an app—telling them when it's time to feed their fish, take a bath, go to school, and yes, play. The watch vibrates and a reminder pops up on their screen. Interested? Octopus has already hit its Kickstarter goal, with the early watch price of $59 about to be gone.
Your Finger Controls Your Life The use of biometric data, information generated from your own body, is growing quickly, particularly in the IoT space. Ever unlocked your smartphone with your finger? Then you're already familiar with the concept. But GearBrain did a deep dive into biometrics—the what, where and why you should learn as much as you can about this way of locking down your details.