Like GearBrain on Facebook
Minecraft is one of the most popular games of all time, with over 100 million copies sold so far.
In April, Minecraft released the game for the Gear VR headset—and I immediately bought a copy for $6.99 and started playing.
There are two versions of Minecraft. In one, you play on a flat screen—a laptop or desktop. The second , the immersive virtual reality one, is the cool one. It puts you right in the middle of the virtual Minecraft world. Move your head, fight zombies, tame wolves, build a treehouse to the clouds, or just look all around. But why would you ever do that when the world—or rather the Minecraft world—is yours to build.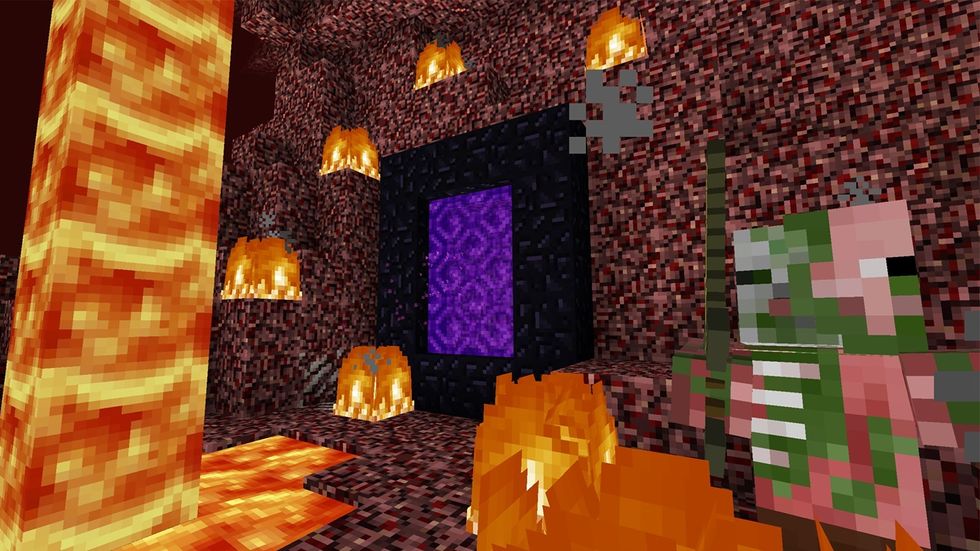 A Nether portal in Minecraft on Gear VR. Image courtesy Microsoft
Unfortunately, when I first got the game, the controls weren't fully tuned for virtual reality, and moving around in-world quickly gave me motion sickness—the worst I've experienced in any VR game so far. There's just something about flying through the air when your body is still still in a chair that just doesn't feel right. I stopped playing. Quickly.
I recently went back to try the game again, and this time, I found the experience much better. The developers have tweaked the controls so that you now move in short hops, which seems to greatly reduce the motion sickness.
Scary spiders

Once in the Minecraft world, I immediately dug a tunnel, then built some walls. One of the aspects of the virtual reality version of Minecraft that was the most compelling for me was how the feeling of being present in that world. When it rained, it felt as though it was raining on me and it was nice to just stand and look around want watch the rain come down, especially this week, when it was unpleasantly hot in my area. When I hunted the giant spiders, those spiders were scary. In fact, anyone with a phobia about spiders will either find a welcome outlet for their anti-spider aggression or run away screaming.
There are a couple of improvements I would like to see in the game. One is the ability to get good screenshots. Right now, Gear VR's built-in screenshot tool generates a square, low-res image that doesn't do Minecraft any justice. The other is an in-world body. Right now, when you look down, there's nothing there—no legs, no arms. You're a floating ghost.
This game, by itself, is enough to make the Gear VR worth the $99 price tag for the headset alone. Plus, you can visit worlds built by your friends, or get a dedicated server and share your world with others with Minecraft Realms, starting at just $4 a month. There's also 3D audio and the VR edition supports Pocket Edition versions of Minecraft including Creative and Survival mode, plus skins.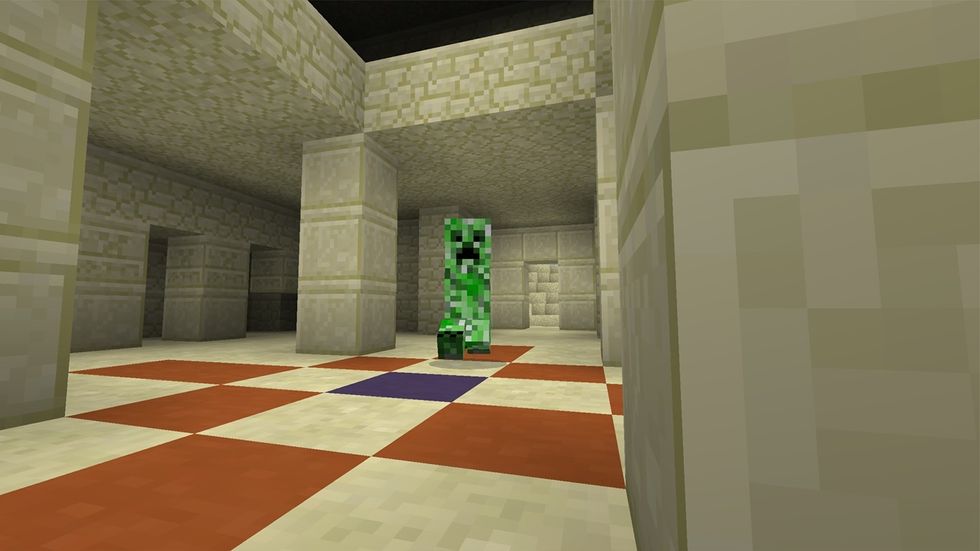 A Minecraft Creeper in theGear VR version. Image courtesy Microsoft
Gearing up
Before you can start playing the game, you're going to need an external controller. The recommended on is the SteelSeries Stratus XL, which costs $60 on Amazon.

If you want to save a little dough, you can also buy the iPEGA PG-9025, $18 on Amazon. This is the one I have, and it works fine for Minecraft and for all my other VR games, both Gear VR and Cardboard.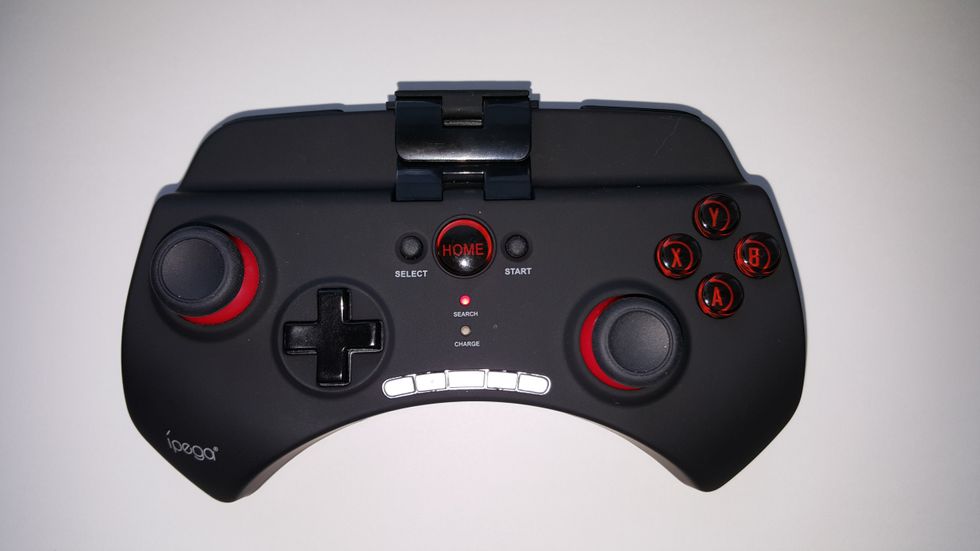 My iPEGA PG-9025 controller. Photograph by Maria Korolov
Other recommended headsets include the $18 iPEGA PG-9021, the $50 Power A MOGA Hero, and the $34 GameSir G3s.

Follow the instructions that come with the controller and sync it to your phone. For my iPEGA, this required holding down the "Home" button and the "X" button at the same time. Then play around with all the buttons to see what they do.

You might also have to use the trackpad and the back button to get back to the 'Options' menu, where you can adjust the music and sound effect volume, and also change other interface options.
I did not find the controls to be particularly intuitive. But then again, I haven't played Minecraft on other platforms before. Experienced players will probably have an easier time picking the game up in VR.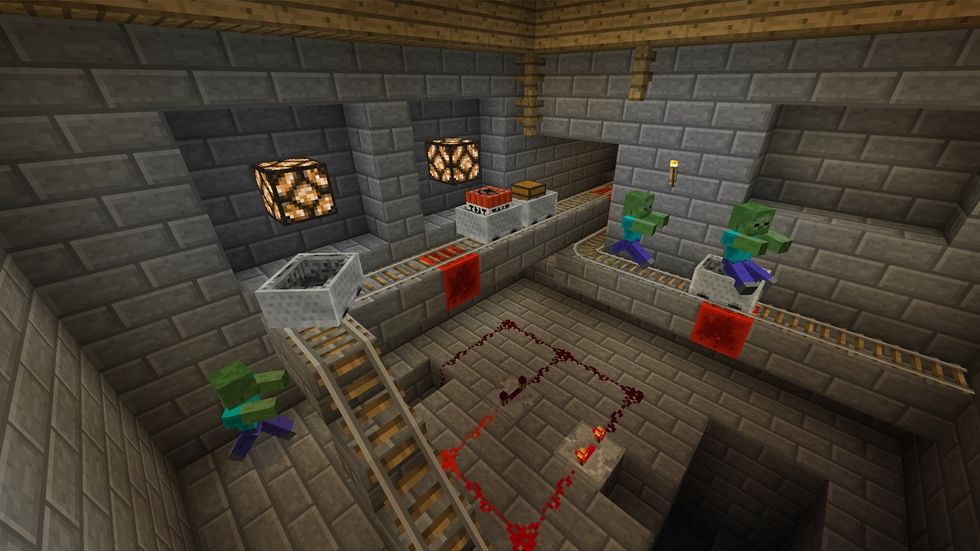 An underground Minecart track in Gear VR's Minecraft. Image courtesy Microsoft
If you haven't played Minecraft before, you might also check online for additional Google for Minecraft tips and recipe guides.
One final note: When you play Minecraft, don't be surprised if your smartphone starts heating up rather quickly. Mine did, forcing me to take a break. But that can be a good thing, since you can use the time to stretch and do some exercises, and charge up your phone.
From Your Site Articles
Related Articles Around the Web
Like GearBrain on Facebook