Like GearBrain on Facebook
Finally, the terms 'machine-washable' and 'machine learning' can be used to describe the same product.
The year is 2018 and here is a jacket which has its own Bluetooth connecting, a smartphone app, Qi wireless charging, a USB port, Alexa support, machine learning - and three carbon fiber heating elements to keep you warm.
Called the Mercury Jacket, it is being produced by Ministry of Supply, which is seeking funding through Kickstarter. Despite only being live for two days, the crowdfunding effort has already raised $139,000, almost double the $72,000 goal.
The jacket, which is expected to ship to backers in November this year - just in time for next winter - is waterproof, has a removable hood, and contains three heating elements. One is located on the back, between the wearer's shoulder blades, and there is one in front of each of the front pockets to keep your hands warm.
In all there are four primary pockets, plus spaces for your phone and the jacket's battery.
Inside one of those pockets there is a Qi wireless charging pad to keep your phone battery topped up. The power for this - and the heating elements - comes from a 10,000mAh battery which connects to the jacket via USB.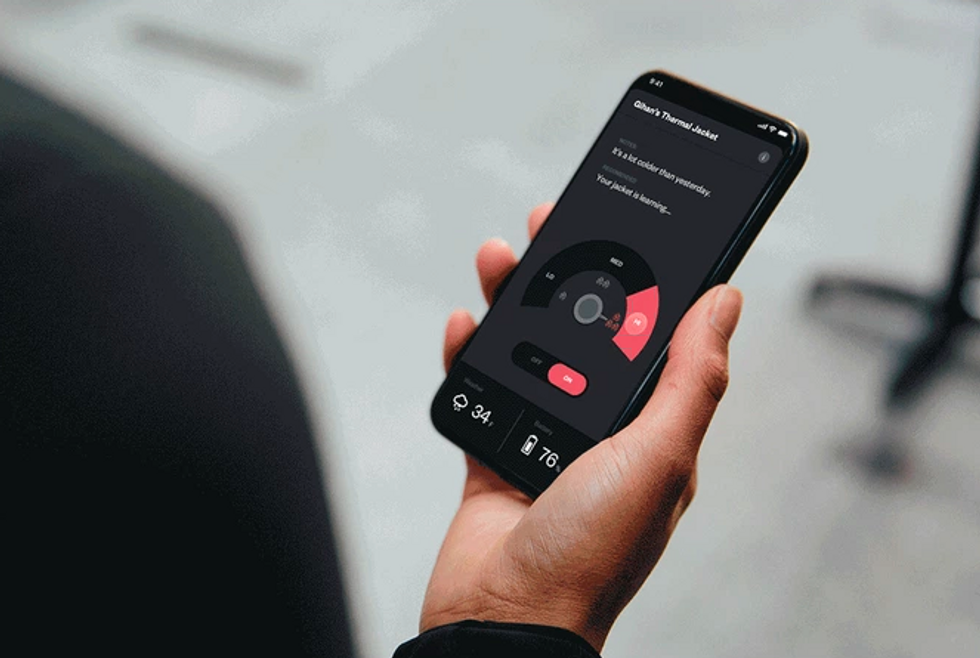 A smartphone app offers manual adjustment of the heatingMinistry of Supply
Its makers say the battery can last for 4.5 hours at maximum power and takes five hours to fully recharge. 'Economy usage' is claimed to offer a week of battery life based on a 20-30 minute commute. However, while the battery is included in sales to US backers, international buyers will have to provide their own battery; in return, the company offers free shipping worldwide. A 10,000mAh battery can be bought online for around $15 to $20.
The heating elements each weigh 100g and are just 1mm thick. They deliver 10 watts of power and can heat up to 135 degrees fahrenheit (75 degrees celsius). Once the jacket is up to temperature, it regulates itself to keep your body at the optimum temperature, its makers say.
The temperature can be adjusted manually via a companion smartphone app, however, which connects to the machine-washable jacket via Bluetooth. Machine learning is used to note your preferred temperature, helping the jacket adjust to your needs the more you wear it. An accelerometer detects when you are moving and decreases the heat; stand still in the cold for while, and the heaters kick back in.
Finally, an Alexa skill means you can say "Alexa, turn on my jacket" and the heating elements will warm up before you put it on and leave the house.
(Check out The GearBrain to learn what smart home products and connected devices work with Google Home or Amazon Alexa.)
Like GearBrain on Facebook