Like GearBrain on Facebook
Skin creams know me by sight. Moisturizers, Vitamin C treatments. I'm a bit of a serum junkie too, and I'm hardly alone. The global beauty industry is set to grow into a nearly $806 billion market by 2023, according to Corbis Research. Many of us want to slather youth on our face. Neutrogena's Skin Scanner isn't going to zap away the dark spots on your forehead: That's the job of a good dermatologist. But this iPhone attachment will take a serious snapshot of your skin, claiming to read the dryness levels, pore and line count of your face. I granted the Skin Scanner access to my mug for two weeks to see just how ravaged my skin may be. Here's what I found.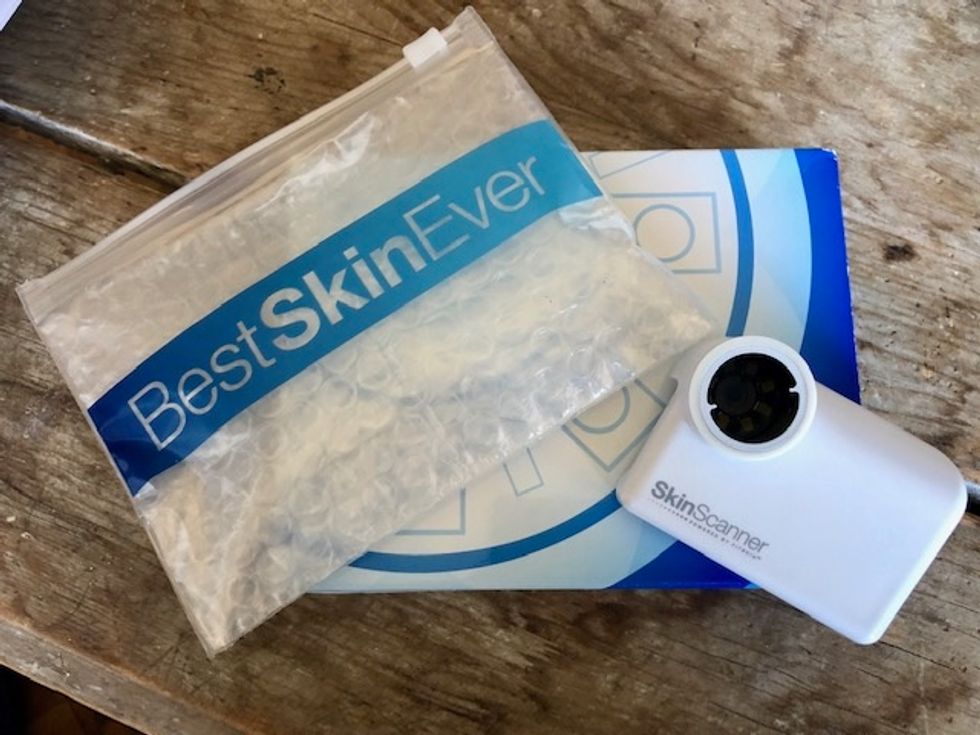 The Neutrogena Skin Scanner fits on top of an iPhone, using a zoom lens to take close ups of your skin GearBrain
Read More:
What is Skin Scanner
Skin Scanner for Neutrogena Skin Scanner is a $59.99 plastic attachment that fits on top of an iPhone. On the back is a 30x zoom lens, which slides over the camera on your smartphone, and has eight LED lights to help illuminate the skin in far more detail than any light in your home.
The Skin Scanner charges through a USB cord, and uploads images to the Neutrogena Skin360 app. Currently, the app and device only works with iPhones, although the company says it's working on an Android. The Scanner connects to the app through Bluetooth.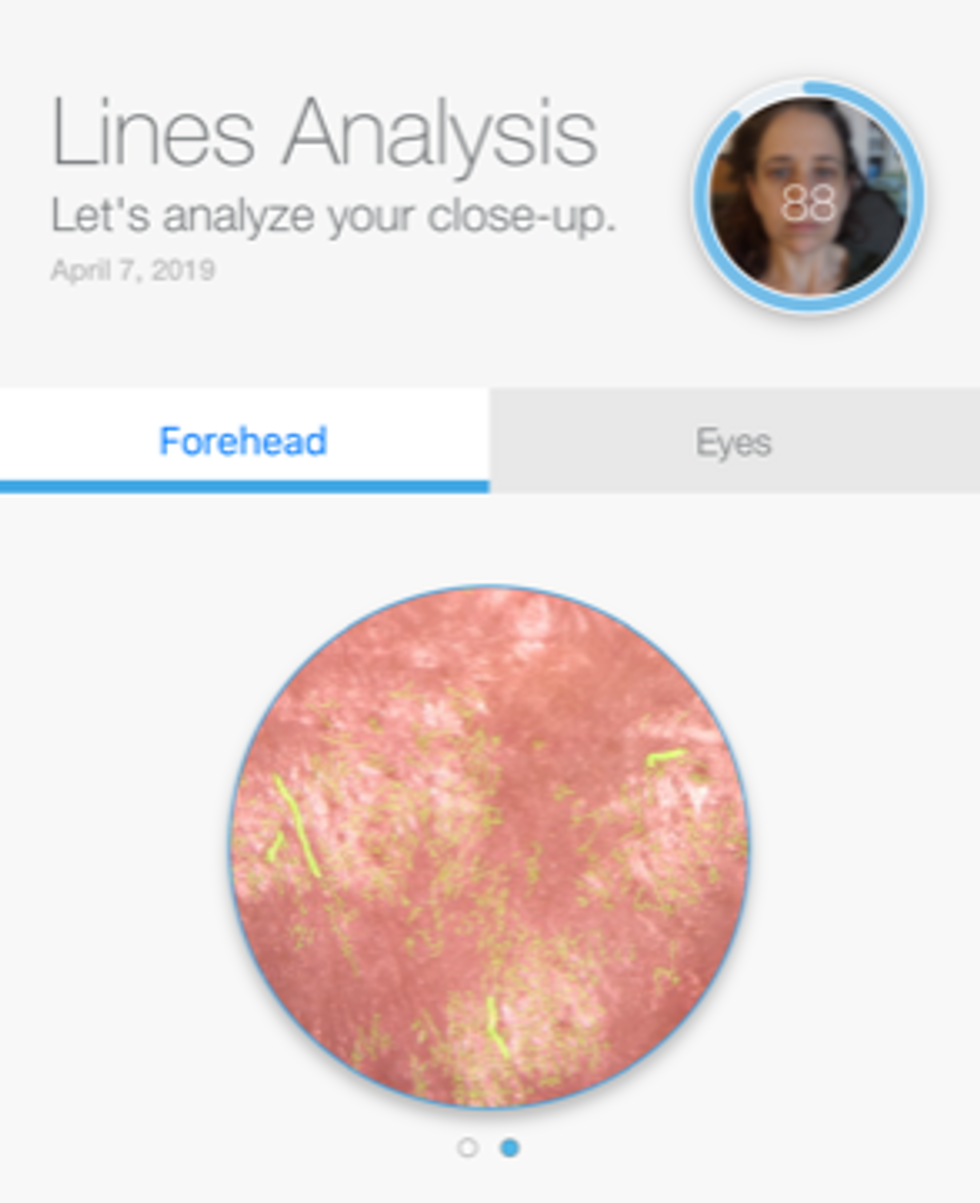 Those yellow squiggles are the lines the Neutrogena Skin Scanner picked up on my forehead GearBrain
How it works
Launch the app, and you'll be directed to place the Skin Scanner on four points on the face: the forehead, the side of the eyes, the cheek and the chin. At each step, the light will come on the lens, and you'll be asked to hold the scanner against the skin. As you do, you'll hear the shutter click several times, until you finish all four spots on your face. (If your phone is on silent, it will vibrate instead.)
After the four scans are done, the app gives you a score on three areas: moisture, pore size and lines. On a scale of 1 to 100 you'll know if you're doing a good job, and it's above 81. Below that, and the app will suggest "some tweaks to your routine could help." Below 50 and the app tells you "there's room for improvement." Translation: get some moisturizer on there stat.
I averaged about an 83 — my pores were good, lines fairly good, moisturizer was rough. (I'm a big coffee drinker and I tend to not love drinking water.) On of the tabs is called "Enhance," and there you find short pieces such as "5 Ways to Reboot Your Look" (Shiny gloss and a smoky eye are suggested.) Or "Your Skin Explained: Moisture" (Hint: hot showers may be a culprit.)
There's finally a tab where you can buy a number of products — all from Neutrogena — which are curated based on your score. I was told to pick a gentle cleanser, a moisturizer with sunscreen, a hydrating mask and a gel-cream for "extra-dry skin." (Way to make a gal feel bad.) Yes, you can buy them all right there in the app too.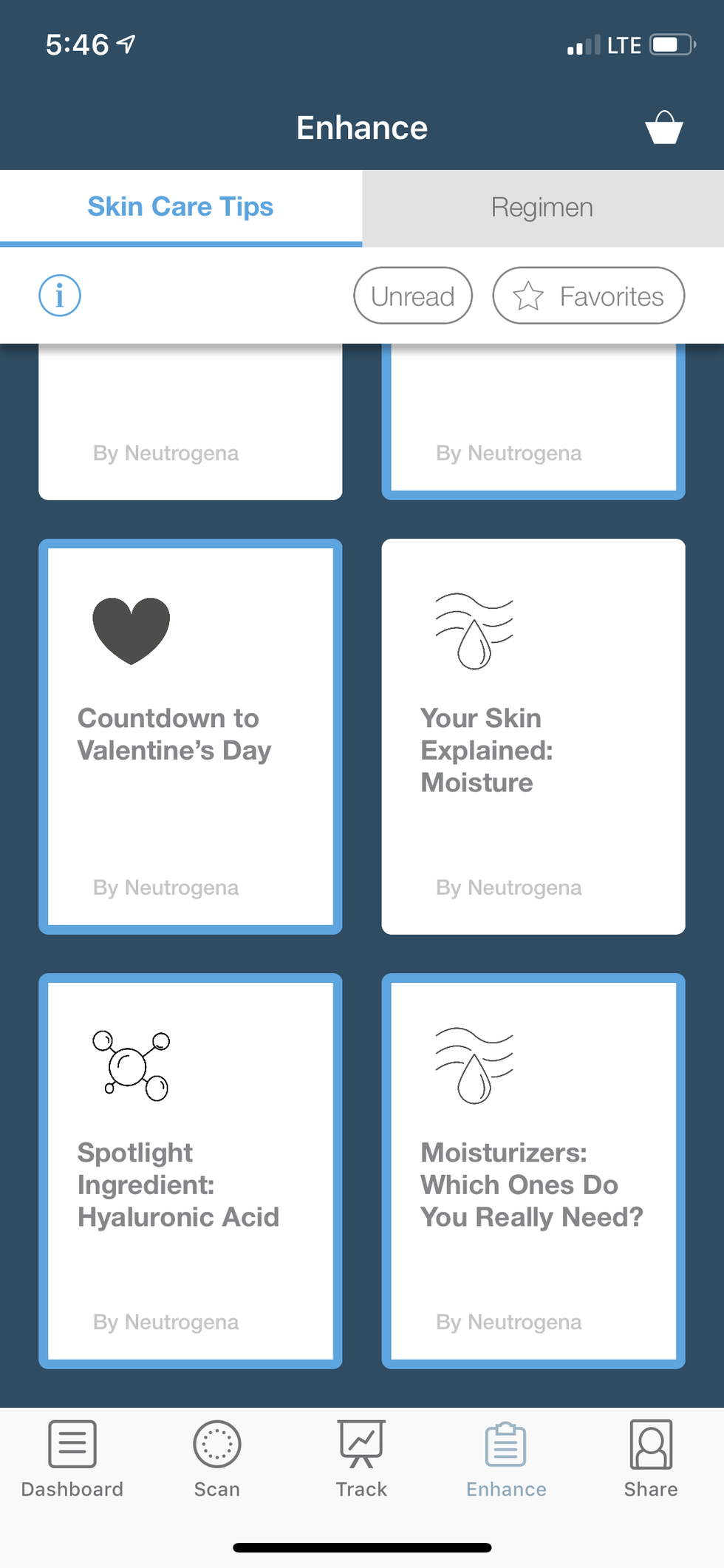 In the Enhance tab, Neutrogena's Skin360 app has online guides for moisturizing and skin care tips GearBrain
There's a cool setting called Magnify Mode. Here, you can lay the lens on top of your skin and get a 30X zoom look at your skin. This feature isn't designed to take a photo but work more like a microscope. The problem? The area where you likely want to look closely is your face — and you can't look at your smartphone while it's pressed to your cheek. I got around this by taking a screenshot, but I couldn't focus very well. I had better luck looking at my hands and arms.

Magnify Mode actually felt the most useful of all the features on the Skin Scanner. I could see this as a way to snap images of moles and send those off to your doctor. Truthfully, any dermatologist you go to is going to require you come in and look at something in person. Still, I was utterly fascinated by the roadmap of lines on my hands. These are lines that no Vitamin C serum are ever going to melt away, nor moisturizer.
How well it worked
The Neutrogena Skin Scanner worked every time I took images of my pores, always delivering a scaled score. Whether that was correct or not, I'm not a doctor, so it's hard to say. I found that the Magnify Mode sometimes would go dark and refuse to connect to my camera. I would need to close out of the app, and relaunch it, to make it work again.
Using the Skin Scanner was slightly fun, bringing a kind of gamification to the device. I was certainly eager to see if my pores and lines were changing, and I was a little more thoughtful of doing my skin care routine during the week to see if it impacted my readings. I actually do use one of Neutrogena's moisturizers fairly regularly. Did it help? I'd like to think so.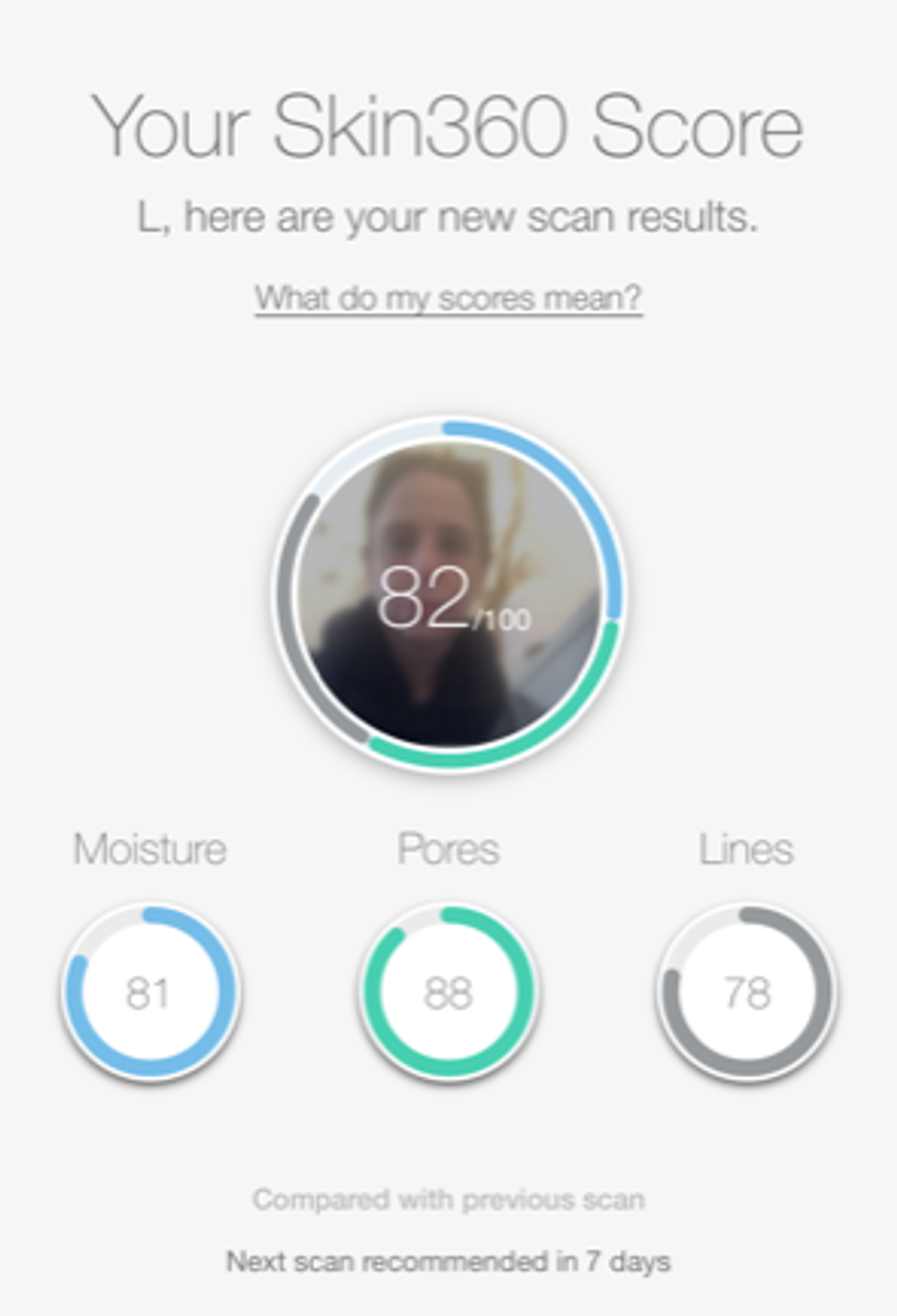 You get a score of 1 to 100 in the Neutrogena Skin 360 app each time you scan GearBrain
Some details
For those of us who have an eye out for our privacy rights, it's worth knowing that Neutrogena states on its site that it is storing all the 30X photos taken of your skin. You can however delete the data on your scanner by going into the app, opening Settings, then Pair/Unpair and then press "Delete All Skin Data."
It's also fairly clear — if you haven't figured this out yet — that Neutrogena is using the Scanner to market its line. The company says future products from Johnson & Johnson may be added in to the app in the future, but they're not available to buy directly from Skin360 today. After buying the device, you so get 25 percent off Neutrogena's products for two years, which you can easily find in the app, and are suggested to you based on your score.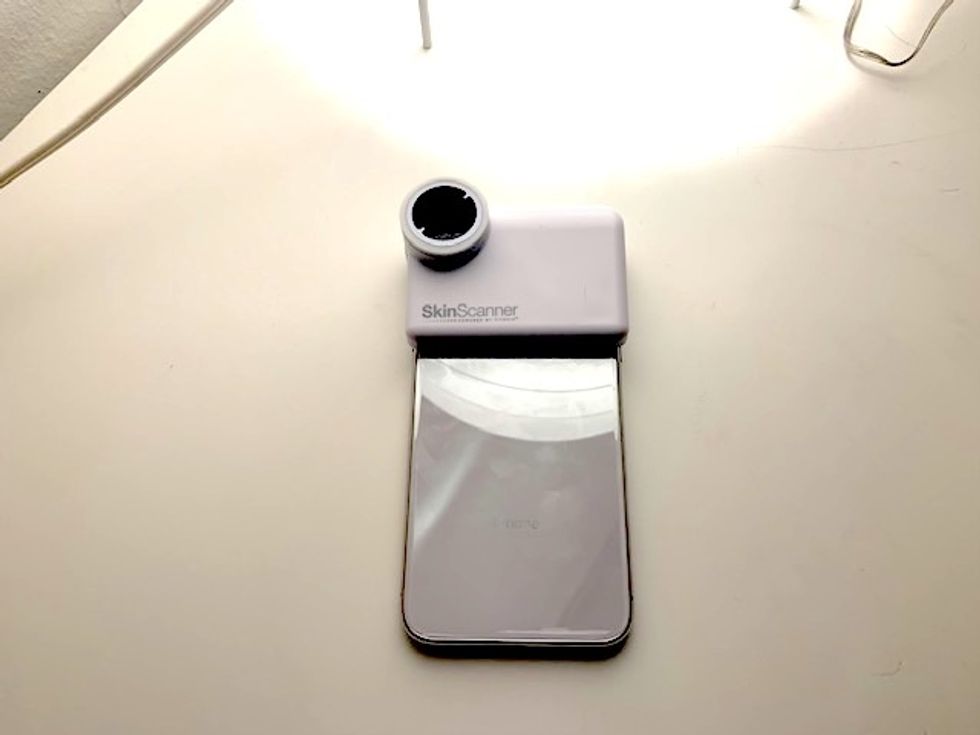 The real value in buying the Neutrogena Skin Scanner is the 25% discount you also get with the device on the company's line of products GearBrain
Should you buy it?

Neutrogena's Skin Scanner is a $60 device that really doesn't tell you more about your skin than what you might see from staring into a magnifying mirror on your dresser. I know if my skin is dry — it's pretty obvious. And I know if the pores and lines on my face are there, or not. It's absolutely fun to take pictures, kind of cool to see close-ups on my face, and I liked getting a score every few days to tell me if I was doing a great job. But the real value here is the 25 percent off Neutrogena products you'll get for two years. If you're loyal to their skin care line, you may earn that back, but you would need to spend $240 in two years on the company's moisturizing creams and sunscreens. If that's you, or you may spend more, the scanner may be worth buying for the discount alone.
But if you're an occasional Neutrogena user, the scanner may not worth the investment. Then again, though, anything that encourages you to spend a few extra minutes taking care of your skin every morning and night is worth noting. After all, taking care of ourselves is never a wrong thing to do.
Cost: $59.99
Pros:
Easy to use
Gamifies the whole idea of taking care of your skin
Gives you a discount on Neutrogena products
Cons:
Only works with iPhones 6 and up, but not the iPhone XS Max or XR
It doesn't tell you must more than you already can see yourself
Price
Like GearBrain on Facebook