Like GearBrain on Facebook
Atolla co-founders Meghan Maupin and Sid Salvi both discovered skin issues as graduates students at Massachusetts Institute of Technology. For Maupin, Atolla's CEO, it stemmed from an autoimmune disease, while Salvi, the company's COO, pinpointed his to allergies. They believed there had to be a better way to assess someone's skin health then guess work, and a more effective way to treat it.
Their start-up, Atolla, was founded in 2017, with the mission to create serums that could be customized based not just to whether the skin is red, oily or dry — but how it's reacting monthly, and shifting the formula to meet those needs.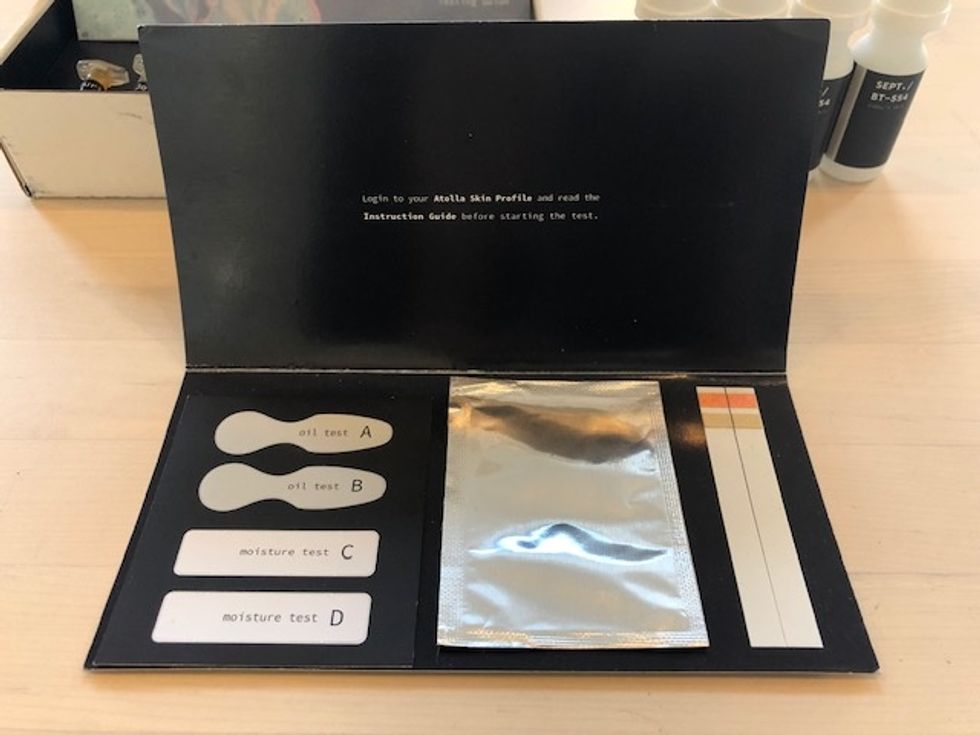 Customers are sent testers to check the state of their skin by reading moisture and oil levelsGearBrain
Reading your skin
Atolla's goal is to shift the way customers care for their skin, bringing the process into the home. Rather than going to a dermatologist — or testing creams at a cosmetics counter — customers are sent a monthly kit. Atolla is, however, working with a skin expert as well, Ranella Hirsch, a medical doctor and past president of the American Society of Cosmetic Dermatology. But bear in mind — you're not getting in to see her with your subscription.
Instead, you get an initial kit with stickers that when pressed against the skin, and peeled away, can tell whether its dry, oily and dehydrated. Eventually, the kit will include Ph strips as well, said Salvi. People compare the images on their tabs to those in Atolla's app, self-selecting what they look like. Those inputs help to create a marker, which determines the serum they'll be sent.
My skin yielded a code WT551 — and there are thousands of different possible combinations. Based on my answers to the online questionnaire, my skin is a top concern, it's very sensitive, especially to the sun — and I have a moisture to oil index of 55. Despite the feeling of dryness across my face almost constantly, it turns out I have combination skin which is both a bit oily and also dehydrated.
Inside the initial kit are tester serums to see which absorb better on the skin to match my code to the right base for my serum. This was interesting to me: I always assumed something oily would be better, but one just disappeared right into my skin, without a sheen, but leaving it soft. Match.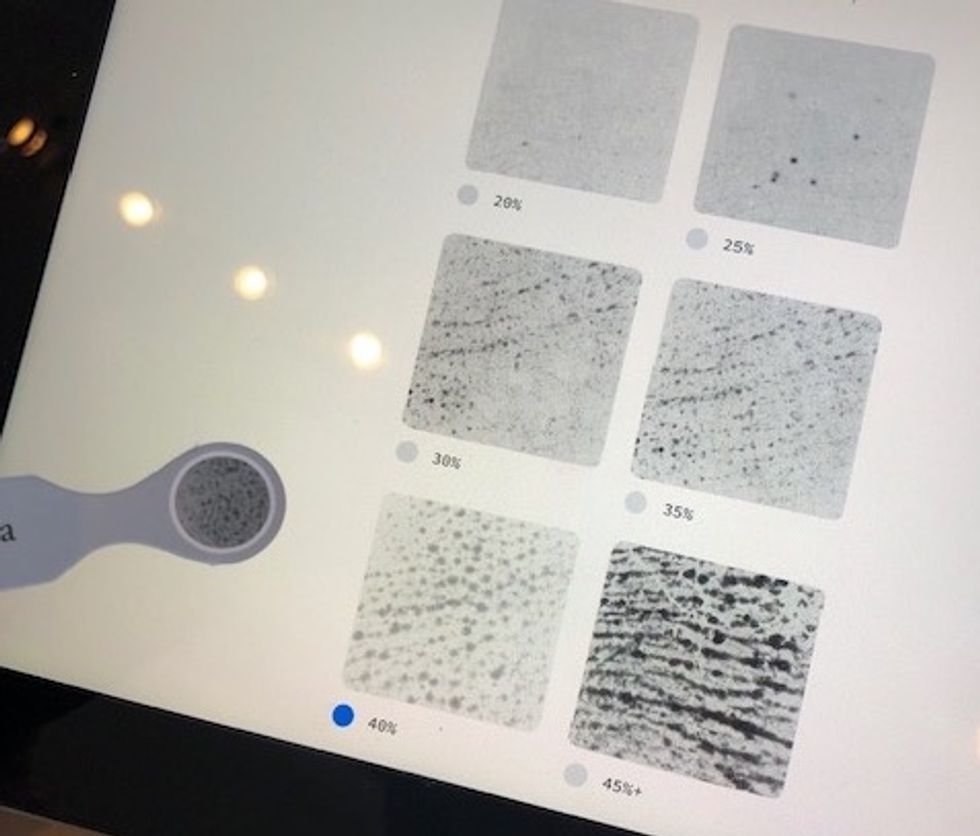 Atolla customers match the results from their tests at home to images in the appGearBrain
Can data help
It's the data customers enter monthly, and the results they upload, that sets Atolla apart. Reading what customers input into the digital platform — the whole thing takes about 10 minutes — the company can start to see trends based on how skin reacts during different seasons and locations, and also from other cosmetics they're using at the same time. Atolla also filed a provisional patent on the data algorithm and process in January 2018.
Data science is what companies, including Google and Amazon use, analyzing information to look for trends, among other ways companies use these details. It's hard to just sell data to consumers, however.
Certainly companies use data to sell things to customers — it's one of the main ingredients in determining which ads to push in front of you across social media platforms and web browsers. But data itself can't be packaged in pretty glass jars, lacks a fragrance and doesn't have a celebrity hawking it on their Instagram page. Instead, cost is likely going to be a big factor for customers on whether they decide to buy what Atolla is selling. At $20 a month, Atolla is about the price someone pays today for drugstore facial creams.
Customers can start signing up for Atolla's service and serum through Kickstarter today, November 13. Remember, though, that Kickstarter is a crowdfunding site which means customers aren't actually placing an order but a making a pledge to back a campaign. The kits, though, are meant to be delivered to customers in March 2019, said Maupin.
Still, Atolla's serum is not meant to replace a sunscreen or moisturizer but to be used in tandem. The difference is that it's designed to help correct issues skin is facing from flakiness, redness and even acne. You're still going to need those glass jars of lotions, even with Atolla, and you're going to have to give it some time. And there sits the issue with data science — it's not a magic potion. In the short attention span, click-intensive world that most of us live in today, that's a hard sell to make.
From Your Site Articles
Related Articles Around the Web
Like GearBrain on Facebook