Like GearBrain on Facebook
Apple has today revealed a new model of iPad Pro, powered by the company's M1 chip and featuring a mini LED display for the first time.
The new tablets were revealed alongside an all-new iMac – the first major overhaul for the all-in-one desktop computer for a decade – and the long-awaited reveal of Apple's new location-tracking device, called AirTag.
Read More:
The new iPad Pro looks identical to its predecessor, but inside there are major changes and a significant boost in performance too. Apple has also decided to give the larger 12.9-inch iPad Pro a new miniLED display, while the smaller and cheaper 11-inch model sticks with a traditional LCD panel with LED backlighting.
Here is a quick look at the difference between the new iPad Pro duo and their predecessors.

New 2021 iPad Pro vs 2020 iPad Pro: Design and hardware
As we mentioned above, there is no real difference to the design and exterior of the iPad Pro. Tat is so much the case that the 11-inch iPad Pro is exactly the same size as the previous model, while the 12.9-inch model has the same footprint as its predecessor but is 0.5mm thicker, at 6.4 compared to 5.9. In reality, we suspect users will struggle to spot the difference. The new model is also slightly heavier, at 682g compared to 641 for the 12.9-inch tablet.
The smaller iPad Pro weighs a fraction less than before, at 466g compared to 471g.
New 2021 iPad Pro vs 2020 iPad Pro: Display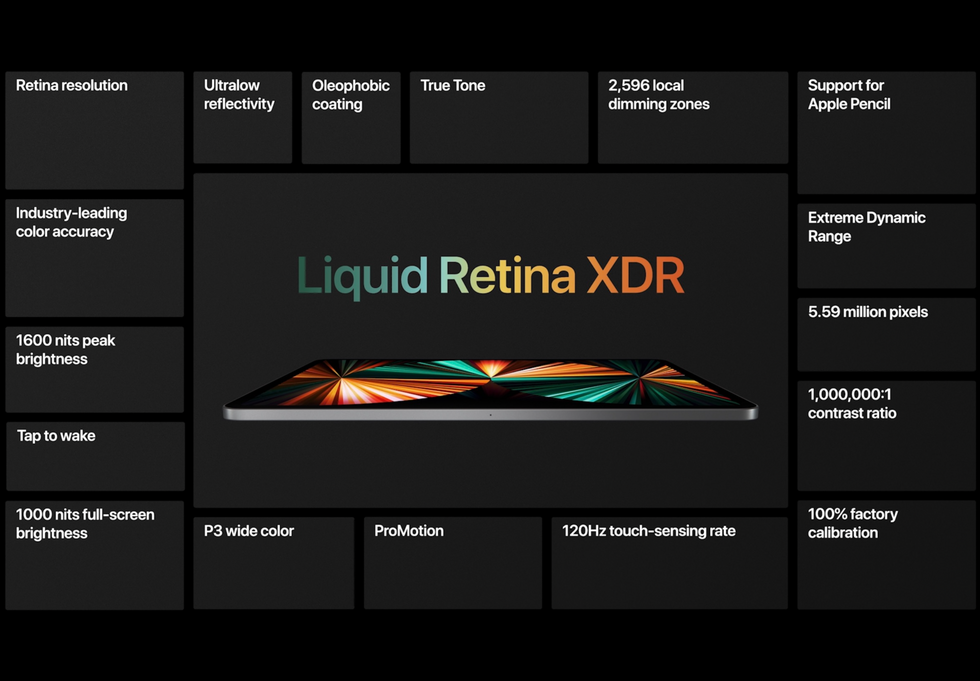 The 12.9-inch iPad Pro features a new miniLED displayApple
The 11-inch iPad Pro has the same display for 2021 as it did in 2020. This means an LED backlit panel with a resolution of 2388 x 1668 and a pixel density of 264 per inch. It also gets the same Promotion and True Tone display technology, plus the P3 wide color gamut and 600 nits of brightness.

Where the major differences are found is with the display of the 12.9-inch iPad Pro. For 2021 Apple has swapped out the old panel for a miniLED screen, which it is calling a Liquid Retina XDR display. This has a backlighting system made up of 2,596 individual LEDs for far more precise local dimming. What this means is, just like with a mini LED television, the back light can precisely illuminate individual areas of the screen helping to boost brightness where it is needed, while casting shadows into total darkness.
Maximum total brightness is now up to 1,000 nits, with peak brightness (in a specific area of the screen, for example) is 1,600 nits. The display has a resolution of 2732 x 2048 and a pixel density of 264 per inch – both of which being equal to last year's 12.9-inch iPad Pro. Apple also boasts about the new model have a contrast ratio of 1,000,000:1, but doesn't say how that compares to the lesser 11-inch model.
Apple says the brighter display of the larger iPad Pro makes it ideal for professionals who want to accurately edit images and videos on the go and while away from their main computer. The miniLED display can handle HDR10, HLG and Dolby Vision 4K video.
New 2021 iPad Pro vs 2020 iPad Pro: Processor and performance
The other big new feature, and this time coming to both sizes of iPad Pro, is the inclusion of Apple's M1 chip. Also used to power the MacBook Air, Mac mini, 13-inch MacBook Pro and new iMac, the M1 chip in the iPad Pro has an eight-core GPU and eight-core CPU and a 16-core neural engine. There's 8GB of RAM on iPad Pros with 128, 256 and 512GB of storage, while the 1TB and new 2TB options get 16GB of RAM. These M1 chips replace the A12Z Bionic chips of last year's iPad Pro.
As for performance gains, Apple says the new iPad Pro has a 50 percent faster CPU than last year's model, and a GPU that is 40 percent faster. Just for fun, Apple also pointed out how the GPU performance of the new iPad Pro is 1,500 times that of the original iPad.
Storage options for both sides of iPad Pro are now 128GB, 256GB, 512GB, 1TB and 2TB.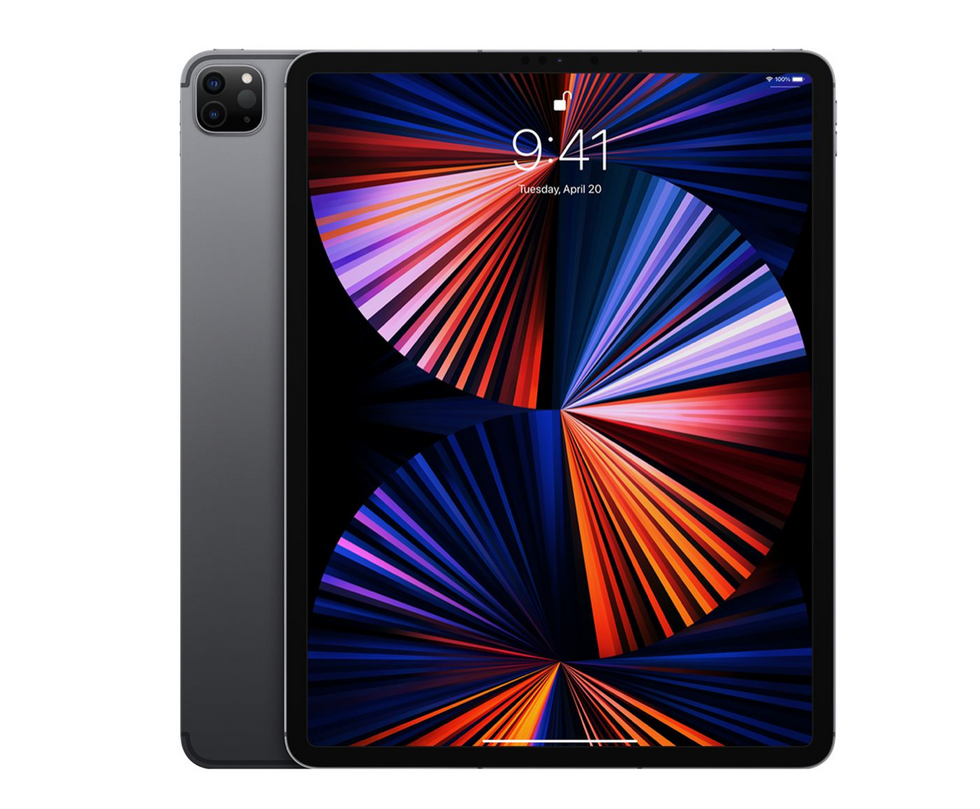 2021 iPad Pro Apple
New 2021 iPad Pro vs 2020 iPad Pro: Ports and camera

Also new with the 2021 iPad Pro duo the inclusion of a USB-C port compatible with both Thunderbolt and USB 4, meaning compatibility with more external devices and up to 4x faster data transfer speeds.
Inside, the new iPads get a 5G connection for the first time, with a theoretical maximum download speed of 4Gbps on the mmWave-equipped versions sold in the US, and up to 3.5Gbps from the sub-6GHz versions sold in other markets. The last generation of iPad Pro could be bought with 4G but not 5G.
As for the cameras, Apple has added a new wide-angle sensor to the front of the iPad Pro. This has a 12-megapixel sensor and a 122-degree field of view. Instead of being used to take extra-wide selfies, Apple has developed a system called Center Stage, where the camera zooms in then pans as you move, keeping you in the middle of the frame during video calls. If someone else joins the frame, the camera zooms out to include them too.
The rear camera module remains unchanged from 2020, with a 12-megapixel wide angle lens sitting next to a lidar sensor and a 10MP ultra wide lens.
New 2021 iPad Pro vs 2020 iPad Pro: Price
The smaller 11-inch iPad Pro has the same price as last year, starting at $799 for 128GB of storage and rising to a maximum of $2,099 for 2TB of storage and 5G connectivity.
The larger model has seen its price increase from $999 to $1099 for the entry-level model with 128GB of storage and Wi-Fi. This rises to $2,399 for the flagship 2TB model with 5G. The new iPad Pro can be ordered from April 20 and ships from the second half of May.
From Your Site Articles
Related Articles Around the Web
Like GearBrain on Facebook