Like GearBrain on Facebook
Apple has announced three new Mac computers, all running the company's own new processor, called the M1.
Apple claims each of the new machines, across the MacBook Air, MacBook Pro and Mac Mini lines, to be significantly faster than its predecessor thanks to the new M1 chip, with better energy efficiency and hugely improved battery life for Apple's laptop range.
Read More:
Claimed, by Apple, to contain the world's fastest computer processor cores, the new M1 chip also boasts the world's best performance per watt of energy consumed, Apple says. The M1 is related to the A-series chips used by the iPhone and iPad, with the latest A14 Bionic used by the iPhone 12.
Today Apple announced three new Macs powered by the M1 chip, but says the transition from Intel to its own processors will take two years to complete. We expect to see a new iMac, Mac Pro and 16-inch MacBook Air with the M1 chip in 2021 and 2022.
The company also announced that its new Mac operating system, called macOS11 Big Sur, will be available to download on November 12. Although optimized for Macs using the new M1 chip, it will also work (and bring performance gains) to Intel-powered Macs.
MacBook Air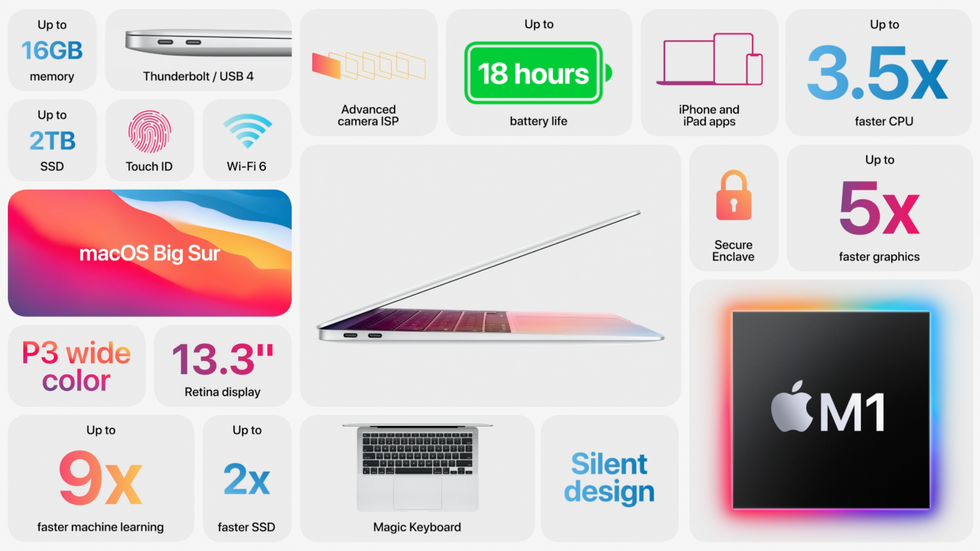 The new MacBook Air with M1 chipApple
First, the new MacBook Air, Apple's entry-level laptop computer. It has the same design as the previous model, but with the new M1 chip Apple claims its performance is up to 3.5 times that of its Intel-powered predecessor.

The new MacBook Air is also said to offer up to five times the graphical performance as before, enabling it to play multiple streams of 4K ProRes video footage without dropping a frame — a key stat for video editors who want a compact work machine to take on the road.
Although it didn't name any direct rivals, Apple claimed the new MacBook Air is three times faster than the best-selling Windows laptop in its class, and faster than 98 percent of all PC laptops sold in the last year.
Interestingly, the Air does not have a fan to keep cool, with Apple stating the M1 chip is so efficient that it doesn't need any form of active cooling.
Another key benefit of the new M1 chip is energy efficiency, and therefore battery life. To that end, Apple says the new MacBook Air can provide up to 15 hours of web browsing over Wi-Fi, or up to 18 hours of video, which is six hours longer than the previous model — in short, it's a 50 percent increase in battery life.
Despite the improvements, the price is the same as before, with the MacBook Air starting at $999 for a model with 8GB of RAM and 256GB of storage. Increasing storage to 512GB ups the price to $1,249 and doubling the RAM to 16GB costs an extra $200. Color options are the same as before, with gray, gold and silver.
MacBook Pro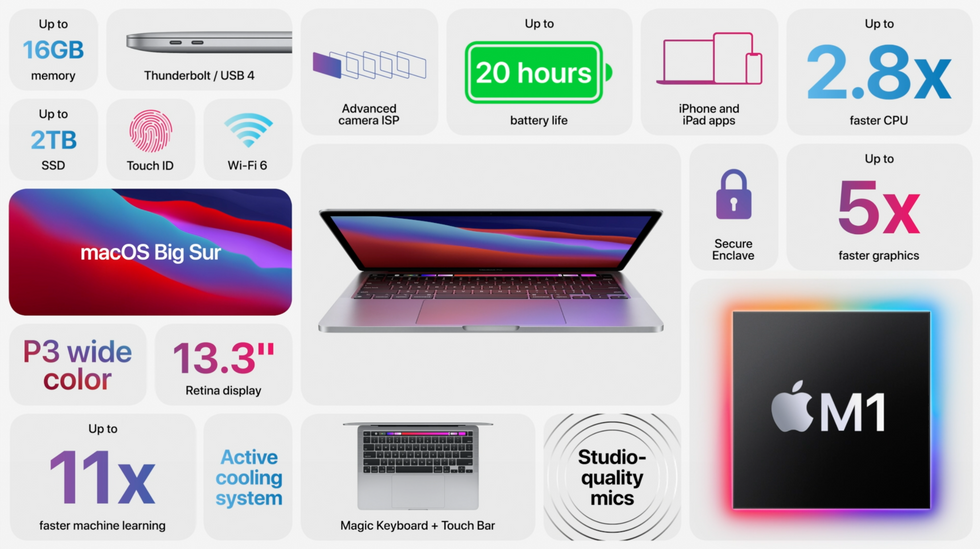 Features of the new MacBook Pro with M1 chipApple
Next is the new MacBook Pro 13-inch, which also gets the new M1 processor and benefits from many of the same improvements as the Air.

This laptop also keeps the same design as before, but gets a claimed 2.8x jump in processing performance, and an improvement in graphical performance of up to 5x. Apple claims this means the new MacBook Pro can play back ProRes footage in 8K resolution without dropping any frames.
Apple says the Pro's M1 chip and its neural engine has increased the laptop's machine learning capabilities by 11-fold.
Battery life is also up massively, with Apple claiming the new MacBook Pro can browse the web on Wi-Fi for up to 17 hours, or play video for up to 20 hours, the latter being double what was possible before, and making this the longest battery life of any Mac in history.
Offered in gray and silver, the new MacBook Pro with M1 chip is priced from $1,299 for a model with 8GB of RAM and 256GB of SSD storage. A model with 512GB of storage is priced at $1,499, and RAM can be doubled to 16GB on either machine for an additional $200. Storage can be increased to up to 2TB, which costs an additional $800.
Mac Mini
Features of the new Mac Mini with M1 chipApple
Finally, and as something of a surprise, Apple also announced a new version of its entry-level computer, the Mac Mini. This also gets the new M1 chip and is actually priced less than its predecessor, starting at $699.

For this computer Apple claims a 3x performance increase over the last model, which dates from 2018, and a graphical performance improvement of up to 6x. Machine learning is also up massively, with a claimed 15x improvement over the last model.
A small downgrade on the previous model of Mac Mini is the number of Thunderbolt / USB-C ports on the back, which has been decreased from four to two. Nevertheless, these are still joined by a welcome pair of USB-A ports, an HDMI 2.0 connection, an Ethernet port and a headphone jack.
The new M1-powered Mac Mini is priced from $699 for a model with 8GB of RAM and 256GB of storage. A model with 512GB of storage costs $899, and doubling the RAM to 16GB on either model adds an extra $200.
GearBrain shows how to swipe type in Apple's iOS 13 still in beta www.youtube.com
From Your Site Articles
Related Articles Around the Web
Like GearBrain on Facebook