Like GearBrain on Facebook
Apple's fourth media event of the year will take place online on November 10. It comes just a few weeks after the launch of the iPhone 12, and is expected to reveal the first Mac computers powered by Apple's new in-house processors.
Referred to as Apple silicon, the chips powering these Macs are expected to be closely related to the new A14 Bionic chip used by the iPhone 12 and iPad Air.
Read More:
This shift to its own chips is a big deal for the Mac computer family. In fact, it is only the third time Apple has changed its chip supplier in the Mac's history, having moved from Motorola to PowerPC in 1994, and then to Intel in 2006.
Although named after the company itself, the new Apple silicon chips will be designed by UK technology firm Arm, which is in the process of being acquired by Nvidia for $40B. All models of iPhone, iPad and Apple Watch use chips designed by Arm.
When will the first Apple silicon-powered Macs arrive?
Announced by Apple at its WWDC event in June 2020, the transition from Intel to Apple silicon is expected to take two years, the company says. Although it hasn't said which Macs will make the leap first, it has been reported this week that the November 10 event will see a new Apple silicon-powered MacBook Air and MacBook Pro.
According to Bloomberg, these will include 13-inch versions of the Air and Pro, and a 16-inch version of the Pro. The external design of these laptops is not expected to change, so they'll look the same as the current lineup, but with Apple silicon inside.
When talking of Apple silicon, we are referring to the company's upcoming, in-house SoC, which stands for System on Chip, an all-in-one processor design already used by iPhones and iPads.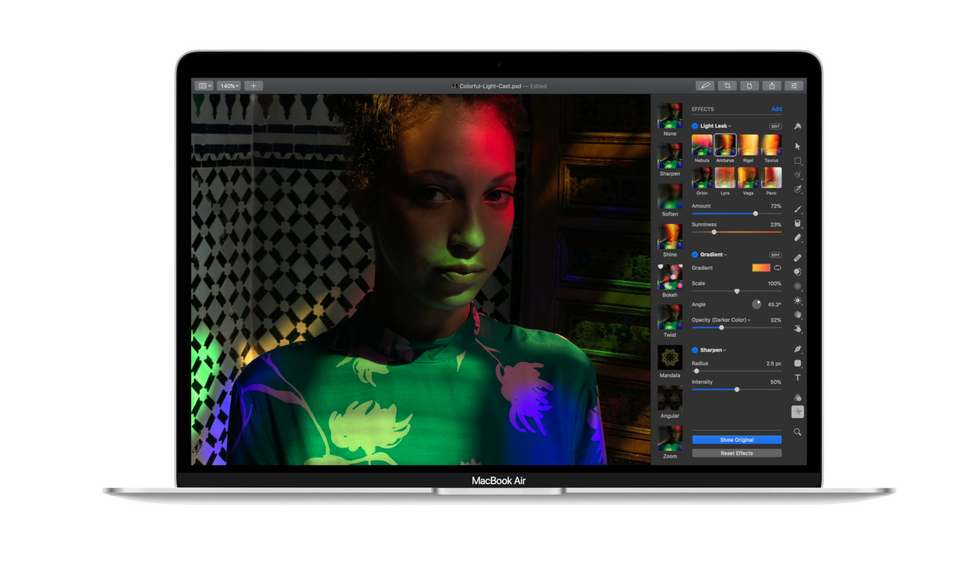 A MacBook Air with Apple Silicon is expected November 10Apple
Changing the processor and the architecture on which a computer runs is a big deal. As such, application developers have had since the summer of 2020 to modify their products to work with the new Mac chips. To do this, they were invited to buy a Mac Mini running on an A12Z Bionic chip, as used by the iPad Pro. Despite this, Apple isn't expected to announce Apple silicon versions of the Mac Mini, or the iMac and Mac Pro, until 2021.

The launch of the first Apple silicon Macs will likely tie in neatly with the public release of macOS Big Sur, the operating system that was announced in June and has been in development ever since. Also a big jump for Apple, the company refers to Big Sur as macOS 11, replacing OS 10, which Apple has gradually updated for almost two decades, since 2001.
What are the benefits of Apple silicon?
Apple CEO Tim Cook said at the reveal of Apple silicon in June 2020: "With its powerful features and industry-leading performance, Apple silicon will make the Mac stronger and more capable than ever. I've never been more excited about the future of the Mac."
What this means for the new generation of Macs is greater performance, even unlocking the potential for high-end gaming that the Mac has always lacked, but greater energy efficiency too. In other words, lower temperature and better battery life.
Apple earlier this year promised its own chips will give Mac computers "industry-leading performance per watt and higher performance GPUs — enabling app developers to write even more powerful pro apps and high-end games."
The company also promises improvements with Mac machine-learning capabilities through Apple's Neural Engine technology, already used by iOS, and we expect to see features like Face ID also transition to the Mac.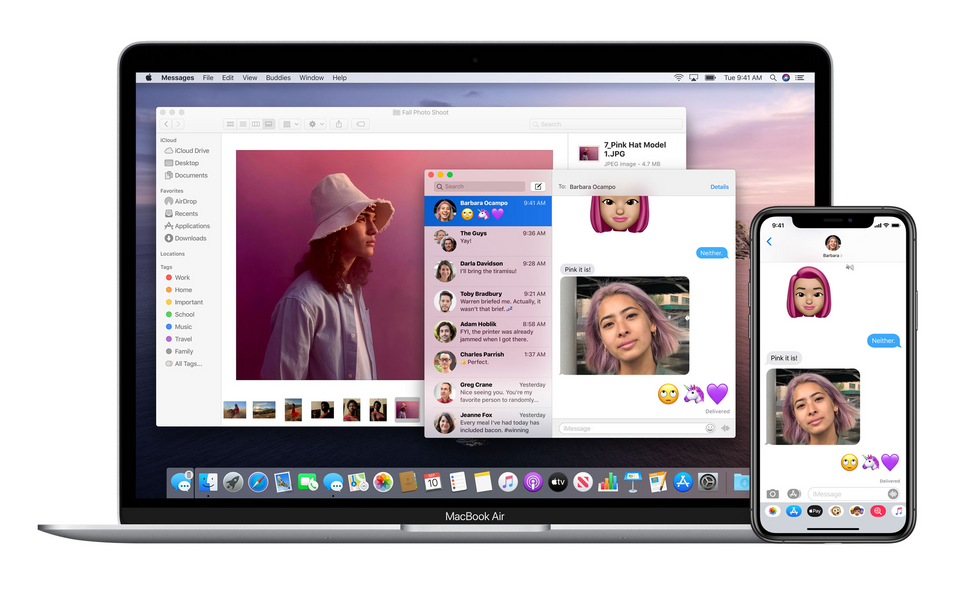 Apple silicon is expected to bring iOS and Mac products closer togetherApple
Speaking of transition, this has been a long process for Apple. Remember when iPhone applications began appearing on the Mac, complete with shared skeuomorphic design? That now looks like an early stepping stone on a path towards iPhones, iPads, Apple Watches, the Apple TV and Macs all sharing the same architecture, and similar interfaces too. Even the HomePod smart speaker and upcoming HomePod Mini use processors previously found in iPhones and Apple Watches, respectively.

With energy efficiency improvements comes greater battery life, which we hope to see with the new MacBook Air and MacBook Pro expected next week. Recent Macs haven't struggled with battery life, but a meaningful jump forward would surely be enough to convince many consumers of the benefits of Apple silicon. Greater performance will then appeal to professional users waiting for a new iMac (it's been a while, after all), while gamers might even be talked into switching from PC – an unthinkable move until now — in the coming years.
The benefits for Apple stem from having the same architecture used by all of its products, running on the same processors made using its own proprietary chip design.
Simply put, we can expect to see Macs that are faster, with better battery life, and which benefit from a synergy with Apple's other products that wasn't possible when using Intel processors.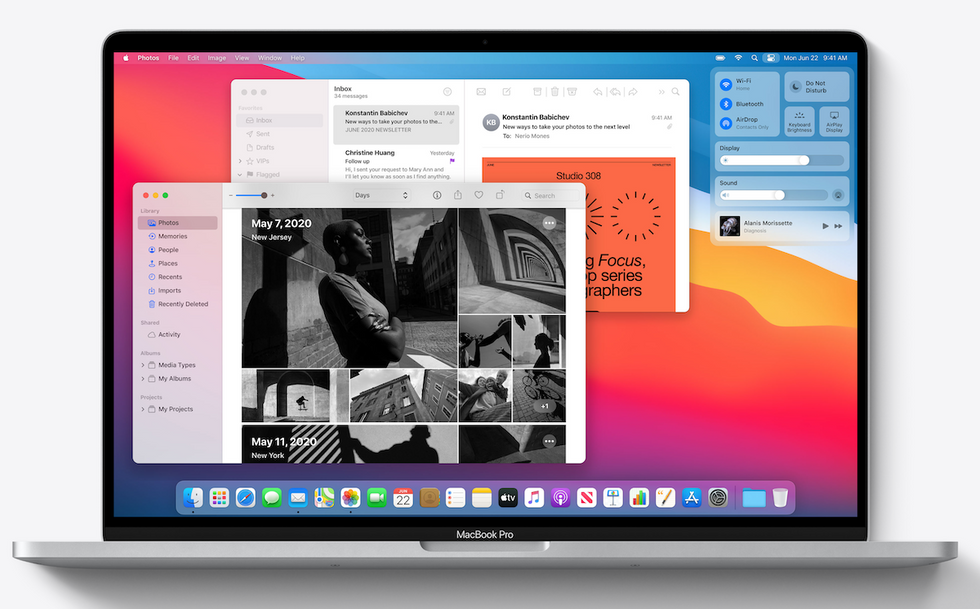 Apple's new Big Sur operating system is due out this fallApple
What will happen to Intel Macs?

Apple is no stranger to ditching technology it no longer wants to use: Firewire, the CD/DVD drive, the original iPod connection, headphone jacks, USB-A, iPhone chargers...the list goes on. But for the switch from Intel to Apple silicon processors, the company has pledged to look after owners of older Macs.
The company said earlier in 2020 it will "continue to support and release new versions of macOS for Intel-bases Macs for years to come and has exciting new Intel-based Macs in development." As such, the upcoming Big Sur will work on Apple and Intel-powered Macs.
Like GearBrain on Facebook