Like GearBrain on Facebook
Updated: January 31, 2019
How often do you want to make a quick call, but can't because your hands aren't free. Maybe you're skiing fresh powder with friends, driving to a meeting, or at work and need to reach out quickly but don't actually want to reach for your phone? Perhaps you also want to locate other pals or co-workers on a smartphone screen with a glance, finding the person closest to your location. That's the idea behind Onyx by Orion Labs, which GearBrain got a chance to review when Orion sent us a pair of devices to try on our own. Orion recently updated the features of its Android app, including making it easier to read in extreme daylight situations.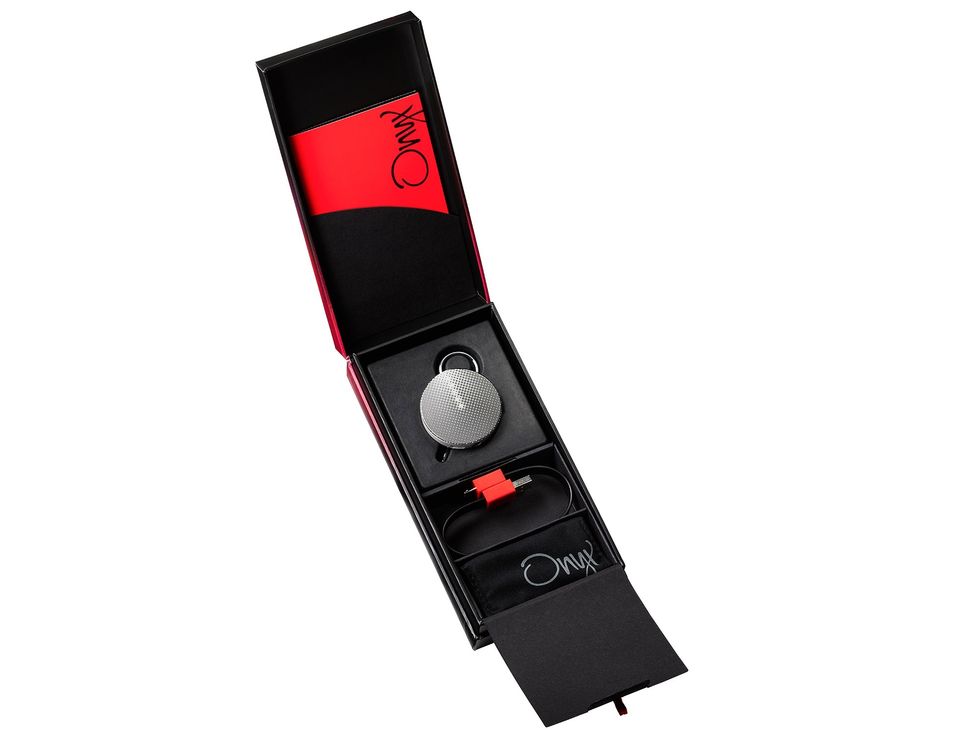 Unboxing OnyxOrion Labs
The Device - Onyx
Onyx is a small two-way communication device that connects to your smartphone via Bluetooth LE. The device uses the Wi-Fi or cellphone signal to connect to other Onyx devices. It's a smart walkie-talkie that comes in a decorative box, and includes a special pouch to carry your device and power cord when not in use.
It's lightweight (35g), measures 15.7 mm in depth (.63 inches) by 50 mm in diameter (2 inches), and includes a built-in rechargeable lithium-ion polymer battery. Onyx has a volume control, speaker, dual microphones and a headphone port in case you don't want to have a public conversation. The device also works with both Android (4.4 or above), iPod touch (5th generation and above), and iPhones 4s and newer. Note that if you have an iPhone, you will need your smartphone to be running at least iOS 8.0 for Onyx to work. Finally, the device comes in four colors, black, rose, silver and cobalt and there is a one year warranty.
Setup
The setup process for Onyx is very easy. The first thing you need to do is power up the device using the supplied power cord and adapter. When powering up your device, you can go to either the App Store or Google Play to download Orion Labs app for Onyx. Note that you need to search for Orion Labs—and not Onyx—to find the app.
Once you download the app, you need to make sure all your friends and family members who you want to communicate with Onyx also download the app. I found the app very easy to use, and very intuitive, when setting up the device as well as creating groups.
Orion's has added several new features to its Android app as of January 2019. You can now add group members with just one tap inside the app, you can also switch between multiple groups. For admins, group settings themselves are better organized, and more clearly designed. Orion also shifted the colors in the app a bit, making it easier to read in bright daylight, such as that blinding light that surrounds you on a mountain top while skiing. The map now shows in a split screen view too. The battery life of the Onyx device is also more easy to read — so you don't have to scramble to see whether the wearable is in danger of powering down.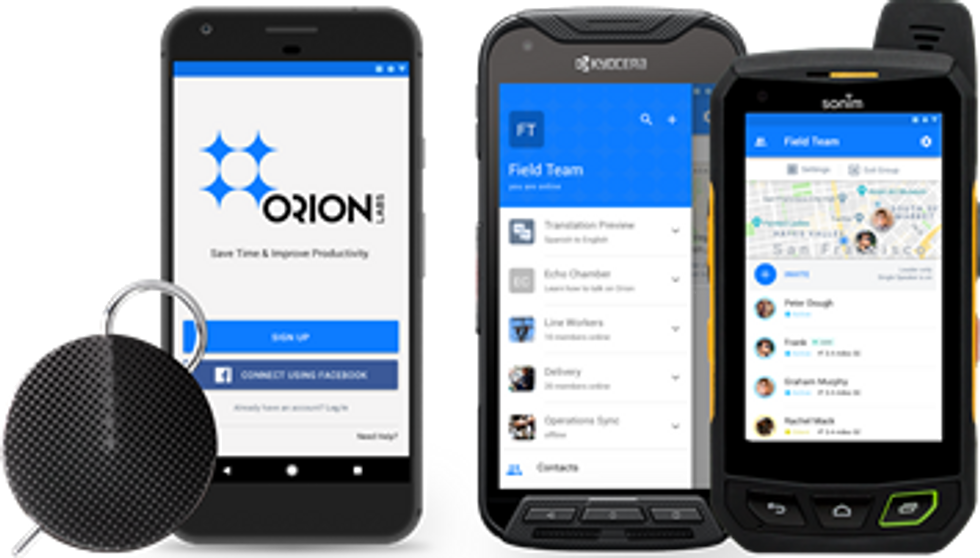 Orion added new features to its app including a split screen map viewOrion Labs
It is important to note that when you communicate through Onyx everyone in the group will hear you. Therefore, make sure you create groups depending on who you will be communicating with—and where. You can customize groups, from a work group or a friends group, or even a kids group. Just note that when you are signed into that group, everyone will be hearing your communication.

If you run into any problems during the setup process, you can use the help section of the app. We had a little issue at first when connecting our devices. The help section in the app was very helpful in finding a solution to our issue.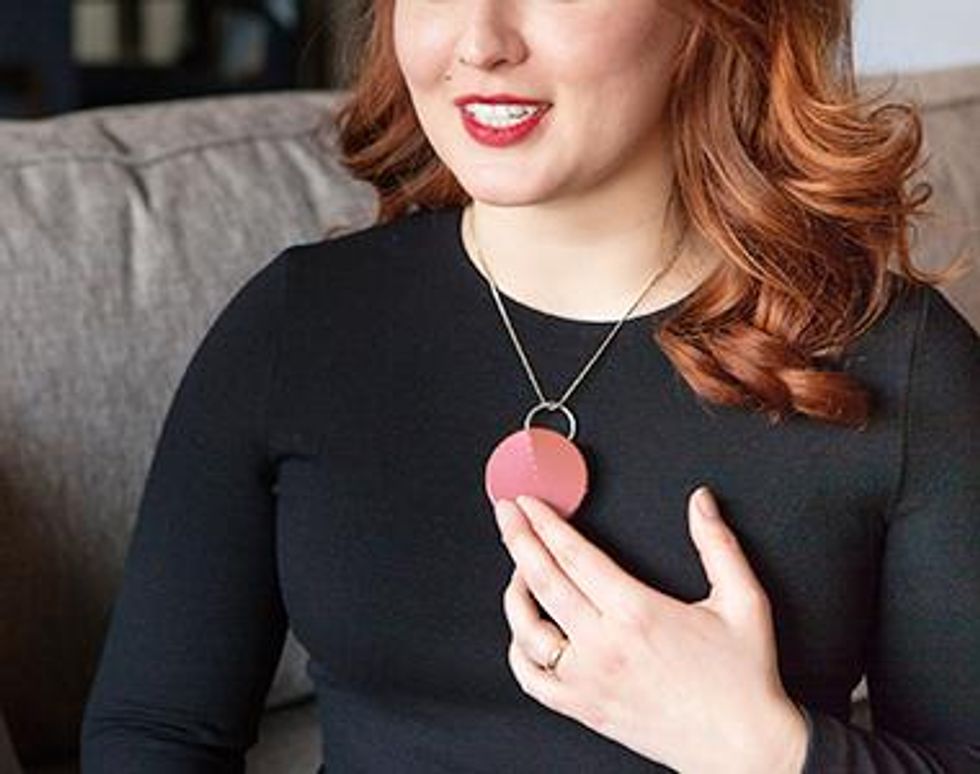 You can wear Onyx on your clothes, even as a necklaceOrion Labs
Connectivity

When we were done powering up our Onyx, we were ready to connect the device with the app. The app walks you through this process so it's very easy to do and quick. First, you need to pair Onyx to the app. This is just like pairing any other Bluetooth type of device and took only a few seconds. Then we turned the device to the right until we heard a ring saw Onyx light up in response. The app then asks you to match the colors you see on your Onyx to the colors on the app. Once matched, the app will finish the connection process. When complete, all you need to do with Onyx is turn the device to its "active" position (counterclockwise) and it will be ready to go.
Testing
I tried the device in a couple of places to test its connection quality and ease of use. First, my daughter and I used Onyx on a particularly windy day at our beach, which has a big distance between our cabana and the ocean. My daughter walked down to the ocean, while I stayed up by our cabana, and even with all the noise from the wind and surf, I could clearly hear my daughter and she could hear me. We just push the device, talked, and when we let go of the button, it sent our voice message over our smartphone signal to the other Onyx.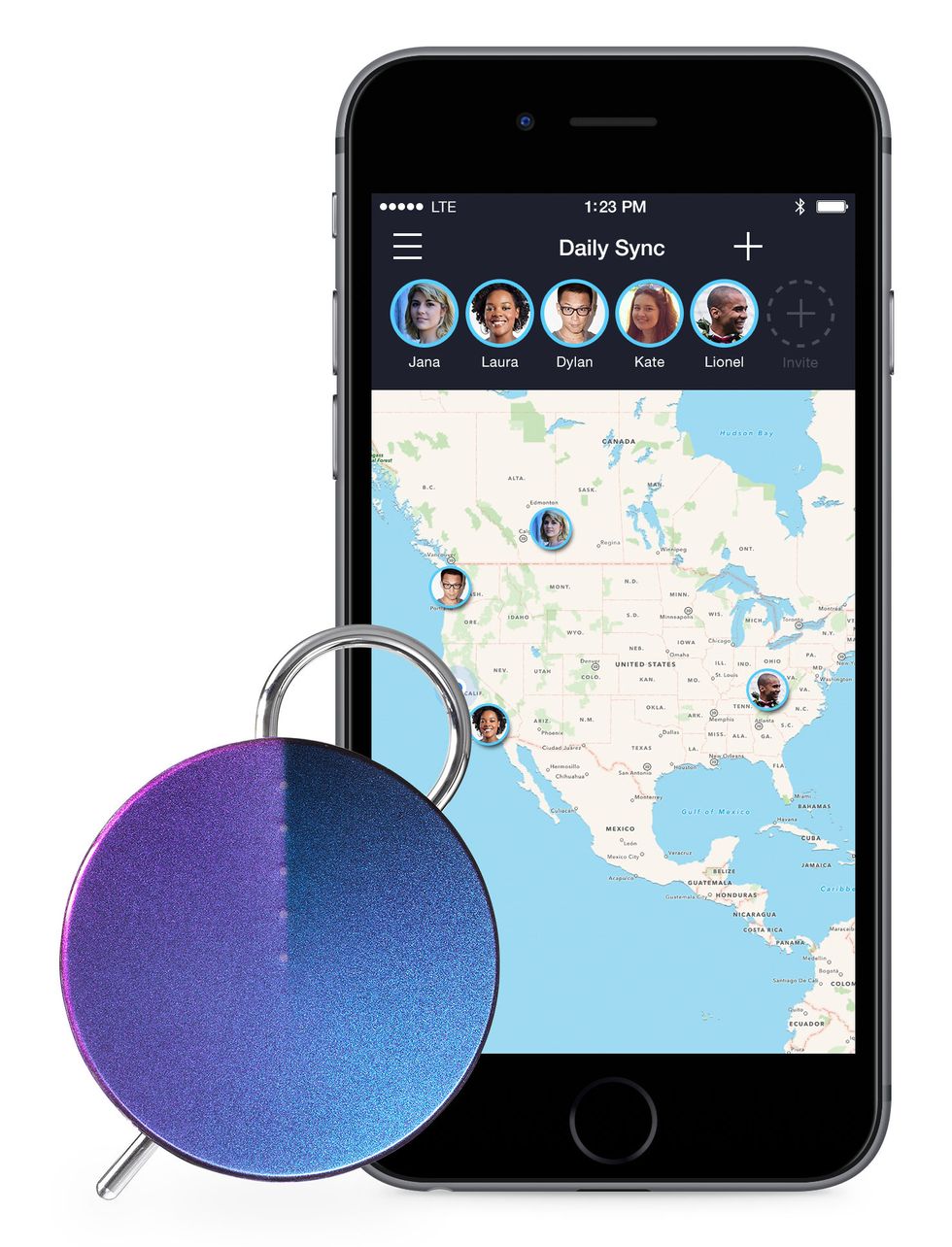 Onyx has a wide range.Orion Labs
The App - GPS

One of the nice features Orion Labs built into the Onyx app is a GPS locator. This is great for seeing where your friend, family member or colleague is located before reaching out to them. While testing Onyx with my daughter, I just looked at the app to see she was down by the water. This could be extremely helpful if you were at a trade show for work, and wanted to locate colleagues. Or you went to Disneyland with family, and got separated from the rest of the group. You could find them with just the push of a button, and even let them know which ride you were heading to next.
For my second test, we took a test drive in separate cars, as I wanted to see how the hands-free feature would work. Again, the sound quality was clear and Onyx was very easy to use, and I found you don't have to talk right into the device. Although Onyx is a smart walkie-talkie, you don't have to use it like one. Instead, you clip the device on to your shirt, blouse, jacket or even a necklace chain and just talk. The device will pick up your voice and deliver a clear sound to the person on the other end.
Who Would Use this?
After testing Onyx, I started thinking about how the device could simplify communication needs for others. The first thing that came to mind was event planners, who could easily put this to use during an event. Both the device and GPS locator would be valuable—and timely—in keeping track of staff, and keeping a wedding, for example, on track.
With winter coming, I thoughts skiers and snowboarders would certainly put Onyx to the test as someone always leaves the pack while going down the mountain. However, I wasn't sure if the battery life on Onyx would last a whole day on the mountain let alone in the cold. (Cellphone's batteries drain quicker in the cold then in the heat.) Orion Labs informed me their devices have been tested in various temperatures and worked fine. Also, the devices are as water-resistant as any smartphone today. (We will be updating this article if we find the device doesn't work in the cold as well as Orion Labs notes, or if getting wet from some snowflakes or two also impairs its abilities.)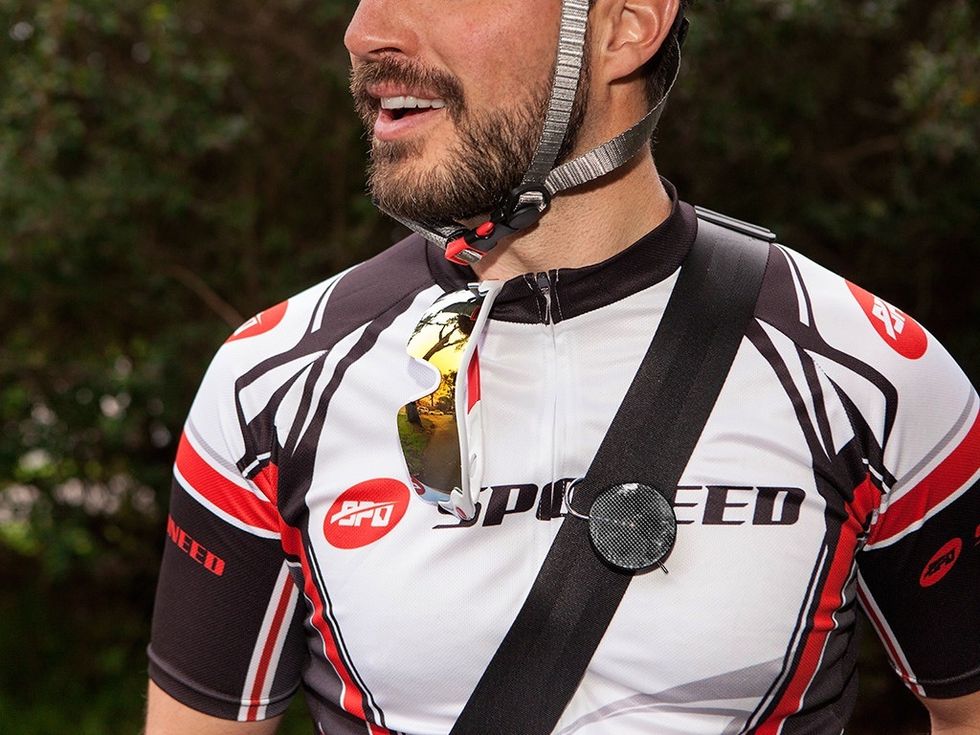 Cycling teams would put Onyx through its paces easily.Orion Labs
Onyx is good for anyone who doesn't want to miss a moment by being glued to a smartphone. Here is a list I came up with of different ways for you to consider using Onyx to improve your communication with friends, family or colleagues:

attending sporting events in large stadiums
outdoor activities like hiking, biking, running or walking
sightseeing
attending trade shows or conferences
business can use to communicate with employees on the road (i.e while making deliveries or sales calls)
working parents communicating with kids when they are out of school. You can also see where they are after school.
Overall, I really like Onyx and could see where the device could be helpful to a wide group of consumers. However, one thing you need to keep an eye on when using Onyx is your cell phone data, especially if you have a limited data plan and don't want any overage charges.
Onyx is also working on an integration with Amazon's Alexa, expected to launch in October. We will also update this review, when we can test the feature.
Onyx is available at
Amazon LaunchPad
,
b8ta
and through the D&H network of dealers and resellers today, and retails from $199.99 for a pair of Onyx (MSRP of $249.99), with additional single devices starting at $129.99. This price might be a little steep when you first look at it or were to compare it to a walkie-talkie. (i.e. Amazon's best selling walkie talkie is Motorola MH230R 23 Mile Range 22-Channel FRS/GMRS Two-Way Radio (Pair) is only $42.99.) However, Onyx is not as bulky as a walkie-talkie. It's more decorative, has a GPS locator and covers in a larger range than 23 miles. And the device works off a secured connection. The question you need to ask yourself is this: How much are you willing to pay for two devices that have these type of features?
Summary
As voice becomes the new app and starts to help with adoption of new connected devices which can make our lives more productive and enjoyable, devices like Onyx can play a key role for consumers. "Voice is often our most natural communication tool," said Orion cofounder & CEO Jesse Robbins. "With the new Onyx, we start with the ease and intuitiveness of voice, and amplify its effectiveness with the versatility and rand afforded by modern technology. This brings us one step further in our vision to create the most streamlined communication experience ever available on the market." And I agree. (To learn more about voice activation, you can visit GearBrain's
Voice Is The New App
.)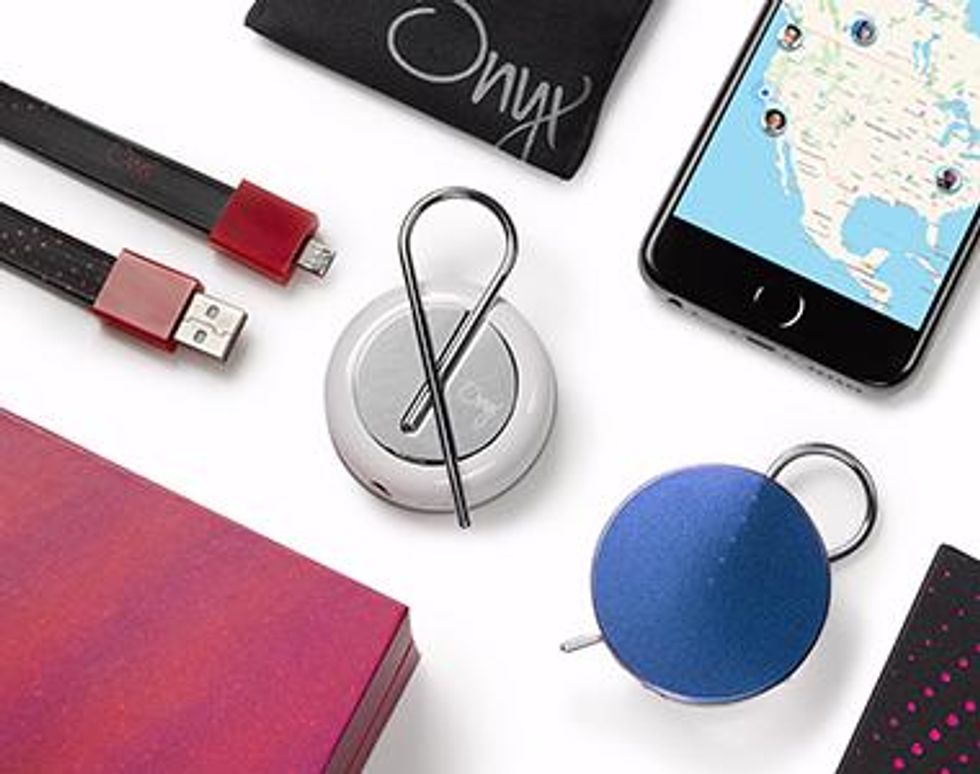 Orion Labs Onyx is a Smart Walkie TalkieOrion Labs
Pros:
Simple setup and lightweight
Push-to-talk and hands free
GPS locater
Cons:
Uses cellphone data
Button is a little big
Need to have cellphone close
Like GearBrain on Facebook