Like GearBrain on Facebook
Opener, a Canadian flying car startup, claims its electric one-person flying machine can be flown without a pilot's license.
Called the BlackFly, the strange looking flying machine is claimed to fly for 25 miles at speeds of up to 62mph. It can carry one person, is fully electric with a charge time of 30 minutes, and has a fixed-wing, vertical takeoff and landing (VTOL) design.
Read More:
Taking its first public test flight this week (July 12), the BlackFly "is simple to master and requires no formal licensing (in USA) or special skills to operate safely," Opener claims, adding that the vehicle also has "full amphibious capabilities," making it capable of taking off from and landing on water. Opener, which has received funding from Google co-founder Larry Page, has suggested the BlackFly will cost approximately the same as an SUV.
The BlackFly joins a surprisingly popular market, with companies the world over investing money in 'flying cars' capable of transporting one or two people across short distances, beating city road traffic. Slovakian company Pal-V put its Liberty flying machine on sale this year, which can drive on the road and fly through the skies.

Uber is also investing in the future of personal flight with its Elevate division, and Audi is working with Airbus to make its flying car concept a reality in the coming years.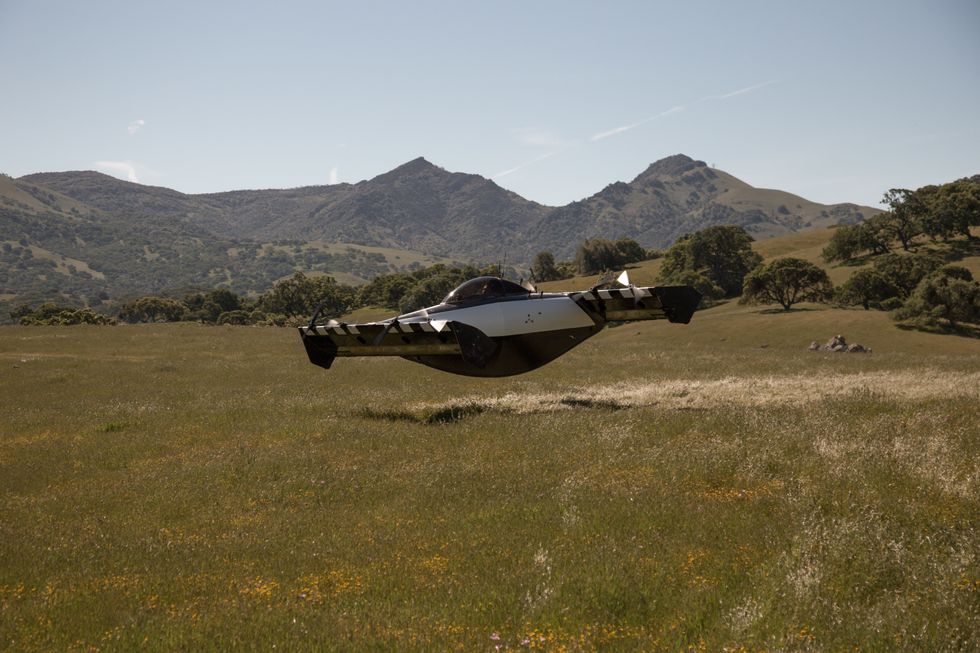 The BlackFly is designed to take off from grass or waterOpener
Opener has spent the last nine years in 'stealth mode', developing the BlackFly in secret. The company claims the vehicle can survive multiple motor failures because it is powered by eight motors (or "propulsion systems") spread across its two wings. Opener claims to have already conducted over 1,000 test flights and flown more than 10,000 miles while developing the BlackFly.
The flying machine has an automated return-to-home function for when the pilot wants to get back to their start point, and there will be an optional "ballistic parachute" for added peace-of-mind.
Echoing that of others in this space, the company's long-term goal is "to integrate these highly-efficient vehicles into a rural/urban commuting network. These networks would be powered by renewable energy sources requiring only a fraction of the transportation energy used currently."
Darren Pleasance, from the board of directors of the Experimental Aircraft Association, said: "I just saw the future. Watching BlackFly take flight just blew me away. I've never seen anything like it...Opener has made a huge step forward in bringing the Jetson's world to life."
Like GearBrain on Facebook