Like GearBrain on Facebook
Established automakers are starting to think seriously about flying cars, as both Audi and Porsche reveal they are interested in taking to the skies to avoid city traffic.
Both owned by the Volkswagen Group, the two companies used the Geneva motor show this week - open to the public from March 8 to 18 - to give an insight into their plans for flying cars.
Read More:
While Porsche used only interviews with the press to talk about the potential for flying vehicles, Audi went a step further and announced a partnership with Italdesign and Airbus. The companies presented an electric vehicle called the Pop.Up Next, which combines a small driverless car with a detachable drone.
Admittedly described as a plan for the "distant future", the idea is that a lightweight, two-seat pod can be fitted to a chassis with four wheels and autonomous driving technology for regular commuting, or to a quadcopter drone for flying above the city traffic. There are no details yet on speed, altitude or range, but the very fact companies like Audi and Airbus are making such prototypes says a lot about their position on vehicles like this.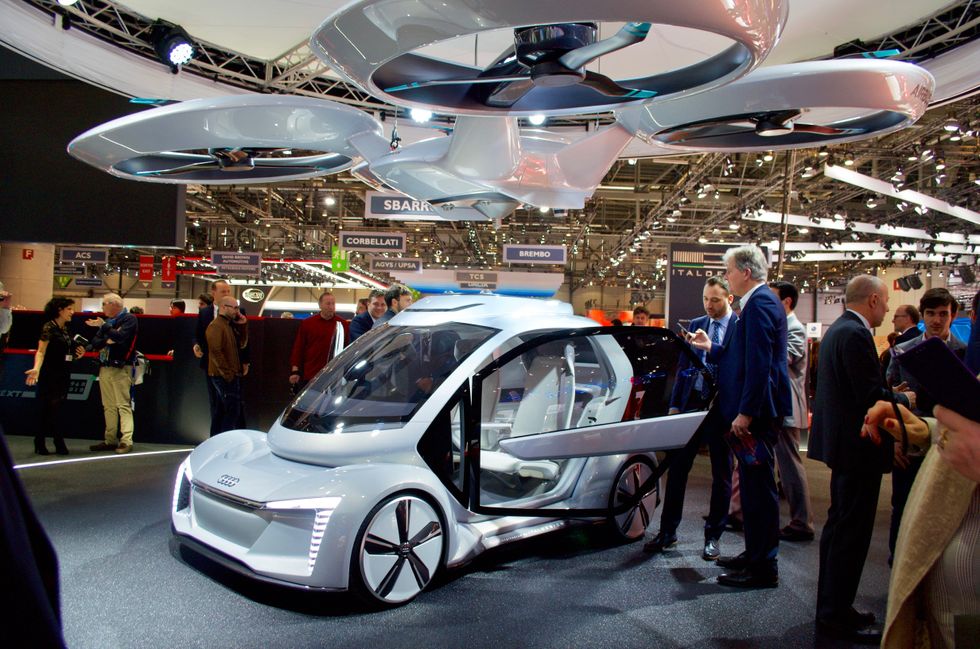 The flying car is on display the Geneva motor show until March 18GearBrain
Inside, there are no driving or flying controls at all. Instead, passengers are presented with a giant 49-inch touchscreen which stretches the entire width of the cabin. The infotainment system also includes speech and face recognition and eye-tracking.

Audi's role in the project is to provide expertise on battery technology and automation, while airliner manufacturer Airbus focuses on the four-rotor drone and Italdesign works on the aesthetics.
Dr. Bernd Martens, Audi board member and president of Italdesign, said in a statement: "Creativity is needed where new mobility concepts for cities and people's diverse needs are concerned. Italdesign is an incubator for innovation technologies and radical prototyping. Pop.Up Next is an ambitious vision that could permanently change our urban life in the future."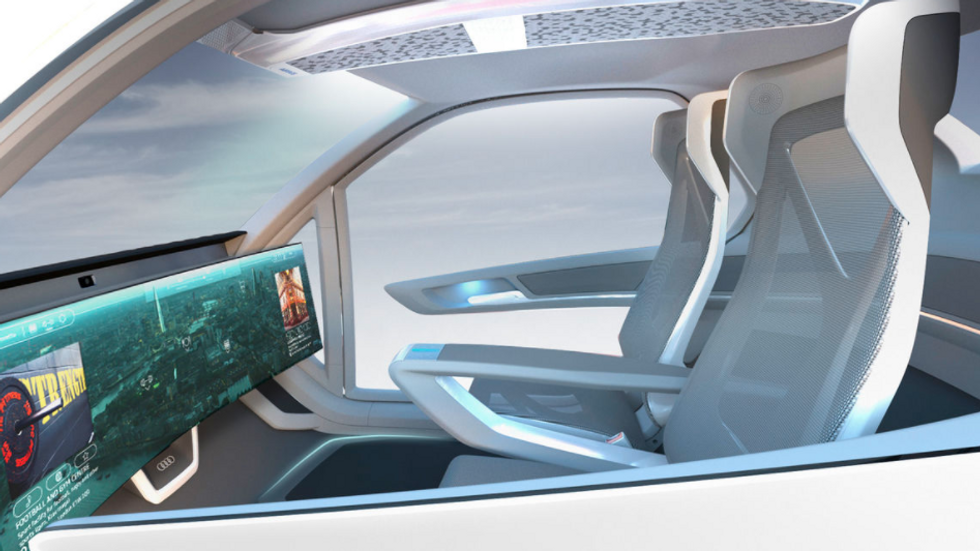 Inside there is a 49-inch touch screen for passengers to enjoyAudi
No longer science fiction, a diverse range of companies are investing serious money, time and effort into flying cars. Uber has its Elevate project, while Geneva also saw Dutch firm PAL-V show off the production version of the Liberty, a flying car which it is taking deposits for now, and which it says will be delivered to customers (along with flying lessons) in 2019. This revolution comes as car makers work out what the future of mobility should be, and what part their century-old businesses can play to stay relevant.
Jörg Astalosch, CEO of Italdesign, said: "Various players will define the rules of urban mobility in the future. We are proud to collaborate with Airbus, the leading company in the aerospace industry, to investigate solutions for future mobility."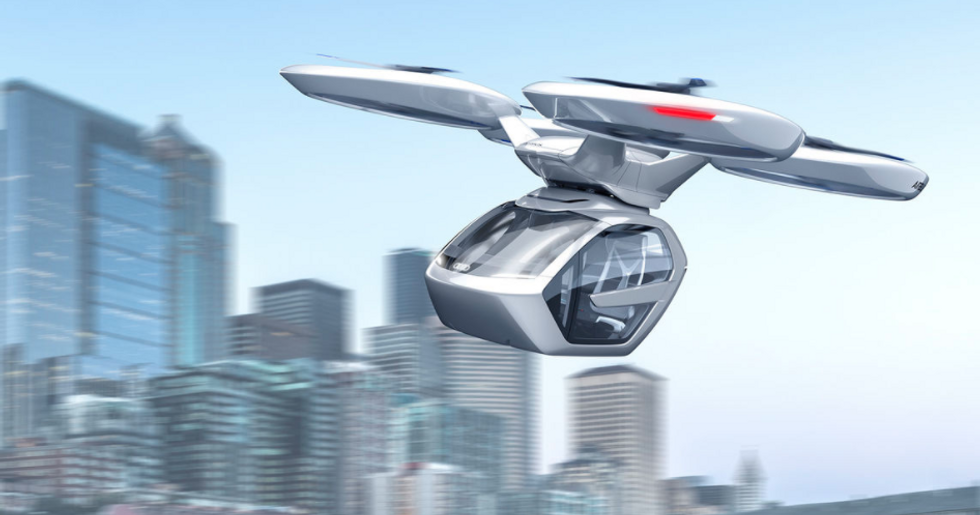 The cockpit detaches from its wheeled chassis for flightAudi
Meanwhile, Porsche R&D chief Michael Steiner told Reuters at the Geneva show that his company is in the early stages of drawing up blueprints of flying taxis for use in urban settings. "We are looking into how individual mobility can take place in congested areas where today and in future it is unlikely that everyone can drive the way he wants," Steiner said.
Like GearBrain on Facebook