Philips Hue is launching a new line of living room lights that help cast indirect light from the floor, table top or behind a TV or furniture. Called Hue Play and Hue Signe, the two lines both make use of Philips Hue smart lights, enabling them to shift throughout both the white and color spectrum, 16 million options in total.
Light bar
Hue Play is a thin light bar that can sit horizontally to beam light against a wall — the company sees the fixture as a way to paint the wall with lights. They're decently sized, about nine-inches long, and can be used in multiples, either casting the same color in tandem, or different ones as well. Up to three light bars can also be plugged into just one electrical socket: the company gets the issue many of us face with multiple devices plugged in, particularly behind the TV set.
The fixtures themselves come in just two colors: black or white, and can be laid horizontally or can stand up vertically as well. Philips Hue sees Play as a way to paint the wall with light, connecting to the Philips Hue Bridge and its smartphone app. The light bar also works with Hue Sync, which links Philips Hue lights with music, movies and gaming, changing the light scenes in line with entertainment playing in your home.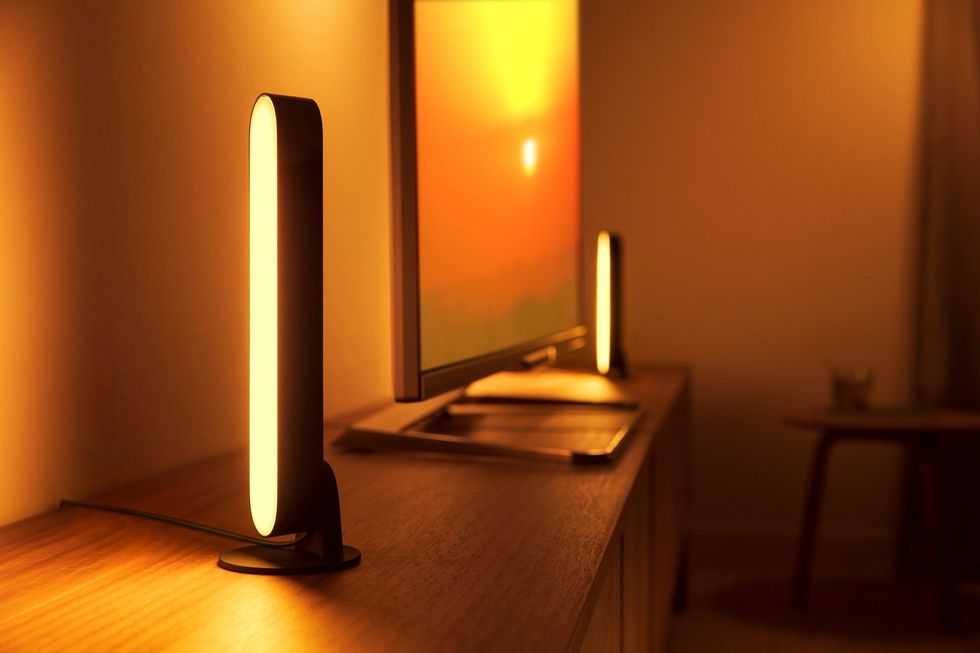 The Hue Play lights can be lay flat or stand up, with three plugging into one socket to minimize congestion behind a TV or bookshelf.Philips Hue
Vertical lights
Hue Signe is a long, slender lamp designed for the table or floor, a much more streamlined look than Hue Play. They have a bit of a 1960s Modernist design, and come in two sizes, depending on where you place them, and they too connect to the Philips Hue Bridge and app, as well as Hue Sync.
These are lamps that can't rest on their side because of a thick pedestal at the bottom. The light itself beams from the long pencil-thin extension that rises from the base — and the entire set-up feels heavy and stable.
Philips will release the Hue Play in mid-October in the U.S., pricing a two-pack kit for $130 or one pack-kit for $70 — extensions are $60 each. Hue Signe is available in October in the U.S. for $160 for the table lamp, and $250 for the floor version.
Check out The GearBrain, our smart home compatibility checker to see the other compatible products that work with Philips Hue smart lights.