Summer is here and there is nothing better than cooling off in your pool or your new best friend's pool. But with the current pandemic, there is heightened awareness for the need to be aware of other health risks that can come from using a pool or hot tub. You don't want to jump into water with too many chemicals, which can make not only you sick but friends and family too. Luckily there is a new smart solution for smart water monitoring to help prevent this from happening —pHin, a smart water monitor which helps pool owners tackle these issues and keep their pool and spa water clean and clear at all times. We recently tested pHin and here is what we found.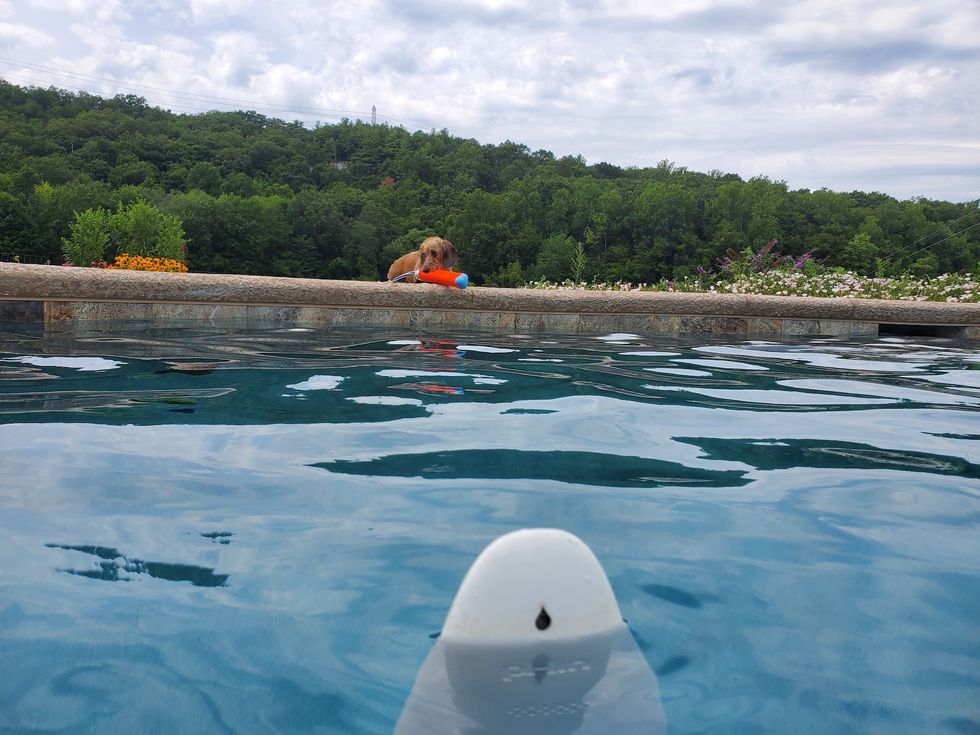 pHin Smart Water Monitor works in pools and hot tubs.GearBrain
What is pHin?

A smart water monitor, pHin works with an app that connects to your home Wi-Fi network, monitoring the health of water in your pool or hot tub. This little sensor can measure the pH, sanitizer and temperature levels of your water more than 1,000 times per week. pHin has built-in intelligence which can collect all the environmental factors that affect your water from the weather to how often you use a pool or hot rub, even the sunlight exposure. After examining all the data, pHin then creates recommendations on when it's time to add chemicals, plus the right amount too. This continuous monitoring and notifications are what makes pHin different and better than old traditional ways of monitoring your pool water.
How often do you need to test your water?

pHin prompts you when it's time for a monthly test strip to determine your pool's cyanuric acid, total hardness and total alkalinity levels. For those of you who are new pool management, cyanuric acid is a stabilizer for chlorine in swimming pools that are exposed to sunlight. Sunlight's ultraviolet rays can reduce chlorine in a pool. With pHin, you can monitor these levels and provide proper sanitizer levels. Total alkalinity is the measure of the buffering ability of pool water. If your pool has too much alkaline, the water can turn cloudy which is not good, but pHin is designed to help prevent this from happening.
What comes with pHin?
This smart water monitor comes with the sensor, a wireless bridge and a mobile app. The company offers a one year warranty and a one year free monitoring subscription for alerts and chemical recommendations. The monitoring subscription costs $99 per year, but all first-time buyers get the first year free. After the first year, users will be charged, but note you will get a one year product replacement extension with the renewal.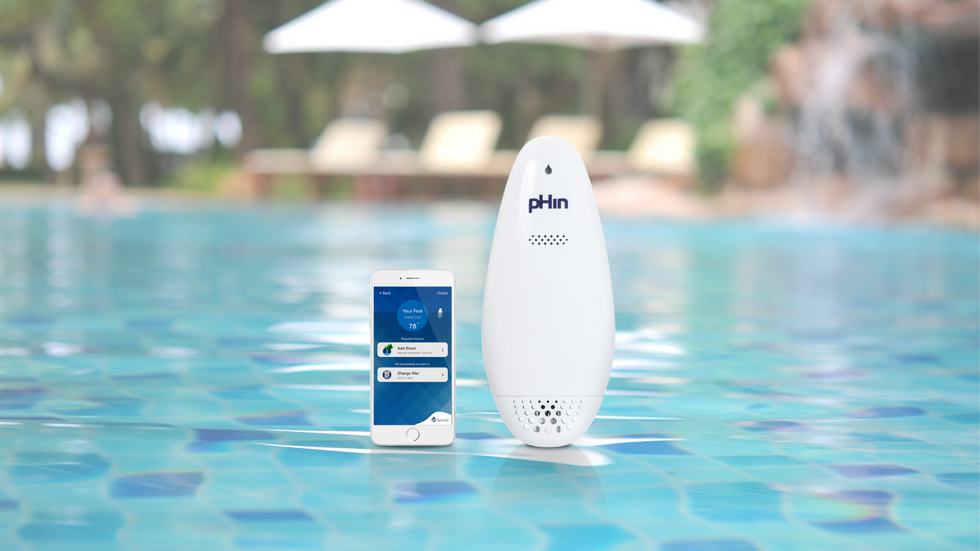 pHin Smart Water Monitor with free iOS and Android app.pHin
Price

The total cost for pHin is $349 and it's available at most local pool stores as well as online on the company site and Amazon. You can search for your local pool retailer on pHin site here.
What do you get with a pHin Monitoring Subscription?

With a monitoring subscription, users get real time advice on the health of your water, dosing recommendations and more, all stored in the mobile app for safe keeping. We found the detailed instructions easy to follow.
The monitoring service includes water history reports, dosage directions for each chemical, alerts, when to do your monthly tests for total alkalinity, total hardness and cyanuric acid. You can also share your water data with family and friends and order new chemicals at your local pool store. But the best part of the monitoring service is the unlimited pHin monitor replacement in case of failure.

The pHin app uses simple color-coded discs to show you how healthy your water is and when it starts to go bad, you will get alerts to your Android or iOS smartphone telling you when and what chemicals to add to your water, which pHin's app will tell you. Plus, if you scan the product's barcode, it will tell you the exact dosage to add. We think that's a nice feature.
In the pHin app, you can view, daily, weekly, monthly and 90 day periods of your water's health. This is the daily view.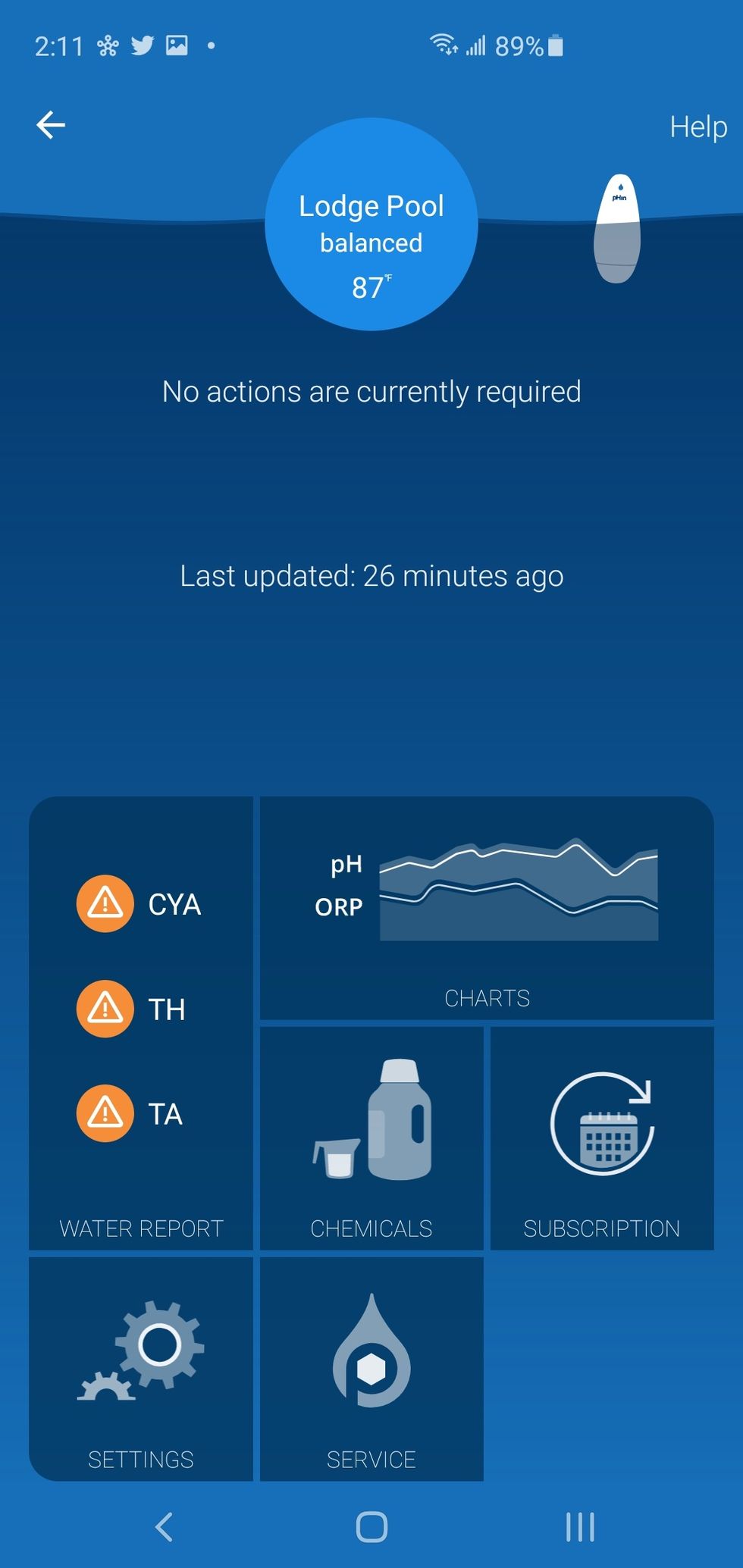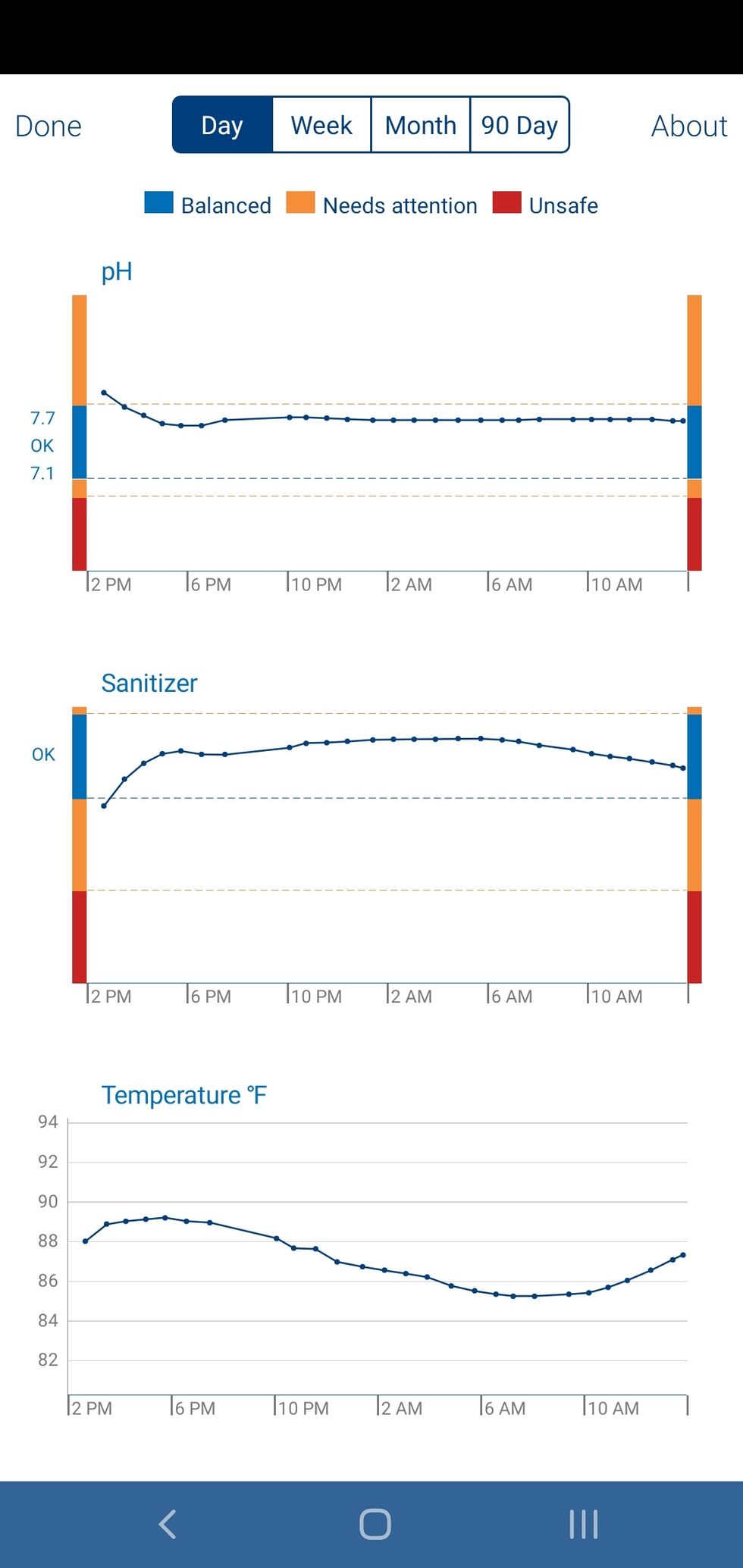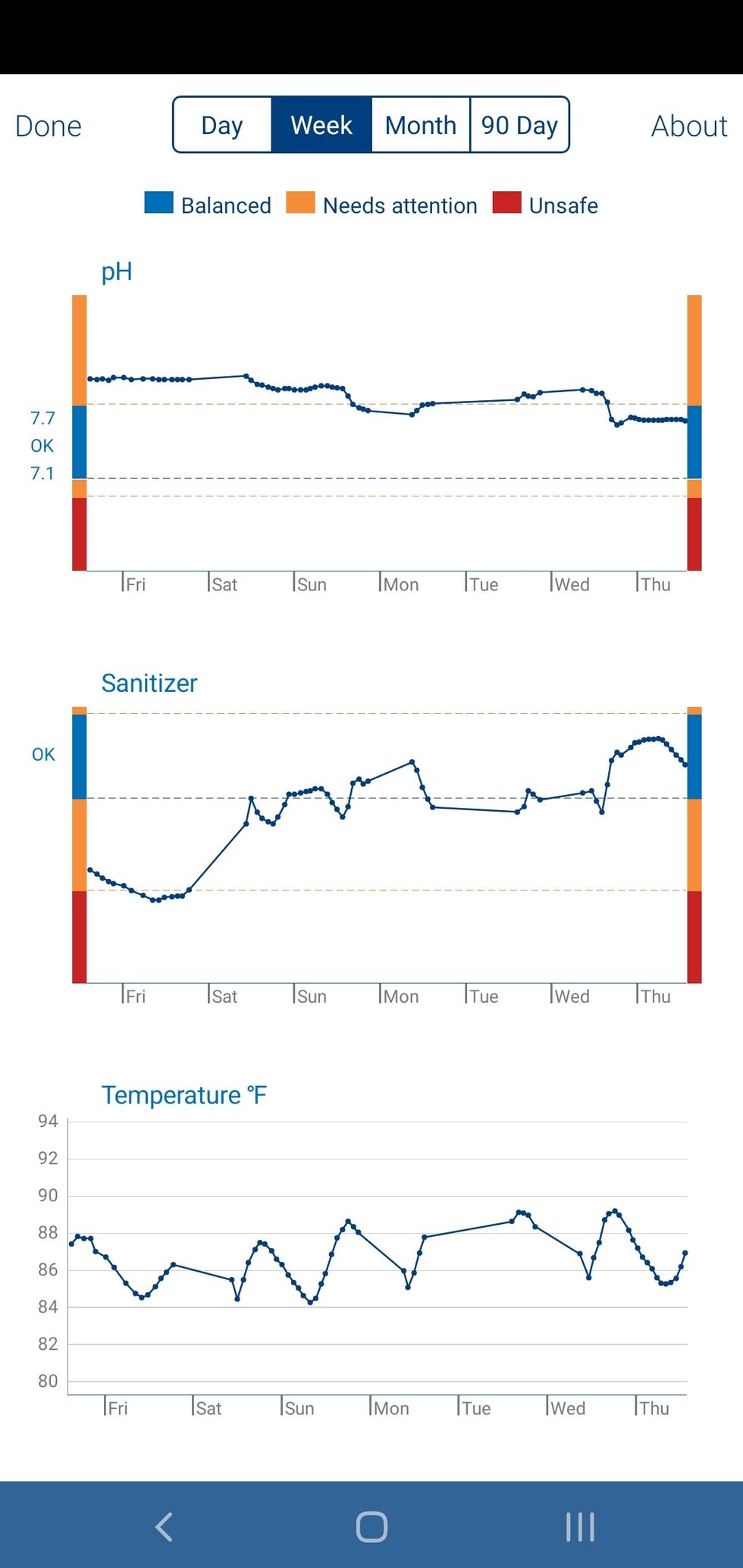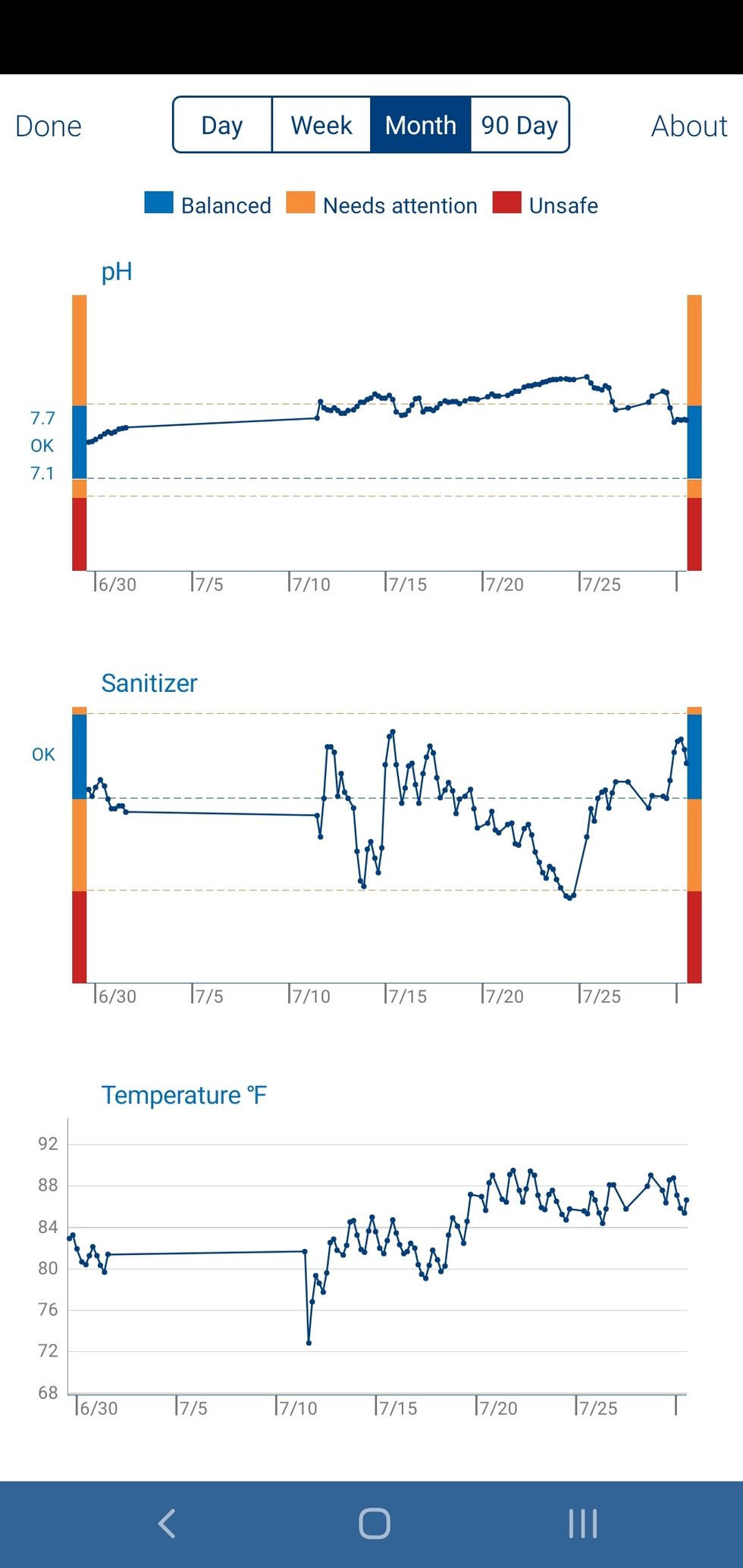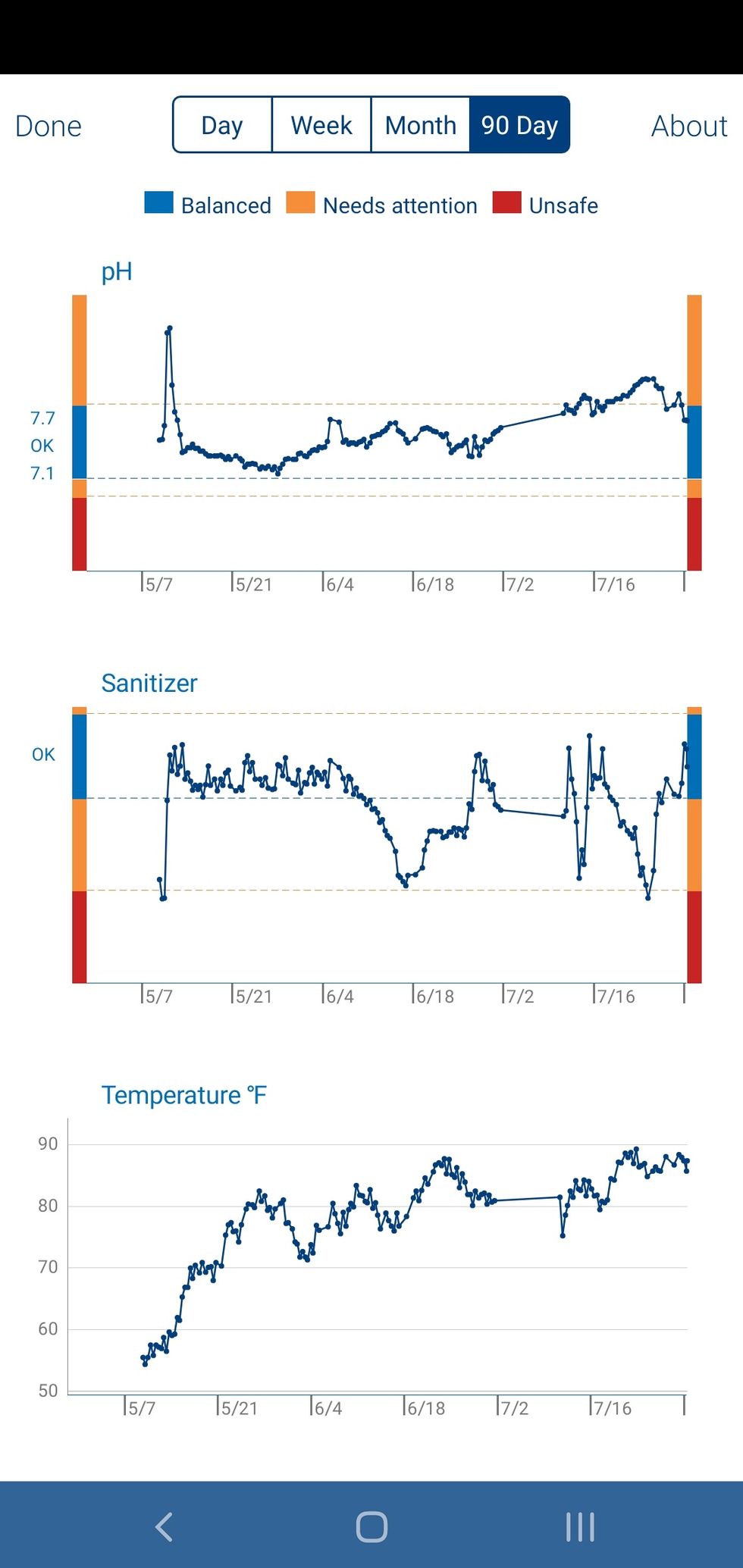 Performance

When GearBrain tests products, we don't use a lab or the office. We put the device in the real-life environment it's supposed to be and monitor the performance of the smart device. For pHin, we tested this smart water monitor in a pool and hot tub in an outdoor pool, just as summer started.
One of the first issues we ran into was connectivity. We had to make a few adjustments to our own home network, and add pHin on as an older 2.4GHz device in order for our home's network to recognize it and connect to the Wi-Fi. We suspect if you have a simple 2.4GHz Wi-Fi connection and your Wi-Fi is close to your pool, you will be fine. But you should check the Wi-Fi signal at your pool prior to setup to see if it's strong enough to receive a connection. If you run into any first-time connecting issues with pHin, try connecting pHin to your home network by standing next to the modem. Then once connected, move the device to the pool area.
The second issue we faced had to do with the status of the pool water prior to setting up pHin, as it's designed to work with pools or hot tubs in good conditions at the start. If you're opening a pool after the winter, as we were, your water most likely will be cloudy and green. When you follow instructions in the app, you have to complete a 3 checkmark checklist or you can't move forward with installation. The checklist items ask if the pool was not cloudy or did not have algae. Since we were opening the pool for the first time this season, it was cloudy and a little green. Therefore, the app would not let us continue the setup process.
We would suggest that the interface offer options for those who can't mark off all three items, with a button that reads, perhaps, "My pool does not pass," plus pop up instructions on what to do next. Forcing a customer to have to check them all off to continue, ensures that you now have the wrong data.
Besides these distractions, we found the setup process to be very easy once we connected to our home Wi-Fi network. We think pHin performed extremely well and it's a smart device for any smart home with a pool or hot tub. It makes managing a pool easier and enjoyable, and the pool and hot tub remained crystal clear during our tests, without any taste nor smell of chlorine.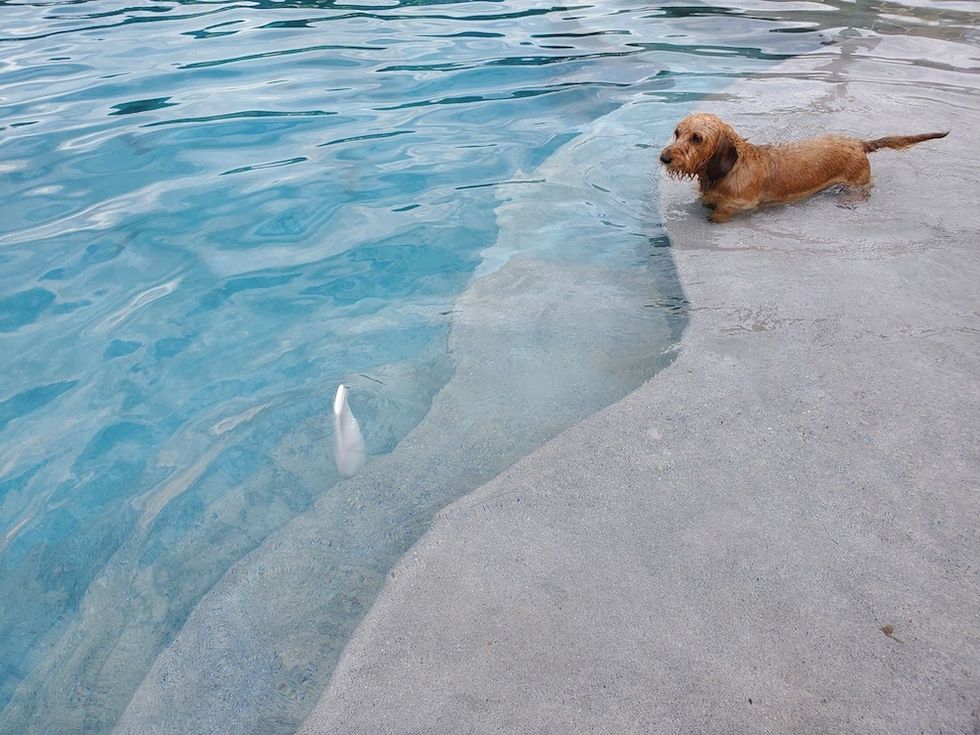 Even the dogs like pHin because it keeps the water clean and clear for them to swim.GearBrain
Smart Home Integrations

In terms of smart home integrations, pHin does work with Amazon Alexa. If you have an Amazon Alexa-enabled device, like an Echo or Echo Show, you can set up the pHin skill using the Alexa app. You will need your pHin username and password to connect the Alexa Skill with your pHin.
Summary

If you own a pool, hot tub or swim spa, we think pHin is a must have smart device. It makes water management easier, safer and enjoyable. It's not complicated and helps assure your water is clear and clean all the time. You can even manage your water remotely, which is a nice feature. Just make sure you have a good Wi-Fi signal by your pool or hot tub.
Pros:
Ease of Use
Works with pools, swim spas and hot tubs
Makes pool management easier
Cons:
Works only on 2.4GHz Wi-Fi connection
Need Wi-Fi signal by pool
Monitoring subscription fee after first year.