Like GearBrain on Facebook
Pros: Easy to install, app is simple to use, upgraded with AR to gamify experience

Cons: Cumbersome phone attachment, only iOS for now, pricing more expensive than other trackers
Trackers are not new to the smart home marketplace. We've reviewed at least one in the recent past. Pixie, though, is one of the first to use augmented reality (AR) to help you find the things you've lost. AR turned into a household tool over the summer with the rocket success of Pokémon Go. So when the company offered to let us try their upgraded product, we accepted.
Pixie Tracker came on the scene in 2015—an app and tool that turns your phone into a locating device. The company has revamped its original solution. Launching today, Pixie now uses AR—overlaying images of colored pixels as you look through your camera view, to help you find what you're missing. Cool? Sure. Much more helpful than just a simple 'X' marks the spot that the device previously used? It's certainly more fun.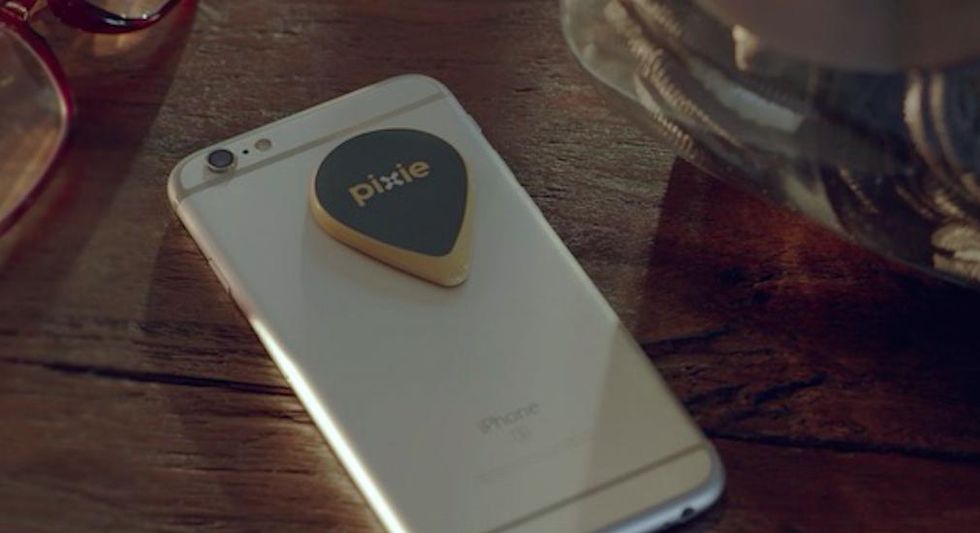 Getting started
We tested the set of four Pixie Points, which retails on the site for $99.99. (A set of two Pixie Points is priced at $49.99) The Points are water and dust resistant, and have a battery life of 12 months. The four-pack includes one Pixie to attach to the back of your iPhone, and three to use on items you want to track. Each has a sticker on the back to attach to a flat surface, and you also get tags that hold the Points if you want to link them to keys, for example. The trackers aren't small—they measure about 2-inches by 1.5-inches—and aren't going to be ideal to link to your eyeglasses, for example. I chose to attach mine to my dog's leash, my keys and the household dental floss. (Yes, we lose this often in my home.)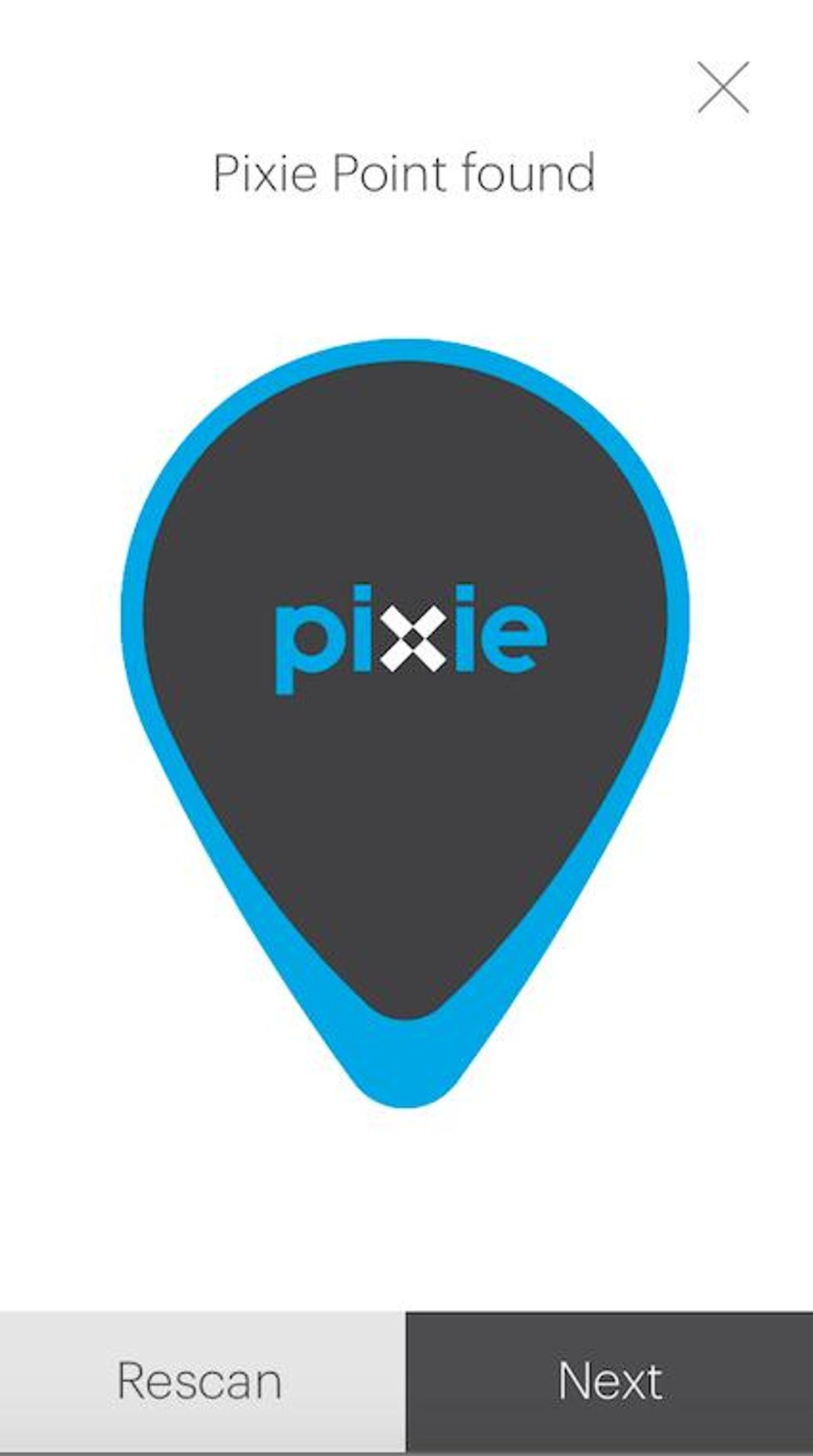 After downloading the iOS app, the interface walks you through on how to connect your Pixie Points to the system. (Pixie says an Android app should come later this year.) You place the tag next to your phone, and click connect so it can read and link the Pixie. The app then prompts you to name the Pixie—I went non-fancy, labeling the Point for my keys, "Keys," and so forth. The entire operation took about two minutes.
Finding my way
Pixie keeps track of each time your item connects to your app. That's certainly handy if you drop something on a walk, or if you know something is in the house, like your keys, but can't find them. As you launch the app, you click on the image of the Point for the item you're trying to find. The app lets you view a room—or frankly wherever you are—using your camera in what the app calls a Panoramic Scan, showing a glowing group of pixels that mass as you get closer to your lost thing.
One problem I had immediately was being told I had a poor signal as I moved around my home. I live in a two-bedroom apartment in Manhattan. I don't live in a large space. I can hear water running from my bed in the kitchen. If you have a large home, and have poor Wi-Fi reach, consider this when using Pixie. (Also consider checking out our most recent Wi-Fi overview.) Because you need to be connected to Wi-Fi to use Pixie, having to move around to first connect to the app, before starting my search, was not ideal.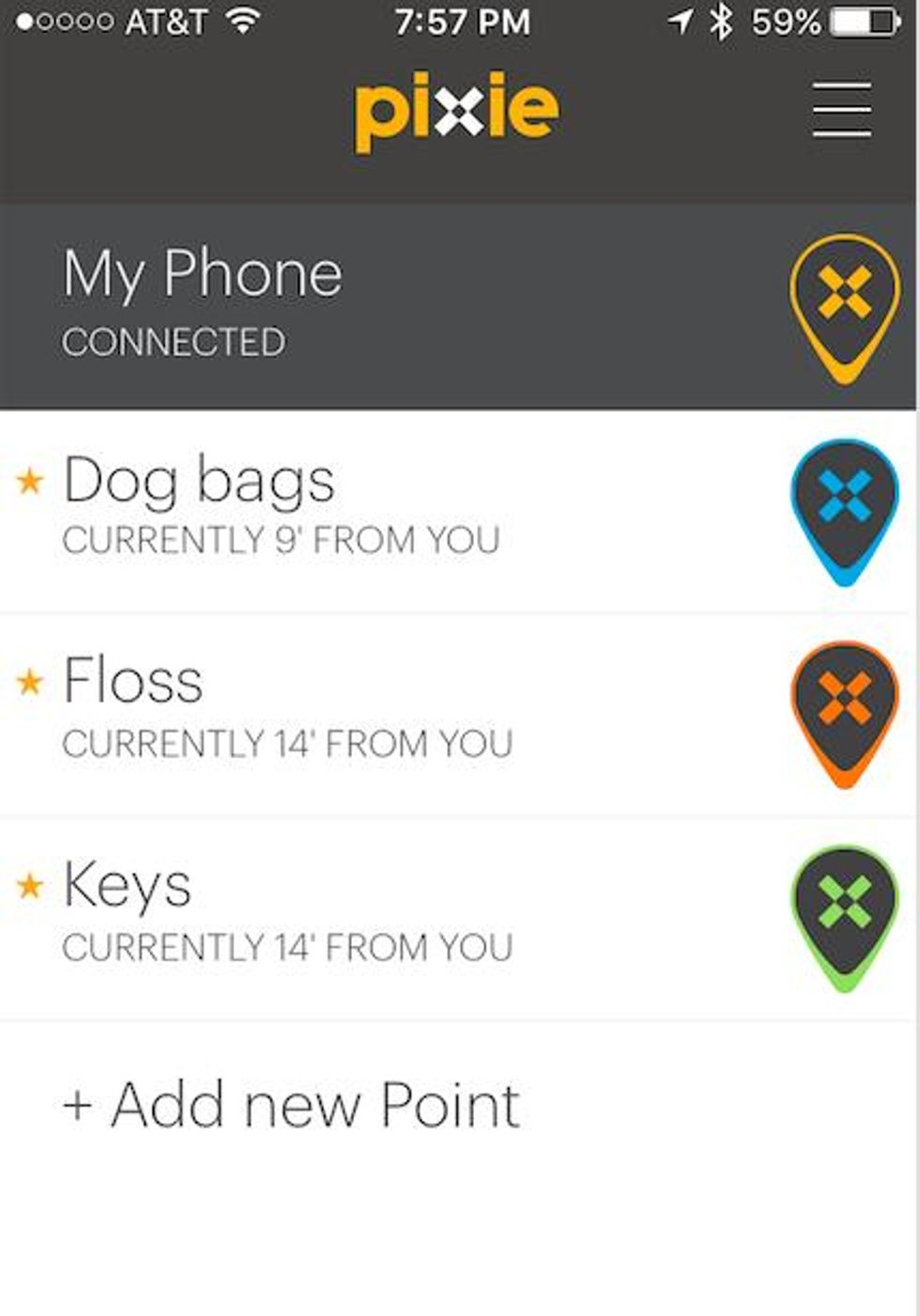 While Pixie can keep track of its Points, you have to ask for them to connect. For example, our dog's leash had been in the apartment, near my phone, for an entire day. But when I opened the app to check in its location, Pixie gave me the leash's last known spot from 24 hours prior. The company says the Pixie Points are in constant contact with each other, but that was not my experience. If I had dropped the leash outside, without scanning, and then come inside out of range, I would not have been able to use the app to find the leash—or say, a dropped set of keys in a winter snow embankment on a walk home from the grocery store—unless I had a decent idea of where I'd last used it.

Pixie says the app has an outdoor range of 150 feet and an indoor range of 30 to 50 feet, which is decent. But 150 feet still requires you hone in on where you may have dropped or lost something in the first place.
Another wrinkle to me would be using Pixie to find your missing pet. A dog is unlikely to stand still. So if you attach a Pixie Point to your favorite canine's collar, it's going to be hard to get a read within 150 feet as your pooch is probably on a freedom run. Using Pixie to find a cat, however, might work well. Cats are known for their wide range of movement, particularly outdoor felines at night. But who hasn't turn the house upside down when trying to pack a cat in its crate before a visit to the veterinarian? (I want to know how they just know.) Pixie is perfect for just this occasion.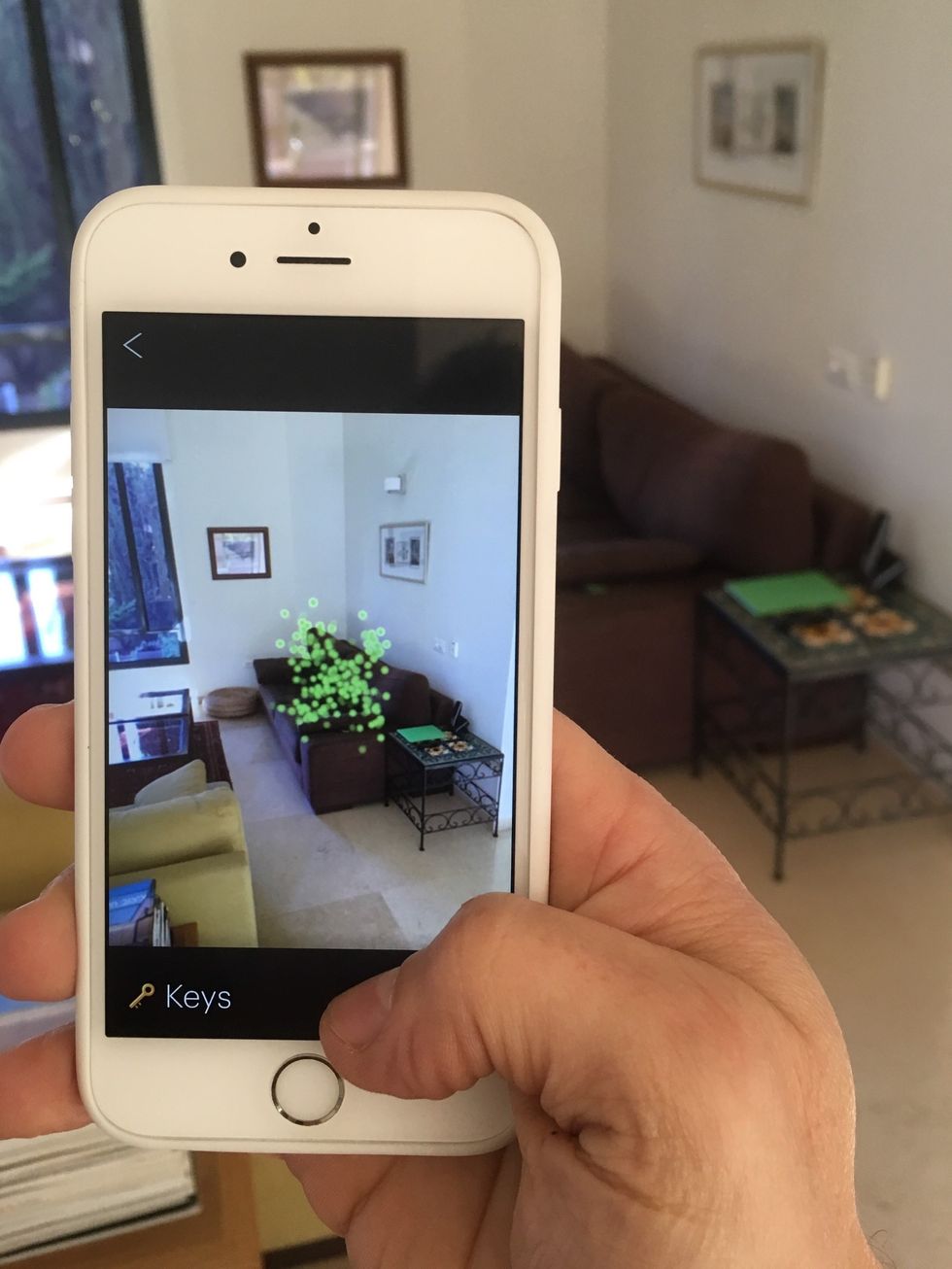 Pixie Dust
Of course the upgrade to the system is the use of what the company calls Pixie Dust. These are glowing orbs of pixels that hover over an item as you get closer. They do help narrow down where you're item could be—and if that's under a couch or buried in a bag of dog treats or inside a coat pocket—that's helpful.
The glowing pixels swarming around my item like Tinkerbell alerting me to my lost goods, while certainly a fun diversion, would not likely propel me to buy Pixie Points. But for iOS users, the system works as described, and if you're someone prone to misplacing items in your home, Pixie is sure to help.
Related Articles Around the Web
Like GearBrain on Facebook