Pokémon What? Just as quickly as the crazy Pokémon Go took off, the frenzy appears to be waning. Bloomberg cites stats that show engagement is taking a downturn. And a recent scan of Google Trends (shown below) shows the quick spike up, but also the swift crash down. At one point, more people were playing Pokémon Go than tweeting every day, or downloading Tinder. That's not to say Pokémon Go users have abandoned their Pikachu's or Eevee's. But come the winter, we expect something else to grab hold of your imagination.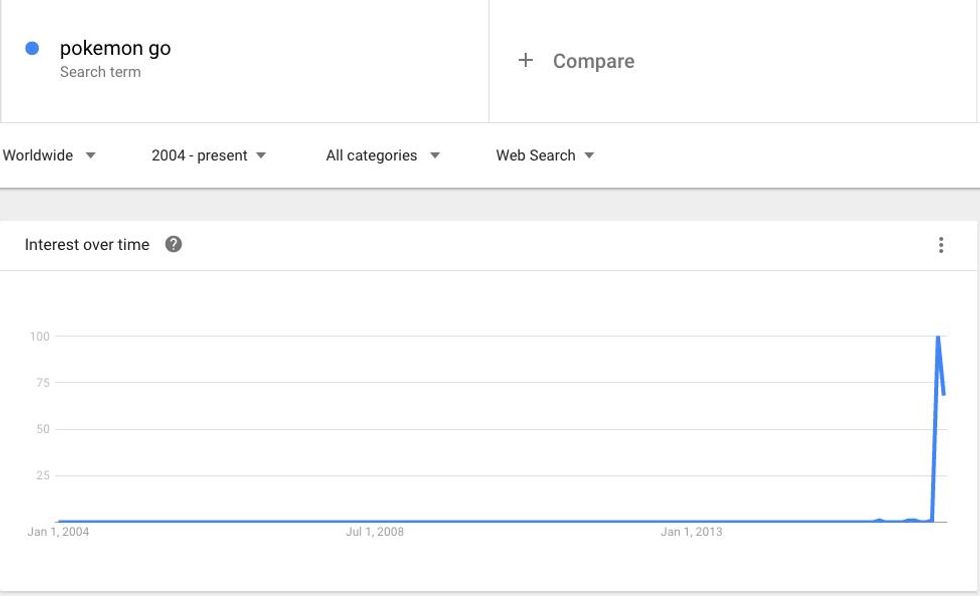 What comes up, must come down for Pokémon Go as for everything, as noted on Google Trends
Cell Phone Builds Itself The Massachusetts Institute of Technology has developed a cell phone that can put itself together. To be fair, the phone starts with six pieces (which have to be put together we assume in some small part) and then are put into what Fast Company reports as a "tumbler" before the pieces snap together. The whole process takes about a minute.
Game Boy Redux Fun hack here—a Game Boy that can be turned into controller for a Parrot AR Drone 2. Yes, you will need an Arduino and an FTDI board. But it's certainly doable, according to the steps from Slash Gear.
Real Deal VR Coaster Six Flags Magic Mountain will be launching what can only be called a truly virtual reality roller coaster. Riders of the New Revolution will be kitted with Samsung Gear VR that they'll put on and wear during the ride. They'll have the chance to pretend they're on a fighter jet or attack aliens.
Virtual Vacation With Labor Day almost here, and some already back to school, the warm summer days are waning quickly. Still haven't had a chance to get away, or lack the vacation days to go away? Pick up on of our recommended VR headsets, and then check out these virtual reality tourist guides. Go ahead. Enjoy your staycation.