Like GearBrain on Facebook
Porsche will not be following Tesla's lead by offering free electricity to buyers of its upcoming electric sports cars.
Instead, the German automaker says it will charge for electricity from day one, and that it will be a similar price to refuelling with gas. This move is at odds with Tesla, which has offered free use of its Supercharger network for several years and has only recently transitioned away from this strategy by billing all Model 3 owners for use of the fast-charging stations.
And while Tesla's Supercharger fees are far lower than filling a car with gas to cover an equal distance, Porsche says it will price the use of its chargers at a similar amount to gasoline.
When asked by GearBrain if Porsche's electric car chargers will be operated as profit centers, Lutz Meschke, deputy chairman of the executive board, laughed, then said: "Yes, we want to earn money with the new products and services. Of course. Yes."
Meschke was addressing a small group of journalists during a routable discussion after delivering Porsche's annual press conference in Stuttgart, Germany. His comments come just days after Tesla reaffirmed that, despite recent price increases for Supercharger use, it would not operate the charging stations as profit centers.
When it was suggested that Tesla began by offering electricity for free, Meschke interjected: "Yes, but it was only free for a while," before adding: "You can not run things like this, you have to earn money from these services."

GearBrain asked if Porsche would be billing drivers from day one, or if it would offer electricity for free initially, like Tesla. Meschke dismissed this. "Yes we try to do this [bill from day one] of course. We can invest in the beginning but after two or three years you have to be profitable with the new services, of course."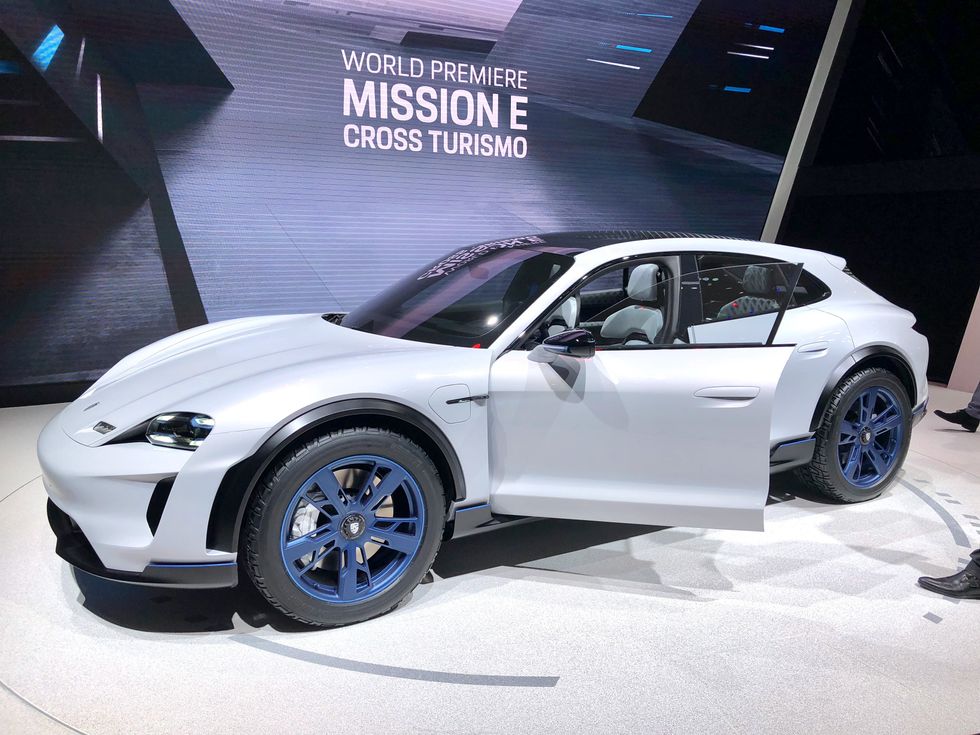 Porsche showed off its Mission E Cross Turismo concept at the 2018 Geneva Motor ShowGearBrain
With regard to how much electricity from Porsche chargers would cost, we asked if it would be cheaper than gas or a similar amount. Meschke replied that yes, it would cost a similar amount. That may well be the case, but Porsche isn't expected to start delivery electric cars until late-2019, so before then we will likely see a clearer picture of how the company will bill drivers for using its chargers.
Porsche is busy working on Mission E, the codename for its first two electric production cars which will share the same platform. The first Porsche EV will be a four seat, four door sports car with two electric motors, all-wheel-drive, more than 600 horsepower and a 0-62mph (100km/h) time of "quite below" 3.5 seconds.
The second car, shown off as a prototype at the Geneva Motor Show earlier this month, is currently codenamed the Cross Turismo. This electric car will offer similar performance to the Mission E sports car, but is a higher-riding vehicle aimed at the popular crossover segment of the market.
Porsche will install 800-volt electric car chargers at its dealerships, eventually capable of delivering 400km (250 miles) of range in 15 minutes. On top of this, a joint venture between Porsche, BMW, Rolls-Royce, Mini, Audi, Volkswagen, Daimler and Ford, called Ionity, will see 400 charging stations installed across Europe by 2020.
Porsche will also sell home chargers to Mission E buyers, which will refill the car's battery overnight. In the U.S., Porsche parent company Volkswagen is working with Electrify America to install 650 fast charging stations.

Production of the first Mission E cars — which do not yet have their final names — is expected to begin at Porsche's Stuttgart facility in 2019. The company is currently building a new five-story factory for the production of electric cars and is investing €6 billion ($7.4 billion) into the project, as well as hiring 1,200 new workers.
Like GearBrain on Facebook