Like GearBrain on Facebook
The huge weight of powerful batteries and enormous effort required to keep motors cool at high speed means electric supercars shouldn't really exist. And yet, as predictable as the sun rising each day, several are on display at this year's Geneva motor show.
For the last several years now, manufacturers have arrived in Geneva with prototype electric supercars boasting performance figures as outlandish as their design, and often with seven-figure price tags to match.
Read More:
As always with concept and prototype cars from little-known manufacturers, it is impossible to say for sure if these cars will ever turn a wheel, let alone go on sale and become a commercial success. Some, like the Rimac Concept One, are produced in tiny numbers, while others might not make it out of the starting blocks.
Regardless, here is a quick look at the electric supercars of Geneva 2018.
Elextra EV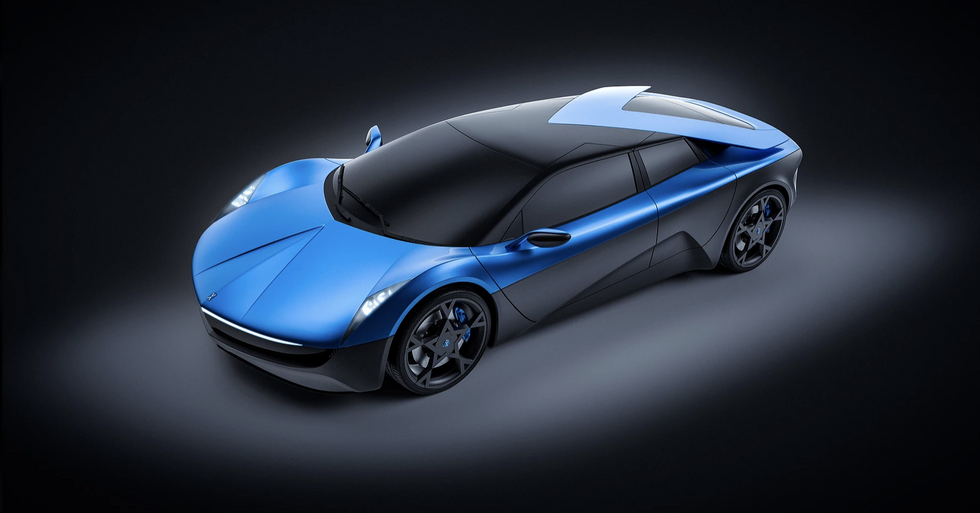 Four seats and four doors, yet the Elextra EV has hypercar performanceElextra
Big power outputs and incredibly low 0-60mph times are childplays when mountains of electricity is delivered to an all-wheel-drive system. But what makes the 670bhp, zero-to-60-in-sub-2.3-seconds Elextra stand out from the competition is how it blends European supercar design flare with four seats and four doors.
Designed in Switzerland and built in Stuttgart, Germany (where Porsche will be a close neighbor), the Elextra is claimed to be able to cruise at 100km/h (62mph) for over 600km, 10 percent more than Tesla's longest-range car, the Model S 100D. Top speed, as with the Tesla, will be limited to 155mph.
Addressing the issues with electric cars overheating after sustained high-speed driving - a point made by Porsche recently - Elextra says its car uses new technology to overcome this. Specifically, the company says its car will "introduce an all-new, revolutionary electric drivetrain" which can supposedly offer the same power output with electric motors half the size of its rivals.
The company adds: "This new technology also allows to solve the overheating issue as it doesn't need any additional cooling system. There are hence no more limitations in multiple accelerations or longer high speed travel."
The car is claimed to be going on sale in 2019 and cost in the region of $550,000. If all goes to plan, 150 examples will be built.
Giugiaro Sibylla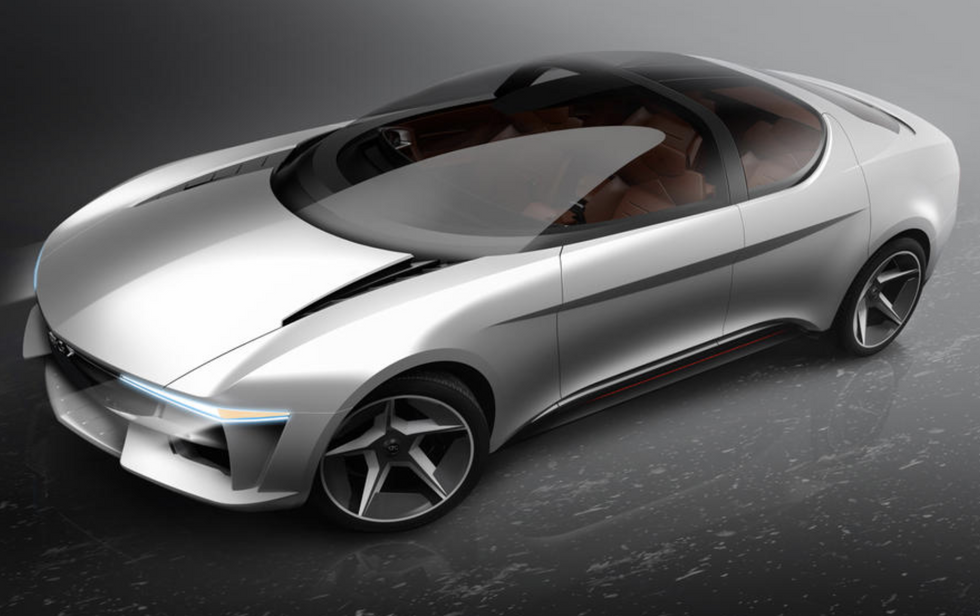 A huge glass canopy and gull wing rear doors make the Sibylla unique Giugiaro
More of an out-and-out concept rather than a vehicle planned for production, the Giugiaro Sibylla features a huge glass canopy and rear gullwing doors similar to those of the Tesla Model X.
The Sibylla takes design inspiration from some of designer Giorgetto Giugiaro's back catalogue, and is intended to be powered by four electric motors, one for each wheel. The drivetrain technology comes from Chinese company Envision.
It's unlikely that such a car will ever enter production, but if automakers fancy copying the huge glass canopy design and using it for themselves, we'd be all for it.
LVCHI Auto Venere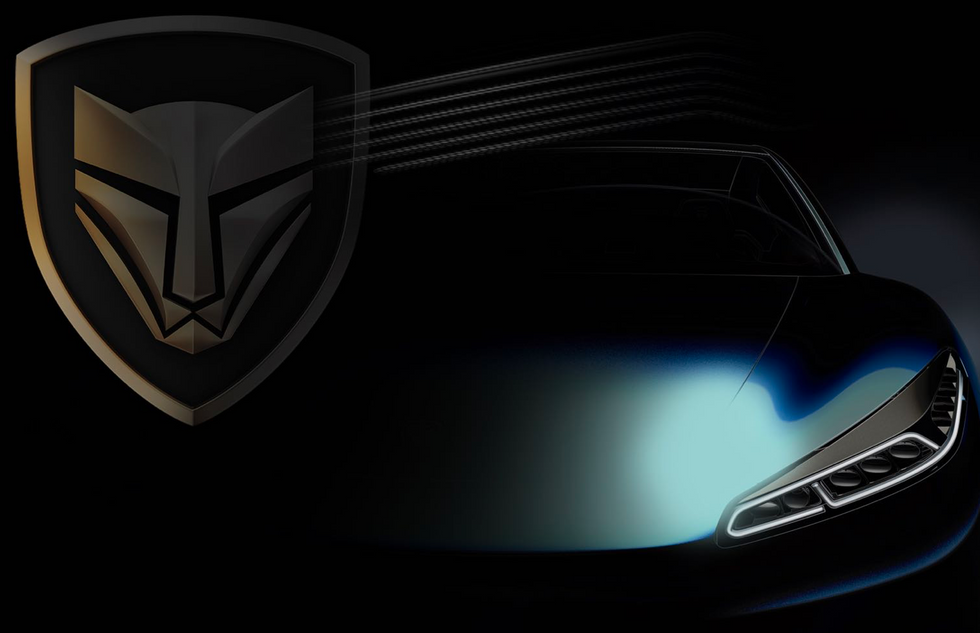 This teaser image is all we have seen ahead of the show LVCHI
The Sibylla's four-motor strategy is repeated here with the Venere by Chinese electric car company LVCHI Auto. The Venere has a 100kWh battery - same as the largest currently used by Tesla - and total power output is a claimed 992bhp.
This helps the car hit 62mph in under three seconds (which is quickly becoming par for the course these days...), and its top speed is over 155mph - as well it should be given the mountain of power at its disposal. When driven more sedately, LVCHI Auto claims a range of 311 miles.
At 5118mm long, the Venere is huge - 119mm longer than a Range Rover - and weighs a chunky 2,100kg, roughly the same as a Tesla Model S.
LVCHI, which is just two years old and only employs 400 people, claims the car on display at Geneva is production-ready, although the company so far has failed to reveal how much it will cost or which markets it will be available in.
Rimac 'Concept Two'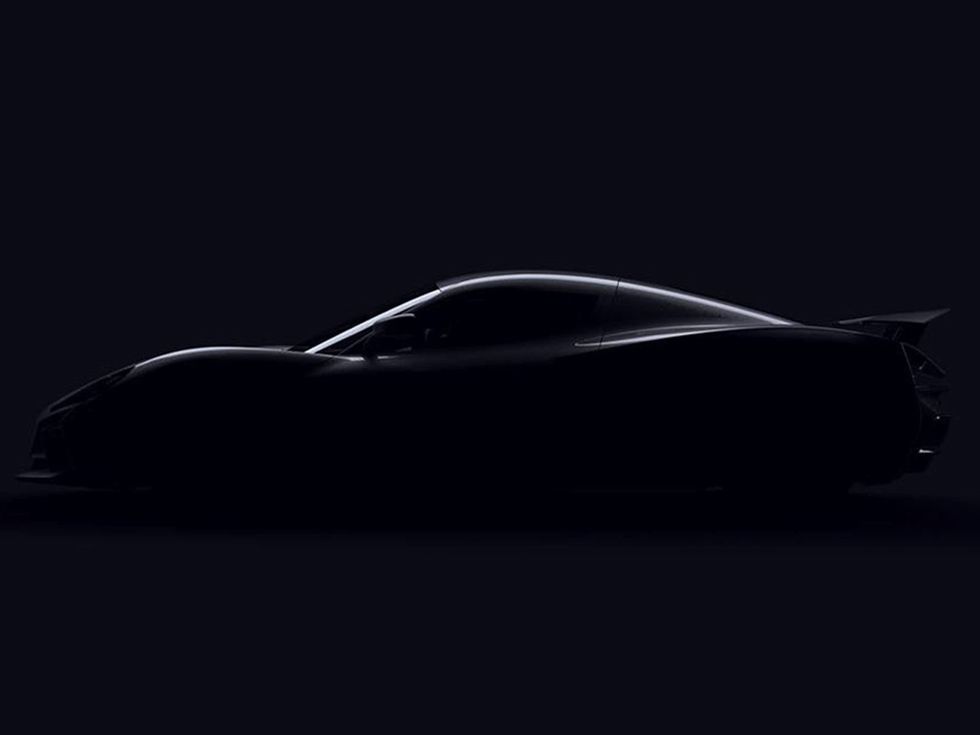 To be revealed at 14:30 local time, the Rimac has only been teased for nowRimac
Croatian auto company Rimac is arguably the most established of the next generation of electric supercar makers. Its first car, called the Concept One, sold out - albeit only eight were produced - and Rimac is also busy producing battery technology for companies like Koenigsegg and Aston Martin.
The new car has a 120KWh battery and it is claimed Rimac is benchmarking against the second-generation Tesla Roadster, which is due in 2020 with a 200kWh battery and a claimed 0-60 time of 1.9 seconds.
In order to compete against Elon Musk's hypercar, we were expecting the new Rimac to have more power than its 1,072-horsepower predecessor - but we weren't expecting the output to be almost doubled. The new car has an astonishing 1,914 horsepower, deployed through an all-wheel-drive system.
Level Four autonomy, where the car can entirely drive itself in most situations, is included and can be used where local legislation allows - which, for a production car driven by a customer and not a test driver, is currently nowhere. But remember the rules of the car show - Level Four is intended to be on this car, it is not yet capable of Level Four driving - just as Tesla and Google haven't quite got there yet.
Although still a two-seater, the new car is designed to be luxurious and comfortable as well as ludicrously fast and even capable around a racetrack too. It will also be incredibly expensive, with a price of €1.25m ($1.54m); production is limited to 100 units.
Meanwhile, Rimac's battery production company - as used by Aston Martin for its Valkyrie hypercar - is about to ramp up from producing 100 batteries per year to 10,000 as we go into the next decade.
Techrules Ren RS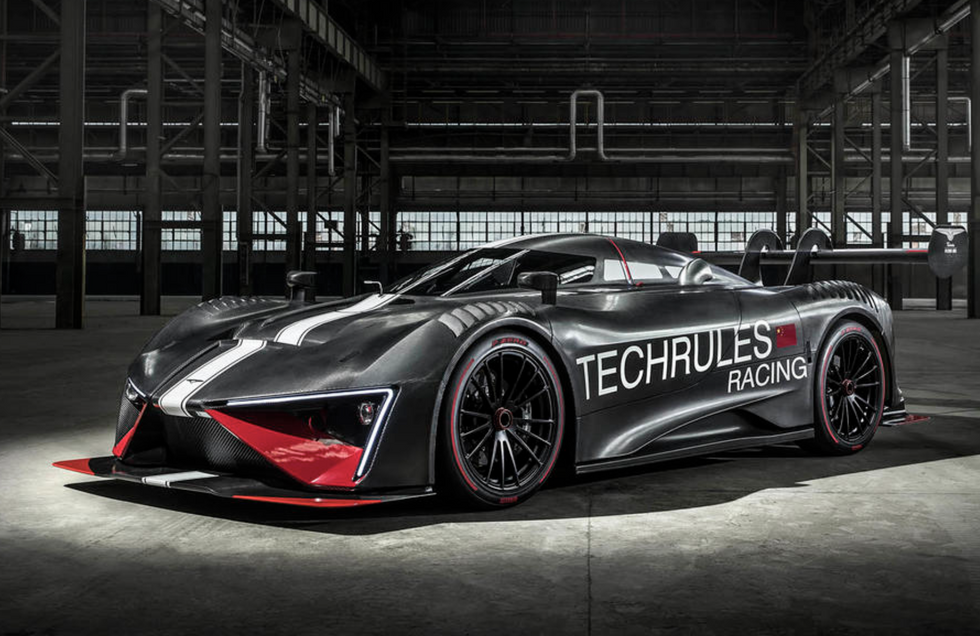 The electric single-seater is designed for track use onlyTechrules
Another Chinese EV company, Techrules used Geneva 2018 to reveal its Ren RS, an ultra high-performance electric supercar designed for the racetrack rather than the road. This single-seat racer is powered by what's being described as a "Turbo-Recharging Electric Vehicle" drivetrain, or TREV for short.
The modular chassis allows for a range of different drivetrains to be fitted, meaning different levels of performance are easy to pick from during the build process. In its highest specification, the car is powered by a 28.4kWh battery plus two motors on the front axle and four on the rear. When diesel and electric power are added together the total output is 1,287bhp and there is 1,725lb ft of torque.
All this makes for a 0-62mph (100km/h) time of exactly three seconds and a claimed range of 727 miles, although that presumably isn't over 700 miles of high-speed track driving. Even if it is 700 miles of sedate freeway cruising, it is a huge claim when today's Teslas can barely top 300 miles.
The car has racing features like an FIA-certified fuel bladder and carbon fiber race seat, plus air-powered jacks for lifting the car during pit stops and a system for ejecting the large clamshell canopy from the car after a crash. However, Techrules has not confirmed any plans to actually race the car. Despite this, and it not being road legal, the company says it will have buyers sat in the Ren RS's central driver's seat within two years.
Like GearBrain on Facebook