Like GearBrain on Facebook
Free Supercharging has long been a major perk of owning a Tesla, as its network of proprietary chargers basically make long journeys free.
This was first restricted in 2016 when Tesla began charging for Supercharging use, billing drivers a few cents per kWh (kilowatt-hour) of power they charged by. But this didn't affect too many drivers, as any Tesla owner who bought their new car after being referred via someone else's Tesla app was given free and unlimited Supercharger use. Those who bought a Tesla before the pricing system was introduced also get free access to Superchargers.
Now though, as well as this incentive not applying to any Model 3 buyers, Model X and Model S owners who don't buy their car through the referral program will be hit with larger recharge bills than before.
As pointed out by Electrek, the cost of Supercharger use in the US has just increased by up to 100 percent. Oregon is worst hit, with the cost of each kWh of power jumping from $0.12 to $0.24, doubling the cost of charging. Tesla's largest capacity battery is 100kWh, and although a driver is likely to recharge from zero to 100 percent, the cost of topping up from 20 percent to 80 percent has increased from $7.20 to $14.40. This is still cheaper than gasoline, but a price hike nonetheless.
Other states got off lightly. California, where the majority of new Teslas are sold and driven, saw its Superchargers increase from $0.20 to $0.26 per kWh, while New York jumped just five cents, from $0.19 to $0.24 per kWh.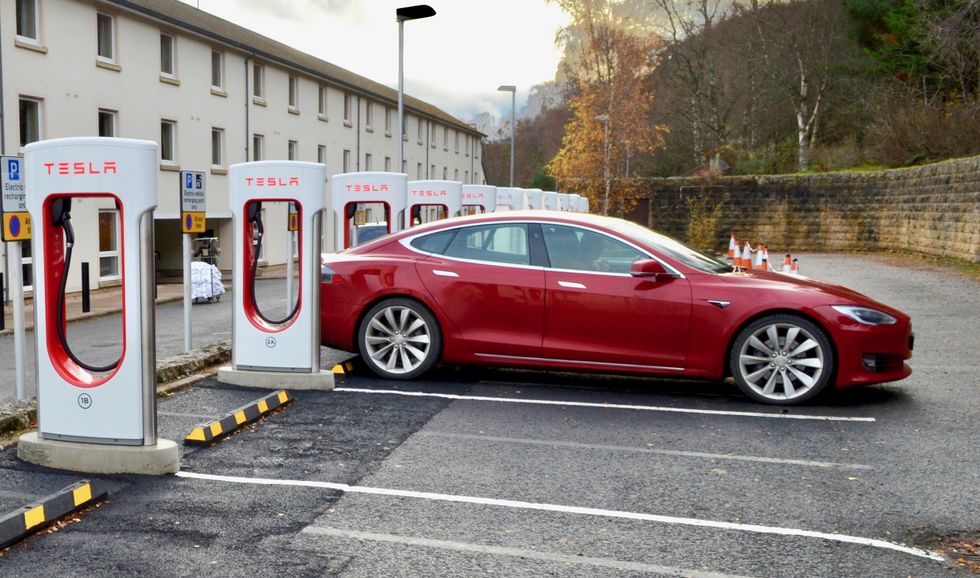 A Model S charging at a Supercharger in ScotlandGearBrain
A full list of the new prices for charging in each US state is available on the Tesla website. In the few states where Tesla is not allowed to sell electricity, the prices are listed as per minute of Supercharger use rather than per kWh. Although some states have seen 100 percent increases, the average increase across the US is closer to 20 to 40 percent, according to Electrek.
Tesla said in a statement: "We occasionally adjust rates to reflect current local electricity and usage. The overriding principle is that Supercharging will always remain significantly cheaper than gasoline, as we only aim to recover a portion of our costs while setting up a fair system for everyone. This will never be a profit center for Tesla."
It shouldn't really come as a surprise that Tesla has to increase Supercharger costs every so often. The company now operates over 1,180 stations with 9,000 Superchargers, and while there are no employees at any station, running and maintaining them naturally comes at a cost, and is dependant on the local cost of electricity. In a bid to further lower its costs, Tesla plans to make a majority of its Superchargers self-sufficient via solar panels.
It is also worth remembering that Superchargers are not intended to be used as a Tesla owner's main source of electricity. Tesla asks that owners charge at home and only user Superchargers when they are going on a long journey. The company occasionally reminds drivers that the stations shouldn't be used for powering their daily commutes and local driving.
Like GearBrain on Facebook