Like GearBrain on Facebook
Porsche has a couple of tricks up its sleeve to help keep range anxiety at bay and deliver Tesla-beating performance with its upcoming electric car, dubbed the Mission E.
Due on sale by 2020, the Mission E is a four-door, five-seat electric car intended to take on the Tesla Model S. It will have similar straight-line performance to a mid-range Model S, but Porsche says its car will have the upper hand when it comes to sustained high-speed driving.
Read More: How the Tesla Supercharger network makes 1,200-mile EV road trips a breeze
Stefan Weckbach, head of electric vehicles at Porsche, was this week asked about how his company's car will compare to the flagship Model S's sub-three second zero to 60mph time. Weckbach then raised the issue of how, until recently, Teslas had a system which lowered performance after just two launches from standstill.
"[The Tesla can accelerate with full power] only twice - the third attempt will fail. The system is throttled," Weckbach told Autoblog, adding that Mission E is being designed to deliver "reproducible performance and a top speed which can be maintained for long periods."
This claim is partly true. Until late 2017 Tesla's flagship P100D variants of Model S and X allowed drivers to enable 'Ludicrous Plus' mode, but only if they agreed to a warning that such driving can cause accelerated wear to the drivetrain. After this, the car would only offer a couple of full-power launches from standstill before lowering its performance until the systems had cooled down. The system also takes a substantial amount of time to warm up enough to produce maximum power - sometimes as much as 30 minutes of regular driving.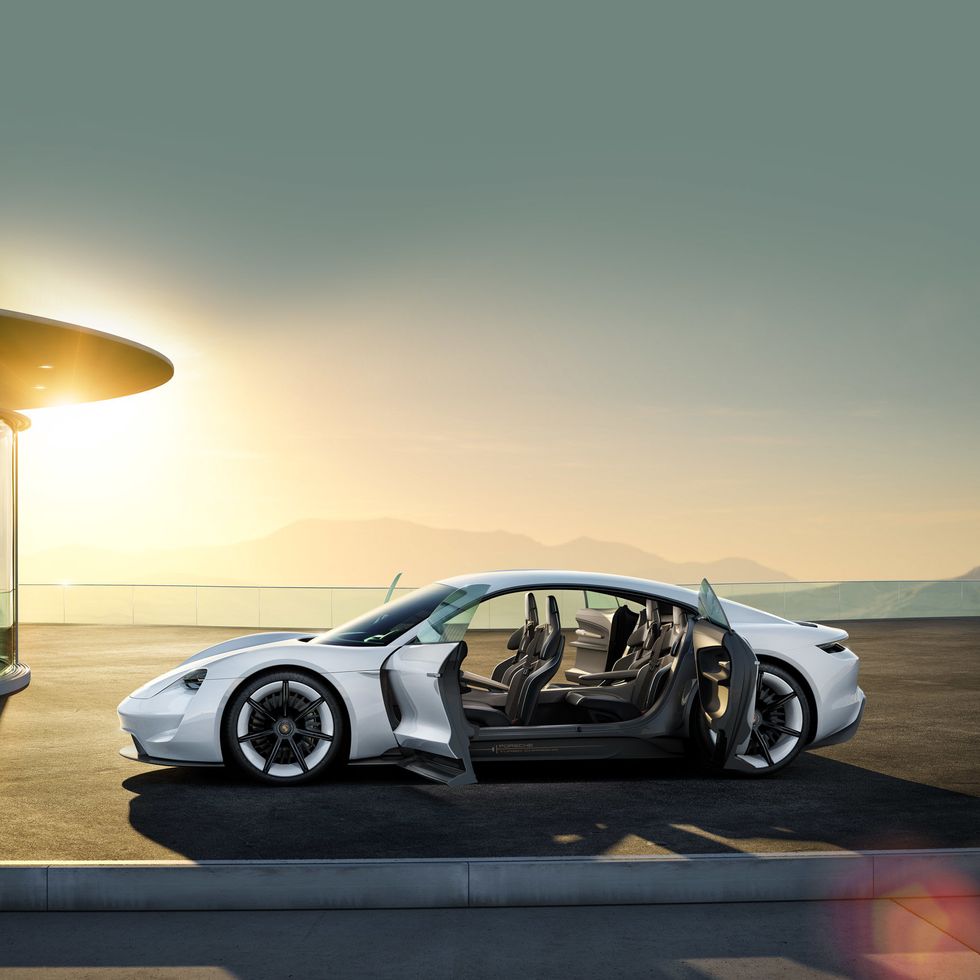 The four-door Mission E is due on sale - under a different name - by 2020Porsche
Excessive heat is also an issue when running electric cars at high speeds for long periods of time - and given Germany's network of derestricted autobahns is on Porsche's doorstep, the Mission E will need to be comfortable with extended periods of high speed driving.
It was also revealed this week how Porsche will install rapid 800-volt chargers at its 189 dealerships across the United States, plus chargers at the Porsche Experience Centers in Atlanta and Los Angeles. Porsche claims these chargers will give the battery 250 miles of range in just 20 minutes, and it says it is also working with "other organizations" to build a charging network. When full, the Mission E will manage 310 miles, the company claims.
On top of this, Porsche's parent company VW Group will build 5,000 charges across the US as part of its Electrify America program.
In other EV news, Jaguar is to reveal the production version of its first electric car, the I-Pace, at an event in Austria this evening (March 1). The car was first shown off as a prototype in late-2016 and will go on sale later this year with the Tesla Model X in its crosshairs.
Like GearBrain on Facebook