Like GearBrain on Facebook
One of the interesting product categories we see emerging in the Internet of Things space is wireless speakers. These new connected devices are growing more popular with buyers of digital assistants like Amazon Echo Dot and Google Home. Why? Because these voice-controlled devices don't have good speakers, but tout how easily you can play music through them. If you own one of these digital assistants, and are in the market for a wireless Bluetooth speaker, consider aiFi's new stackable Bluetooth speakers, the Ai-1. They have incredible sound, plus a unique social element.

A Scandinavian company, aiFi has built a unique modular Bluetooth sound system where speakers can talk to each other without any wiring. Ai-1 is their first-generation smart speaker which is durable, rugged and provides a very full sound with deep bass. We were sent three to test. The Ai-1 speaker works with social music sites, like Spotify, via a mobile app which is available for iOS and Android devices. We found the speaker to have an intriguing mix of components as well as unique way of sharing music which you might not find in many wireless Bluetooth speakers.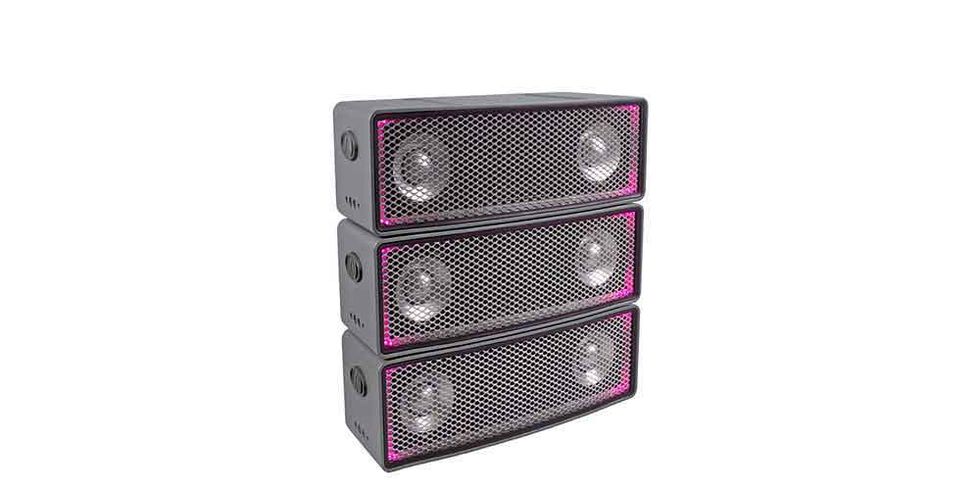 Design

The aiFi Ai-1 speakers are made of aluminum and stainless steel, and each weighs in at 750g (1.65 lbs.). They also look like a brick, measuring 184W x 65D x 64H mm. When we compared Ai-1 to other Bluetooth speakers we have in our lab, we found the sound to be fuller and smoother. They are also weatherproof—or as aiFi told us, they are splash-proof. You can have them outside in the snow and also at the beach. It's just not recommended to leave them outside all the time.
The Ai-1 speakers come in a nice box along with a charging cable, two aiFi Coins and a nice cloth carrying case. They cost $289 and can be purchased on the company website. In a few weeks, they'll also be available for sale on Amazon in the U.S.
One of the key features that makes aiFi Ai-1 speaker unique is the ability to stack them to create a wall of sound. Each Ai-1 speaker has two grooves on the top that fit the rubber feet of another Ai-1 speaker securely. On the sides of each speaker is the aiFi Coin. The Coin is used to keep your stack of aiFi speakers stable and secure when connected to other aiFi speakers. The magnets on the side hold the aiFi Coin in place. When you connect speakers, you must remove one of the Coins and the speakers will connect securely to another speaker via the magnets. We saw a stack of 10 aiFi Ai-1 speakers high and six speakers wide at CES this year and found it very sturdy.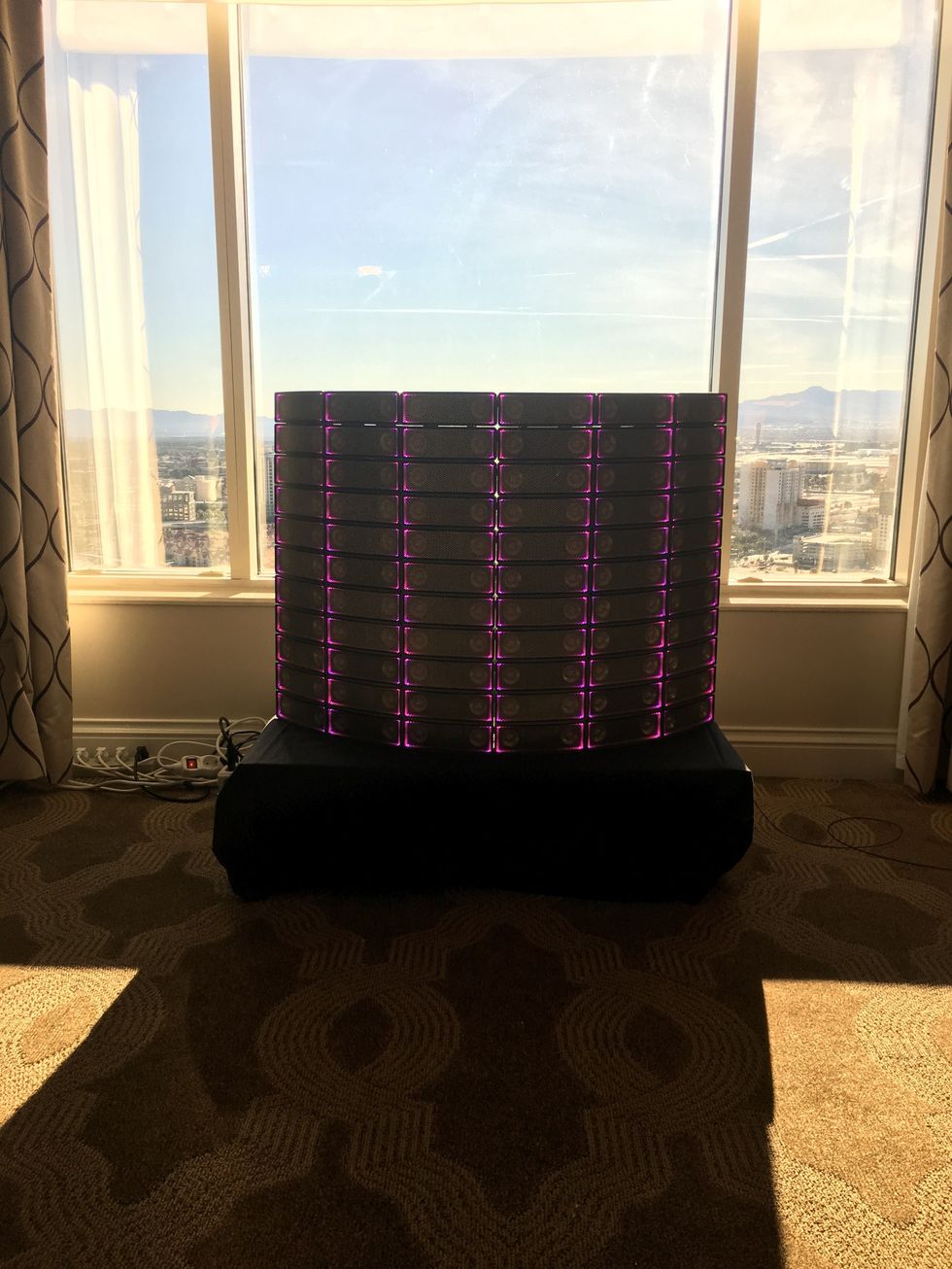 When stacking your speakers, you need to know that your sound will automatically get louder as you add more speakers. The company has developed a new technology called WaveDot Communication Technology, which allows each speaker to communicate with each other at the speed of light to ensure the sound is distributed equally between all the units that are connected or stacked. The technology also allows the speakers to calculate and decide how best to shape the optimal sound scape for you. It reminded me of building with Lego—but with sound attached.
When we started building our stack of Ai-1 speakers, each time we added a speaker we noticed the change in the sound pressure. Without touching the volume control on the app, the sound got louder, and there was a change in quality. At CES, we heard a full stack of 60 Ai-1 speakers at once and found the sound incredible. If you closed your eyes, you thought you were at a concert and the volume never was above level three.

Another feature with the Ai-1 speakers is how they can change color. Each speaker comes with lights, controlled through the app.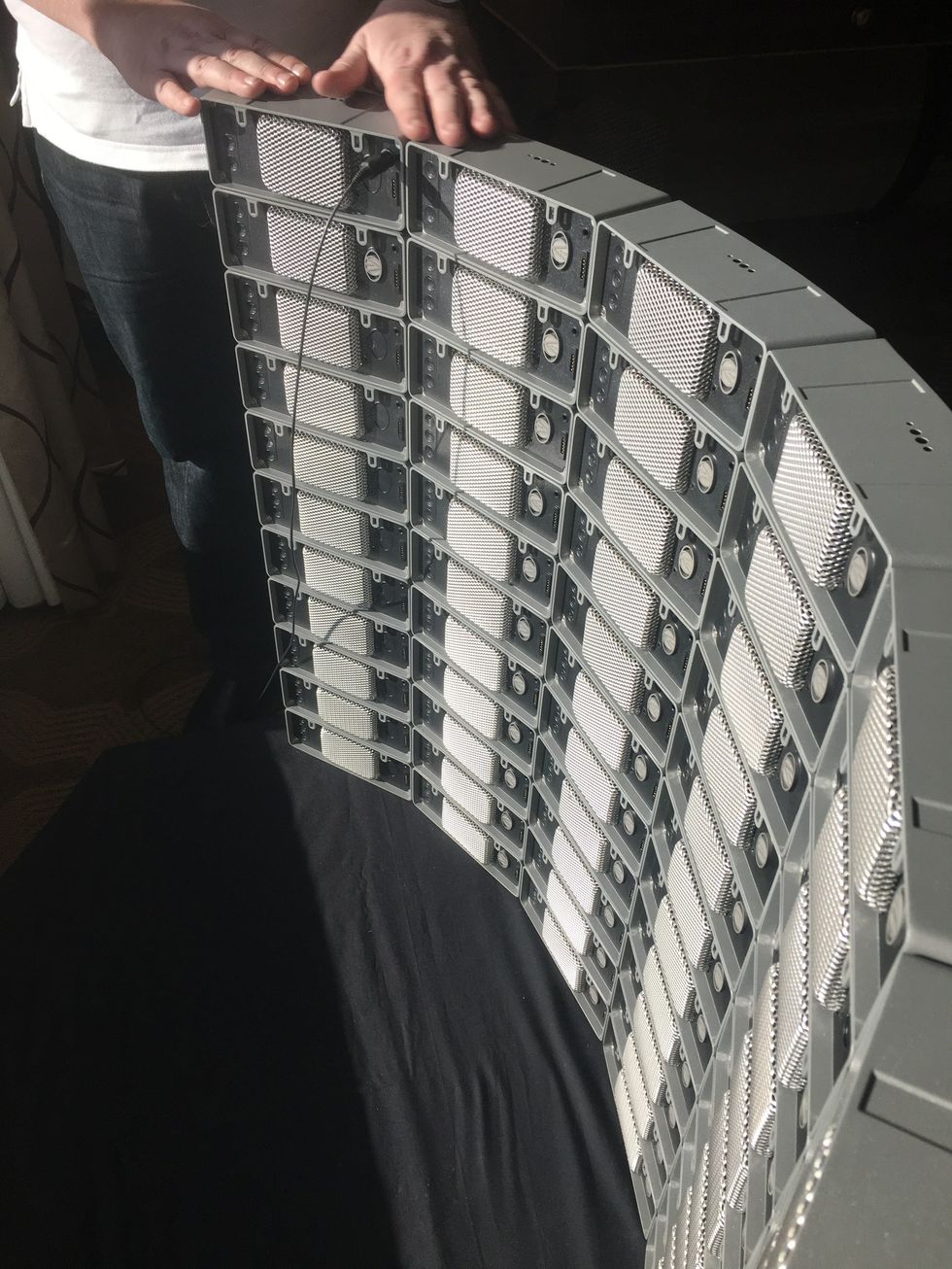 Stacking aiFi speakers produce incredible sound.aiFi
aiFi App

To control your aiFi speakers, you download the app and connect to the speakers, controlling the sound and lights via Bluetooth Low Energy. If you are streaming music from Spotify, you can also control the music from the Spotify app on your smartphone. And if your friends come over, they too can join the fun and act as a DJ by connecting to your Ai-1 speakers via Bluetooth as well.
Through the app, you will able to see if your speakers need a firmware update. If they do, just stack your speakers and connect one of them through the app. Once connected you can start the upgrade process. One nice feature, because the speakers are stacked, they all automatically upgrade at the same time.
Here are additional specs that can help give you an idea on the quality of the aiFi Ai-1 speakers:
Battery: Rechargeable Li-ion cell. You get 8-9 hours or music play (medium usage) for one charge.
Input: Pro grade analog Line-in combined S/PDIF optical input up to 192kHz/24bit. Bluetooth apt-X enabled.
Control: Touch control panel and/or the aiFi app connected via Bluetooth
Charger: 220V/12V 1.5A power adapter
Security: Dual Kensington lock slots.
100Mhz 32-bit floating point Central Processing Unit (CPU) that hosts AI software
Cost
GearBrain really likes aiFi Stackable Bluetooth speakers but the cost is a little bit of a sticker shock. The speakers cost $289 per speaker in the U.S. This is very high for a reasonable Bluetooth speaker (which cost between $60 and $100). Of course, the connected feature where each speaker linked acts as one, and the lighting element play a role in this higher price.
The Ai-1 speaker can be used in several ways. You can use it as a sound bar for your TV by just stacking three of these units together and connect to your TV via AUX jack (line-in 3.5mm or optical 5/PDIF 3.5mm). If each of your friends gets one, you can also use them at parties and make one big music box when needed.

In three weeks, aiFi will be coming out with the new Ai-2 speaker, the next generation of their Ai-1 speaker. This speaker will have more bass sound and will stand a bit taller. The Ai-2 will be compatible with the Ai-1 speakers and can act more like a subwoofer when combined. You can learn more on Kickstarter.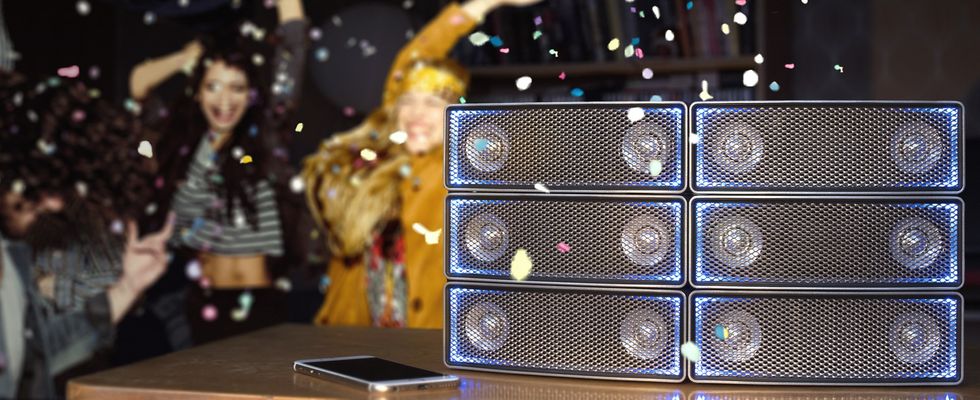 aiFi stackable speakersaiFi
Summary

In talking with aiFi about who is using their speakers, the company told us students are buying them for their rooms, and then when they get together with friends, are stacking them together to create a wall of sound. They are calling this social playing aiFi parties.
The aiFi Ai-1 Bluetooth speakers are very durable with excellence sound quality. We can see how young music lovers or "digital natives" (i.e. young adults who are always connected) would like aiFi Ai-1 speakers. We really liked the design of the speaker, found them durable (can go inside or outside) and easy to build a wall of sound without wires. As a consumer, you just need to decide if the price point is too high for a wireless Bluetooth speaker. If you purchased an Amazon Echo Dot and want a Bluetooth wireless speaker to pair with it, aiFi Ai-1 is one you should consider. You will not only be getting a good speaker but also one which can function as a sound bar and outdoor portable wireless speakers. This might make the price more palatable.
Pros: Great sound, portable, splash proof, easy to setup, Bluetooth, wireless, social sharing, battery life.
Cons: Price, no equalizer controls, limited features on app.
Like GearBrain on Facebook