Like GearBrain on Facebook
"Stars Wars" is an American classic space movie franchise that began "A long time ago in a galaxy far, far away." The seminal film captured the minds of generations and is still doing so today with the release of "Rogue One." The movie is now entering a new galaxy with the help of Plox, an award-winning designer and manufacturer that empowers the mobile world to stay powerful. This new galaxy? Bluetooth speakers which come in the form of a Death Star. GearBrain was lucky to get one to test and here is our review.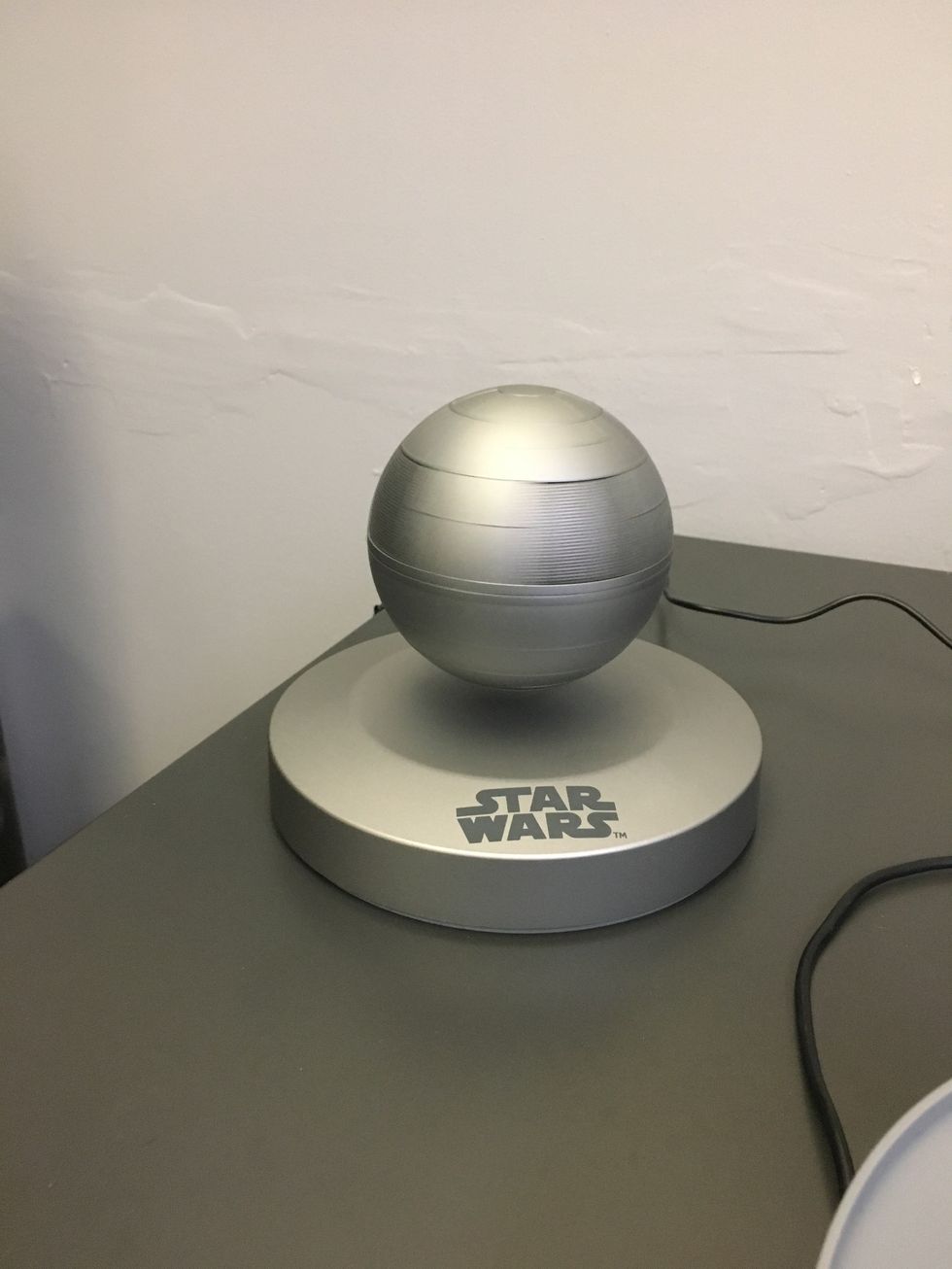 Plox's Death Star Bluetooth SpeakerGearBrain
Plox's new Star Wars Death Star Bluetooth Speaker is a floating wireless Bluetooth speaker. The device is a gravity-defying orb that is a replica of the famous Star Wars' Death Star. For you non-Star Wars' fans who are in the market for a Bluetooth speaker, the Death Star was a fictional mobile space station with galactic superweapons. It had the power to destroy an entire planet with just one big super laser blast. The Death Star rotates above a magnetic base. It provides 360-degree sound quality for up to 5 hours of continuous play via a Bluetooth connection. The speaker is 5W and compatible with iOS and Android devices, including computers and tablets.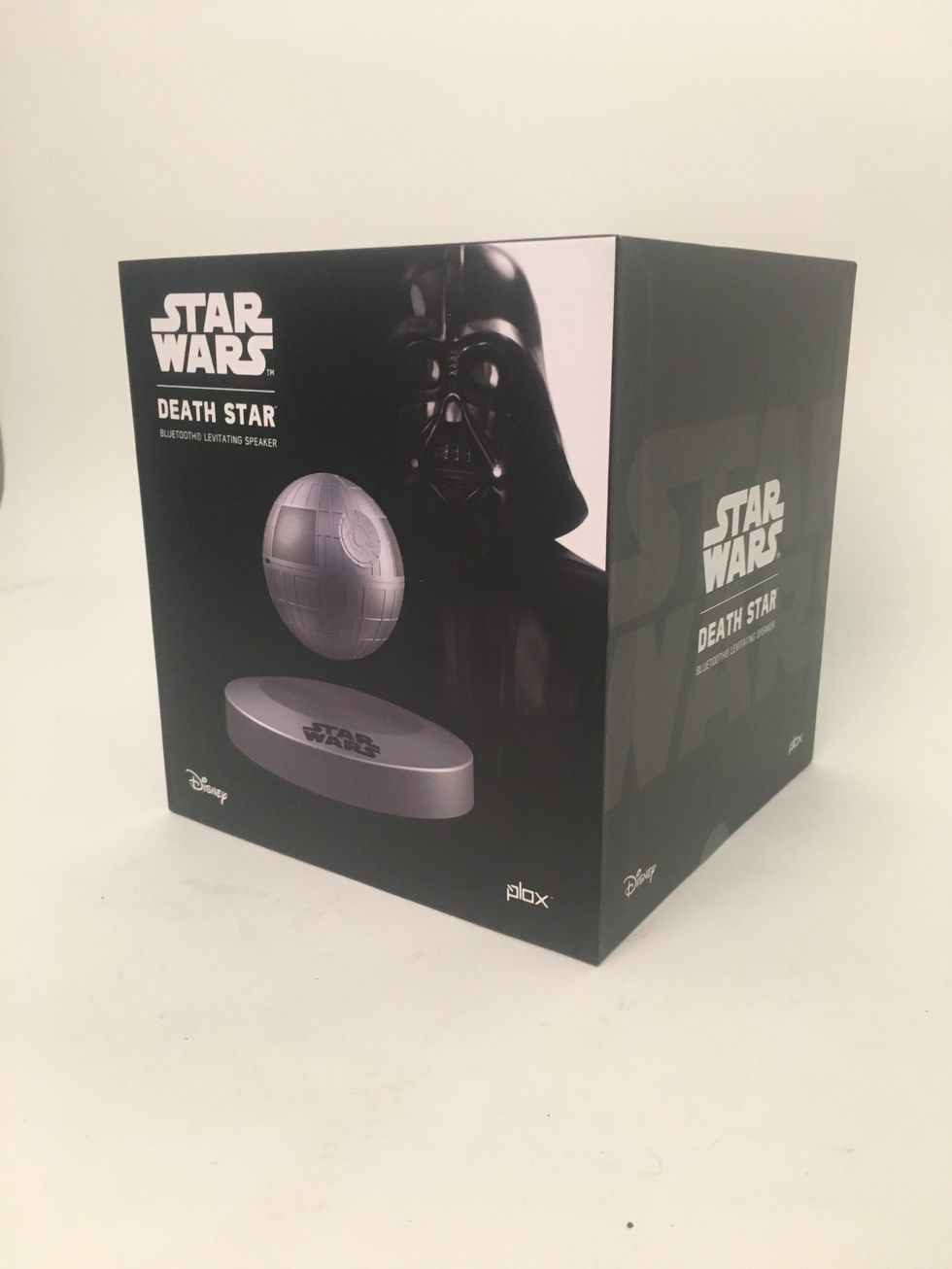 Star Wars Death Star bluetoth speakerGearBrain
Setup

The Star Wars Death Star Bluetooth speaker comes with a speaker designed to look like the Death Star, a micro USB charging cable, a power adapter, a base and User Manual. When we unboxed the Death Star speaker, the first thing we needed to do is charge the speaker. This will take you about two hours. One of the things we immediately liked about the Death Star speaker was the ability to play music even while you are charging.
The Death star has a LED indicator on its side, right next to the power button. When charging the Death Star, the LED will be red until fully charge. Then it will turn green. Once you start to pair your Death Star with your mobile device or computer, the LED will change to flashing blue light. When connected, the LED will stop flashing and be solid blue. Note: to activate the Death Star pairing, all you have to do is press and hold the power button until it connects on your device.
Once our Death Star speaker was paired and charged, we were ready to set up the levitation. At first, we had problems getting the Death Star to float over the base unit, but we finally realized the problem. We forgot to turn on the power to the base unit. Once we did that, we just held the Death Star over the unit and moved it slightly left and right to find the levitation point. The Death Star speaker does come with a floating stand to help guide you with the levitation process.
Another interesting feature with the Death Star speaker is the strong battery at the bottom of the unit. This battery can come in very handy when traveling with your Death Star speaker. It can easily connect to any iron or steel based surface. We went around the office and tried sticking it on filing cabinets and metal doors and then playing music. The sound was bad and it looked real cool. We would advise you test the surface first before you let go of your Death Star Bluetooth speaker.

Playing Music
Once we were all set up, and the Death Star was suspended in air, we started to play music. Most Bluetooth speakers today come with an app for you to use to adjust the sound quality and levels coming out of the speaker. Plox's Death Star speaker does not come with a way to control the sound levels and quality. We wish it did since the sound we got was a little tinny. We would have liked to make the sound louder and add more bass. However, the sound at the lower level and sitting close to the speaker was fine. Keep in mind the Death Star speaker has only 33 feet range in open field. If you move out of range the speaker will disconnect from your device.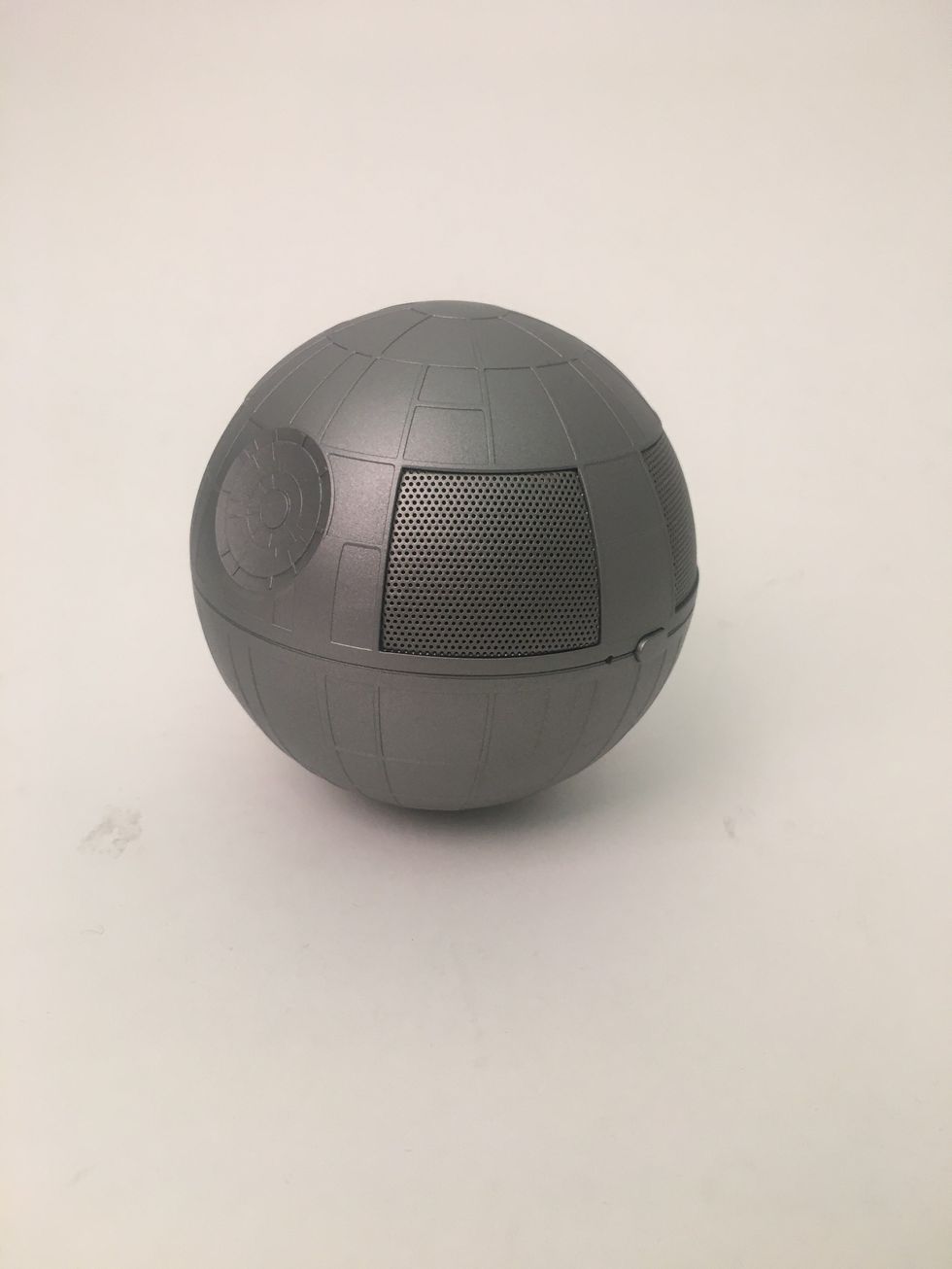 Death Star Bluetooth SpeakerGearBrain
The Death Star speaker can only be connected to one Bluetooth device. If you want to change devices, you need to disable the Bluetooth function on the first Bluetooth device. Then, connect to the second Bluetooth device. Also, Plox mentioned in the User Manual that the radio waves emitted by the Bluetooth Speaker and Bluetooth device can affect operation of nearby electronics including medical devices. GearBrain has found this to happen a lot with Bluetooth devices, especially speakers. Just make sure you have Death Star speaker close to you and there is a clear line of site between your Bluetooth device and the Death Star. Also, make sure you keep the speaker in a cool, dry place.

How much does it cost?
Star Wars Death Star Bluetooth speaker retails for $179 and is available on the Plox site which also sells a Star Wars Siren and the Kid's Headfoam Headset. This price is a little high for a Bluetooth speaker—even for a Death Star Bluetooth speaker. However, when reviewing the other Death Star Bluetooth speakers, I found that while many of them were cheaper, they didn't levitate (which brings 360-degree sound) or have 5W speakers. For the ones that I did finally find that could levitate, they were priced at over $200.
Summary

Today, more and more consumers are turning to portable Bluetooth speakers. It's a way to get better sound for your music than if using the built-in speaker on your smartphone or tablet. Also, with the popularity of Amazon Echo and Alexa, consumers are looking at buying Bluetooth speakers for their Amazon Echo Dot. Why? Because they can save money and still get the same function as an Echo but with better sound quality. We've found good Bluetooth speakers priced between $60 to $100.
If you are a "Star Wars" fan, and in the market for a Bluetooth speaker to use in close spaces (like a cubicle), you really need to consider Plox's Star Wars Death Star speaker. This Bluetooth speaker would be good for a kid's rooms or in an office environment where it's not too loud. I would not recommend it for use outside or in a big room. The sound will get lost.
Though the Death Star might be considered by some as just a novelty item, we think you can have a lot of fun with it, especially if you like to have music in your house, apartment, bedroom, office and even a dorm room.
May the sound be with you!
Pros: Star Wars Death Star speaker, Bluetooth, levitating, 360-degree sound, portable, 5W speaker, quick charge, easy setup
Cons: price, can't adjust sound quality, limited range, no mobile app
Like GearBrain on Facebook