Like any build-it-yourself robot kit, $99.99 Jimu BuilderBots takes some time to create. When dealing with hundreds of pieces — there's an investment of hours required. There are a lot of pre-made robots available today, many that you can operate with a smartphone, a remote or just a flick of the wrist. Few can be customized, even fewer let young engineers build them piece by piece.
Jimu stands out in the crowd as a brand that gives young people (of all ages) the opportunity to construct their own inventions. Yes, there are step-by-step instructions on how to build a couple of set designs. (Thankfully.) But once one (or two) of those are under the belt, the possibilities of robot invention are pretty unlimited.
We've written about Jimu robot kits in the past. As before, the kit comes with everything you need to build a robot once you download the Jimu iOS or Android app to a smartphone. The app is well-designed: instructions are clear and simple to follow, include images, and also allow you to rotate the angle and zoom in on the illustrations so you can make sure you're installing wires and parts correctly.

Do note that these are not inexpensive kits — you can buy pre-made, running robots for sometimes half the price. But for a kit that allows you to build your own design, and also code your own actions, we think this is well-priced. And the BuilderBots Kit is actually one of the lower priced options from Jimu.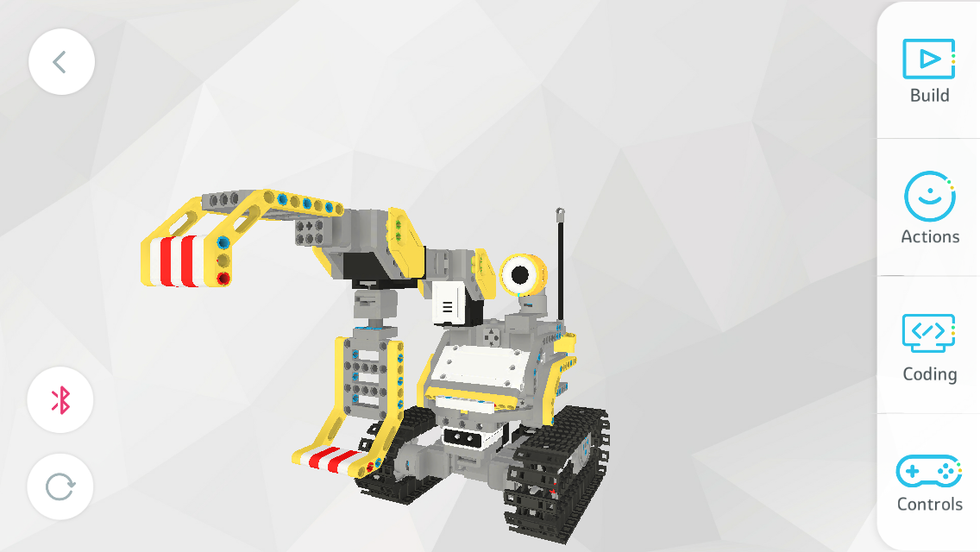 The Jimu app walks you through each step of building BuilderBot
Start building
The BuilderBots Kit comes with four servos (the pieces that send signals back and forth between the robot and the app), one LED light, one sensor and 357 pieces. The kit is very similar to TankBot Kit and the BuzzBot & MuttBot Kit— with a few upgrades worth mentioning.
Note: Pieces snap together fairly easily, you even hear a click to signal parts are attached correctly. (That's helpful.) You do need to pay attention to which servo block is attached to which part of the robot. Servo blocks are marked clearly if not in tiny type (fine for little one's, adults: get your glasses): 01, 02, 03 and 04. (Attaching the wrong one will make coded actions not work correctly. That's certainly a great thing to try as an experiment. But for the round, plug the right servo into the right wire so you get some payoff at the start.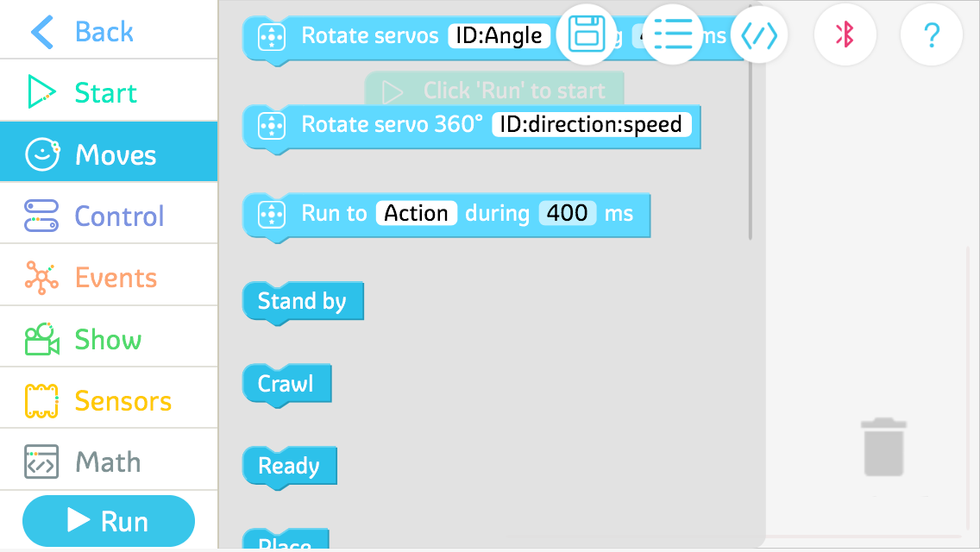 You can code your own actions through the Jimu app.
For our review, we built GrabberBot — we really wanted to put those grappling hands to the test. There are two robot options you can build easily (and by that, we mean that Jimu gives pre-written instructions on how to put them together.) The second option to build is called Digbot which to us resembled a bulldozer. GrabberBot looks a bit like an excavator — but with two grips.
The grips, however, wouldn't probably pass the construction site test. While they looked good, and gave GrabberBot a great opportunity to gesture angrily, for the most, they failed to grab anything of substance. Look it's hard when your hands are made of plastic, and you lack an opposable thumb. We get it. But we had some hope that maybe a pencil, an apple — ideally the Apple remote, would be something GrabberBot could pick up and bring to us. Not to be.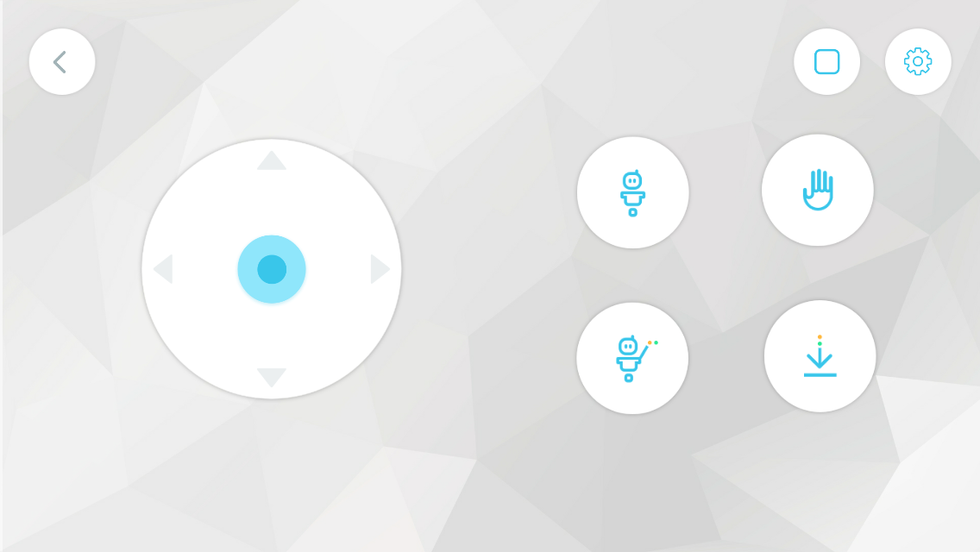 You can use a smartphone as BuilderBot's controller, or choose specific actions already coded in the app.
Get rolling

Still, the robot's inability to actually pick something up didn't take away (too much) from the fun. We found the tracks on the robot — which are snapped into place — very durable. The robot rode smoothly across wooden floors, and was almost always able to make the transition from the floor to a thick, plush rug and keep going. Solid.
There are also now sound effects for the robot as well, and these make GrabberBot that much more fun. The whirling gear sounds you hear as Jimu robots moves are now overlayed with robotic chirps that come through your phone depending on the actions you push out to the robot. Those actions happened quickly too: reaction time is almost instantaneous and you can shift GrabberBot's movements fast and on the fly.
You control the GrabberBot through the app — the same one with instructions for building the device. Once it pairs with your smartphone, you're good to go, pushing the actions you want GrabberBot to take. You can, as with other Jimu robots, devise your own through block coding: dragging actions together to make the robot run through a series of action with just a simple touch on the app.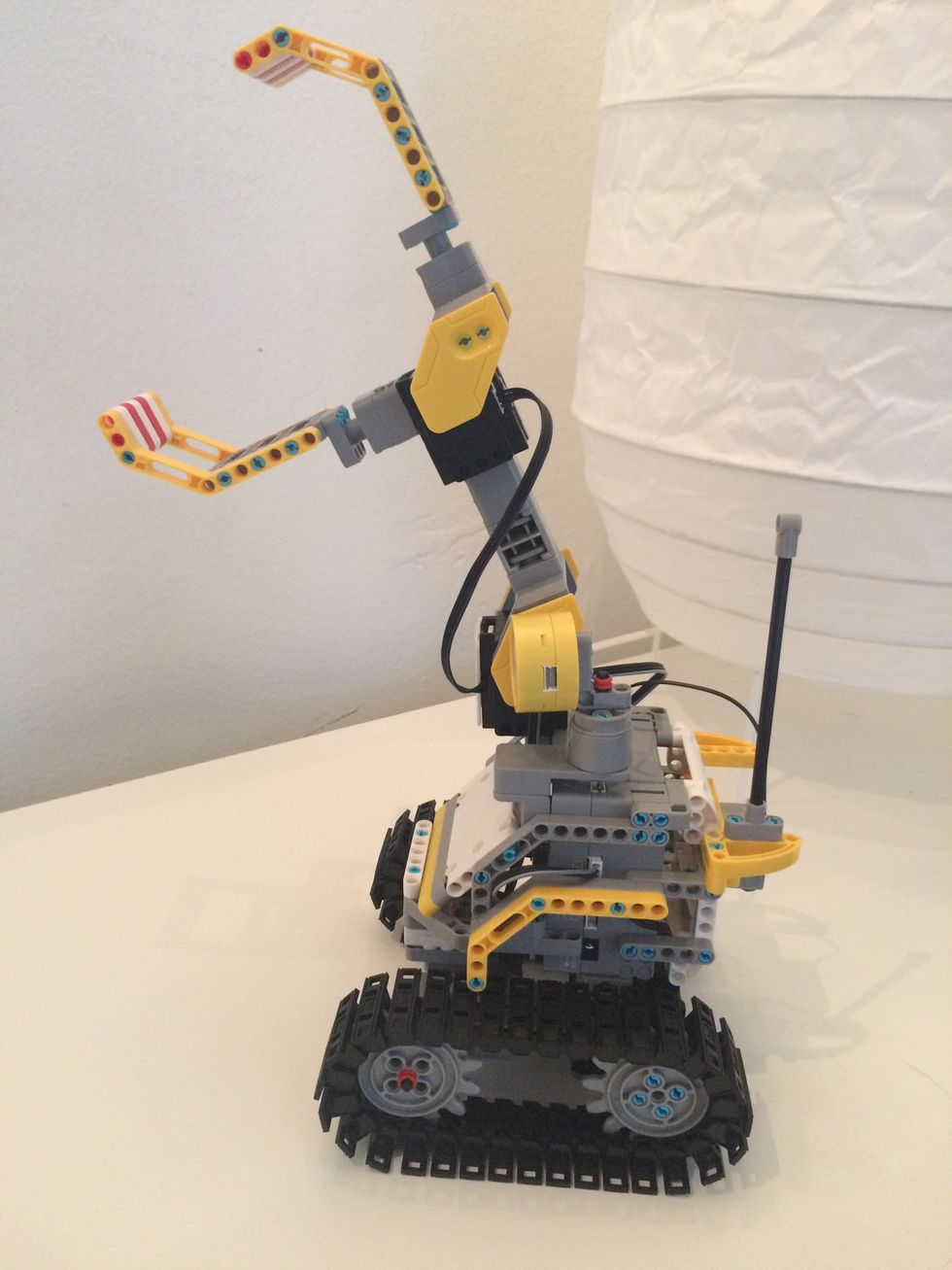 BuilderBot's claw was fun to move — but didn't pick up objects.
Jimu considers the BuilderBots Kit one of its medium-level options, with each product tagged as meant for a 'smarty,' 'whiz kid,' or 'braniac.' We're a whiz kid, we guess. Like Jimu's other robot kits, we like the BuilderBot Kit for its ability to encourage people to build robots in a way that minimizes frustrations.
We know STEM toys are all the rage — but they can be packaged and presented like a box of whole wheat cereal: something good for kids but not particularly engaging, nor, often, simple to use. Jimu consistently puts out robot kits that, while taking some time to construct, are low on the irritation scale. The app works, the robots work and in the end kids have had a chance to build their own working robot — attaching wires, linking servers to apps, and knowing they put the entire thing together on their own.
Pros: Simple to follow instructions, robot is customizable, allows for simple block coding of actions.
Cons: Cost and requires hours to build the robot (although this could be a "Pro" depending on your inclination towards build-your-own kits