Like GearBrain on Facebook
Pros: Simple to build, pricing, can use the kit to build your own robotic creation.

Cons: Can only build one robot or the other and wires are a little small.
For some, a robotic dog is as close to a pet as they're going to get. While robot dogs have been on the market for a few years, building your own takes pet care—even the artificial kind—to a new level.
Jimu BuzzBot and MuttBot Kit is a two-in-one toy that lets you make a child robot or a robotic dog—but not both. The packaging doesn't make that clear, but you're not going to be able to build both robots at the same time. With only a single motor in the kit, you'll need to take apart the first build to make the second. UBTECH sent us one of the $149.99 kits to try, and we spent some time putting together the robot dog. With this week marked as the National Week of Making—celebrating makers of all kinds—taking a look at a kit that lets you make your own robot seemed apt.
Jimu is known for its solid robotic building kits that can neatly fold into any science, technology, engineering and mathematic lesson plans for parents and teachers—and are just straight up satisfying for kids. Each kit, like the Jimu TankBot we reviewed last month, includes well-organized parts, a thorough building app, and a sturdy box so that parts can be repacked and stored for repeat use. This is key: while building and using the robot is fun, the real plus from Jimu's kits is the ability to build, rebuild and even build something new. You gain confidence in building one of the directed robots, and then learning how wires, servos and motors connect, you can build something again.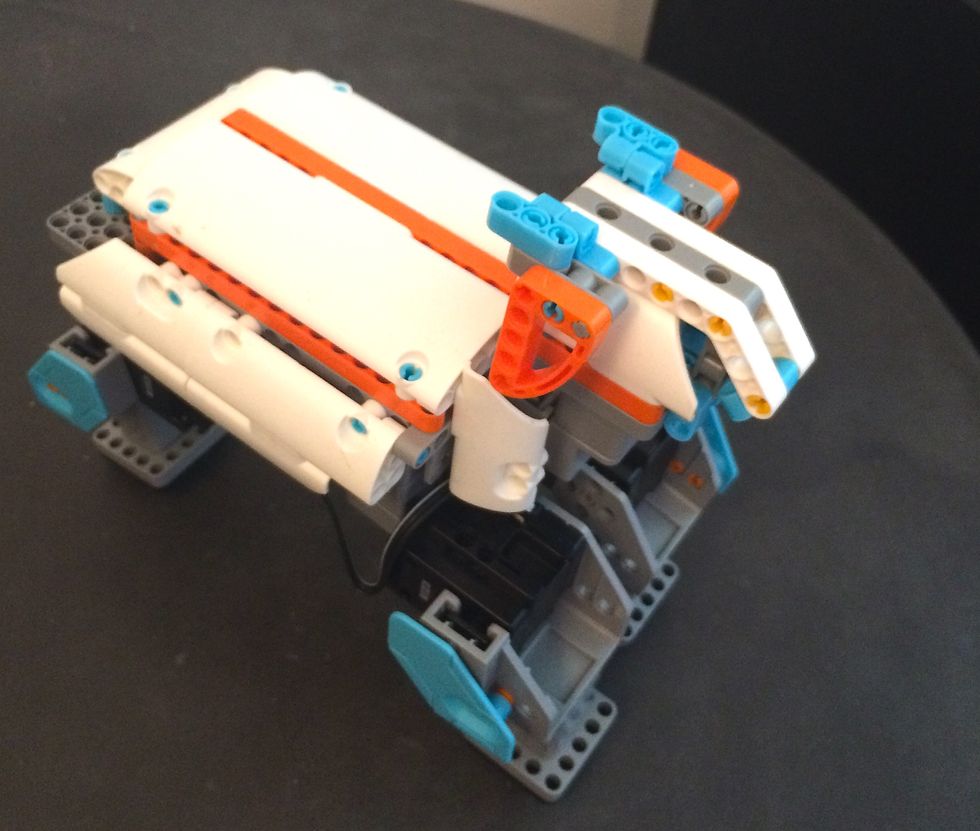 MuttBot walks on four legs, which you can control through the Jimu app.
Skills needed
The BuzzBot & MuttBot Kit is aimed at ages 8 and up. I think that's entirely possible: the parts require no more effort than snapping pieces into place, like Lego. There are a few wires with very tiny fittings, these snap in place too, but a few times I had wished I had tinier fingers. A child's hands are the perfect size. Also, instructions are extremely simple to follow, and you can turn, zoom in and zoom out on each part so you can easily see orientation of how to attach the pieces.
You operate BuzzBot and MuttBot through the Jimu app—the same one that runs TankBot. The app is simple to understand if using the pre-coded "actions". But the best element of the Jimu aps is the ability to code your own actions. With drag and drop features, you can add moves, controls and events tapping into the marked sensors to run your personalized action. Lack familiarity with coding? It might take you a few times to get comfortable dragging the pieces to get your own "action" to run—but coding is always a great experience.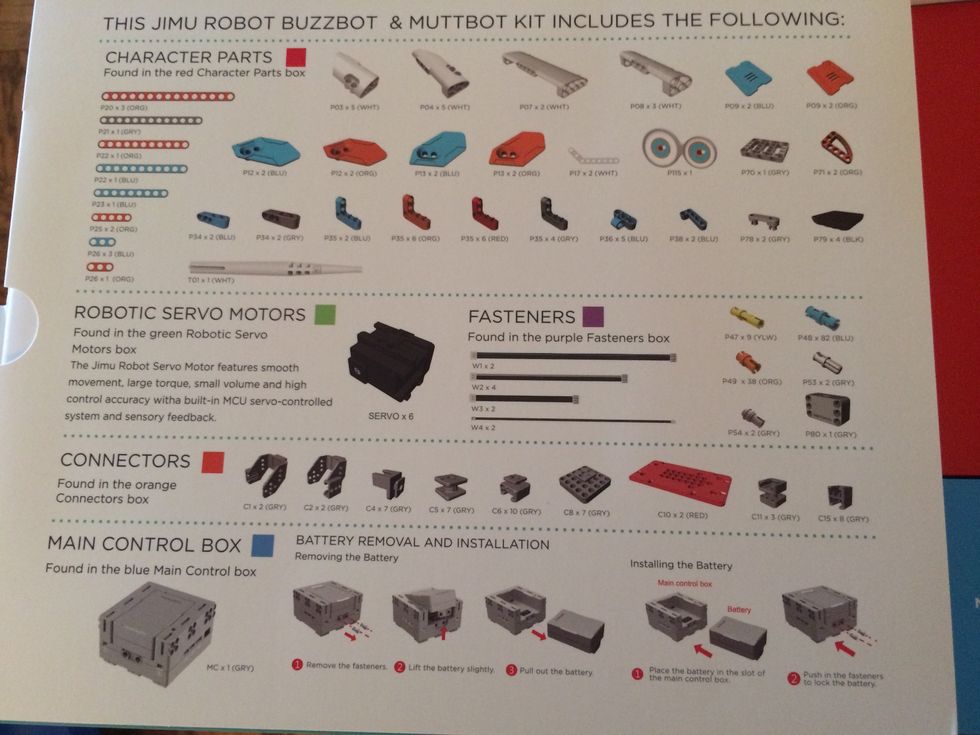 The BuzzBot & MuttBot Kit has a fair number of parts—but the app simplifies the process of building each robot step by step.
Let the dog out
While TankBot ran easily, MuttBot caused a little bit of trouble with the pre-coded "Actions." My primary sense was they weren't as varied or expressive as those on the previous TankBot. But I still found MuttBot to be a fun experience—with a similar battery life to that of TankBot.
The actions are also a little different in that MuttBot doesn't roll, but actually walks. Instead of motors spinning along a tank-like track, these have to move in tandem to create a walking movement. That alone is a little more difficult, and while BuzzBot certainly didn't move naturally like a dog—or even as fluidly as robots designed by Boston Dynamics—getting to try out the various kinds of options is fascinating. For a child—particularly one interested in robotics or engineering or coding—it's a learning experience.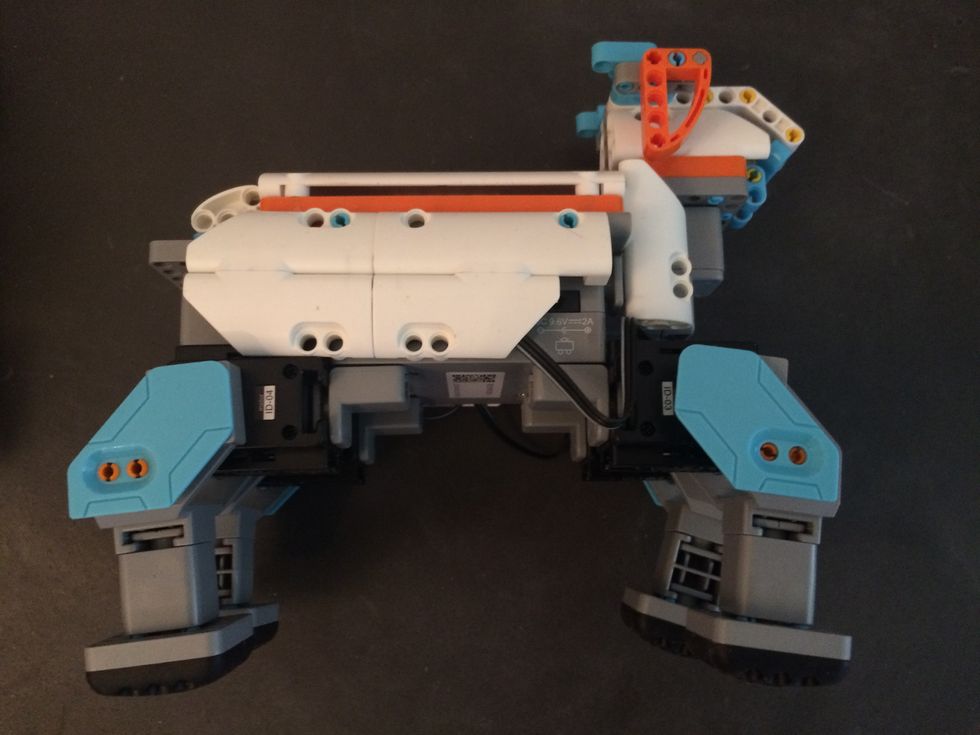 Each leg on MuttBot requires its own servo to walk independently.
Best for
Jimu's line of robots are easily crafted by anyone over the age of 8-years-old. But my sense is they're going to appreciated most by those interested in how robots work. Investing the hours to assemble the robot, before you can even play with it, means the kits might be best for someone who enjoy the process more than results. There are plenty of pre-assembled robots on the market today, such as Sphero's BB-8.
But the future of robotics isn't just getting these mechanical life forms to move: but to understand why, and to potentially be able to craft one yourself. That's going to be absolutely crucial for younger generations, particularly K12 students today. For kids, Jimu Robot kits are great toys: as easy to work with as Lego, but with a lower entry price than many of the Lego Mindstorms kits. That's not to say both aren't great options—but Jimu deserves consideration for anyone thinking of getting a student they know (even themselves) hooked in seeing just how fun coding and engineering can be on their own.
Like GearBrain on Facebook