Pet feeders are a necessity for some pet owners who leave their cats and dogs for long periods of time. Smart pet feeders take that task up a notch by linking the automatic feeder to apps which let you program when you want some chow to hit the bowl, and even set up portions. PetSafe sent us their Smart Feed Automatic Dog and Cat Feeder to test — and we put it through the paces with an 82-pound Labrador Retriever who once ate our dry wall. If he decided he liked the smart device, we would be impressed.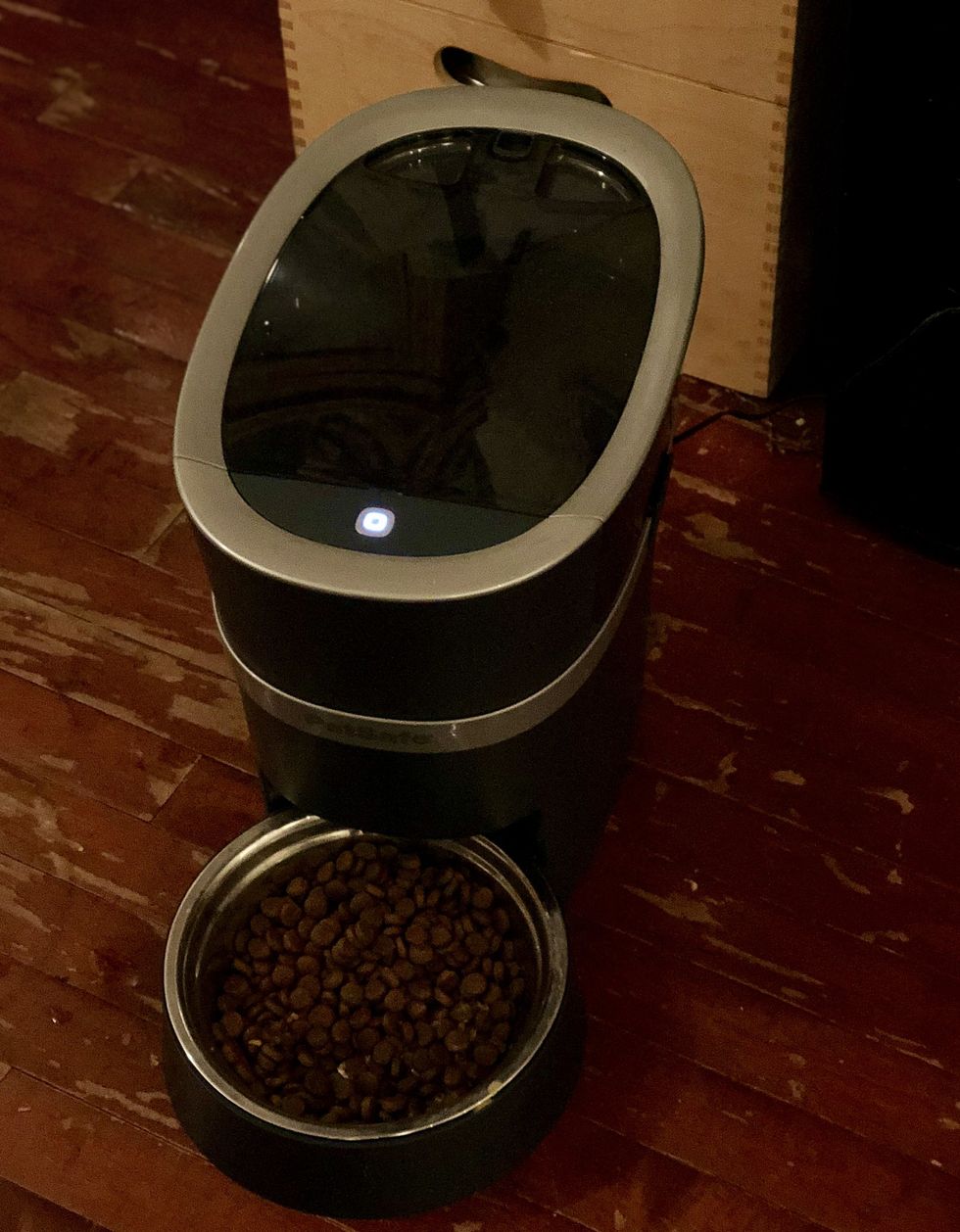 GearBrain
Setting up
Taking the feeder out of the box, we found everything neatly packed inside the feeder itself. The bowl and its holder came out, we plugged in the charger and downloaded the app (both iOS and Android). We then had to connect the feeder to our Wi-Fi network and we were set. Or so we thought.
Opening up the main compartment, we were a little surprised at the wiring and mechanics that were visible and open. It felt a little off considering this is close to a $200 device.
The food moves up through a conveyer belt — which you can see — and then slide up and into the bowl. But as we were putting it together, one of the parts inside, a small plastic flap, fell off. We needed this piece — and it took us about 10 minutes to snap it back in place. Not a big deal, of course. But I'd rather not have to put parts back to together in a new device.
Also the food container is held together by small plastic wings, which also came off if we applied too much pressure when snapping down this part. They were easily put back into place. Again, though, not ideal.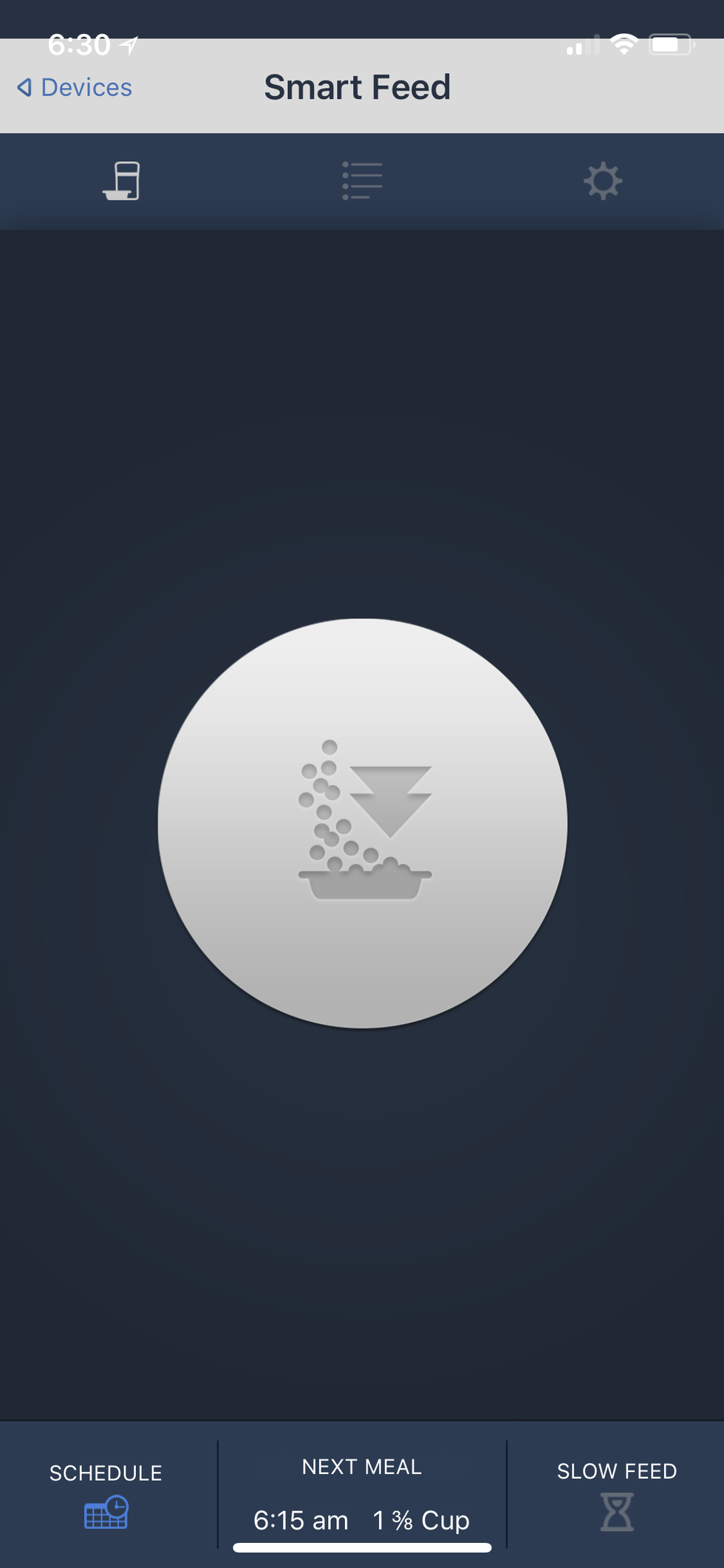 GearBrain
Chow time
We filled the bowl with our dog's preferred chow — which is small-sized kibble and has worked well on testing other smart pet feeders. And we were right: the conveyer belt had no trouble bringing the food up and into the bowl.
Our dog has been through this experience before — he's a smart pet feeder veteran. And honestly? He's hated them all. Which is why we were perplexed at how happily he went for the PetSafe smart feeder.
We can't say it worked dramatically differently than other feeders — the features are truly about the same. But he wasn't afraid, and he didn't find it difficult to get to his chow. He liked it so much we began to wonder what was in the Smart Feed itself. (Lots of plastic — no meat bones, that we can tell of in any event.)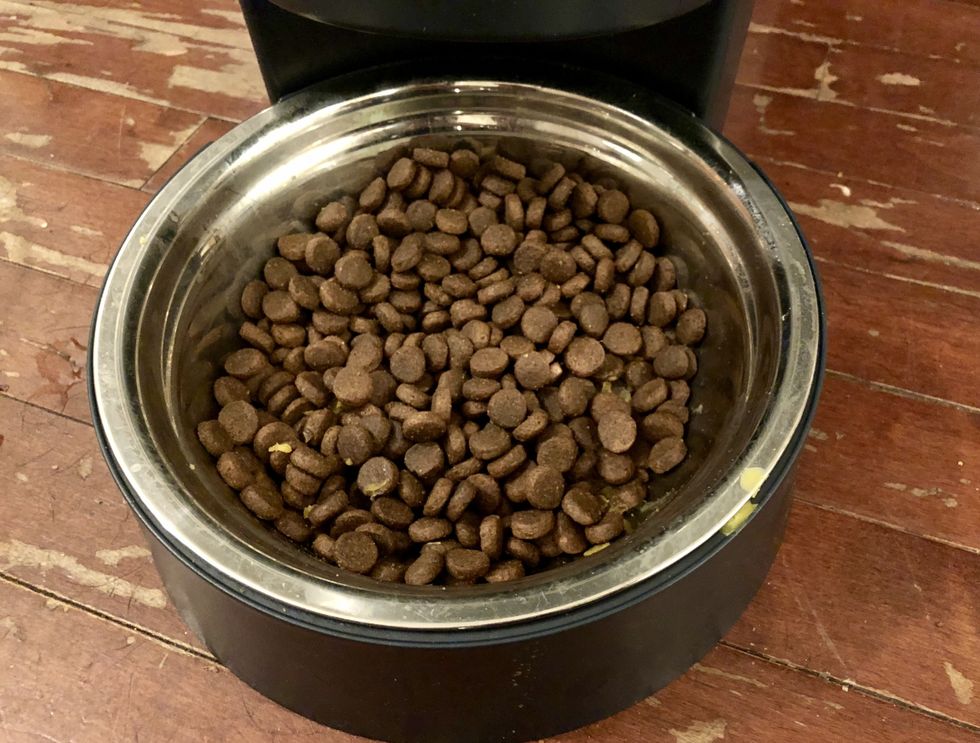 GearBrain
Extra features
The app itself didn't veer to afield from other smart pet feeding apps. We could tell PetSafe whether we had a dog or a cat, could alert me if there was a problem and can break meal times up into as many as 12 times a day. There is a special feature which dispenses the food over 15 minutes — for fast eaters this can be a plus.
Of the physical features that we liked, the fact we could see inside the feeder and see how low the chow had run was great. It wasn't that big of an issue, but having that detail was nice. We also thought the length of the cord was decent — we could plug it in and not have to worry about it having to be right next to an outlet.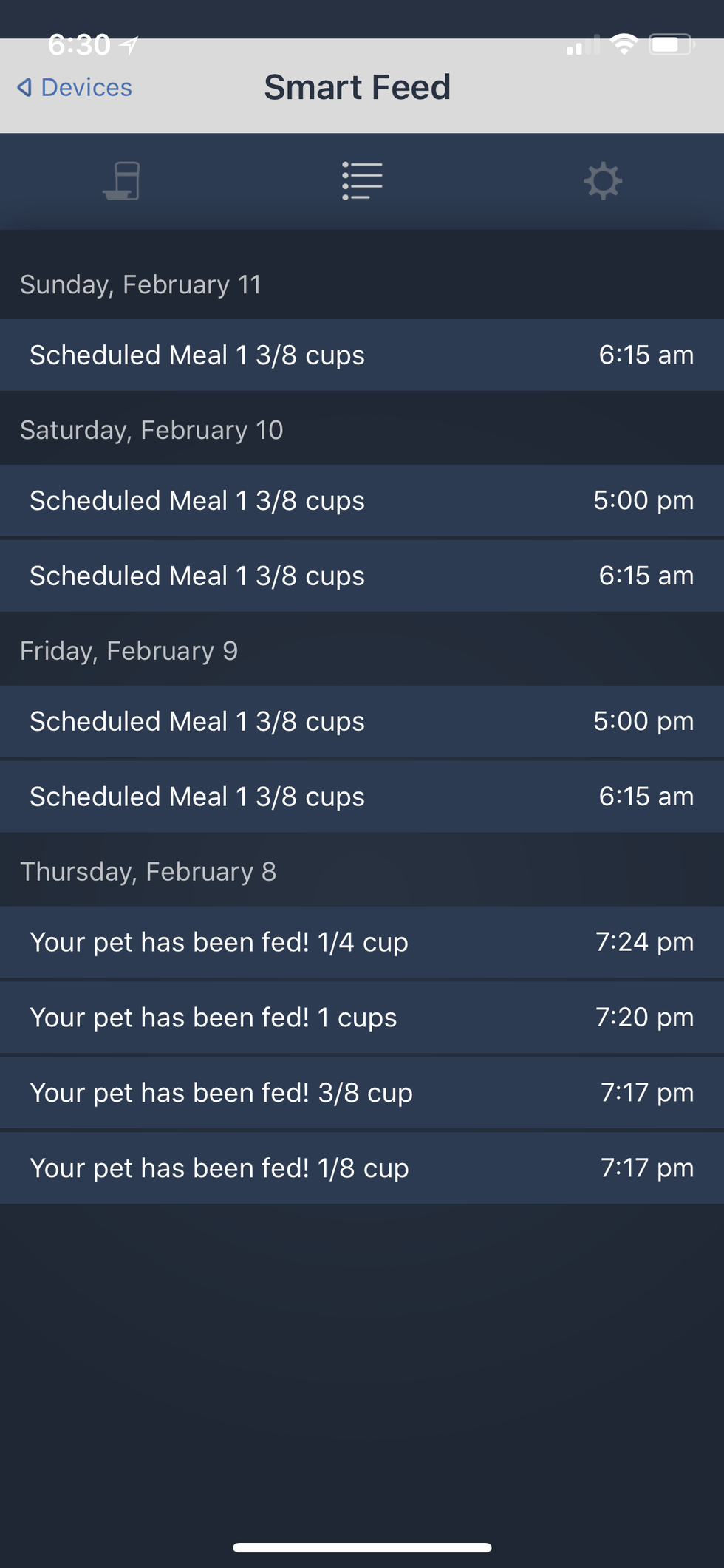 GearBrain
Final verdict
After testing a lot of pet feeders at GearBrain, here's our verdict: in a pinch, when you're leaving a cat for a long time, or you can't remember to feed your dog, they're a good choice.
But for most big dog owners, a pet feeder is not a great option. While we know a lot of people allow their small dogs to do their business in the house, for large dogs this is just not an option. (Not a reasonable option, we should say.)
This means a dog needs breaks, with a person at the helm, every six hours or so. For those who live with a big backyard and a doggy door, you've got it made. For those of us who live in apartments with elevator buttons a dog just isn't going to maneuver, you're bringing your dog to work or hiring a dog walker.
In either of those cases — you can feed your dog.
Would we buy PetSafe's Smart Feeder? Unlikely. Given our living situation, and the size of our Labrador, we just can't find a reason to use it. And it's expensive. For those who have a cat you can leave for a day or two, or work a long day and have a dog with access to the outside on its own, the device is a reasonable option.
We do think the mechanics and how easy it was for pieces to fall off the pet feeder should be addressed, given its high price. Similar smart pet feeders are priced much lower. The Petnet SmartFeeder retails for just $149. But the PetSafe is a pet feeder our dog adored — and it worked as the company said it would. It's certainly worth considering if you're in the market.
Pros:
Delivers food on time
Mechanism is simple
Holds a lot of food.
Cons:
Flimsy parts
If your pet doesn't eat all the food in the bowl, the device can get backed up
Expensive