(Last updated: January 24, 2017)
Pros: Always worked, even rings misplaced smartphone if in silent mode, good price point

Cons: So small, easy to misplace
I'm not prone to misplacing my personal belongings, yet that doesn't mean I haven't lost a thing or two in the past. I've tried trackers, but found their functionality and design more annoying than pleasing, to the point I'd be willing to lose my coin purse just to rid me of the irritating doodad.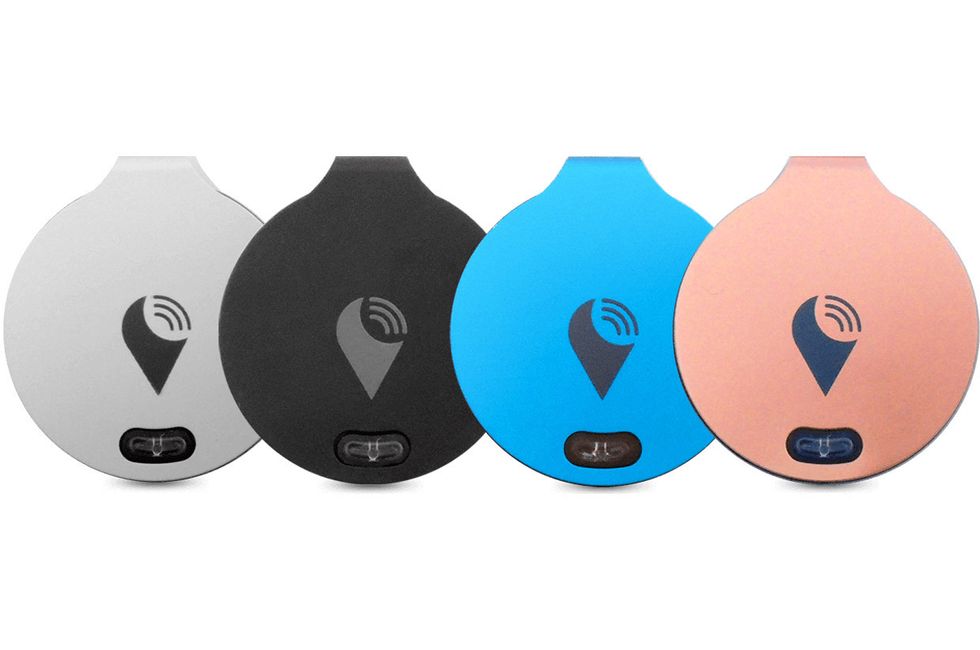 Ever hopeful, I figured there had to be a decent—to great—tracking device out there. So when a review copy of TrackR crossed my path, I willingly put the gadget to the test. Thankfully, TrackR delivered. At $29.99, and the size of about a quarter, TrackR works with my iPhone as well as Android devices, pairing through Bluetooth.
After opening the tiny package, I logged into the App Store to download TrackR's free app. The instructions were quick to implement and easy to follow. I picked a few things I might be apt to misplace—my keys, my wallet and my iPad—and linked the TrackR to all three. Each time I found it simple to associate the TrackR to the item and visa versa.
I would have loved to use TrackR for my cat in case he ever ran off—yes, you can do this—but because of his adamant 'no collar' policy, there was no place to attach TrackR. If your cat's more amenable, TrackR also offers the option to laser engrave your phone number to the device,
With TrackR's app, you can locate objects in mere seconds. The device sets off an alarm of your choosing that rings on your smartphone—and it's, well alarming. Loud, noticeable and different than other high-tech sounds we're used to do, the alarm does what it's intended to do. Naturally this freaked out my cat—but what doesn't. The reverse works too: If it's your phone you lose most, carry the TrackR and press its button to ring the phone—even when it's set to 'silent' mode.
[rebelmouse-proxy-image https://media.rbl.ms/image?u=%2Fmedia%2FXngtTKbxpUa5O%2Fgiphy.gif&ho=https%3A%2F%2Fmedia.giphy.com&s=927&h=3d0d266314bc5288b9b7b29b20a8239ab076076cc1bb1b4fbe286eab82c1cf07&size=980x&c=2857554968 photo_credit="" pin_description="" image-library="0" expand="1" caption=""]
TrackR's will also record the last known spot your item was on a map. There's also a distance indicator so you can see how far or close you are to your item. Using its Crowd GPS feature, the device then taps into its tracking network, helping you find the missing item if there are other TrackR users in the area. A GPS update is also sent to your phone. I didn't need to use this, but it's a popular feature.

I tried the device in several areas in my apartment and on the street. My husband tested TrackR with his Android phone too. It worked every time. You're also pinged if you leave the item linked to TrackR behind, notifying you if you walk out of the house without your keys, wallet, or whatever you've connected to through the app.
[rebelmouse-proxy-image https://media.rbl.ms/image?u=%2Fmedia%2Fl2Je7lmL4JuoM0vv2%2Fgiphy.gif&ho=https%3A%2F%2Fmedia.giphy.com&s=902&h=fe35ec8654777d56d7fd1037ed85c54a13655efe50caad11ca59dc1f9d320af1&size=980x&c=3408467187 photo_credit="" pin_description="" image-library="0" expand="1" caption=""]
The device is pretty small, which is good on some ways, but if you are already type to frequently lose things (which is why you're interested in TrackR), it may just be too small. TrackR offers a small metal carabiner attachment to link to a purse or jeans' belt loop for safe-keeping. Nerdy, but efficient.
Another issue? My husband had tried the device first, so he had to disconnect the TrackR from his phone so I could connect to mine. I also had to remove and reinsert the battery in order to connect. No biggie, but something to bear in mind.
The replaceable battery lasts up to a year, so no charging is needed. Just be sure to keep your Bluetooth setting on or else the gadget won't be very useful. Have something you don't want to lose? TrackR could work for you—as long as you don't lose it as well.